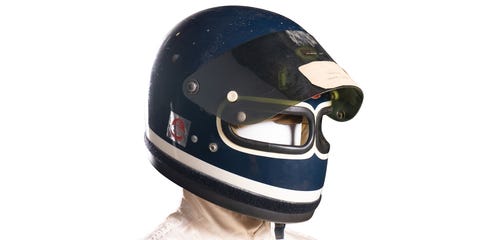 If you were walking by a garage sale and saw this stuff spread out on a lawn instead of seeing it at a big, fancy online auction put on by Gooding & Company, you would freak out and buy everything. Imagine seeing that weird Bell helmet with two eye holes in it then turning it around and seeing it is signed (and was owned and used) by Jacky Ickx. Or that semi-floppy driver's suit that could have been a painter's onesie but that in reality is a driver's suit of the kind used by Phil Hill. Or the nice photos of some race cars and then seeing that they're Dan Gurney's race cars and the photos are signed by Gurney himself.
So many cool things.
So consider it something of a garage sale held online. It represents items from the collections of the late Stephen P. Dean, Pebble Beach judge and California collector, and the late Donald L. Weber, a Ferrari collector, both of whose cars were auctioned by Gooding at Pebble. A third consignor, unnamed (but we suspect maybe the family of Phil Hill), is also represented.
With the smothering effect of the pandemic over all auctions for a while there, auction houses adapted. Gooding & Company started what they call Geared Online auctions, which last for a number of days. In the case of this event it's called the Geared Online Fall Automobilia auction and it's going from right now until Oct. 15 at 9:00 a.m. PDT. There are 287 lots, including a Castrol Oil Can signed by Carroll Shelby and Phil Hill, a photograph of the Chaparral 2e with Phil Hill in the cockpit signed by Phil Hill and Jim Hall, and a genuine Olsonite Eagle race car decanter, the latter not signed by anyone—yet.
Surely there's something here for you. Scroll on to see our favorites, in case you're shopping for early Christmas presents or anything.
ALSO SEE MOST EXPENSIVE CARS SOLD AT AUCTION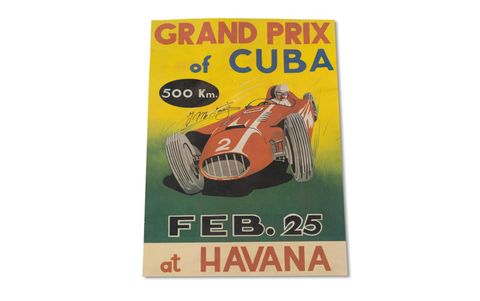 Estimate: $1500-$2000
Description: Without reserve, from the Stephen P. Dean Collection
1958, of course, was the year they kidnapped Fangio the night before the race. Il Maestro had set pole position and was relaxing in his hotel room when Fidel Castro's revolutionaries calmly disarmed the one security guard assigned to protect the champion and politely marched Fangio out of the building and into hiding. No one knew any of this when they made the poster, which featured the 1957 winner Fangio in his Maserati 300S, which you see here.
LOT 183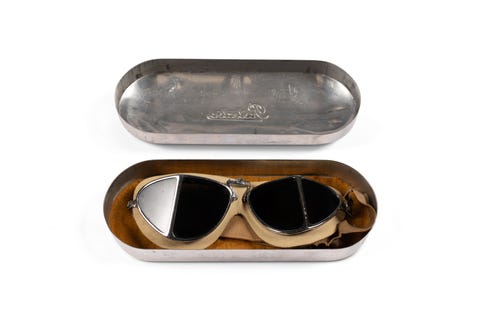 Estimate: $1000-$2000
Description: From the collection of a motorsport enthusiast
A pair of original Giuseppe Ratti "Protector" racing goggles with smoked lenses and aluminum case, made in Italy, c. 1950s. These high-quality goggles were favored by many elite racing drivers including Phil Hill, who famously wore the same style throughout the 1950s and early 1960s. However, he did not wear this specific pair. He did, however sign both the strap and the case.
LOT 14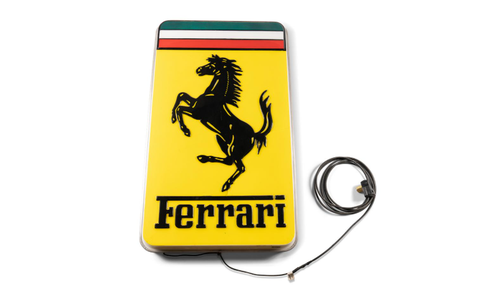 Estimate: $500-$1500
Description: From the Stephen P. Dean Collection
This is from the age before Ferrari discovered branding and mass marketing. To get this sign you had to be a real Ferrari dealer. So it's really something. It would look great in your garage above the Mondial T.
LOT 123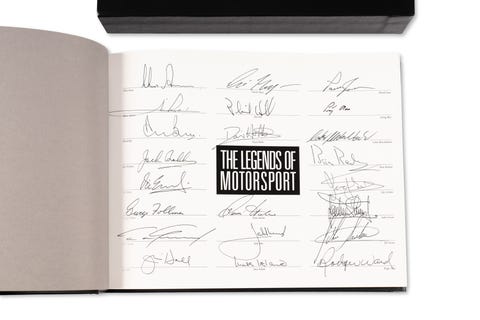 Estimate: $2000-$4000
Description: From the collection of a motorsport enthusiast
The Legends of Motorsport chronicles the golden years of motor racing and was published in 1992 by a private US-based collector in limited series. This rare Driver's Edition book is in pristine condition and features 22 original signatures from some of the most famous drivers including: Chris Amon, Mario Andretti, Phil Hill, David Hobbs, Denis Hulme, Jacky Ickx, Innes Ireland, Parnelli Jones, Stirling Moss, Brian Redman, Jody Scheckter, Jackie Stewart, John Surtees, and Rodger Ward. The table of contents lists a foreword by Dan Gurney, Eoin Young, John Surtees, and Nigel Roebuck. This rare out-of-print book measures 11.25" x 8.75″ x 1.25″ and contains 336 pages.
LOT 15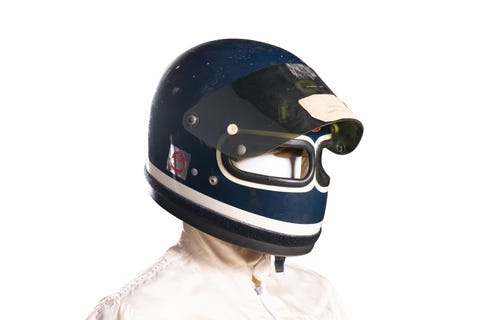 Estimate: $25,000-$45,000
Description: From the collection of a motorsport enthusiast
This Bell Star XF-GP Twin Window helmet was worn by Jacky Ickx. The "Twin Window" Bell helmet was developed in the mid-1970s, and this example features its 1975 Snell sticker as well as its SHCA Certified Approved sticker. The consignor believes that Ickx wore this helmet at the 1978 24 Hours of Le Mans, where he drove a Porsche 936 to a second-place finish for the Martini-sponsored works team. He also wore it during the 1978 Formula One season, during which he participated in four races (Monaco, Belgian, Spanish, and Swedish Grand Prix) for Team Tissot Ensign. The helmet is said to be in good original condition, complete with its visor and 1978-dated RAC approval sticker. You also get a period Bell Helmets bag, Martini patches, signed photos, and correspondence. This is one of the most distinctive racing helmets of the 1970s, used by one of the era's star drivers. But you can't help but wonder if it would make you a little cross-eyed.
LOT 19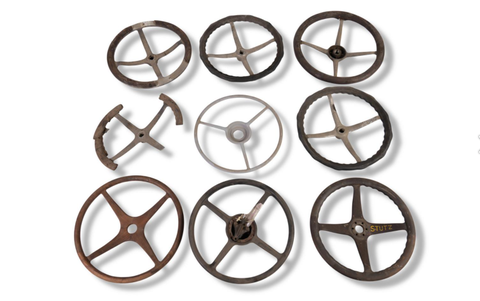 Estimate: $75-$150
Description: From the Stephen P. Dean Collection
Along with another lot right next to it of shifter knobs, there's an art project in here somewhere just waiting for an artist.
LOT 232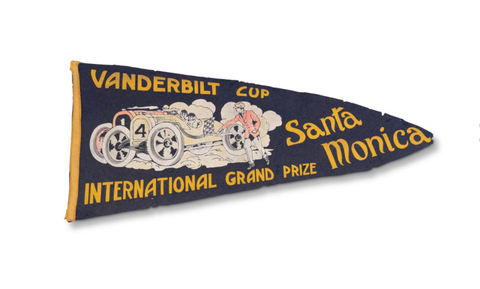 Estimate: $1000-$2000
Description: From the Stephen P. Dean Collection
The Vanderbilt races were first held in Long Island, New York, by William K. Vanderbilt II, an American who had been racing in Europe and who decided to bring the spectacle home to America in 1904. The races eventually made their way all the way to the West Coast, and this was a pennant for one of those events. According to Where They Raced Lap 3, the Santa Monica Road Races were held in that bucolic seaside town from 1909 to 1919. "The longest-running and most prestigious road race events held in Southern California were the Santa Monica Road Races." Imagine waving this flag to cheer on Barney Oldfield over 100 years ago.
LOT 195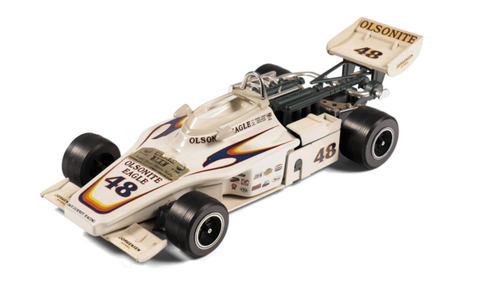 Estimate: $100-$200
Description: From the Donald L. Weber Collection
This has to be the coolest decanter from the era when decanters were on the upper shelves at all liquor stores across America, behind the cashier where they were less likely to be shoplifted. I think I know the actual guy who owns this actual car. Philippe, ou est vous?
Actually, anything from Dan Gurney is going to be cool. In a career that spanned only 15 years, Gurney managed to win in every kind of racing he tried. And he tried almost all of them: Formula 1, sports cars, Indy cars, NASCAR, Can-Am, and Trans-Am, to name just the more prominent series. "By the time Dan retired from active driving in 1970, he had raced 312 events in 20 countries with 51 different makes (more than 100 different models) of cars, winning 51 races and 47 podiums," reads the biography on his home page, allamericanracers.com.
And one of his cars was made into a liquor decanter. Fastest item in the liquor store, for sure.
LOT 69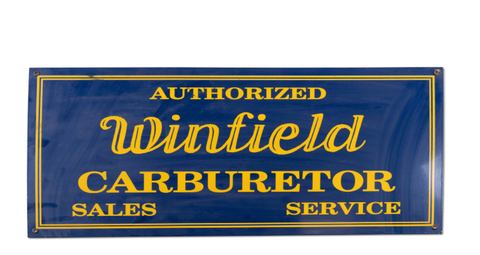 Estimate: $100-$200
Description: From the Stephen P. Dean Collection
This is another potential bargain, with a high estimate of just $200. Ed Winfield's carburetors were found on race cars from the '30s to the '70s, along with cams for Indy Novi engines. Ed was known as the Carburetor Wizard. His company began in 1924 and its carburetors were an Indy 500 staple. So a Winfield sign is pretty rare.
LOT 102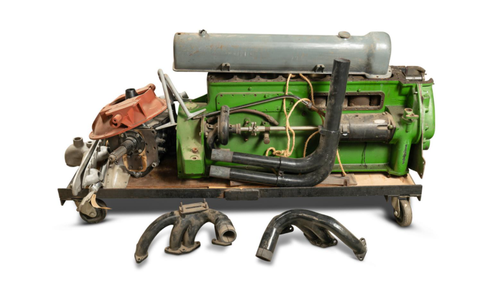 Estimate: $500-$1000
Description: From the Stephen P. Dean Collection
Notice it says, "partially complete." There are other parts in separate lots suggesting that this was a project car, including a Stutz rolling chassis. There's also a similar pile/collection of parts for a Marmon. Bid successfully on all of them and you could have yourself a working Stutz in another 15 or 16 years.
LOT 205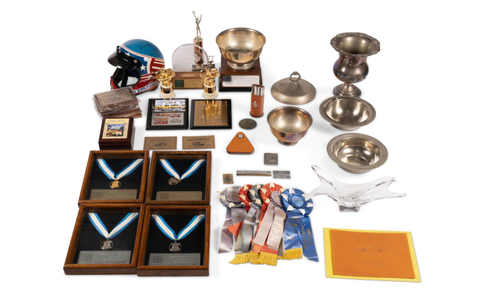 Estimate: $50-$100
Description: From the Donald L. Weber Collection
Kind of hard to see what the trophies are for, but two of them have little race cars on them so maybe they're old and interesting. Also, the helmet has a couple of luminary signatures. Estimate is only $100 but it was already at that as of Friday night, so it might go a lot higher.
LOT 95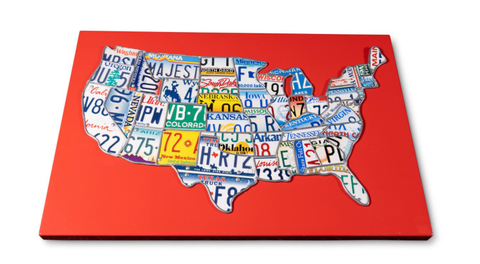 Estimate: $200-$400
Description: From the Donald L. Weber Collection
Texas is so big it gets two plates. Those Northeastern states barely get a postage stamp section of a plate. Still, it looks kinda cool.
LOT 86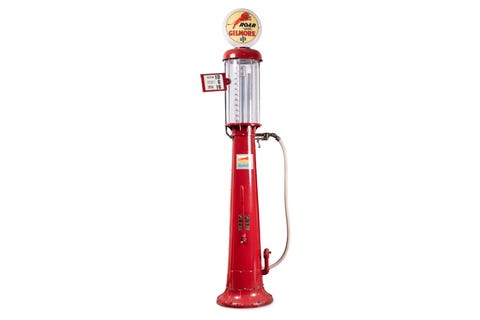 Estimate: $4000-$6000
Description: From the Donald L. Weber Collection
Those were the days: You'd say how much gas you wanted, then that amount would be pumped up into the clear glass reservoir, and gravity would feed the gas down and into your tank. Not sure if this one actually works, but it looks cool. Every collection needs an old gas pump, doesn't it?
LOT 77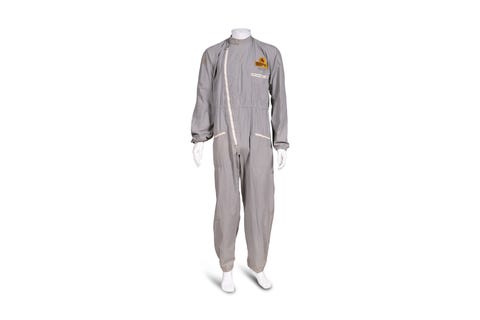 Estimate: $1000-$2000
Description: From the collection of a motorsport enthusiast
Sala Sport One-Piece Driving Suit, Made in Italy, c. 1950s. Autographed by Phil Hill and featuring a Ferrari Patch. Note that it doesn't say worn by Phil Hill in a race or anything. Still, it was signed by him. Price range seems downright affordable.
LOT 13
Source: Read Full Article