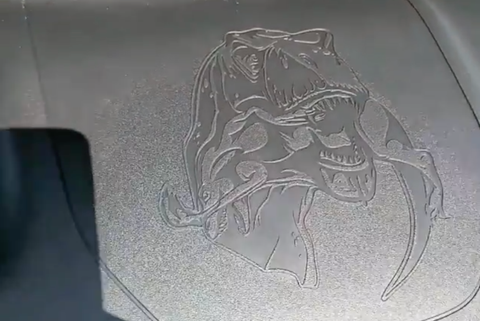 Even though the new 702-hp Hellcat-powered Ram 1500 TRX's name isn't technically supposed to refer to the dinosaur Tyrannosaurus rex, Ram has sort of embraced it to stir the pot against the Ford F-150 Raptor. Well, actually Ram has fully embraced it, because there's an engraving of a T. rex with a Raptor in its mouth under the TRX's hood. Subtle.
TRX Easter Egg 🤣🤣🤣 . . #ramtrx #hatersgonnahate #raptorkiller #ramtrucks
A post shared by Midwest Offroad Expeditions (@catchmeoffroad) on
Instagram user catchmeoffroad posted a video of the Easter egg—a T. rex having a nice lunch—which was found under the airbox cover. The TRX has a 29-liter airbox mounted on top of the supercharged 6.2-liter V-8 that that filters out debris and water before feeding cool, clean air to the 2.4-liter supercharger. The Hellcat V-8 produces 702 horsepower and 650 lb-ft of torque in the 1500 TRX, and it'll help propel the big pickup to 60 mph in a claimed 4.5 seconds.
We've been eagerly awaiting the Ram 1500 TRX vs. Ford F-150 Raptor matchup, and we are all for a little friendly competition between the two. And we're fully supportive of Ram having a little fun with it, too. While the TRX might be powered by a burly V-8, the Raptor, currently in its second generation, is powered by a 450-hp twin-turbocharged V-6. No pressure, Ford, but now you'll have to stick a V-8 in the new trucks.
Ford should tell us more about the 2021 F-150 Raptor soon, and it will go on sale next year. The 2021 Ram 1500 TRX starts at $71,690 and will go on sale by the end of this year.
From: Car and Driver
Source: Read Full Article