I made a call to my brother informing the deal went through and asked him to cancel our return tickets.
BHPian duker2997 recently shared this with other enthusiasts.
Bringing the Jetta home from 2200 kms away:
Background: We are 3 drivers in the family Father, elder brother, and myself. Current cars in our garage include a 2013 4×2 Toyota Fortuner, 2020 VW Tiguan TDI, and 2015 Tata Nano XT. It was more of a want than a need for an additional car. It was long due that we had a proper sedan in the garage.
There was no fixed budget at the onset of hunting for the car, so wandered a bit. My choice of cars were Jetta and the Octavia but the other gents in the house suggested Passat or Superb. As such, Skoda cars have better resale than VW's. Being in Bangalore, it's really difficult to get a car directly from the user. Almost all of the cars I went to check out were with dealers. And the asking price was pretty high by at least 2L for every car I checked out. Came across one nicely kept 2015 Jetta which had done 58k single owner, asking price was 9.8L but the car got sold by the time I could get the service history verified by ASS.
I was briefly interested in getting a Passat Highline but most of the cars I checked out had either of the 3 issues:
Third or fourth owner cars.
Many electrical gremlins/ poorly maintained.
Accidental history with a shoddy rework from outside.
So I made my peace with Passat. And most cars aged more than 10 years and abysmal asking prices dint make it a value proposition.
Started exploring the idea of bringing the car from Mumbai/Delhi. Found a few good examples in Mumbai but considering the re-registration in Bangalore, the price would again come very close to the asking price in Bangalore which made very little sense.
Finally came across this Toffee brown company owned 2014 Jetta Highline AT which had done 34k kms. This was at a dealer in Faridabad. Asked for the service history and the dealer sent it along with all the documents of the car without hesitating. I still had my doubts on the odo being tampered.
I was to visit Delhi on business in 2 weeks and the dealer asked for a token advance if he had to hold the car for me, which seemed fair enough. Transferred 5% of the asking price and the dealer's associate was in touch with me.
Flight tickets were booked for the round trip. The trip in itself was any less than an adventure. The previous night of our flight it rained cats and dogs in Bangalore. This resulted in one of our warehouses getting waterlogged and by the time I got back home, it was pretty late in the night. It was an early morning flight on the 18th of May 2022 and it's usually a 45mins drive from my place to the airport. We left home 2.25 hours before the departure. As fate would have had it the Airport road had a huge water logging past Yelahanka and had a very huge traffic pile-up at 4.15 AM. Was stuck at this place for more than 30 mins and we barely made it in time to the boarding.
The cabbie almost stalled the car: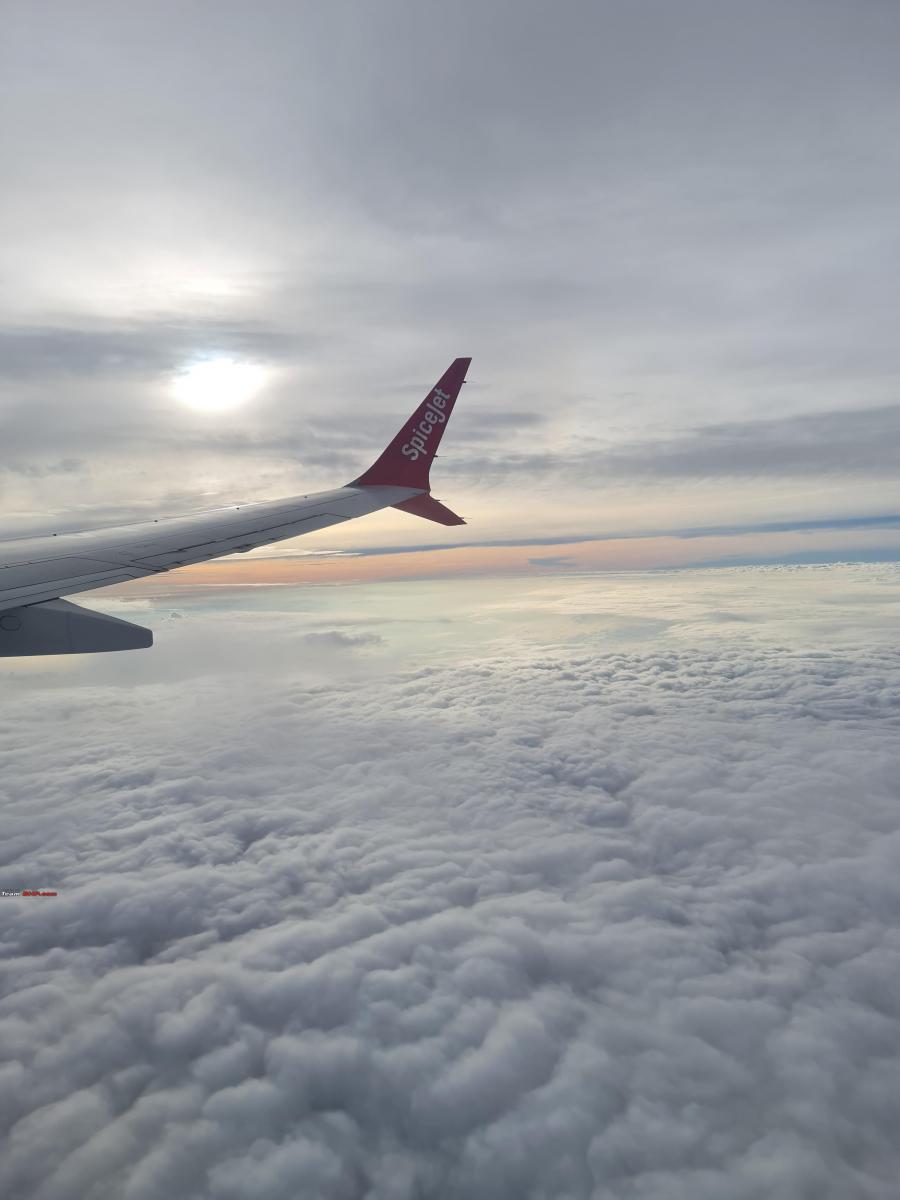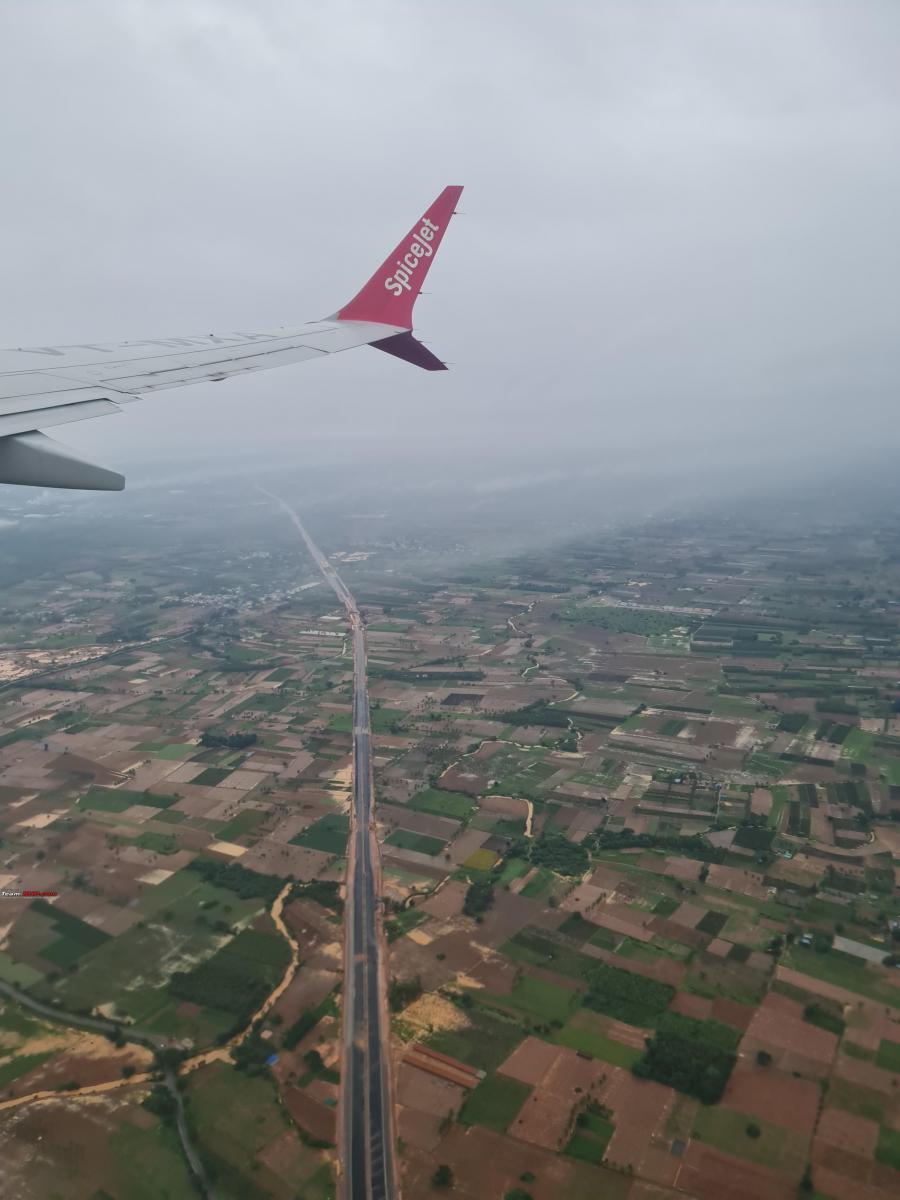 Our work was done by noon and we took the metro from Khan Market to Faridabad. Glad we chose the metro as compared to getting a cab. If not for the metro we would have had a tough time managing the Delhi heat. It was about 44 degrees on that particular afternoon: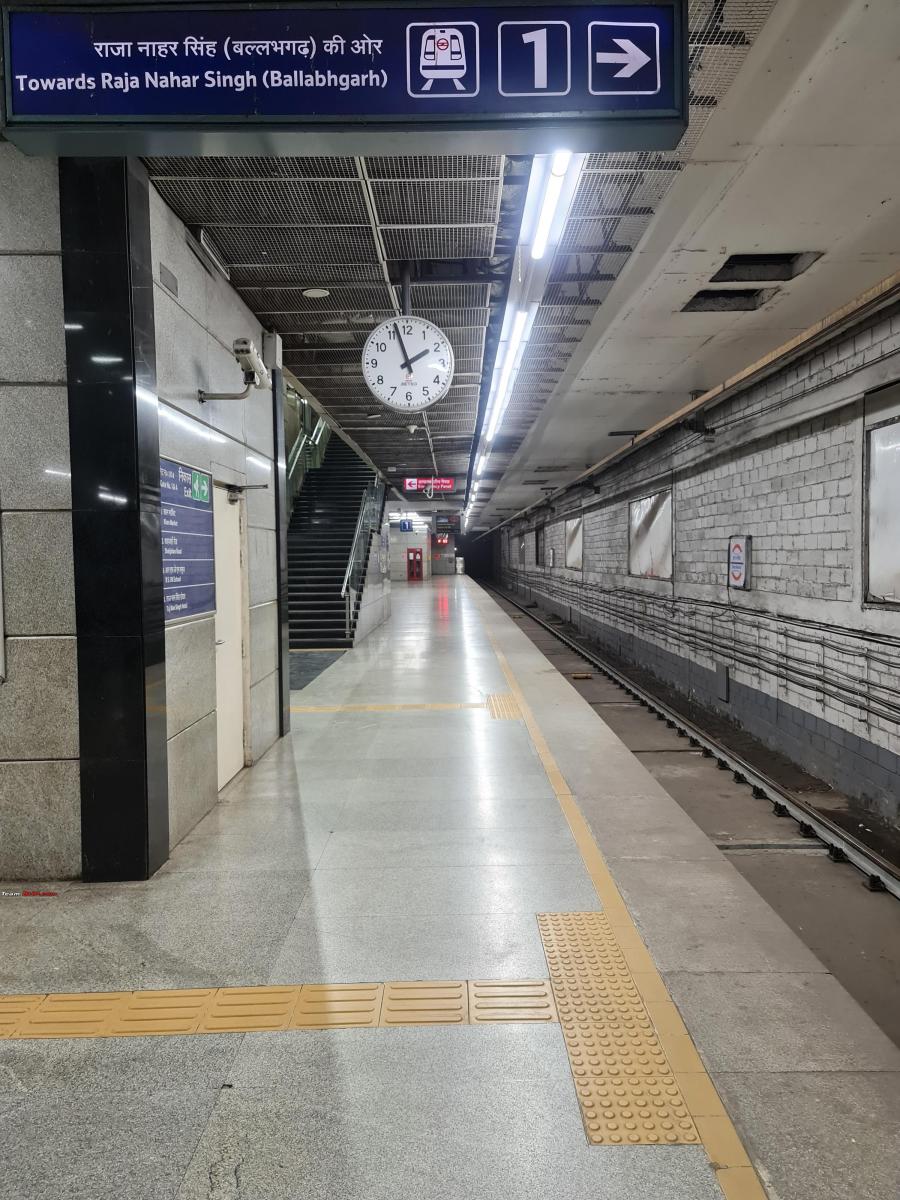 The first time I saw her: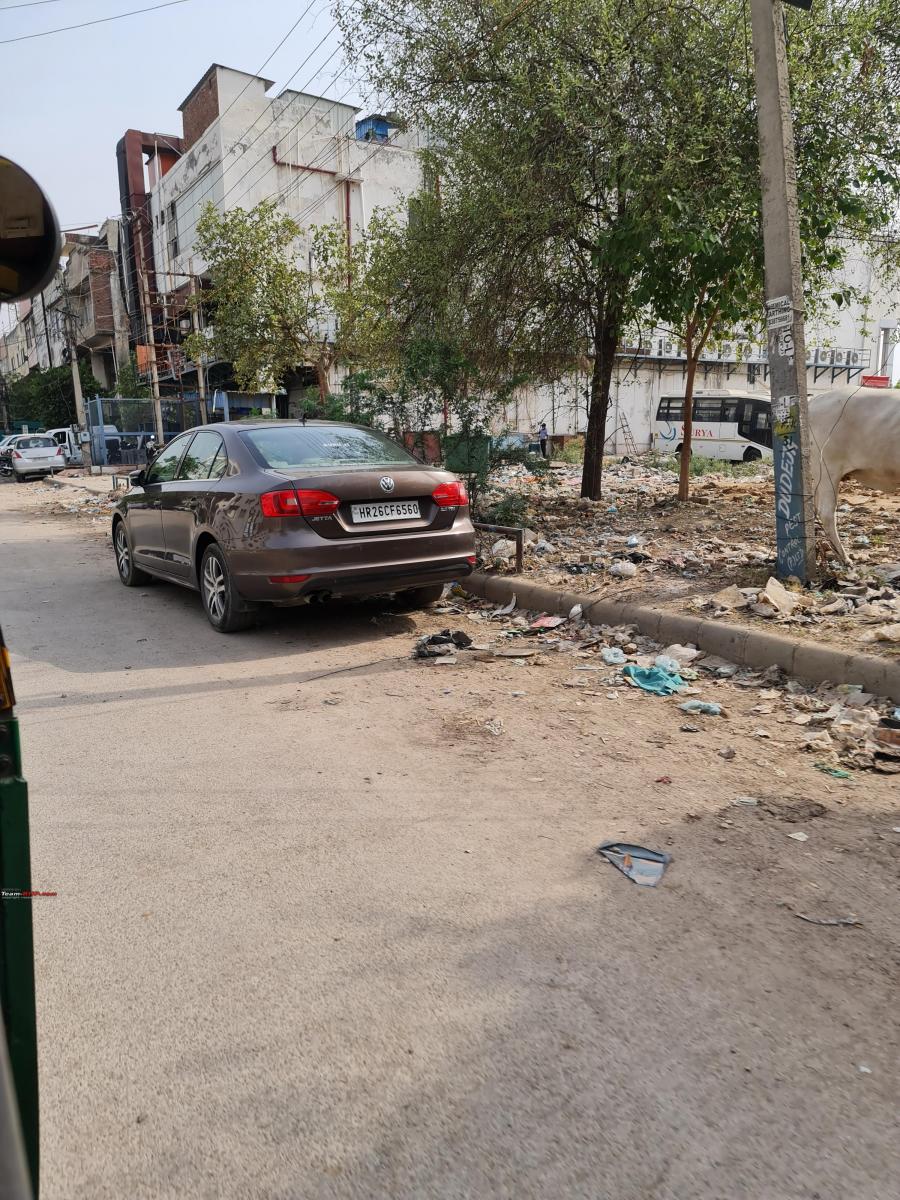 The dealership had a decent office and their cars were parked in front of the office. Not one of those swanky used car showrooms per se. There was no covered parking but they ensured the cars were parked in shade. The Jetta was parked a few meters away under a small tree. It's very easy to get lost if we don't go there with a fixed budget or a particular car in mind. A lot of good cars for a very decent asking price. Eg: 2015 E250 CDI done 37k kms company owned for 15.5L, a similar eg in Bangalore I came across in a used car dealership which had done 65k kms for 27L.
So after we landed at their office, went ahead to check out the car. I was informed earlier about one of the tyres being replaced due to a tyre cut. The car still had factory tyres manufactured in 2013 all around except for the FL. The unused spare tyre was fixed on the FR while the FL got a new tyre. A few minor scratches, failed fuel lid actuator, the alloys were slightly kerbed and there weren't any major damages to the car. The interior had a broken center AC vent adjustment. Apart from this, the interior was very neat. No signs of wear and tear to the seat, gear shift lever or the pedals. My doubts about the car having the odo tampered with were put to rest at this point. None of the body panels seemed repainted. The car had done 347xx at that point. Drove the car for a few kms and it seemed pretty tight. Tried a VCDS scan and there weren't any major fault codes.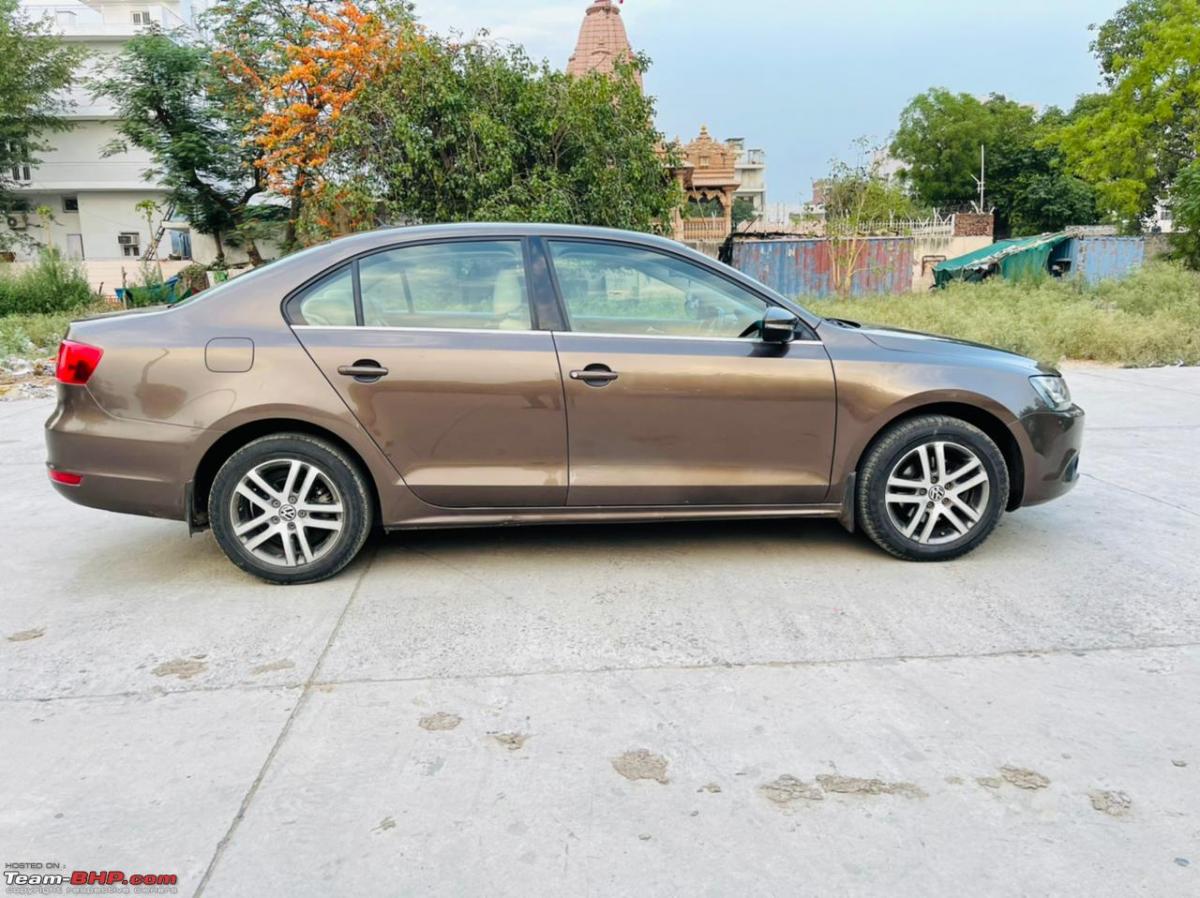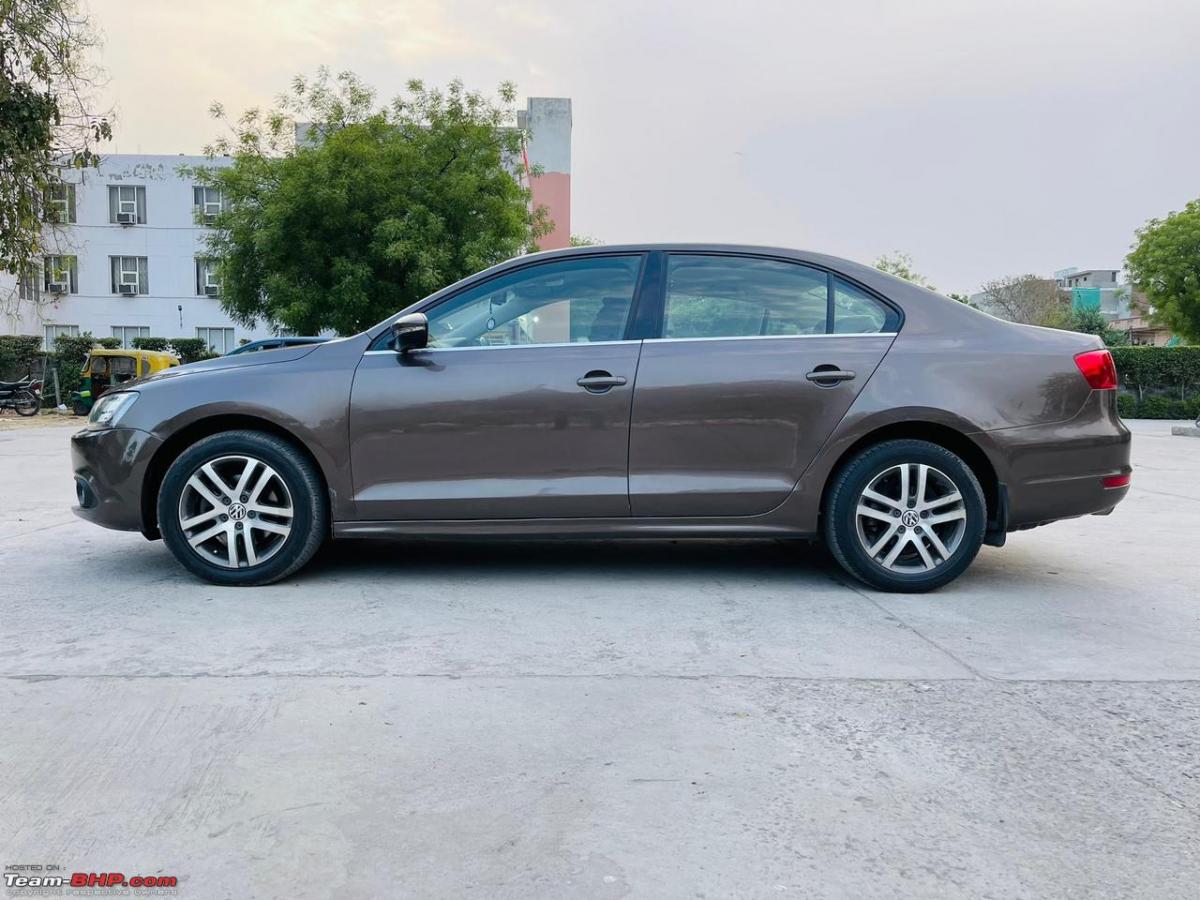 Thought I could haggle for another 20k on the price but they did not budge. After the transfer of funds to their account, signed the documents and took off from there. It was about 5.15 PM, made a call to my brother informing the deal went through and asked him to cancel our return tickets. Before the journey, inspected the engine oil level and viscosity and it seemed fairly new. Had to get into Delhi to check out of our stay.
First fuel-ups are always a bit special to me:
My initial plan was to start early on the 19th of May, but dad suggested we shall start immediately and try to cover some distance.
This was the route taken:
By the time we started it was already 8.30PM, decided we shall stop at Agra for the night.
Should have gotten the car's alignment and balancing done before the journey. A mistake that I realised once I got onto the Yamuna expressway. The steering would wobble crazily upwards 140k's. So most part of the journey was covered within that speed.
Beautifully laid out roads on the expressway. Was really excited to drive on this. But after a while with the straight roads and monotonous traffic you'd kinda get bored. This was probably one of the longest time period for which I could use cruise control in my entire life.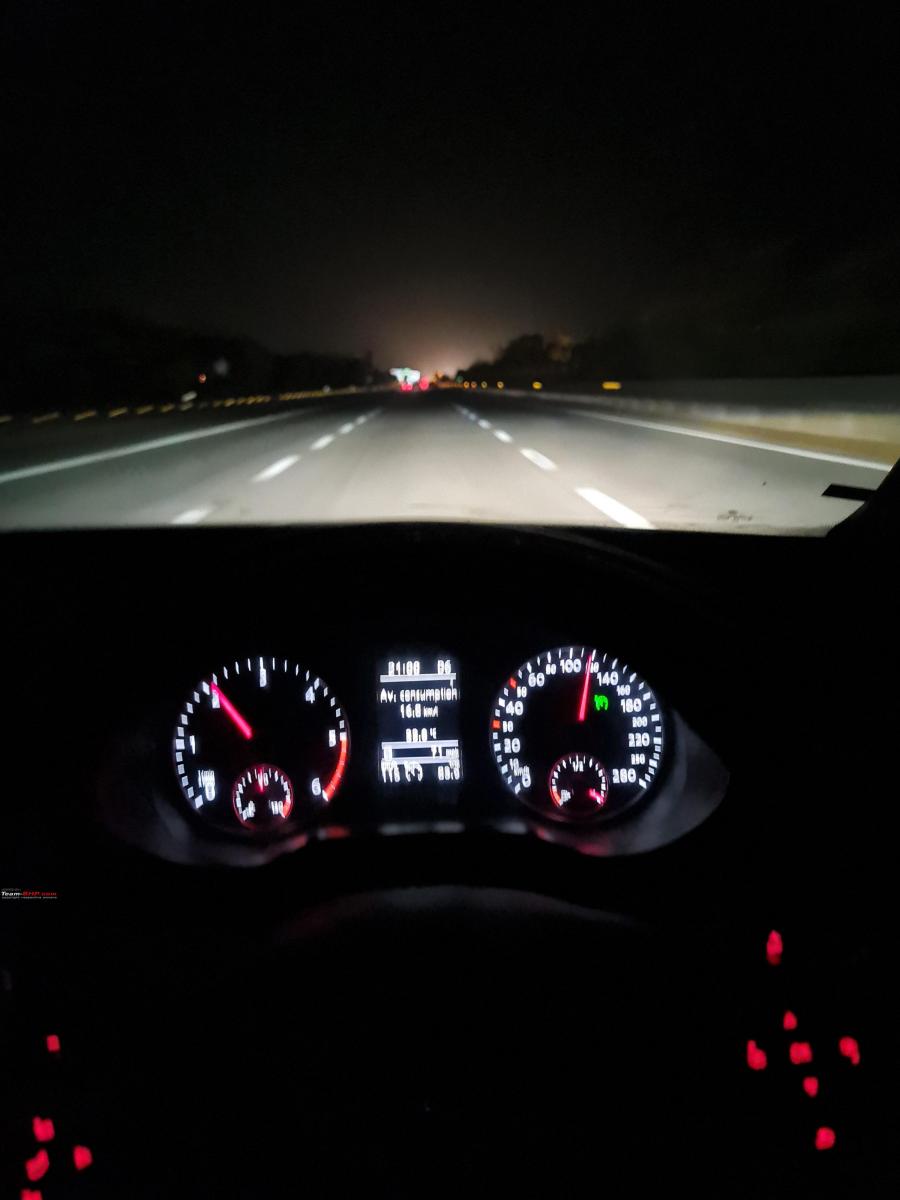 Notice how the right side beam is off. This was mostly noticeable when put on high beam:
Later realised the option of travel mode was ticked. This took a while for me to figure out. It's described a bit differently in our Tiguan on the headunit settings whilst the Jetta has it in the MFD settings. All along I thought there was an issue with the beam alignment.
A quick stop near Mant toll Plaza for some lite dinner. Neither of us were sleepy, so decided to continue driving without stopping over at Agra for the night: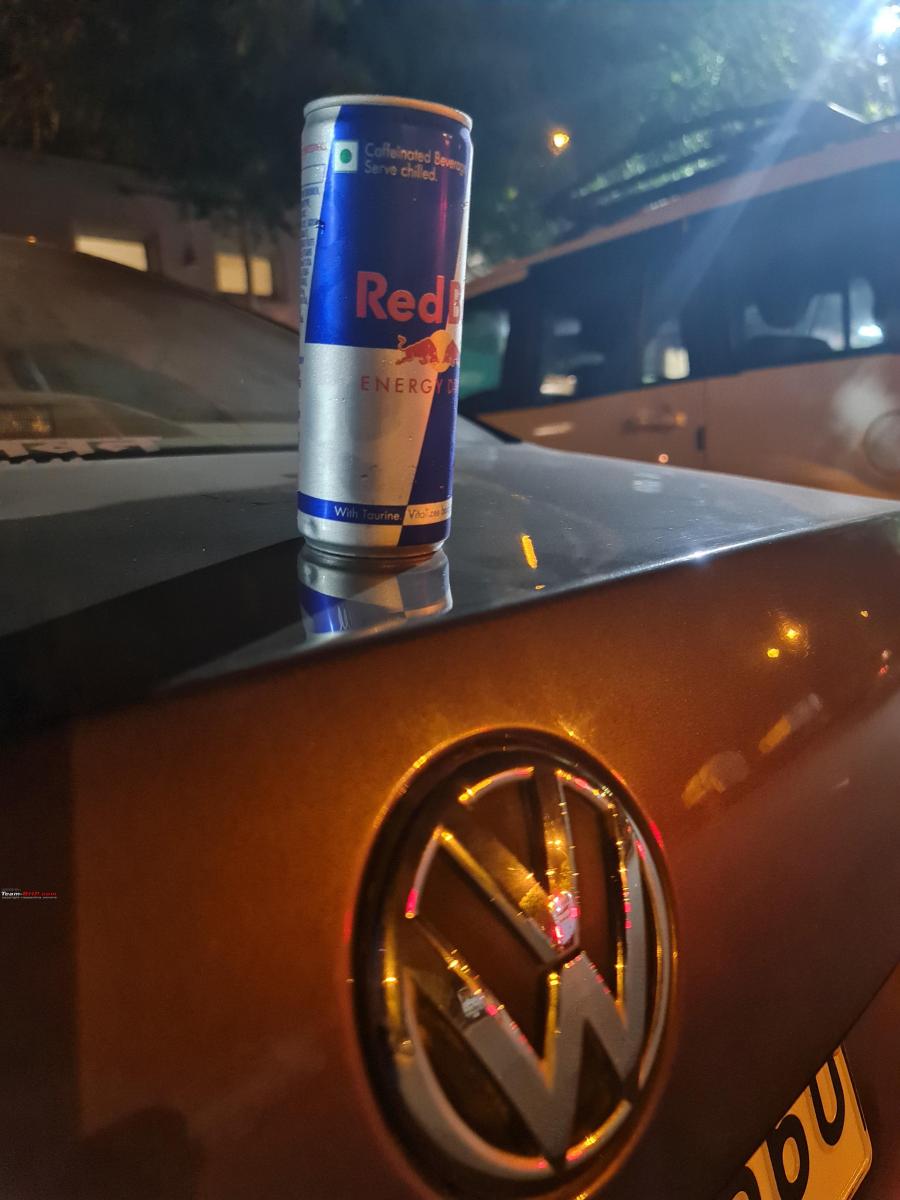 Dad and I took turns driving during the entire trip:
Somewhere close to Jhansi: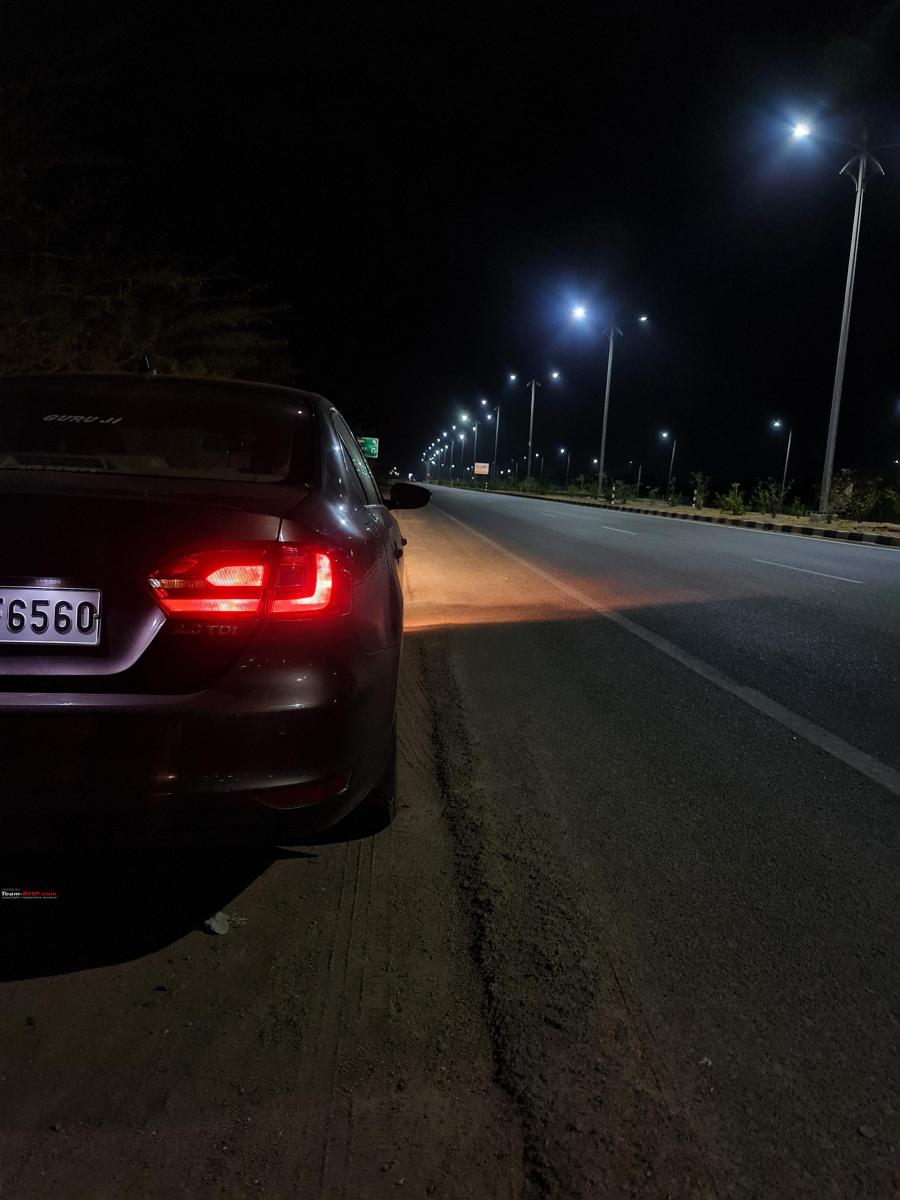 Had read about stray cattle on the highway on many bhpians travalouges and was anticipating the same. Had my first hand expierence at it. Speeds were contained during this stretch. There were many small dhabas but not a single good hotel/restaurant. When i did find a few okaish hotels they told us they are facing water issues since two days so no rooms are being given.
It was around 6AM and finally found hotel Shri Leela near Paloha which was really well kept. Took an hours break to freshen up and resumed the journey. Being so early they weren't able to arrange for breakfast. Again couldn't find any decent restaurants so had to do away with biscuits for breakfast.
Roads started getting better and we could cover some good distance. Stopped for lunch after Dichpally, about 150kms from Hyderabad. After a good lunch we resumed the journey.
Another mistake on my side was not checking the wiper blades properly before the onset of the journey. I just checked if the windshield washer and headlight washer were working during which the wiper seemed to okay. As we reached Kurnool it started raining heavily. The blades had deteriorated, and the passenger side wiper was hitting the plastic trim on the edge of the windshield. Maybe wrong sized wiper blade is used?
Stopped over at Palleturi Vindhu in Ananthapur for dinner:
The last leg of the journey was the hardest as I was pretty tired, had to make a few stops for coffee and fresh air to keep myself awake. This was the home stretch from Chikkaballapur. Reached home by 1.40AM.
Few stats of the trip from MID: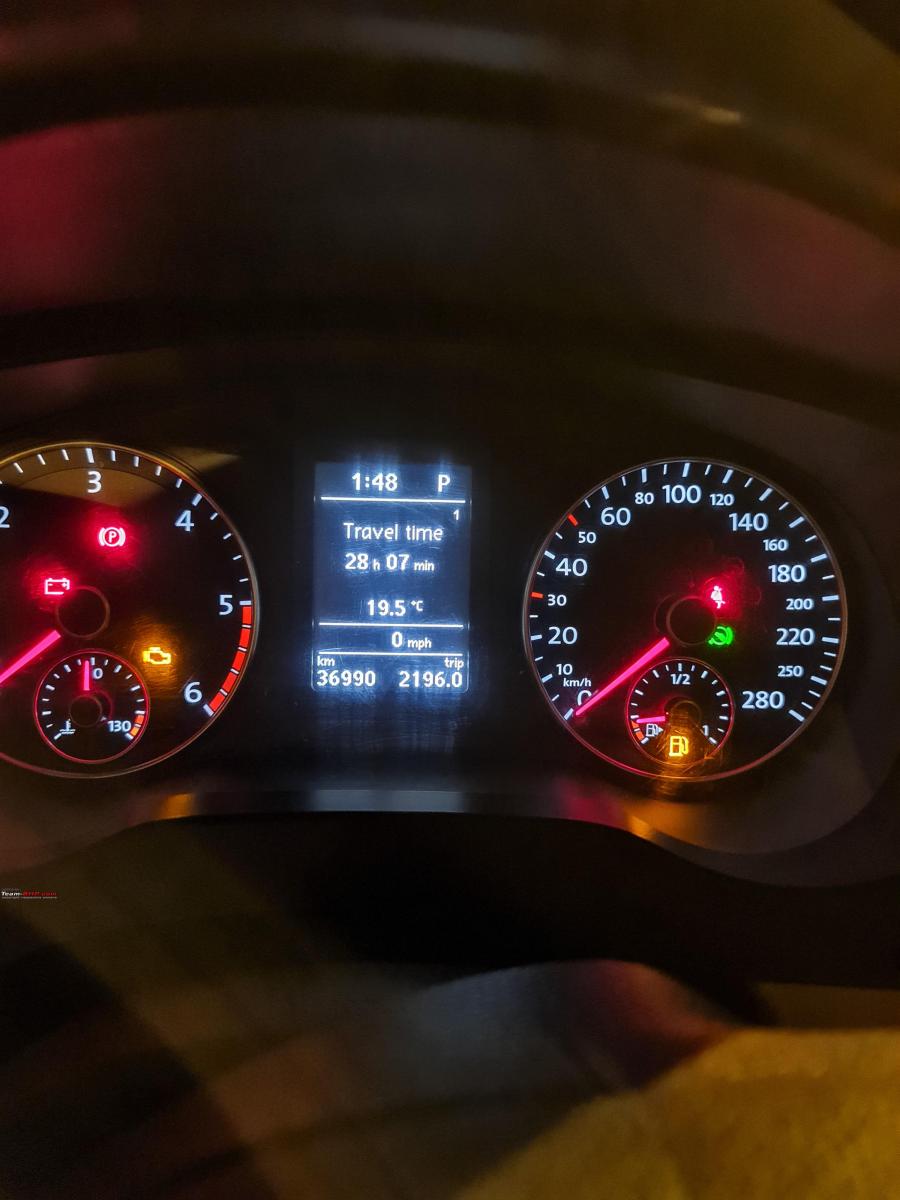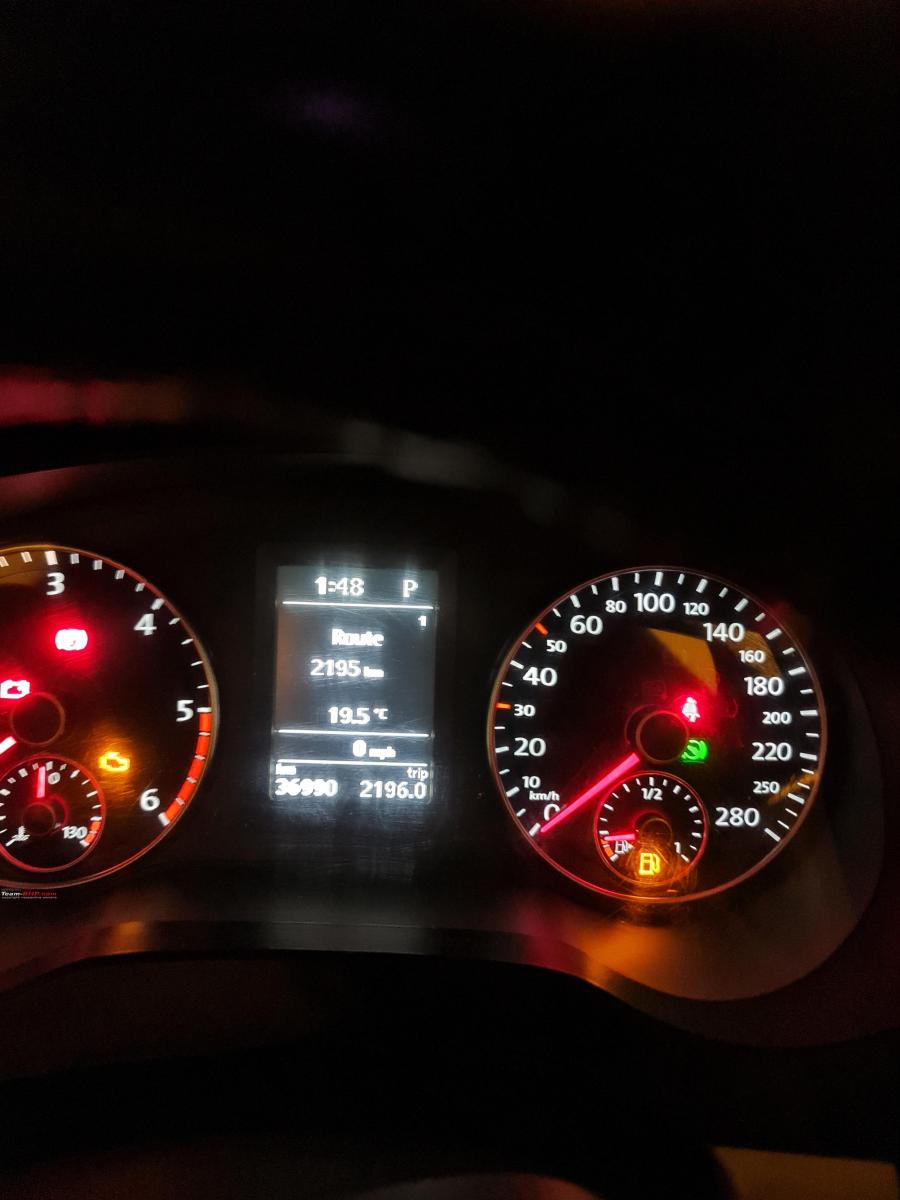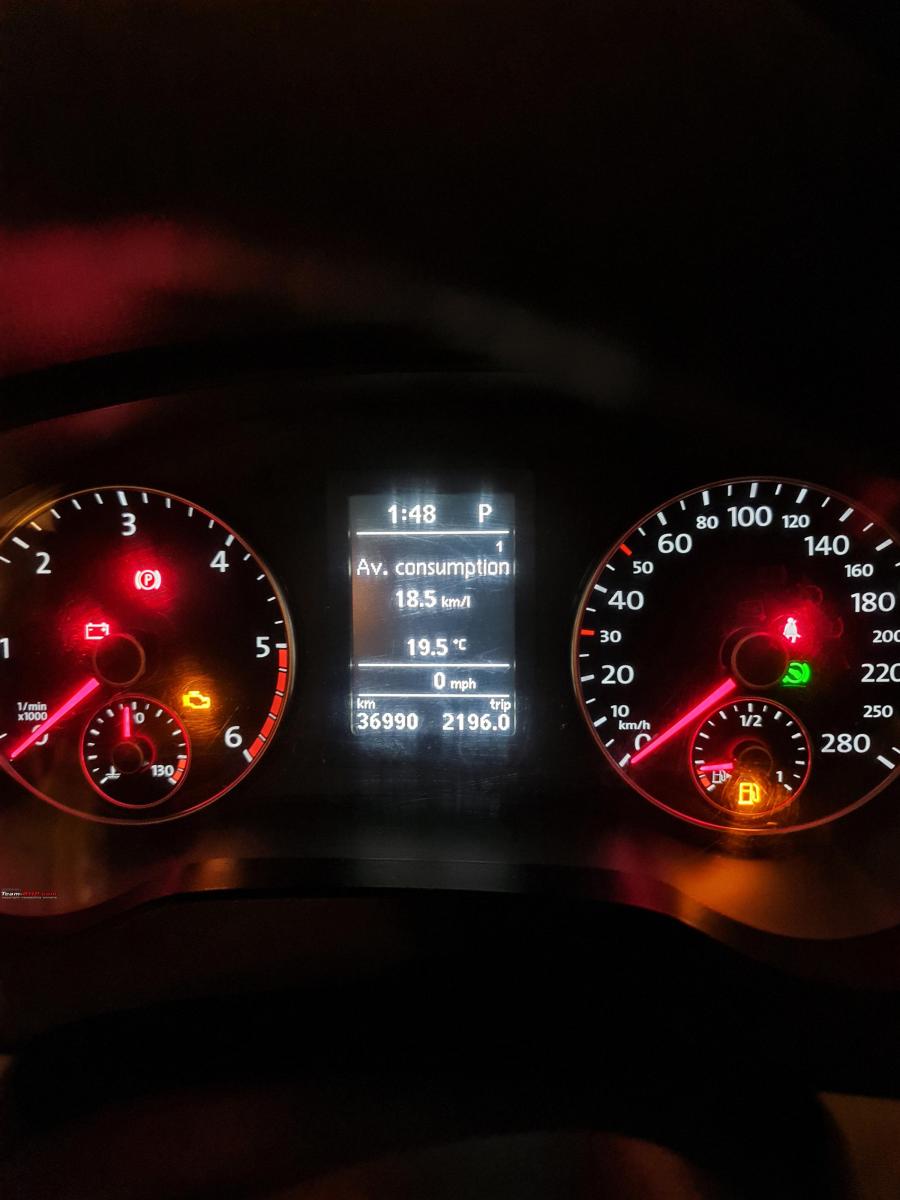 Except for my brother, no one else had a clue about our epic journey. Everyone were on the thought that we flew back to Bangalore. Once they got the details they've come to terms that something is seriously wrong with us.
My niece doing the customary pooja:
Told her got the car for her and she's been really excited ever since. Makes sure she informs everyone who comes home "thaatha and babai naaku car konicharu" (grandfather and uncle bought the car for me).
All in all it was an epic journey that I'd cherish for years to come. Have got the car transferred to our name. Need a particular number as all our cars/bikes bear the same. So re-registration would be done in a few months' time.
Apart from this have handed over the car to VW Palace cross Rajajinagar for a DSG oil replacement, fuel lid actuator, and also a few rattles to sort. The SA informed me the brake pads have 5mm left and asked him not to replace them as I plan to put on aftermarket pads. Suggestions are welcome on pads.
Was always an avid reader of Team BHP even before I was a member, thought I should share my experience here. And this being my first proper post any suggestions are welcome.
Happy motoring!!
Check out BHPian comments for more insights and information.
Source: Read Full Article