I was on the lookout for a pre-owned SUV & had taken extensive test drives of multiple cars but could not finalise due to various reasons.
BHPian superchamp recently shared this with other enthusiasts.
Prologue
I was always interested in buying a big car not because of necessity but of desire. My Garage has had the following cars:
Ertiga VXi 2013
Jazz VX AT 2016 (Sold)
Ertiga was my first new car purchase and am very happy with it. I have covered around 98000 KM as we speak. Ertiga has served me well with its low-cost maintenance and versatility. Almost all my long trips were done in Ertiga and I can vouch that there is no other car at this price point to beat it in sheer comfort and usage.
Jazz was purchased preowned in Oct 2019 in Bangalore as I wanted an AT to travel to work. Didn't expect the Covid scenario but still managed to enjoy long drives with Jazz. Jazz was a good car, absolutely comfortable, barring the rubber band effect of the CVT.
I was planning an upgrade as after the Covid wave travel from Bangalore to Kerala is now exclusively in car. Jazz is good but not great for long trips. My trip distance was around 630 KM one way every 2 months and hence wanted a bigger and more comfortable car.
I had already posted a thread on this dilemma a few months back. Here is the link for the discussion.
Pre-requisites
BIG Car
Comfortable for Long drives
Safety – ABS, EBD, airbags etc
7 Seater
Preferably Diesel
Automatic – no compromise
Car age should be less than 5 years
Cars Considered
XUV 500
Was keen on this one and almost booked it as W11 AT had discounts because of XUV 700's release.
Pros
Well rounded machine
Proven performer
Comfortable seats
More than sufficient power to cruise all day long
Has all the gizmos and gadgets
Cons
Pathetic luggage space. hardly one suitcase will fit
Not very comfortable in the last row
Niggles reported in almost all forums
Priced heavily even after discounts
Discontinued AWD at that price point
Checked preowned ones but didn't suit me as the price was on the higher side and also most of them appeared abused. Price quoted by cars24, Spinny etc in Bangalore were too high and they had a policy of non-negotiable prices.
XUV 700
XUV 700 release was around the corner and made sense to wait for it as it was rumoured to have all advanced features.
Pros
Latest entry into the market
Had all advanced features like ADAS etc.
Refreshed design and looks
Powerful Petrol and Diesel
Cons
Long waiting period and no confirmation on delivery date
No discounts at all because of the entry price point
Didn't feel VFM, especially the lower variants
It didn't make sense to go with a product that is not tested in real-life conditions and the reported niggles were not positive as well.
Hexa
I really liked the Hexa and have driven it multiple times. Was super happy with this but unfortunately, was discontinued and pre-owned ones were very difficult to find.
Pros
Good imposing look
Good AT response and driveability
Comfortable seats
Gobbles miles as if no one's business
Has enough boot space and third-row comfort
Cons
TATA is known for pathetic after-sales service
Niggles reported in almost all forums
Preowned ones are abused
Cars not considered
Tata Safari – TATA brand and reliability issues
Hyundai Alcazar – Not VFM and is overpriced. Puny 1.5 for diesel and that too for a 7 seater at that price point is crazy
I finally decided on a preowned Crysta and I purchased it quite surprisingly.
Here is a snapshot of the beast
Another one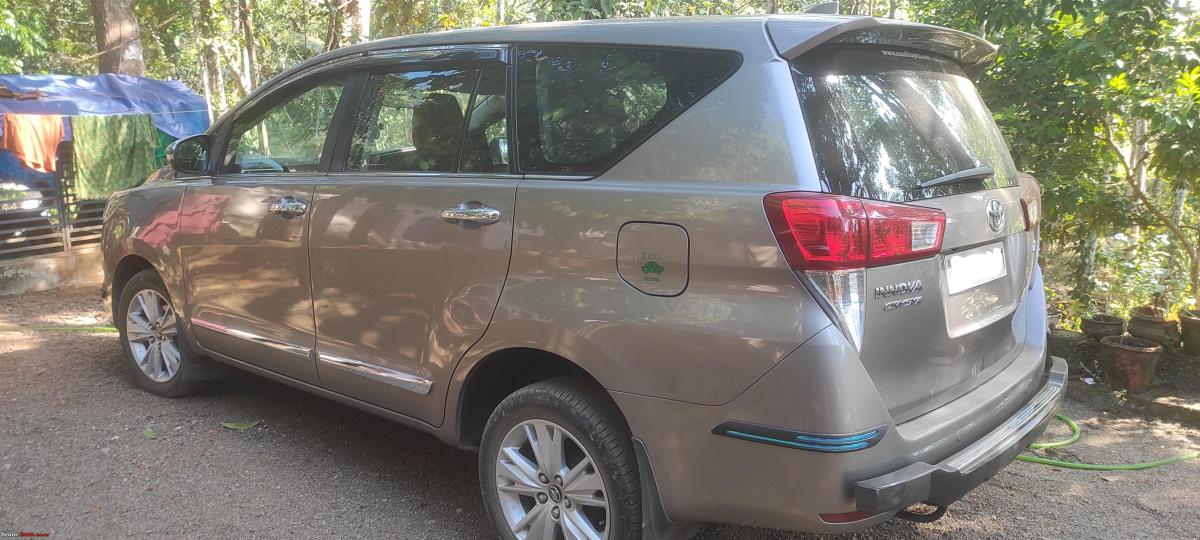 Purchasing the Beast
As mentioned earlier, I was on the lookout for a pre-owned SUV. I had checked with different dealers both offline and online. Crysta was never in the picture because I had associated it with high price vs utility. I had taken extensive test drives of XUV 500, Crysta etc., but could not finalise due to various reasons listed below:
Test drive experience
Cars with low mileage didn't look like it. Most of the cars showed their age.
The cars were priced on the higher side
Low value offered in exchange for my Jazz
I incidentally checked out Toyota UTrust Bommanahalli which was just 1KM from my home. I have seen the office many times but never stepped into it as I thought they were premium. How wrong was I. I was immediately made comfortable by my sales advisor (Midhun) and went into detail about the service and offerings.
UTrust had few Crysta available to see but most of them had a mileage of 60000+. I took a test drive of a couple of them and was satisfied with the condition as they were refurbished and maintained by Toyota.
One fine day in October 2021, after office, I stopped by to check if any new stocks had come. We were discussing the available stock when the BEAST caught my eye. They had just brought it from the customer and were waiting to be sent across for service and maintenance. I was completely blown over by the car and after a quick test drive, booked it immediately.
What motivated the purchase
UTrust had given me a pan India Toyota warranty on the Engine and gearbox for a year
Transparent pricing and was not much higher than the other dealers around
Full service history and background
Trusting Toyota brand known for reliability
Fully refurbished and serviced car on delivery
Additional 3 service coupons for labour charge waive off in any Toyota service center in India
The Bronze Beast experience
2017 Z AT with the 2.8 ltr engine
Had run around 22000 KMs only
The physical condition was immaculate barring minor scratches to the body
Bronze colour was not my choice but looked superb
The first look
Usage experience
I have driven almost 7K Km. Most of the trips were long highway runs mixed with Office trips. Highway runs were mostly to my home in Kerala and a round trip would easily cover an excess of 1300 km.
I usually drive through different routes listed below:
Krishnagiri – Salem – Coimbatore – Thrissur – Muvattupuzha – Kottayam – Home
Krishnagiri – Salem – Dindigal – Theni – Kumali – Mallapalli – Home
Both routes are good but prefer the latter because of less traffic and fewer tolls. Only downside of this route is the ghat section which is uncomfortable for my better half.
With this driving experience, let me summarise my thoughts.
Interior space & comfort: Has lots of space and is one of the best in terms of space inside. A family of 6 can sit comfortably inside and boot space is adequate to store luggage for a family trip. Has got pockets and storage space to store water bottles and other items.
Driving Comfort: When I say that you will not feel any tiredness even after diving for 600+ km, don't take it for granted. There is a huge difference w.r.t. when driving in Ertiga, Jazz, even Hexa (almost the same as Crysta).
Air Conditioner: AC chills even if you set the Auto mode to 25. Quickly cools the cabin irrespective of the temperature outside.
Sound Quality: The sound quality is below normal. This is one area which irks me because, for such a good vehicle, this is not acceptable. I will upgrade the speakers at a later point and this is more of a luxury than a necessity for now.
Engine performance: Engine is very refined and has more than sufficient torque to pull and overtake on the highways. I usually drive in the eco mode to save fuel and extract the max mileage. In the city traffic, the creep feature is useful and keeps the car moving without accelerator input. Overtaking in the ghats though is a different story and the eco mode isn't very useful here. On turning on the power mode, the Beast transforms to its name and absolutely flies.
Gear Shift: AT is a boon and the gearshifts are super smooth. You will not feel the gear transmissions unless you floor the accelerator.
NVH: There is a little bit of engine noise at higher speeds but is quite controlled and is smoothed out if the music is on.
Ride Quality: There is no doubt about this and this is the reason why it's preferred by politicians, actors and businessmen who travel a lot. Most major undulations are absorbed cleanly and jerks are reduced. Has got minimum body roll but shows the ladder on frame character when pushed hard.
Few more pics
What I Like
The Engine – A powerful 2.8 Ltr engine which is very refined. There is no harsh engine tone if driven calmly. Easily one of the best engines from Toyota.
AT Gearbox – A smooth gearbox and is a complete universe from the Jazz CVT. Absolutely silky and gear changes are not evident. Also has a manual mode that can be used in hilly regions.
Safety – The only SUV/MUV with 7 Airbags with ABS, Hill Assist etc. Not to mention the structural rigidity of the Toyota chassis.
Ride comfort – Very comfortable over long trips and will not feel tired even if driven for hundreds of KM's at a stretch. Absorbs all small potholes with zero impact and tackles major potholes, speed breakers with ease.
Interior space – Loads of space inside for storage and passengers. The boot can hold big airline baggage as well as medium-sized baggage. Enough space for a family long trip.
Features – All good to have but I believe less the electronics, the better the car and shorter the service centre stays.
Mileage – I will upload a detailed post on this as I have enough data now. On an average, I have got around 14 KMPL with a mix of city and highways.
Drive Modes – Not getting into all features but the one I liked is the drive mode. Has ECO and POWER. There is a marked difference and turning on the POWER mode transforms a sedate car into a power horse. Trust me when I say this because it changes the car's characteristics with a simple switch. A boon when overtaking and hilly regions.
What I Don't Like
Barebone features – in comparison with other brands, Crysta has got a lot less in features wiz. sunroof, ambient lighting etc.
Infotainment System – One drawback is the system and for this price, android auto should have been built-in.
Speakers – Pathetic speakers warrant an upgrade immediately. Looking for good suggestions from you all.
No Auto-fold mirrors – Not necessary because there is a manual switch.
Few shots of the interiors. Also has shots of the extra accessories I have installed.
Has anyone noticed the Sunshades on the window?
Adequate boot space and can take 1 Big Suitcase+1 Medium Suitcase. Airline baggage size.
Notice the tray tables. I haven't used them at all.
Jopasu Duster for cleaning
Extension power socket to connect the dashcam
Transcend dashcam and Amkette mobile holder
7D floormats. Very useful for keeping the interior safe
Final shot
Mileage Screen Shot
Check out BHPian comments for more insights and information.
Source: Read Full Article