We reduced our garage from 3 cars in 2016 to just a Maruti Ciaz by mid-2020.
BHPian SS-Traveller recently shared this with other enthusiasts.
Introduction
There was a time over a decade ago when I was driving ~50,000 km every year for work as well as recreation, and burning diesel like there was no tomorrow.
Then, tomorrow arrived.
In 2016, I quit my job that required me to drive ~150 km every day, our daughter went abroad, and we became empty nesters. For the next two years, I still had a 3-car garage – a 2009 Scorpio 4WD, a Thar (acquired in 2017), and a 2006 Swift ZXi. Our usual driving was reduced to ~10,000 km/year between all the cars.
Come 2018, the 3 cars were becoming a maintenance headache. Along with that, the issue of air pollution in Delhi, the diktats of the NGT to ban diesels over 10 years, and petrols over 15 years old, and the rules relating to odd & even registration numbers being allowed to run in the city on alternate days, were becoming too much of a hassle. Since all the cars bore odd numbers, we first chose to sell the Swift, which was the oldest of the three. Being BS-3 and almost 13 years old, there were no buyers for it in Delhi – and I wasn't too keen to scrap it, considering it was well taken care of. Finally, we drove to Guwahati and handed over the car to BHPian chiranjitp.
In 2019, the Scorpio was nearing 10 years. A perfectly running car, I did not want to part ways with it but was forced to. And we had to buy an adequately comfortable car to replace it since the Thar was not quite there in the department of comfort. So we bought a Ciaz.
2020 came, Covid-19 arrived, and our daughter visiting us for 3 weeks in March 2020 got stuck in the lockdowns and flight bans for nearly 2 years. No driving for weeks and months on end, and the two cars (the Ciaz and the Thar) just sat outside the house, running their batteries down and gumming up their engines. Sometime in the middle of 2020, we got an opportunity to dispose off the Thar. My wife used to drive the Thar after the Swift was sold, though she never enjoyed the heavy controls, and neither my wife nor daughter wanted to ride in the back seat of the Thar when the 3 of us went out together. Everybody heaved a sigh of relief and said Good riddance once the Thar was gone.
And so we were left with a single car. Not that we felt much need for a second car, but the Ciaz was not something I liked to take into congested areas or narrow lanes. Throughout 2021, with Covid-19 refusing to go away, we neither had many opportunities for road trips, nor did we need to go to the markets frequently, thanks to a multitude of online shopping portals, and a local market with grocery & medicine shops, Mother Dairy & Safal barely a 100 yards away from our doorstep. I work from home, and driving to a job was not a need at all. To put things in perspective about how much we drive nowadays, the Ciaz has done 27,5xx km from end-February 2019 till the end of 2022.
In March 2022, our daughter could finally leave India and return to her work and the place she enjoys living in. We were looking for a small car for those short trips and visiting some congested areas (anyone who's been to Sadar Bazaar in Gurugram or Delhi will know what kind of congestion I am talking about). However, with the extremely limited running we had, we refused to invest in a new car (though we did consider the Kwid, Alto and S-Presso at one time). Used cars in good condition were hard to come by, and prices were outrageous. It was as if everyone was desperate to buy cars immediately, and since the OEMs could not provide new cars fast enough due to chip shortages and other excuses, people were paying new car money to buy slightly old cars!
So, right through 2022, the search went on. Until the end of November…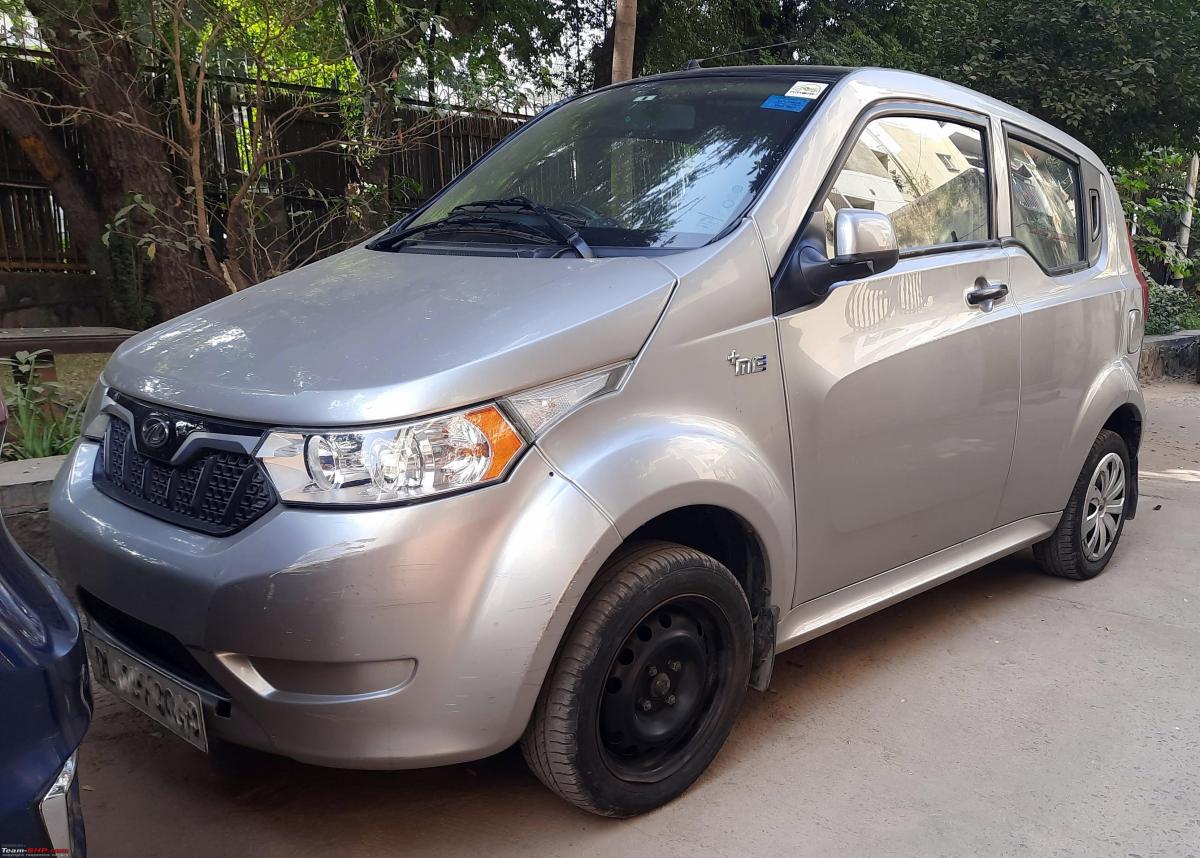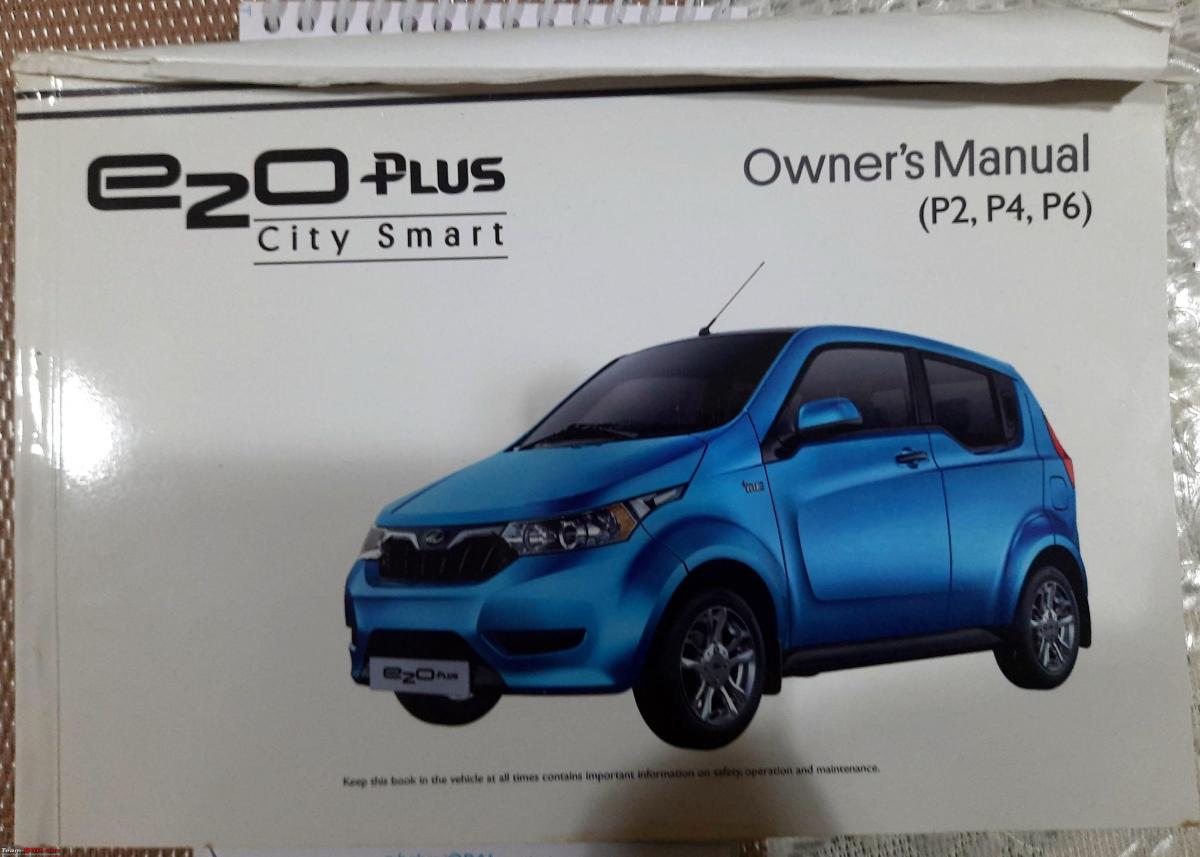 …when my cousin who is an early adopter of EVs, decided to sell his E2O Plus and upgrade to a Nexon EV Prime. He had owned an E2O since 2013 and upgraded to the E2O Plus later.
That is my cousin's new car
The car
This vehicle was registered in January 2017 and had done 37,4xx km before we owned it. A complete service history is available. It did not come with green registration plates (but the white plates are HSRP), and I am not sure how to apply for green ones (in the event that they would at all be required, since neither my cousin / his chauffeur nor I have been pulled over for the lack of such plates). At the Koncept Mahindra service centre, I did notice all the E2Os still sported white plates, not green, so I suppose I don't need to do anything about it immediately.
The battery had a range of 110 km on 100% charge when new, but a cell balancing / battery optimization procedure done 2 years ago reduced the range to 99 km. A check-up with a laptop at Koncept Mahindra's Mohan Cooperative Industrial Estate showed all 16 cells to be in good health, except that the temperature sensor on cell no. 7 is on the blink, showing an occasional overheat light on the dashboard (but without any loss of performance). The part has been ordered, and I should be having it replaced in a few weeks (supposed to be a full-day job, involving the removal of the front seats and all the plastic covers).
The tyres (ContiEcoContact3, 165/60R14) are in good condition, though 6+ years old. The spare tyre has never been used. Since the car is used for short distances at low speeds within the city, changing the tyres right now is not under consideration, though I installed an external TPMS to monitor them.
The front suspension has a bit of a rattle over rough patches and will be attended to soon (though the service centre said everything is fine). The body is not metal, so despite a few scratches, there is no corrosion apparent anywhere, except on the charging port lid, which is metal.
There is another charging port flap to the right of the car, which appeared to be jammed shut, so I asked the service centre person about it. On the P6 and lower models, this is a dummy cover that cannot be opened. On the P8 version of the E2O, this contains the fast charging port with a GB/T type connector, but my car does not have a fast charging port. The Level 1 (slow) charger that came with the car uses this IEC60309 type of connector.
Driving the E2O Plus
Getting in the driver's seat is easy, except for the space between the battery pack (under the seat) and the front edge of the door sill is not quite enough for large shoes to fit in sideways. I need to twist the right foot to avoid snagging the shoe.
The seat offers enough forward and rearward travel to accommodate me or my wife comfortably.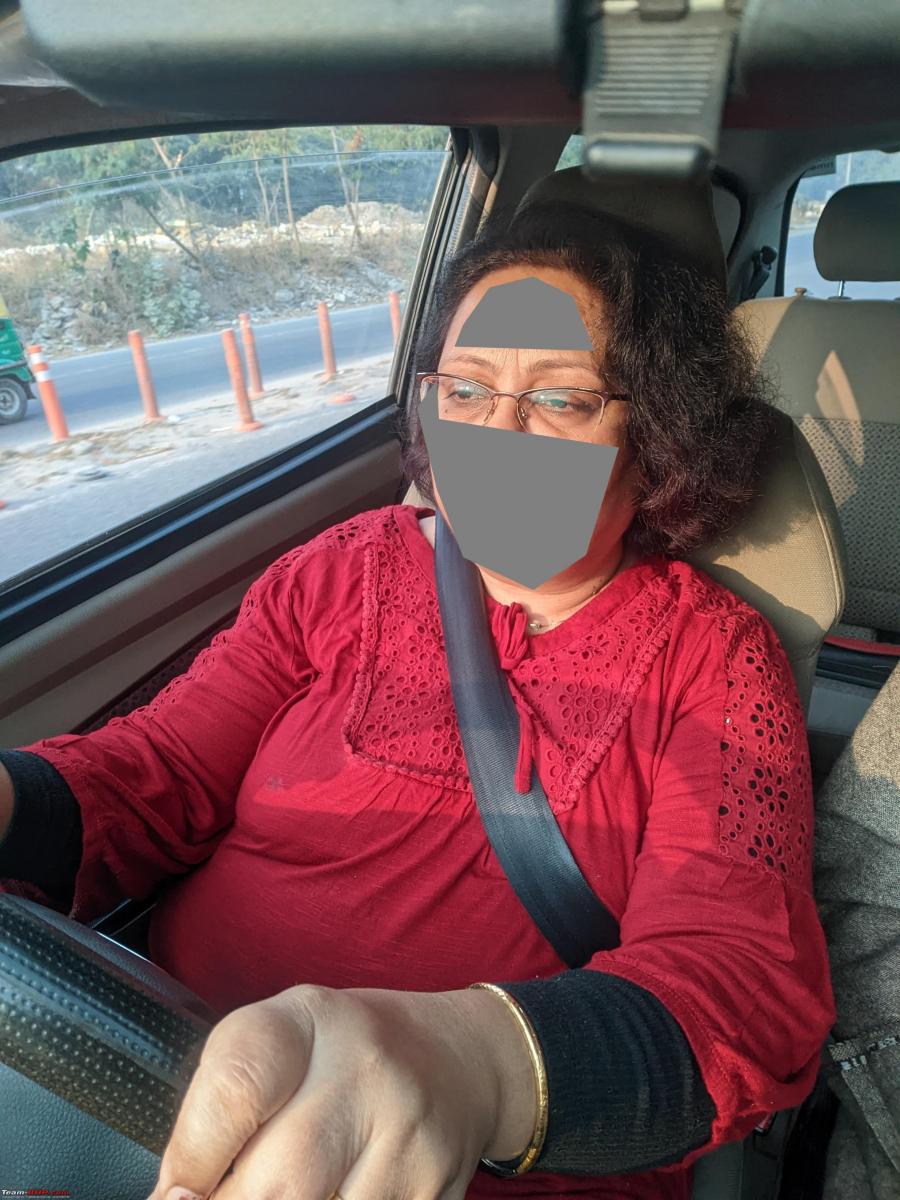 However, the A & B pedals are somewhat offset to the left, and one's right foot does not intuitively reach the pedals. So one needs to adjust one's position a little awkwardly, placing the left foot on the dead pedal and making sure the right foot knows where the pedals are.
It takes a bit of fiddling to power up the car. Press the start-stop button and an orange light blinks, until the key fob is physically touched to it, when it turns green. A few seconds after the orange light starts blinking, the digital meter console displays an "Authenticate key" sign, after which the key fob bing touched to the button shows a "Welcome" sign. Touch the key too soon (before the "Authenticate key" sign is displayed), and the light will turn green but the display will show "Restart" instead of "Welcome". One then needs to switch off the start-stop button and start all over again. Not a car for the average valet parking attendant to start and drive!
Before shifting from N to F or R (these are the 3 positions on the gearshift, apart from a B = Boost position for extra power on demand) requires the brake pedal to be pressed at the first instance, but subsequently shifting from F to N position (or vice versa), one does not need to press the brake pedal.
Moving off is smooth and noiseless like any other EV, and the car crawls at 2-3 km/h without A-pedal input. Perfect for bumper-to-bumper traffic. There is a distinctive motor whine from the rear as one drives, and the noise level increases when lifting off the throttle as Regen kicks in. At slow speeds, one can hear the electric brake booster hissing when brakes are applied.
It isn't an enthusiast's car, but it pulls cleanly from the traffic lights and stays ahead of most ICE cars till 40 km/h. Up to 50 km/h it's a hoot to drive, though at 60 km/h it runs out of steam, and one does feel a certain degree of instability in the road-holding capacity of the car. The brakes are not bad, but need a heavy push to make the hydraulics activate – before that, it stays in Regen mode. Note to self: check the brake pads (service centre visit after I wrote this shows plenty of life left in the pads).
Parking the E2O Plus
The steering is super-light at slow (parking) speeds, but seems to weigh up a little as the speed increases – it has 4 turns from lock to lock, and the turning circle is the smallest of any 4-wheeler I've ever driven. The short and narrow car is so much fun and joy to slot in into spaces where my sedan won't fit, or have loads of space on either side to open the doors wide and step out, when occupying a standard parking slot vacated by a bigger car!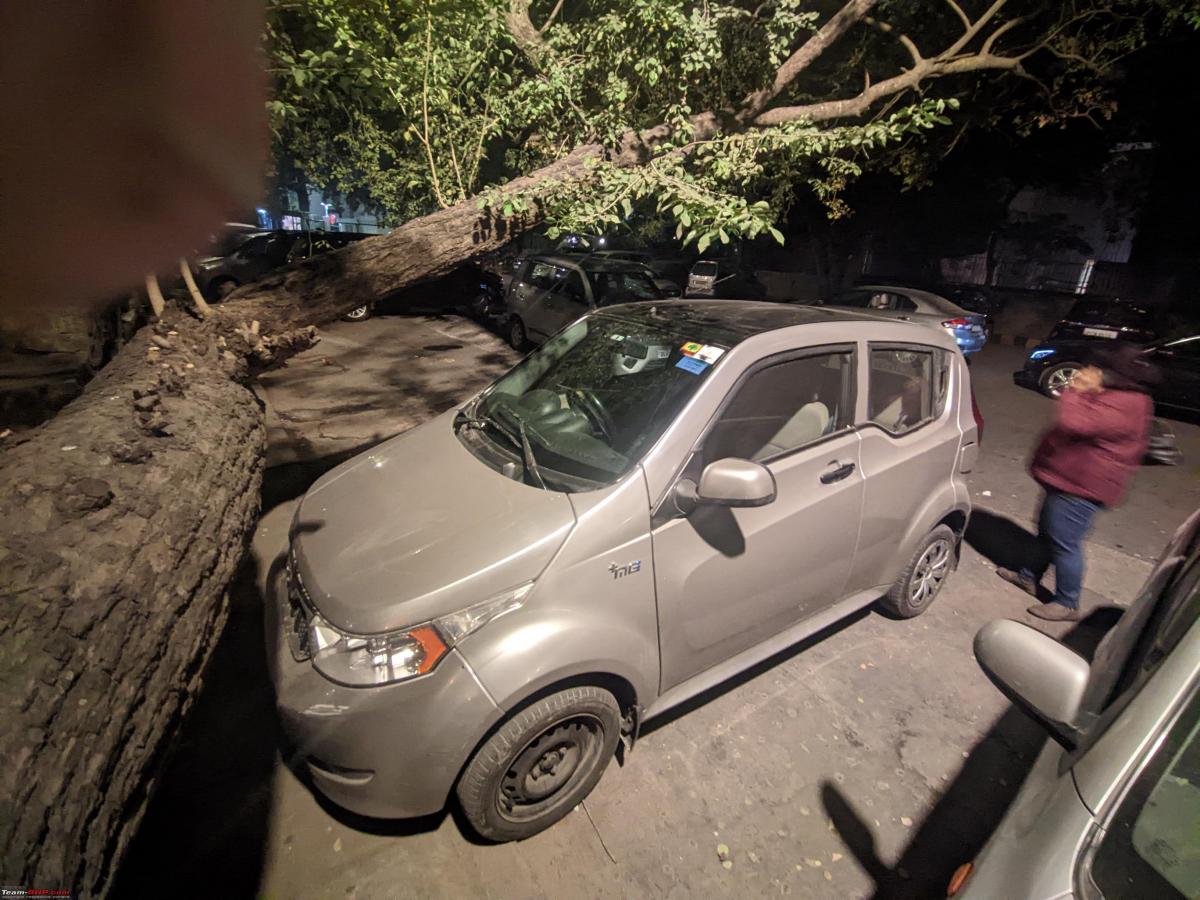 That's the lane in front of my house, where I park regularly. Compare the width of the E2O with the humongous Land Rover Defender parked behind!
This is the only car that can do a 5-point 180-degree turn within the width of this lane – every other car has to reverse out when driving in (or vice versa).
Continue reading SS-Traveller's ownership review for BHPian comments, insights and more information.
Source: Read Full Article