This hidden charge was cleverly masked in the road tax component of the quotation with a few abbreviations put up next to it.
BHPian pranad recently shared this with other enthusiasts.
We recently booked a Lexus ES300h in Hyderabad and after the initial exhilaration wore down and I was reviewing the quotation given by the dealer for the car I noticed a discrepancy of Rs. 50,000 in the total amount payable to Lexus.
This hidden charge was cleverly masked in the road tax component of the quotation with a few abbreviations put up next to it. The road tax at 20% in Telangana should amount to Rs. 13,16,200/- however the total as shown below in the screenshot from the quotation given to me by Lexus Hyderabad is Rs. 13,66,200/-
When questioned about this, the sales representative gave me the following break up: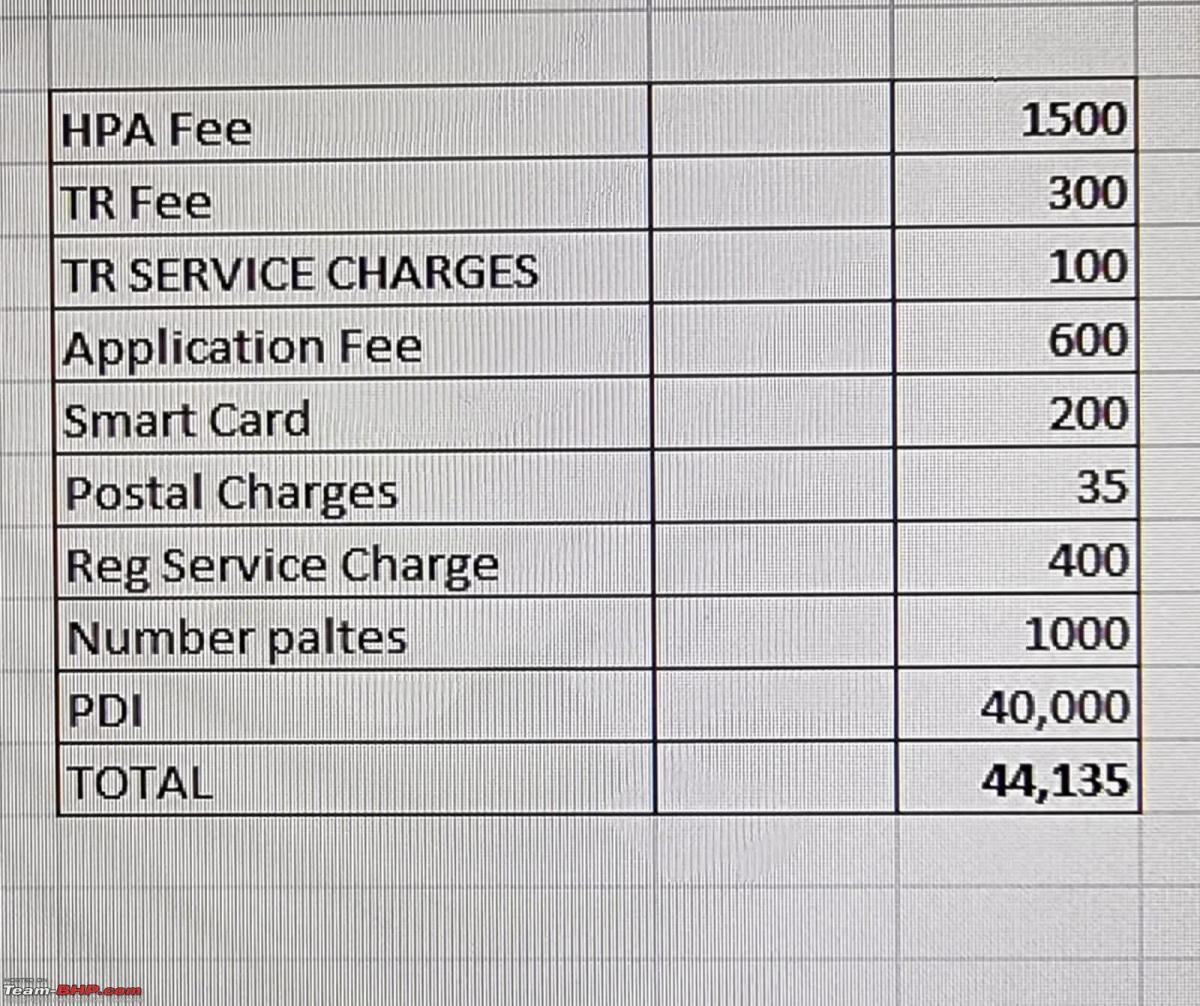 There is still a further amount of Rs. 5,865/- which is unexplained in the above breakup. The PDI charges of 40,000 are wholly unjustified as per multiple consumer court orders, Supreme Court directions, a Delhi High court order and multiple circulars issued by RTO Telangana. However, dealers seem to think of themselves as above the law and charge these illegal fees without justification. When I took this issue up with the GM, Lexus Hyderabad he brazenly said this is company policy and there is nothing he can do to change it.
I then showed him the below circular issued by RTO Commissioner in 2016 explicitly forbidding such practices. The General Manager said this circular was withdrawn but could not come up with any documentary evidence to back his claims.
It seems like Lexus Hyderabad is simply out to cheat customers and make extra money through unfair trade practices and illegal charges. Please beware of this and ensure you do not pay anything over and above the statutory requirements. Dealers cannot steal our hard-earned money and expect to get away with it.
I will be sure to escalate this to Lexus and Toyota corporate teams to ensure they act in this matter failing which I will consider legal action against the dealer and Lexus/Toyota. Will keep you guys posted on my progress.
Here's what GTO had to say about the matter:
Man, dealers really take customers for a royal ride. I'd want to know just what they are doing for the PDI of a car from Lexus, a brand known for perfection in build quality. Regardless, one of the primary responsibilities of a dealer is to ensure smooth delivery, PDI included. What next, 20000 rupee parking fees for your Lexus before you take delivery?

You please write to Lexus directly about this. I am also forwarding a link of this thread to someone I know at Lexus. Lexus is known to take exceptional care of its customers & will fix this.
Here's what BHPian V.Narayan had to say about the matter:
Is there some way I can connect with you directly? I can send you the personal phone numbers of one or two senior officers in their system. The National Sales Manager I knew has changed jobs. His place seems to have been taken by the person whose LinkedIn profile is here. At least message him via LinkedIn.

If you believe, as you do, that what the dealer has charged is illegal please get assertive you have nothing to lose. Personally, I do not know what charges are legitimate or not in TS. I paid a PDI in my purchase in 2017. I checked with the New Delhi dealer just now who confirmed that they charge Rs 90,000 for PDI etc and as far as they know it is legitimate. If you are convinced you have been short-changed, suggest you lodge a complaint at [email protected]
Here's what BHPian Turbanator had to say about the matter:
Have you checked with other dealerships about what they are charging? Here in the North, 90K is the norm with most luxury car makes. They give an invoice too.

I don't know if RTO actually has any jurisdiction over the invoice charges, as dealers are asking you to pay for the PDI/inward freight etc., and they are paying taxes too. RTO can at most calculate road tax by including such charges if they want.

Such taxes are very common overseas, but here we take them as illegal as we have a concept of MRP, which technically should include everything. I won't fret over this if others too are doing similar. Now two wrongs don't make a right, but I have come at peace with such charges for my own sake. If you are investing so much, enjoy the car. Think of some additional kind of tax. Already you are paying 20% RTO on full value, whereas we pay 8% on basic value (minus the GST) here in Chandigarh.

Here's what happened to another member, you can try showing them this judgment.
Here's what BHPian 100Kmphormore had to say about the matter:
That HPA component is a handling fee probably. Stand your ground and have the unnecessary charges removed and ask for documentation in writing/print to back up his claim. I am not going for the Ola S1 booking on the app because there's a straight handling charge of 1800 odd. Anyone here who have bought the scooter on the app and got the charges removed?
Check out BHPian comments for more insights and information.
Source: Read Full Article