Several days later I go to the showroom to pick up the original RC card, to my dismay I see I am the 4th owner.
BHPian sangam_mm93 recently shared this with other enthusiasts.
Hello All,
I thought it is finally my time to write about my experience with Jetta here.
Please tolerate my post or skip to the end to see the happy ending.
History of cars –
The family had a few cars, dad had a small travel agency back then and our workers were plenty at work, so I grew up with them, they always gave me bikes to ride on school grounds; both cars and Bikes alike. But the heart in me chose to be a biker. I still have a CBR250R Repsol edition and that is a keeper whether I upgrade or not.
Started with a Hercules Top Gear, Samurai, Victor, CBR250R and tasted a lot more bikes after getting biker buddies.
Fast forward to 2016. The year I decided to get married and also bought a used A Civic 2008 V MT on my own in Nov 2016. I bought the Civic because I l love sedans. I did not mind petrol because I thought I will not do more than 10K KMs a year but completed 40K+ km in around 1 year and sold it in 2017 December.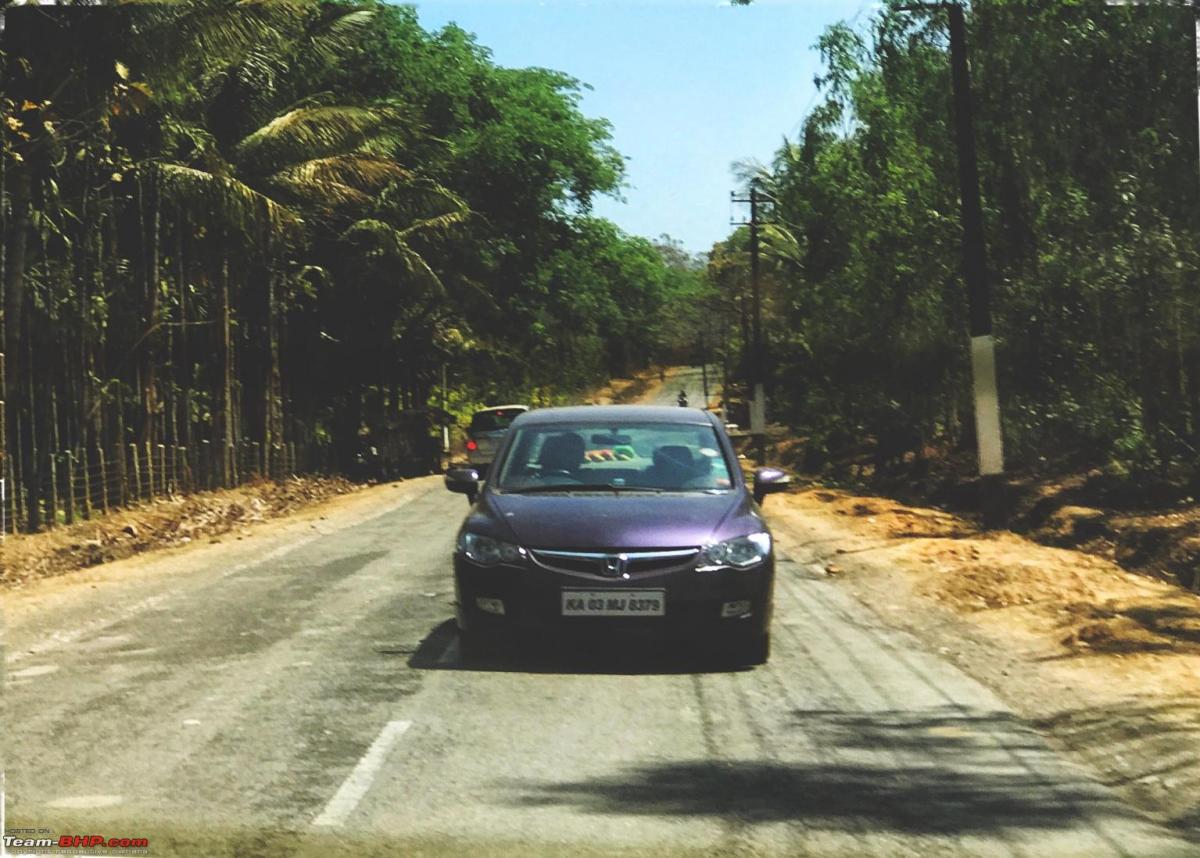 It served me really well, the only reason to sell it was some financial crisis back then.
Road to Jetta
So, I was car-less for almost 8 months. And I listed my regrets and reasons here
Fast forward to 2018 September after many calls with friends, and running around test driving, I got my 2012 Jetta CL MT TDI as follows. It was an impulse buy I tell you.
I checked the car and got it inspected mechanically, perfect as it was, I made an instant down payment of 20K to book the car.
If I remember correctly, I then paid a total of ~1.75L as a total down payment and the dealer took documents for the loan, and he said "We trust you, saar. You can take the car. I am sure I will get the loan amount"
I was thinking how generous these guys are. They let me go away with the car like Jetta just after the downpayment.
God! I was flying in the air. 2-3 months passed, and I got it serviced at VW PPS, Bangalore. Got the basics sorted.
Again a month later I guess, I got the soft copy from the dealer, stating I am getting my original RC card soon but it stuck for some reason. This is what he sent. A Photocopy!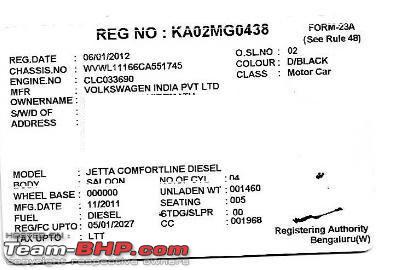 I told him "Please send me the photo but not a photocopy. I will need it for insurance renewal." And what's a dealer without issues. I hear no updates. Insurance was due, I tried renewing and was glad they accepted the photocopy because my name had matched in the Vaahan portal.
After a few weeks, I go to the dealership, the boss is not there so I talk to/ask those workers/cousins whoever was there, demanding an update on my RC card, but they just stand there still like Drax.
You won't believe me, a year passed, and I am still with the softcopy. This time I found the boss, I made him call the RTO agent. I think they are all used to this, he calls the agent and asks "Where is the RC, owner is here and demanding it. This is not right"
The agent says "Saar, some issue in RTO, pakka next week". I laughed at him on his face and told him this is all a game. I said, "I have paid already, it has been a year, it is my mistake I trusted you. I will get my RC card somehow."
Close to 1.2 or 1.5 years, I do not remember, I get a photo of the RC card as follows.
I was told I am the second owner but this masking of the owner number, making it look like it is taken accidentally was not a pleasant thing. I clearly knew something was wrong.
So, I dug up the previous owner's number from the old insurance document I had and spoke to him [I know I should have done this in the beginning, I am sorry for that. ]
He had the car for 5-6 months only, and he was the 3rd owner.  I was just there in the call, wondering why did I even trust the dealer. Spoke to a friend's friend who works in RTO and confirmed the same.
1 week later the dealer calls me and says the previous owner is in the USA, we need his signature for some paperwork. He did not know I was in touch with the owner. I called the owner later and confirmed he was in Bangalore.
Several days later I go to the showroom to pick up the original RC card, to my dismay I see I am the 4th owner. When I asked them why, oh god, they are used to all this for sure. He calls up the agent and scolds him stating there is a mistake. I said, "How is this his mistake, you are the one who sold the car to me." He adds "I will fix this, we will do a correction. Give me some time."
That day I realised it is of no use, fighting with them is a waste of time and money if I wanted to go legally against him. Especially when I waited for such a long time, without verifying a few things that I had to.
Oh, how can I not tell you where or who they are? Speed Automotives, Thippasandra, Bangalore
I would have still bought the car knowing I would be the 4th owner but would have paid a little less than what I did. After all, it is a machine, I have seen 1st owner's cars in worse condition. It is their heap of lies that bothered me.
When/If the time comes, I will be honest with the next buyer and tell him all this.
Listing the series of events because I do not want to write a blog for 3.10 years of ownership :
First Ayudha Pooja of the car with us.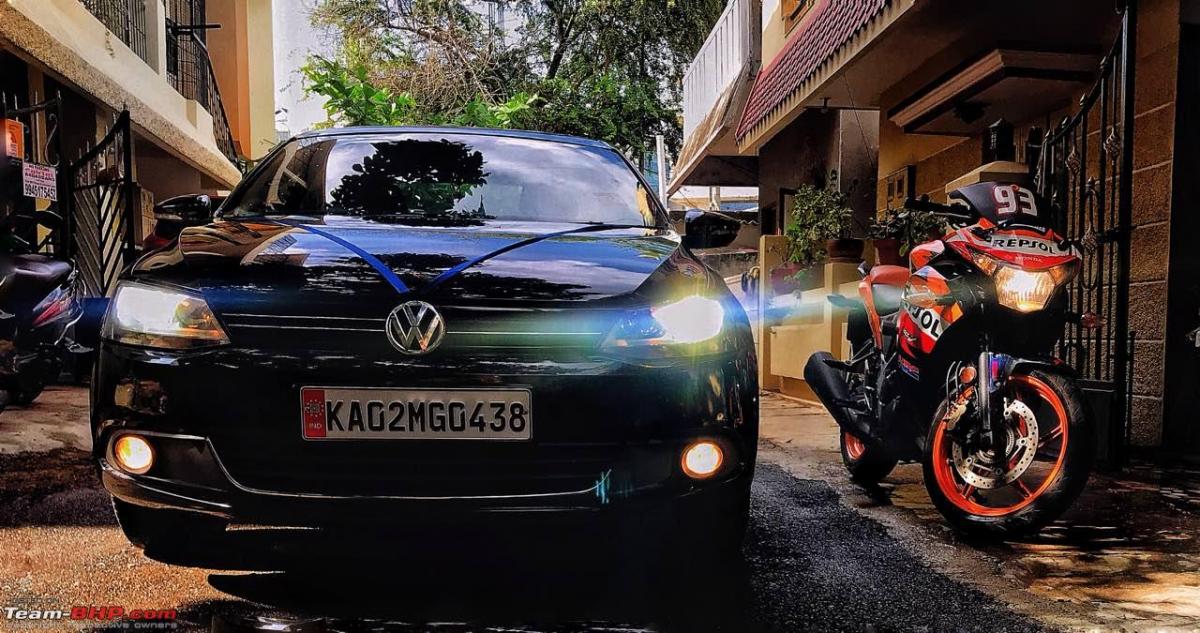 I went to Dharmasthala, the first trip I guess.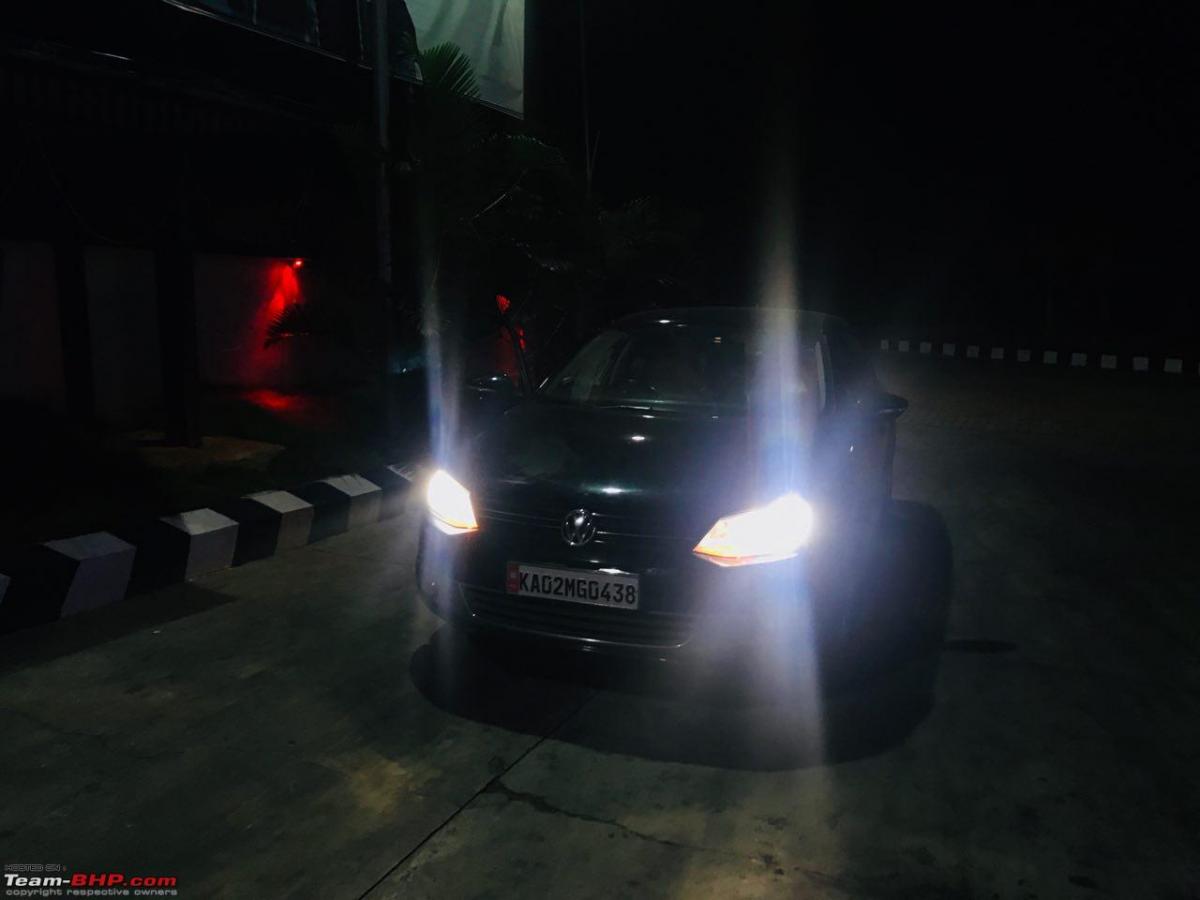 My first trip with my biker buddies who all turned into Car buddies  – To Some Dam, I do not remember.
With My better half
2019 – Service/Insurance, new Roof-liner, New AC Blower and a few small trips like Waynad, Chikmagalur and many more. Roof-liner details are here.
Kalyan Cool Resort – March 2020
Got new Tires soon after this trip. I got the MC5. 205 60 16 against the 205 55 16. I needed more cushioning.
Rat bite – July 2020
Rat Bite! Many of you can relate. That is the first attack I got. It chewed up all my coolant pipes. Took it to VW ASC Mysore road.
This was around June 2020. Lockdown impacted the parts to arrive at Bangalore. SA calls me and says, the fuel pump needs to be replaced as well, there is a leak in the fuel hose. I said, "Replace the hose but why the pump?"
He says "No sir, we need to replace the pump too, there is a leak despite the presence of the clamp.". So, I go to inspect the car and I see was few mls of diesel, that's it. I really did not know what to do. "Fuel leakage is very dangerous", he added.
Anyway, the coolant hose had not arrived yet. So, I had to leave the car. I left the place.
On July 30th my mum expired. This was my first experience dealing with death as an adult, and I am left with no car, I called them and explained to them why I needed the car ASAP. I told them to replace anything they want but I need the car. The car came back to me the next day. They billed me ~38K and my best friend picked up the car for me. While I was there, I also ordered the mirror knob. Astonishingly 4K for that knob, and over-complicated process to install it.
2020 Service, Radiator Coupler and Alternator – December 2020
The radiator coupler gave up one day in November. N2Tech Nikhil helped me connect with Sai Adiga folks. I went there and they fixed it for 4K.
In December, around 930pm near Basavanagudi, the alternator/pulley gave up. I called up Vyshak immediately and he helped me leave the car at the workshop.
Body Repaint – December 2020
Got a full body repaint. Not stripping the entire car or old paint but just all panels tinkering, dent removal and painting. Damage of 50K. The paint did come out well but while writing this, due to traffic, stone chipping etc, there is at least 1 minor scratch in each panel.
Suspension
2021 August 5th we did a Hampi trip with my Jetta and our Polo GT TC and realised my suspension is surely gone. Rubbing salt on the wound, I also learnt how bad my AC had become.
Mandatory 50Rs note pic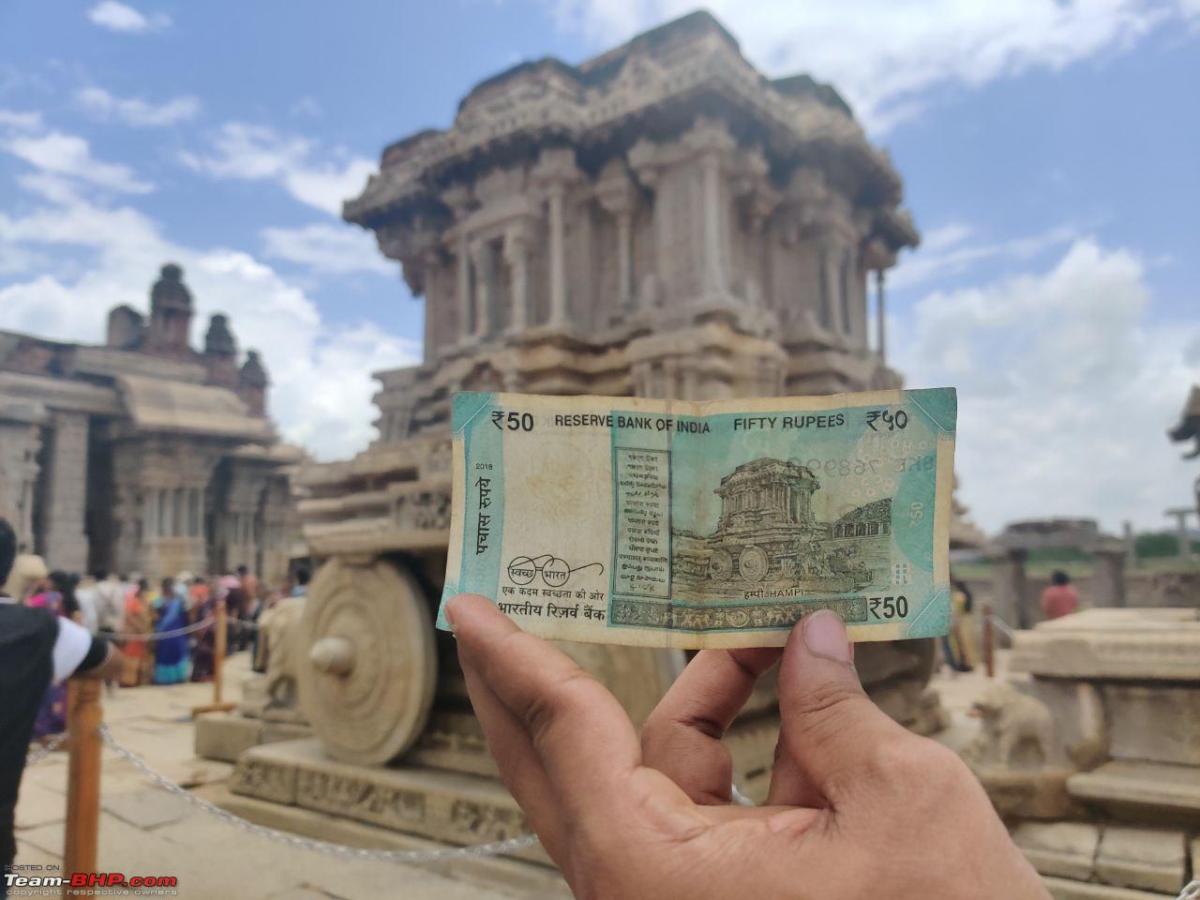 Just our VAGs <3
My gang (half) at Hampi
15th of August, The first Bangalore Jetta owners meet.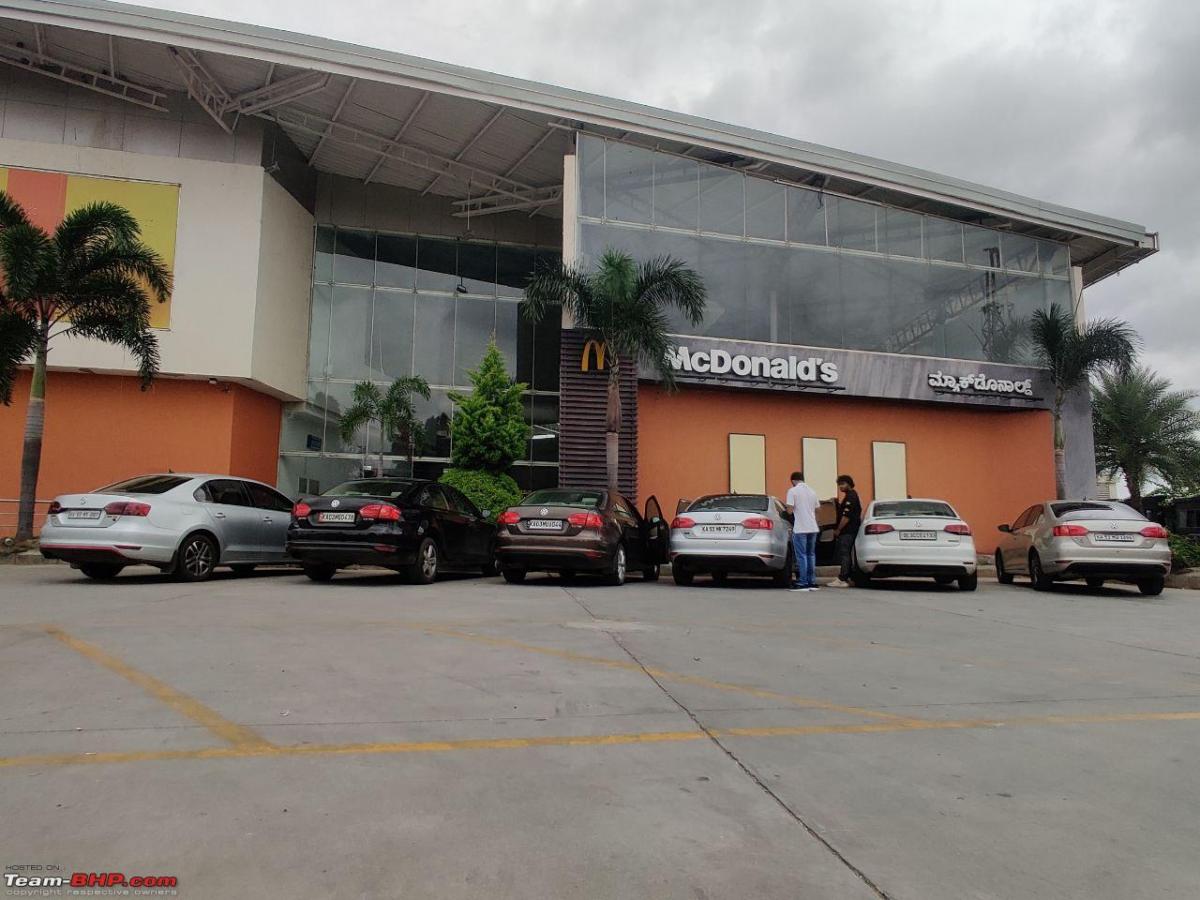 After this, I went to Engineering Exponent and got my suspension overhaul, Drive shaft boot etc done. I am really glad I met them. Since I stayed on the East side more, finding a reliable FNG was difficult after Sai Adiga from the South.
Windshield Broken – 24th August 2021
I met a friend in Hanumanth Nagar, had a nice chat with and was about to leave. I took the key out of my pocket and voila! A tender coconut fell right in front of me.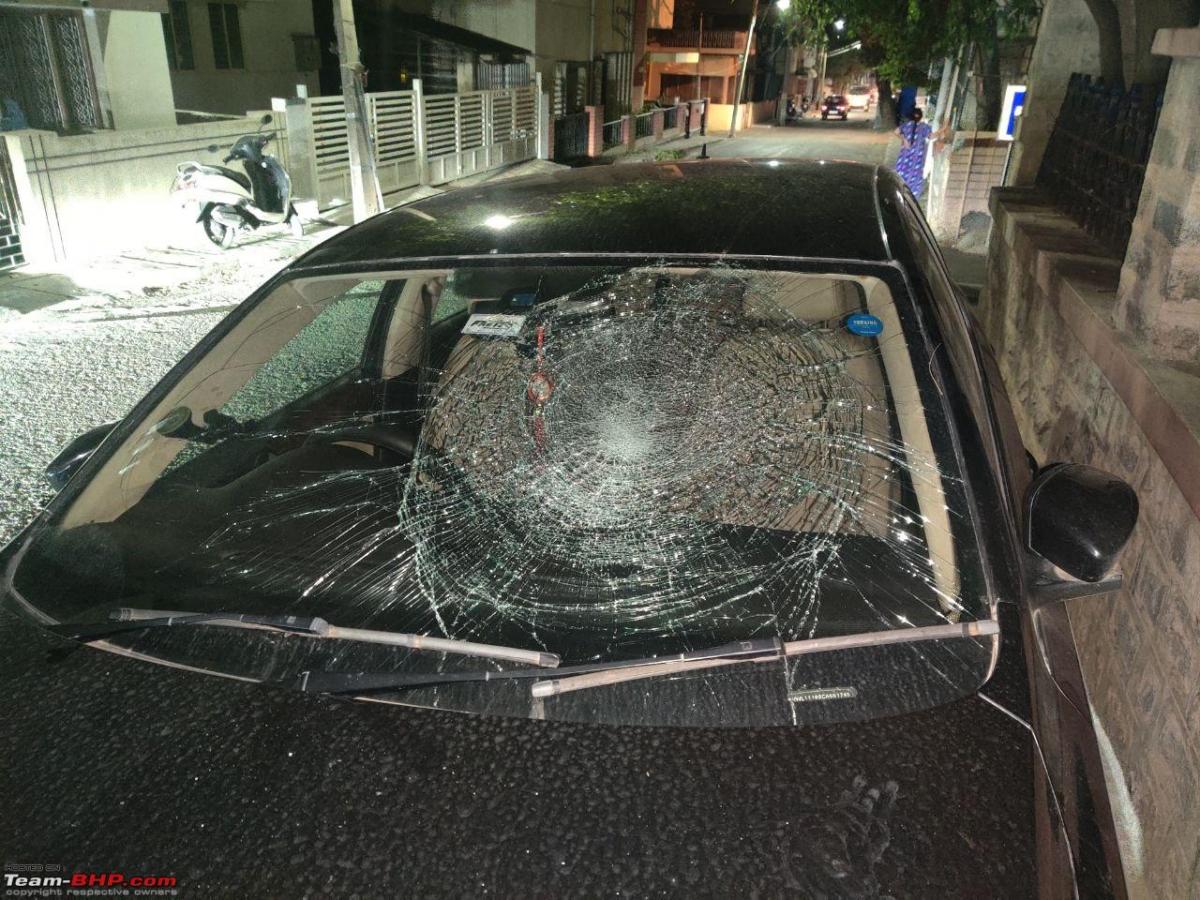 How unfortunate is that I had got my 70Mai dashcam just an hour before that. But it was not working as I was waiting for the new memory card to arrive.
New Windshield from VW Whitefield ASC as many suggested the gum and installation will be better at ASC, however, New India Insurance claim was really hassle-free.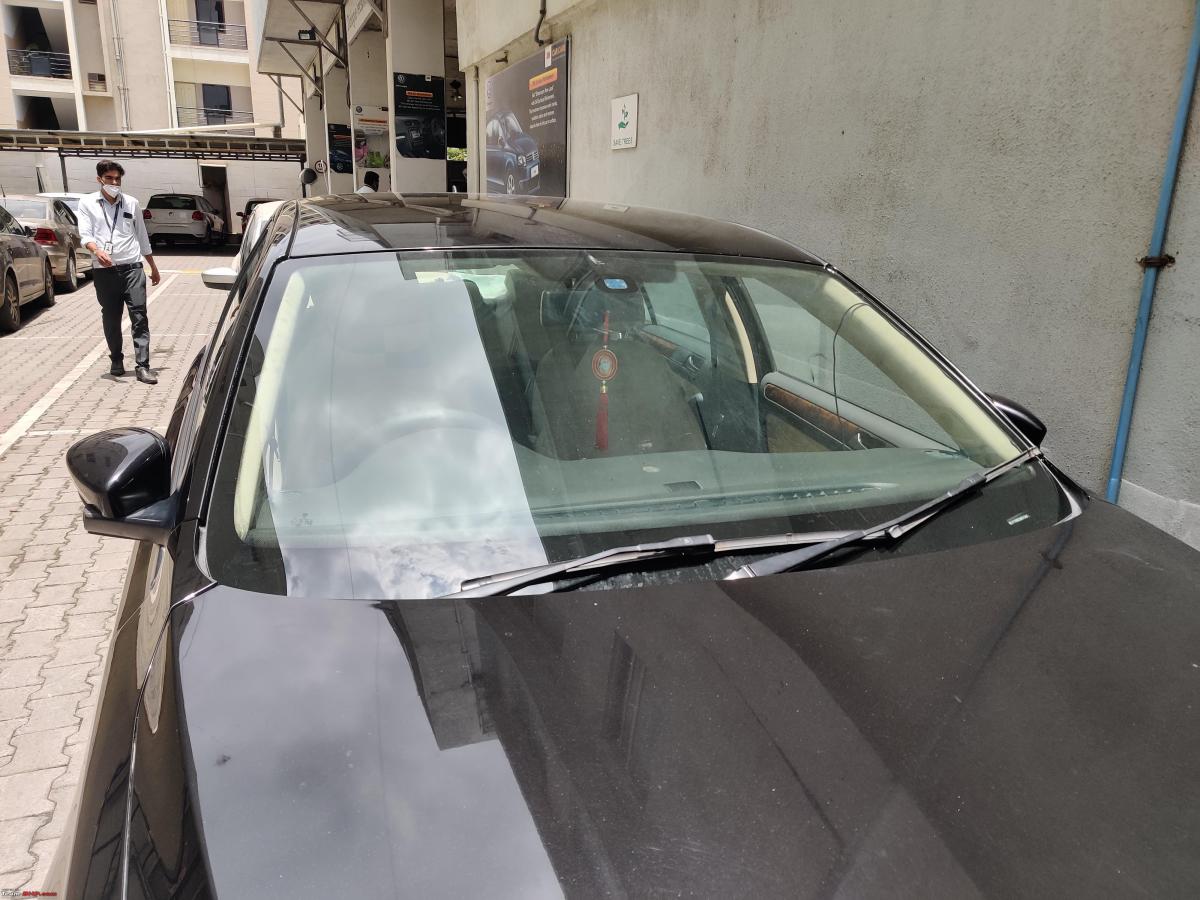 PS – I noticed that they stripped some paint off at some places while removing the old glass I guess.
New Steering Leather, New Night Eye LED for Highbeams and New AC – September 2021
As I said, Hampi trip made me think of my AC, but did not want to spend a lot in one month. Hence took one issue per month.
Got a new condenser, compressor and solenoid valve.
Old Condenser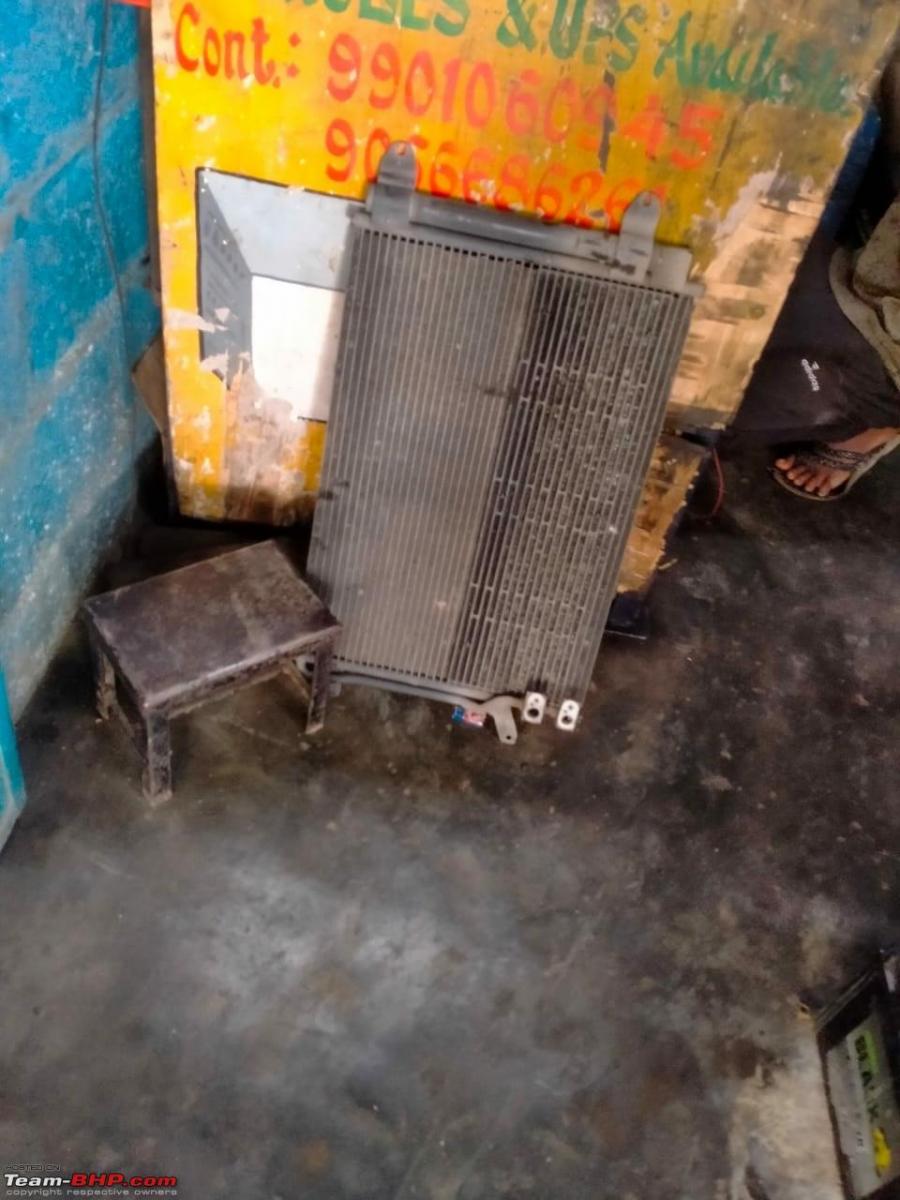 New Solenoid Valve
New Condenser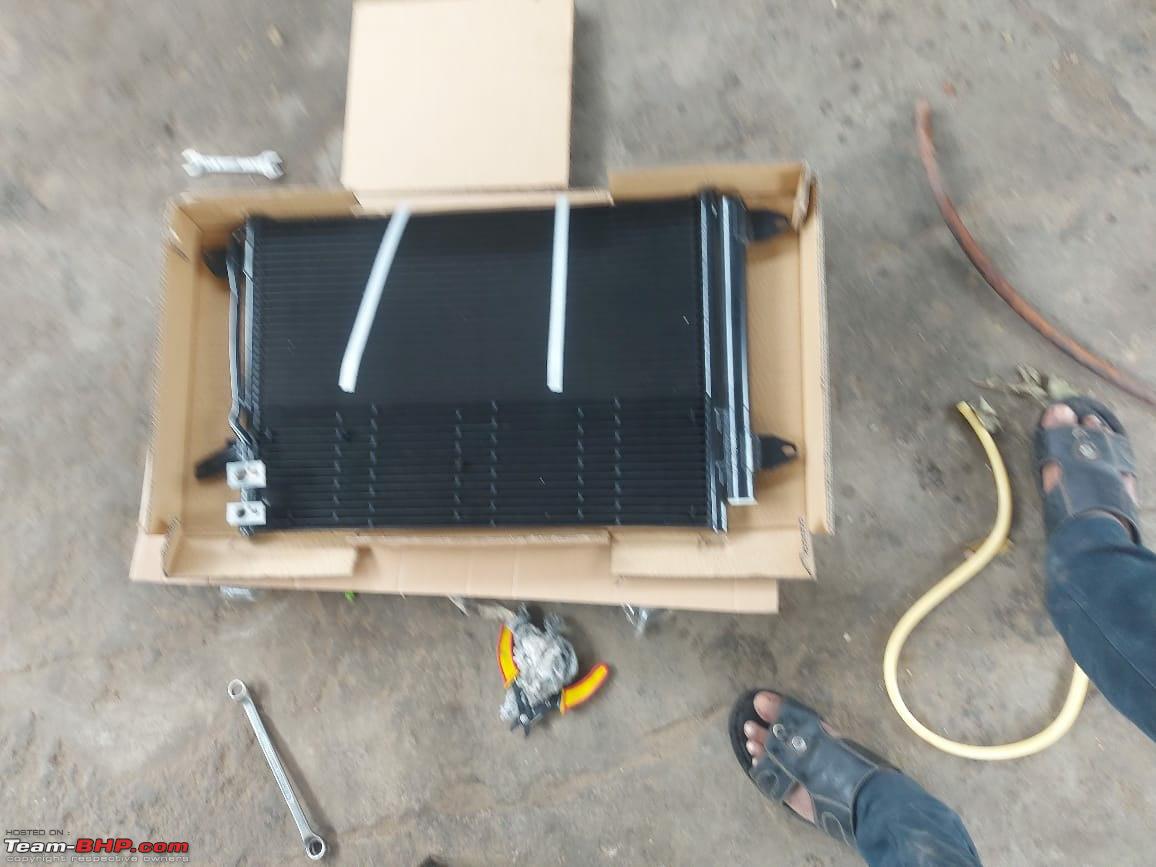 One of the plenty visits to my inlaws' place. Koppa, with tight security against rats.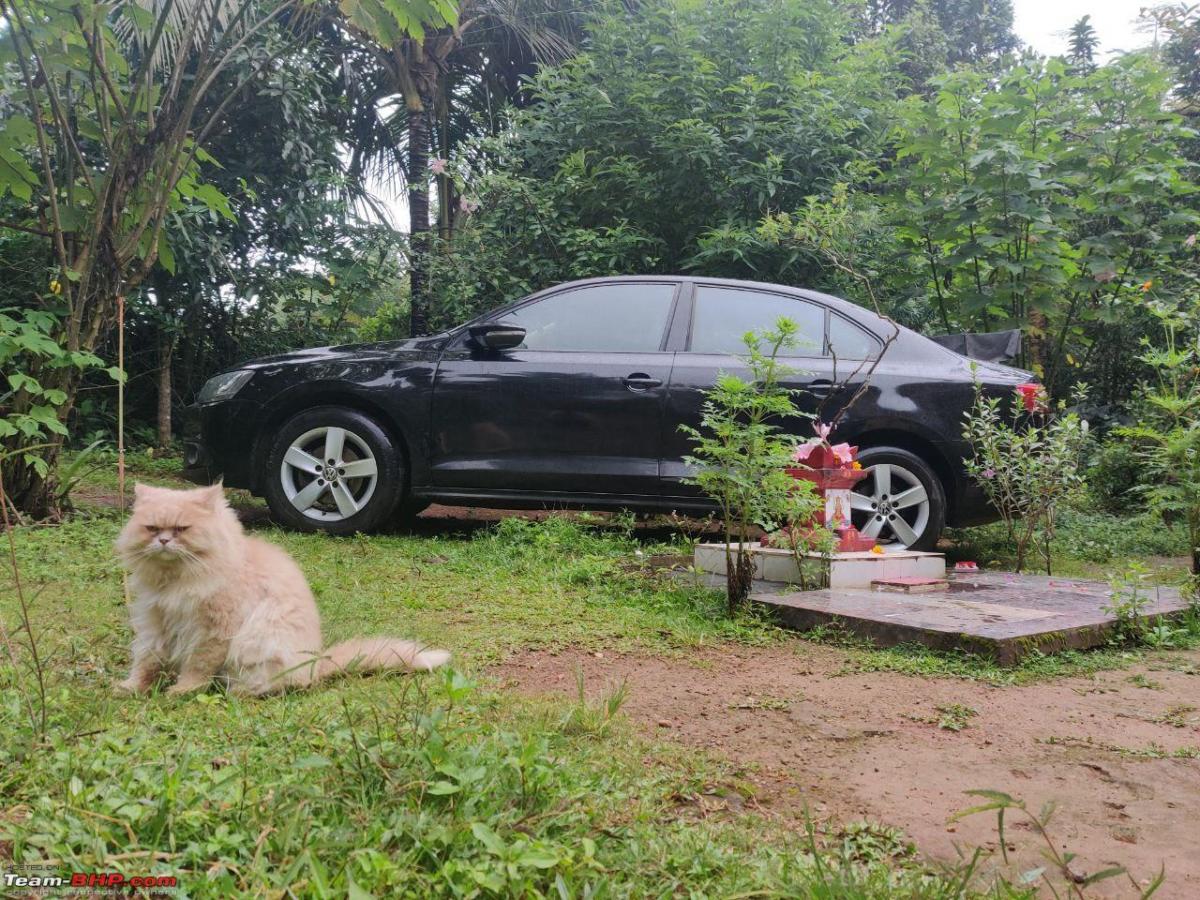 Udbhava Shree Anekal Ganapathi Devastana, near Umbalebayalu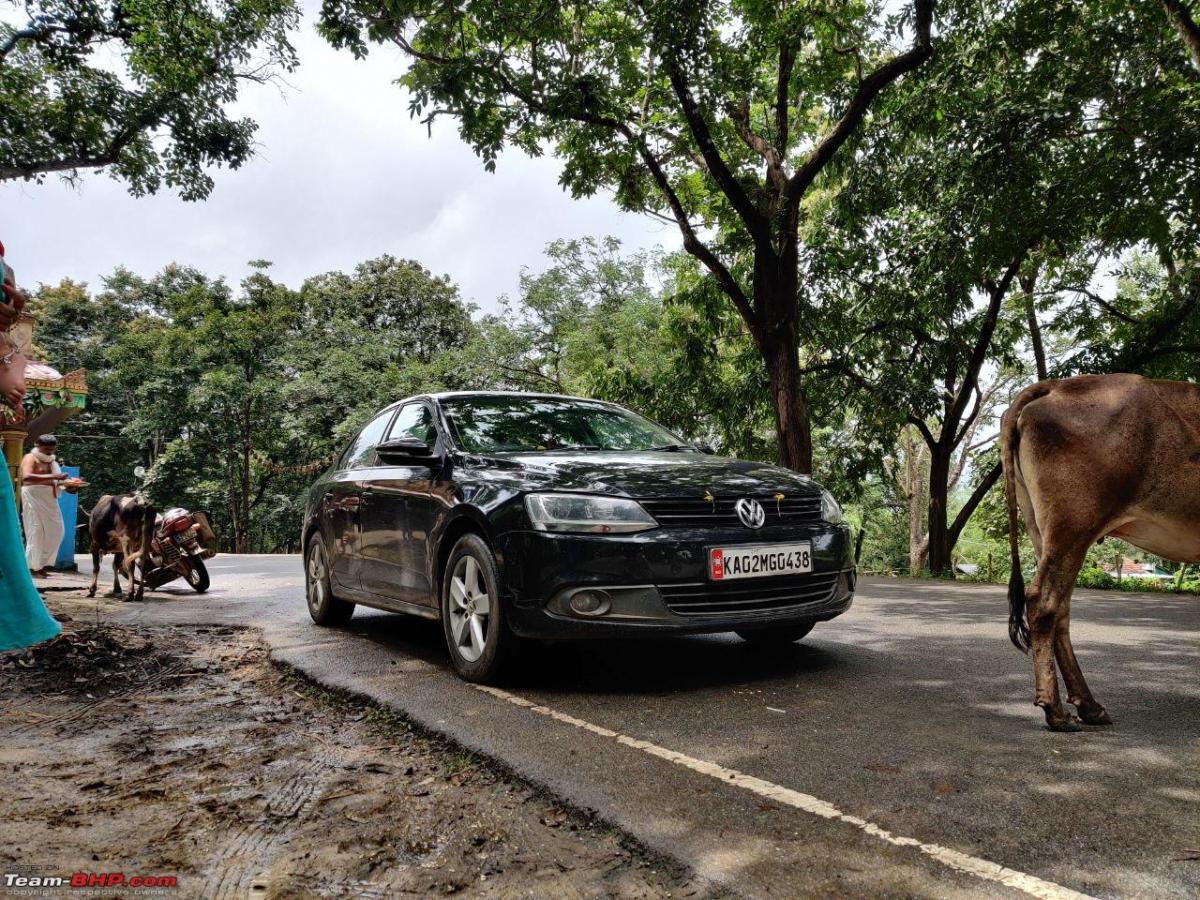 Theerthahalli
The more I drove this car, the more I loved it.
A visit to Rayachoti Veerabhadra Swamy temple for my son's Mundan.
LED DRLs, Garware Tint, Custom Made Spoiler, Painted Rims Black and Calipers red
LED DRLs:
Rims and Calipers
Rear Spoiler from the group.
Continue reading BHPian sangam_mm93's report on his pre-owned Jetta for more insights and information.
Source: Read Full Article