Handling is on spot, thanks to the almost 50-50 weight distribution. The touchscreen is slick. It works with bare hands even when it rains.
BHPian sangam_mm93 recently shared this with other enthusiasts.
The story is short but the purchase explanation is elaborated so that you know how long to wait between phases of the purchase and what mistakes not to make to fasten the process of delivery.
Which scooter and why?
Roller coaster ride from booking to delivery schedule
Delivery
Issues across users
My experience
Prologue:
Hi all, hope you are doing well. A small journey of getting Ather home for my wife. For the most, it may not be a great achievement story as such, but it is a good one for her.
My wife is not a great fan of cars but bikes. Fast ones. But ironically, she never knew even how to cycle, but always wanted to ride bikes. She always wanted to learn but hardly had time or circumstances supporting her. I told her to learn a cycle first and then jump to a moped just to get the basics right. I even told her it is not impossible but will take more time.
Fast forward to 2021, she decided to learn, directly on Activa, I was not sure how easy it would be, she was very stern and gave a plunge. She took around 15-20 days of continuous 6 am struggles with her tutor-aunt at her native. She managed to learn and I was really happy that she learnt in such a short span.
So, I decided to gift her a moped, also because that's the first big gift that I planned for her in years. All I did was spend on bikes, cars and gadgets.
What moped?
Used mopeds:
We looked at N number of used mopeds because she was not keen on using a new one in her yet-to-master phase. Every scooter I checked was badly maintained or had too much asking price. And since this was a gift, I wanted to go first hand especially when I could afford one, and also the showroom purchase experience and delivery are some things you cannot measure with money.
Simple One:
Also, back in my mind I had, I wanted to try EVs. I had ridden the old Ather a few times in the past. Lot of Bounce E-Scooters too. Being a biker and driving plenty VAG cars at home, I liked the instant torque it offers as most of you did.
I went ahead and booked the Simple One first in March 2022. Good hype, good on the papers, the owner Suhas is still working on QC issues at the factory rather than on the roads.
Good in one way but the wait was too long and uncertain. Ather launched the Gen3 and I cancelled this one.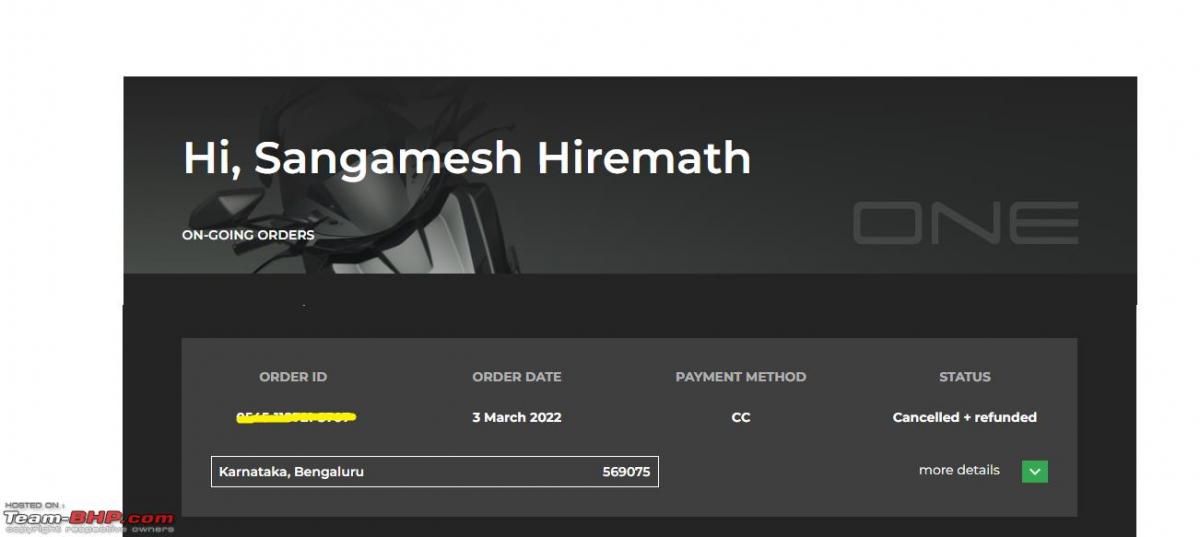 Ather 450X Gen3:
The new Ather got launched and the new range got my attention. I waited for 1 or 2 reviews to come out and went to check it on 20th July at Ather Indiranagar, Bengaluru.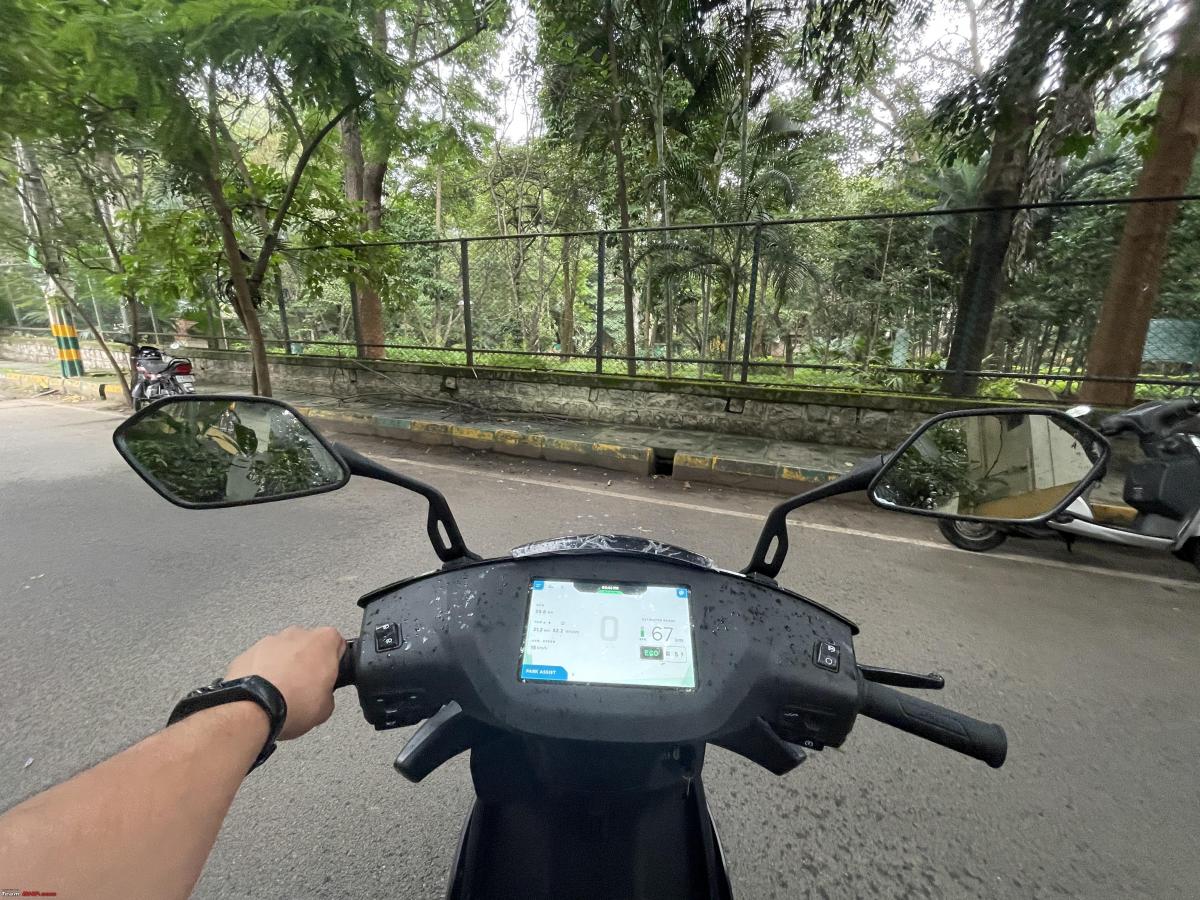 Just like I expected the quality was right there. I booked a White 450X Plus immediately with the portable charger. I got my Ather account created and the booking status was "Booked"
I had asked for the Sales Advisor's number (Let's call him SA1) for all the queries I wanted to ask regarding my booking.
Looks like my son loved it. I cannot post a video here otherwise you could have seen his excitement for the vehicle: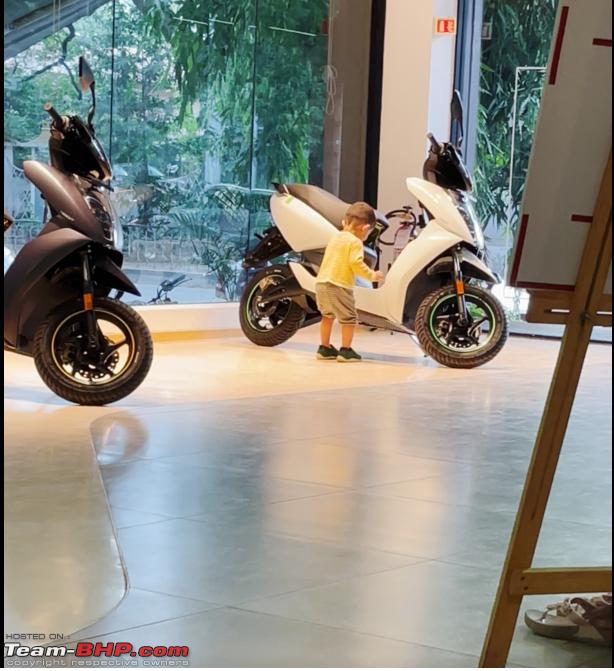 Ola S1 Pro:
I always tell my friends, to test drive/ride before not considering any vehicle in their purchase vicinity because you will know what you are not buying and why.
Soon after the Ather booking, I booked the S1 Pro test drive via the Ola app for 10 am. I receive a call from the executive promptly at 8:30 am for confirmation.
He came home at 10 am as promised, after a few KMs of riding, esp Hyper mode, I was left speechless.
Honestly, at that time I did not have anything to complain about except the throttle cut while holding the brakes, it is better on paper and has a better true range than Ather.
Gimmicky or not I have to agree it is more VFM than Ather. I did not order it as I was still in a dilemma with their QC issues.
Others:
I did not even check other scooters like Chetak, TVS etc, because they are simply not fast enough for me and budget was not a constraint.
Simple One again:
Meanwhile, it is September 2022, and I still do not hear from Ather, by then more Simple test drives had come and I started giving thoughts on SimpleOne again, not by cancelling Ather but by keeping both bookings in parallel.
If it is so much better than Ather as they claim, I will find a way to keep it with me or my circle who are willing to buy an EV scooter.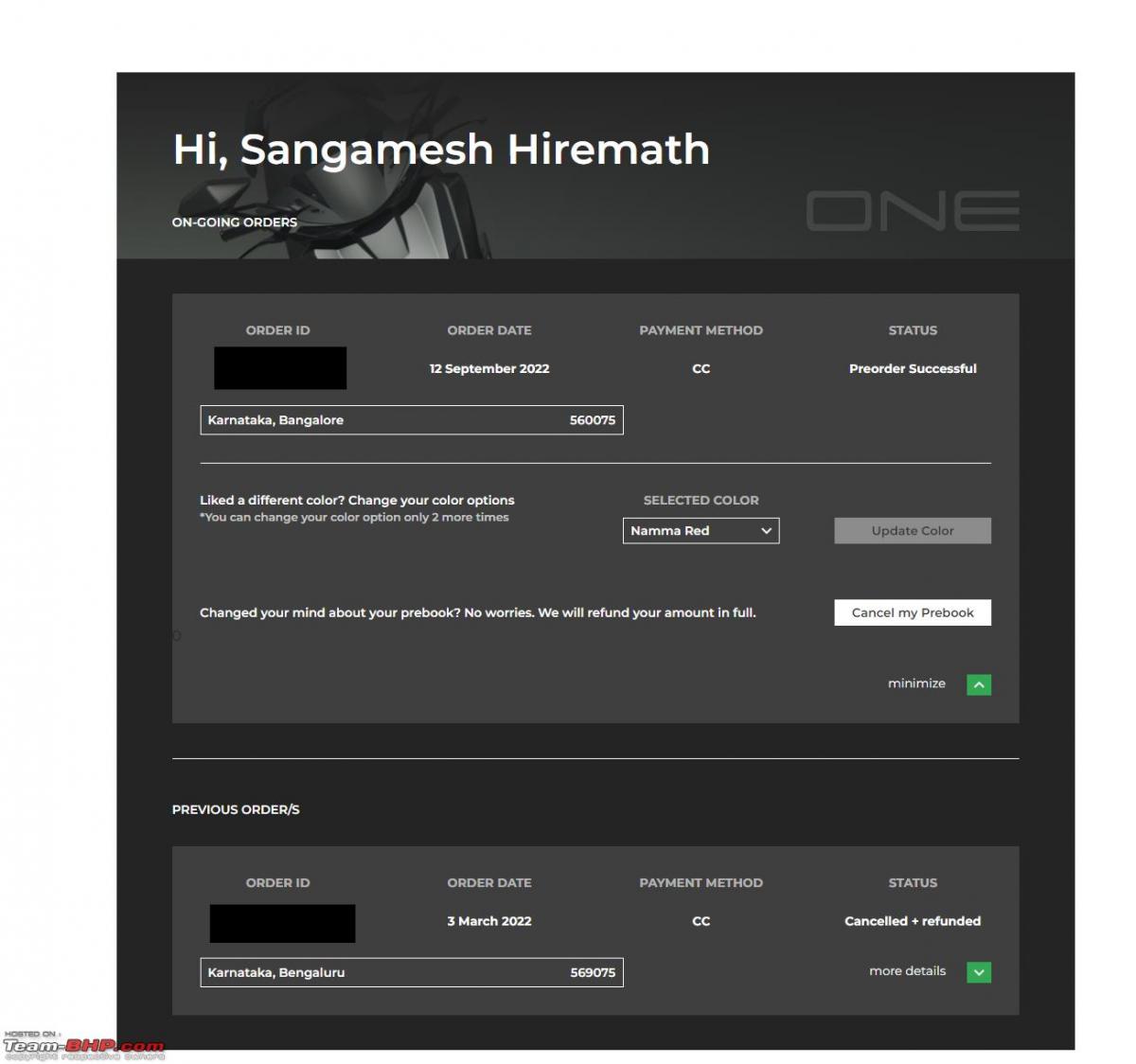 So, it boiled down to S1 Pro vs Ather 450X Plus.
I did talk to a few Ather owners, friends and family regarding these 2. Somehow no one gave me enough confidence to test if fortune favours me with the Ola.
You all have seen and heard about the QC and OS issues on social media. Is it overhyped or exaggerated? Sometimes I feel they are exaggerated but I am not sure.
I also did not like the throttle cutting off when the brakes are engaged. Is this a learning curve? Maybe but I am not ready yet, especially when my wife is a newbie who will need throttle input in U-turns.
I was not ready to take the risk of fire, critical OS bugs or parts of inferior quality.
The Ather is better built and gives a better riding experience. The UI is much better and is easier to use.
Hence, I decided on Ather for the quality and better consistency of their product, even though it is more expensive.
Customer Service from Ather was not better than Ola IMHO. Most people at Ather are more patient and friendly but their sales process is really bad. Will come to this later.
Booking to scheduling delivery:
After a few days, mostly in September, I called the SA1 numerous times on different days. No response at all. At times he/she disconnected my call too.
I got fed up and called up the customer care folks, they were better than the SA1 who I wanted to contact. They said all I can do is wait. Pulling strings did not help either. So, I kept waiting.
October 7th – Vehicle allotted and loan application:
I got a WhatsApp message from SA1 as follows:
I was really happy, allotment happened in less than their predicted minimum of 3-4 months. I thought I can get the scooter in a few days. So I called the SA1 immediately because I obviously had some queries.
Guess what, I was ghosted by SA1 again. 10 mins later but they switched it off. I call up customer care, again. The executive there, as usual, was better informed than SA1, she said that was a mass automated message sent to all the folks who booked it around June/July, and they were receiving numerous calls which were difficult for them to manage.
See, I understand it is difficult to handle too many calls, but that is part of their job, I still cannot understand how they cannot handle customers when they are selling literally 1/4th of what Ola sells. I even told her that it was not fair for SA1 to ghost me and asked them to give me another SA's number. She promised that someone will call me soon from the showroom. I was thinking about what M&M customers are going through. They probably need to book and forget it.
Meanwhile, the payment window was opened. I also saw a loan option just like Ola does on its app. They had Hero and IDFC banks as their partners. I took some sweet time to fill in all details, upload all the required documents and waited for the approval; it said they will process it within 48 hours.
October 11th – Realised about false loan application:
Since I did not get any call for the loan, I called the SA1 to get ghosted and I call up customer care again.
Now the executive told me to pick a few documents and head to the Ather experience centre so I can take it forward because the portal where I applied for loans is absolutely dead and invalid, even they are not even sure why Ather is still it hosting on their site on the post-allotment page.
All that effort and waiting time were wasted. Why Ather why?
October 12th – True loan and documentation:
On 12th October I went to Ather, I met this new SA [let's call her SA2] Indiranagar, and submitted all documents such as the last 3 months' payslips, bank statements, address proof, Aadhaar and Pan card. I filled in a few forms, I also had to authenticate my Aadhaar with OTP and thumb impression. Thumb impression is why you need to visit the showroom. I asked that I needed KA01 RTO and not the default KA51.
October 15th – Down payment:
SA2 was better than SA1, did not ghost me as much as S1. LOL. She calls me up and asks to do the down payment this day.

October 18th – Loan approved ECS mandate and insurance:
SA2 herself called me and told me the loan was approved and asked me to sign an ECS Mandate via a link she had sent on WhatsApp. It said the EMI starts on 3rd November. I was prepared to pay the EMI before I get the vehicle. LOL.
I also bought the insurance from them because buying insurance outside requires the chassis and engine number. I should have waited for 2-3 more days to get them before I get a quote from outside. I did not want to wait.
A BHPian friend also told me that in-house is better. So, I bought their in-house insurance; Go Digit Insurance but the provider is Autovert.
Autovert Insurance:
Actual insurance by GoDigit:
October 25th – No progress:
This is what my concern was. Nobody had any idea where the vehicle is. The poor SA2 is available but helpless, she had to check with her peers or seniors just to tell me that even they cannot answer.
They told me despite the down payment being done and the loan being approved, the acknowledgement had not come to them. Till that comes they cannot move ahead with invoicing.
Their software integration from Order To Delivery needs some serious upgrades. First the loan facility on the site, now the order management.
I checked on the Ather portal for the status, but it never moved from "Make payment" to "Insurance Paid"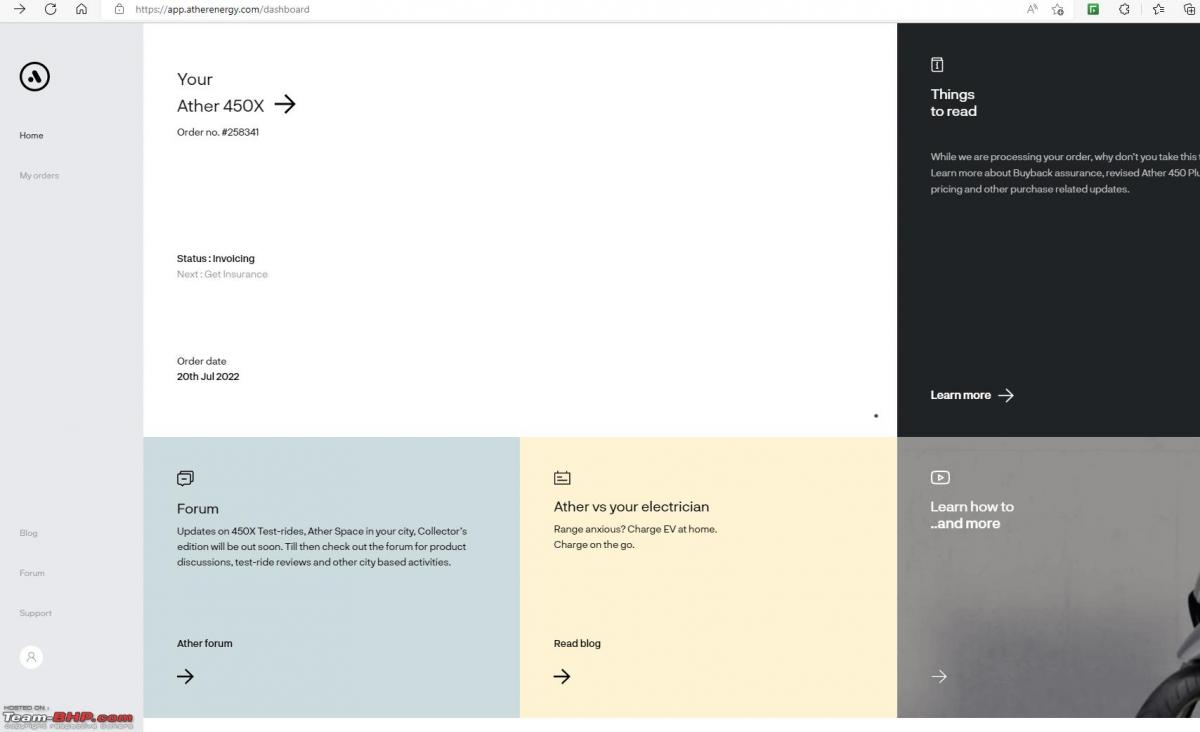 October 31st – RTO Registration Initiation and I can track the scooter on the app:
After 5 days the insurance has been fed to the Ather folks and registration is yet to be initiated.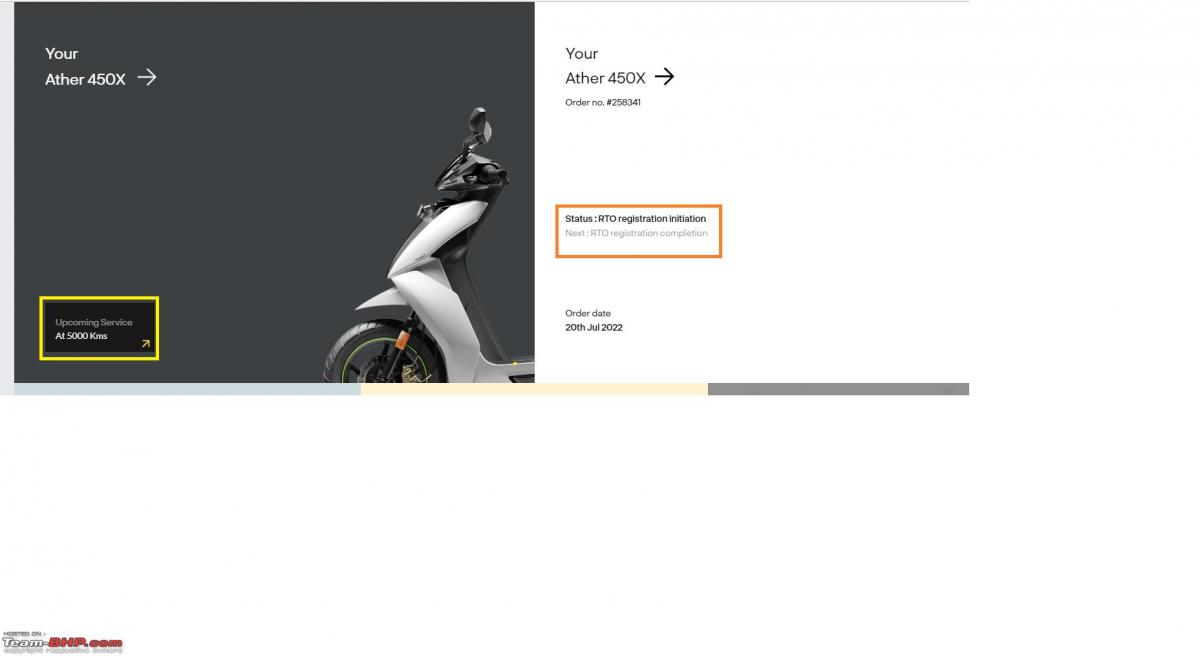 My Ather Connect Pro is also activated free of cost and expires on 31 Dec 2022. Will I need to pay or will they extend it? Only time will tell.
I downloaded the Ather app on my phone. I was happy to see that the vehicle could be tracked geographically and other stats as if the vehicle is already with me. You can see that my upcoming service is visible.
You can relate to my excitement, just like your car in the warehouse or in the showroom just waiting for the registration number. You can see it, but can't take it.
You can see the battery status, range etc.
Here you can see the vehicle is near Dairy Circle, Koramangala. I assumed they took it there for the RTO work as I asked for KA01 which is Kormangala but then I learnt that this is the IBC tech park where their head office is:
You can see the odo says 10 kms. I am already liking the connected tech: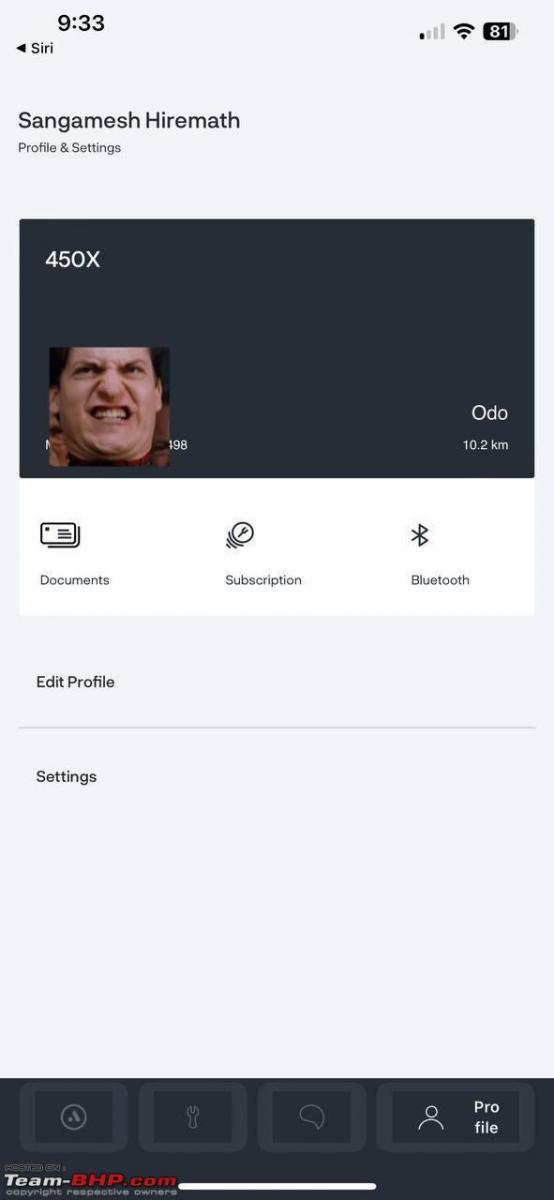 November 2nd – Actual RTO registration initiation:
I got a call from another Ather employee [Let's call him RTO1] who asked me to visit the Ather showroom for a couple of signatures that are needed to proceed with the registration.
I was asked which RTO I want probably the third time since my booking but that's OK, it is better than giving a registration that I did not ask for. I wrote KA01 and made 7-8 signatures in 5 minutes.
I was told that once these papers reach RTO, it should not take more than 3 working days for the scooter to be delivered.
November 10th – Still in registration initiation:
By now I followed up with SA2 a few times, she had no idea what was happening or rather why nothing was happening with my Ather.
A close friend and I discussed getting Ola or Ather for him on the 1st of November. He decided on Ola and booked Ola on the 4th of November. It was here! This had me thinking that I should have booked the Ola in the first place. But I held on to it thinking I did not come this far only to come this far.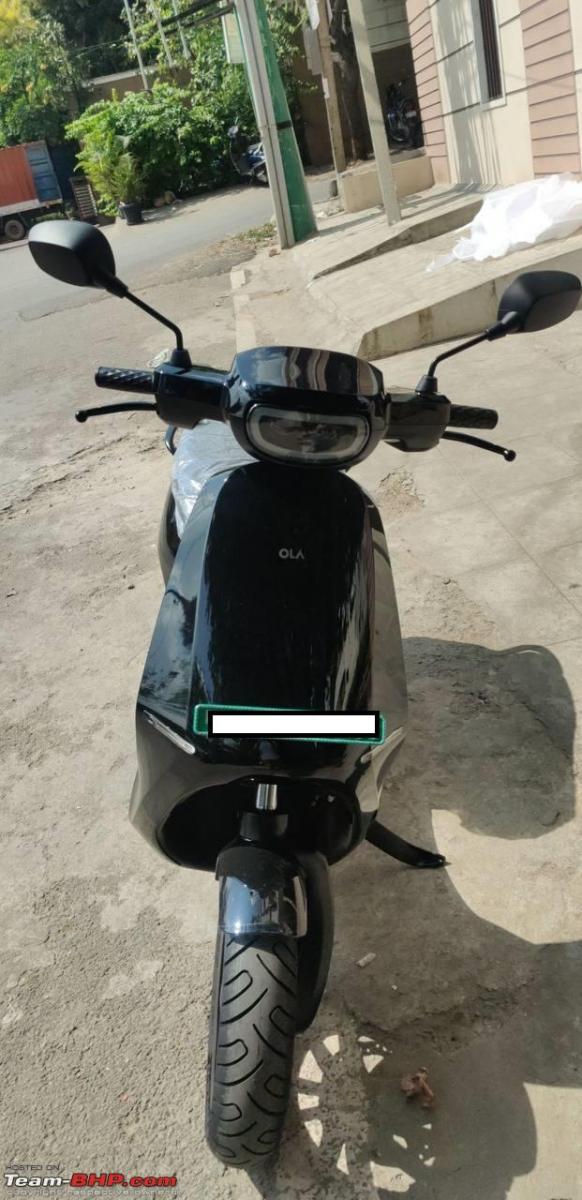 I called up customer care and escalated the issue. I would have waited if the vehicle was not allotted, or if there was a lockdown or series of holidays that could halt the RTO process.
If it was RTO and not Ather delaying the process I would know it because JP Nagar Dealer has delivered scooters to the customers who booked in June/July in October 20s whereas the direct company folks could not.
Customer Care said it could be because the RTO site has issues or JP Nagar folks delivered the vehicle with a temporary registration. More lame reasons IMHO. I saw Ola and Ather with permanent registration. In any way, I was not convinced by the answer. I just could not understand what the root cause of this issue was. They promised a rightful solution in 24 hours.
Meanwhile, I check my scooter, eating dust in IBC I guess since October 31: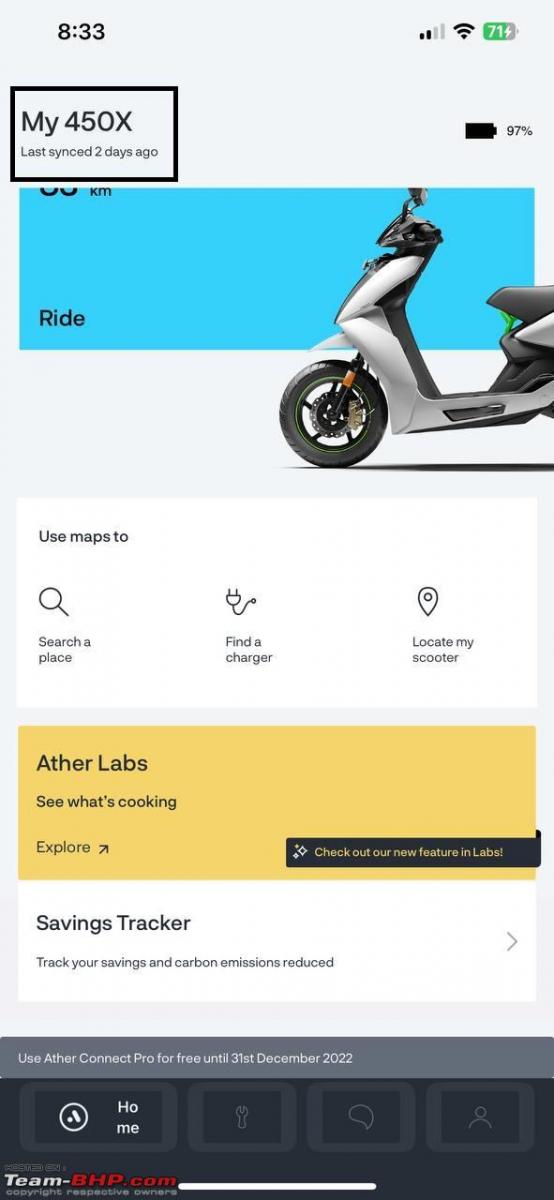 November 11th – Escalation Worked and RTO verification:
I got a call from another RTO employee [Call her RTO2]for the OTP for verifying the registration, she said it is 8K extra for a special number plus could be delayed by 2 more days than random allotment. From the beginning, I wanted a fancy number but with all the delays in their processing, I went with a random number. By evening I got an SMS telling me I was allotted KA01 JT 4991.
November 14th – RTO Fame subsidy verification:
I get an OTP for FAME India -II, but nobody calls me for an hour or so. So, I call the SA2, and in turn, she asked me to call the Ather RTO team.
I called RTO2 but she did not pick up, so I called RTO1. He asked me to wait for an hour. Within the next 20 mins, I get a call from another employee[RTO3]; he said since I had given only the rental agreement as address proof, hence an affidavit is needed. I paid 150rs to him to get the job done.
So, I thought I will call up SA2 just to tell her that I made some progress. But no response from her.
I call up SA2 again after an hour, she disconnected the call.
I call up SA2 again after an hour. No response. In Kannada, there is a saying "bartha bartha rayara kududre katthe aytante" which means the horse slowly started becoming a donkey. God, I killed the joke, didn't I? LOL. SA2 indeed became SA1.
So, eventually, I call up customer care and learnt that they least 24 hours more to update the status.
November 15th – Delivery scheduling:
I did not wake up and start calling anyone today because I knew it was very close to being delivered. I just hoped it's a day or 2. The status was updated on the site though.
I got a Whatsapp Message from Ather Energy as below. But nobody called even by end of the day:
November 16th – Call for delivery scheduling:
Just like I expected, the call came from Ather customer care, they asked me if I was ready for the delivery. He said I could have picked on this day itself, but after talking to the family and checking the day and Guli kaala, we decided we will get it on 17th Nov morning at 1030 AM.
I call up customer care and update the same. All this in a span of 10 mins.
In late noon I get another call from customer care asking for delivery, I told her it was confirmed earlier that morning and asked her confirm it again if the morning call was not registered. I would not have been surprised if she said the morning request was not taken
She did confirm that the delivery was scheduled and I got a confirmation email like below: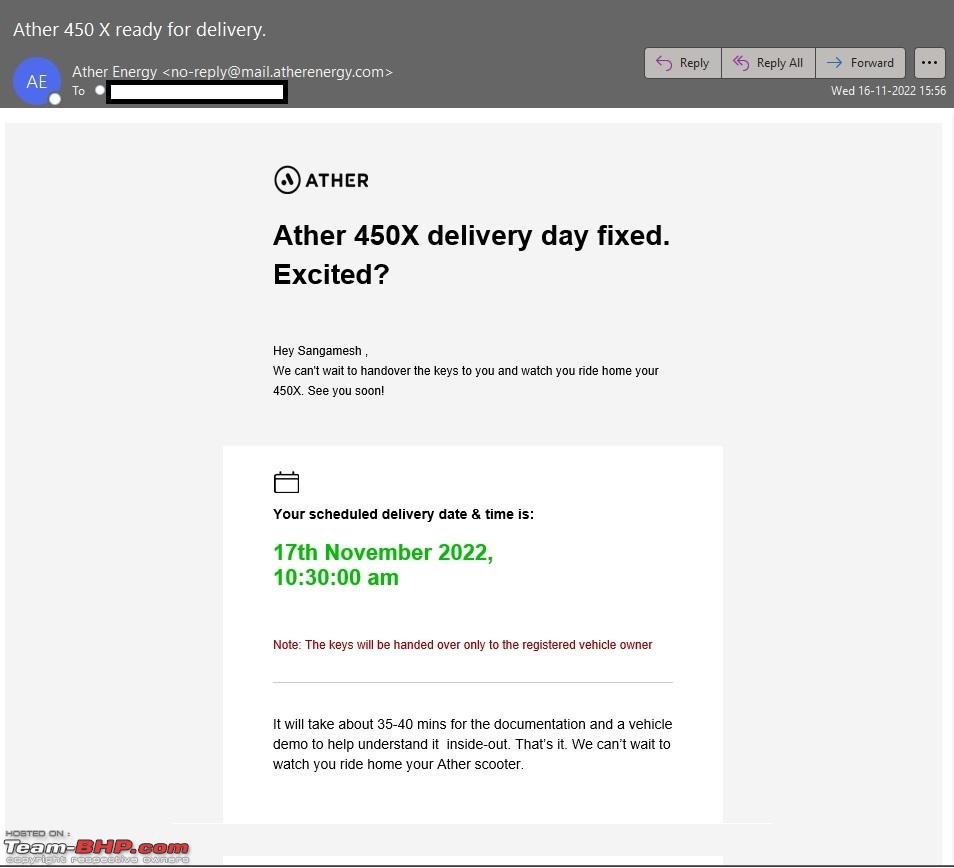 So, I just called SA2 again to inform her that it is all over, you know on a friendly note. She apologised for not picking up my calls the previous day. I said "Let bygones be bygones" and asked her if she is there for the delivery tomorrow. She said, "Sir, I will be in the office but I won't be there for the delivery." I was shocked when asked why she told me the delivery is in IBC, Dairy circle and not Indiranagar!
The call I made her really helped. Otherwise, I would have been in a place the next day which is actually around 1.2 cab hours away from the actual delivery place!
Nobody officially told me the delivery place, and neither on phone nor on call nor on email. This petty call actually saved me.
Continue reading on BHPian sangam_mm93's Ather 450X for BHPian comments, insights and more information.
Source: Read Full Article