You simply cannot outrun the massive growth in car sales with sea link projects which come at a HUGE environmental cost. Just look at the pictures below and how these projects are destroying the ecosystem.
With every passing year, more and more cars are being added to India's metro cities which already have more vehicles on the road than they were designed for. Let's take the example of Mumbai. In 2018-19, 3 lakh new cars were added to Mumbai's roads which translates to 820 cars every day.
In my honest opinion, there is only one solution to our traffic woes = Building a robust and efficient public transport system (and of course, WFH which Covid has taught us). You simply cannot outrun the massive growth in car sales with sea link projects which come at a HUGE environmental cost. Just look at the pictures below and how these projects are destroying the ecosystem. When the Bandra Reclamation road was constructed, the beach in the Shivaji Park area considerably reduced in size. Perhaps in some correlated way, sea water flooding has increased in the residential lanes adjoining the beach. This is most visible in the areas bang across the Sea Link. And we aren't even discussing the impact on marine life, land reclamation, pollution etc. which I will leave to the experts. This post is just my layman point of view.
I do support flyovers & projects like the Eastern Freeway, wherever absolutely necessary. But I vehemently oppose Sea Links. Please give us an efficient public transport system instead! Make it so good that someone who wants to travel from Juhu to Nariman Point (as an example) will pick an air-conditioned metro train, and not drive his car on the Sea Link.
The Bandra – Worli Sea Link bridge was built to decongest the areas of Bandra, Mahim, Shivaji Park and Worli at a huge cost of Rs. 16.5 billion. Completed in 2010, it did work for a while. No longer though – those areas are again jam packed today (just how things were before). Additionally, the traffic jams on Worli Seaface are at times frustratingly long.
The upcoming Metro Rail network will definitely go a long way in helping matters. We have seen this happen in Delhi. The BEST bus service though, needs to be improved massively. I remember, back in my senior school and college days, there were many bus routes. The frequency of buses was satisfactory and there was a good number of people using them. In 2019 though, when I tried to take a bus from office to home, I was left waiting for more than 30 minutes. I finally decided to cover the distance on foot. I've also noticed many routes being discontinued over the past 5 or 10 years.
The latest project being undertaken in Mumbai is the construction of the Coastal Road. This project has destroyed at least two bays I know of. The construction has required the bays of Haji Ali & Worli Seaface to be filled and pushed the sea back. Not only has this affected the beautiful views the promenades around them offered, but it is also impossible to believe that it has not affected aquatic wildlife in these areas. I live bang on the sea shore and can see everyday how the sea is being destroyed. Next up on their list will be Marine Drive, Juhu Beach, Versova Beach etc.
Here are some pictures of the coastal road construction that I have shot from the Haji Ali road. The sea has been pushed back a long way. One can't even see the iconic Haji Ali dargah clearly any more!!!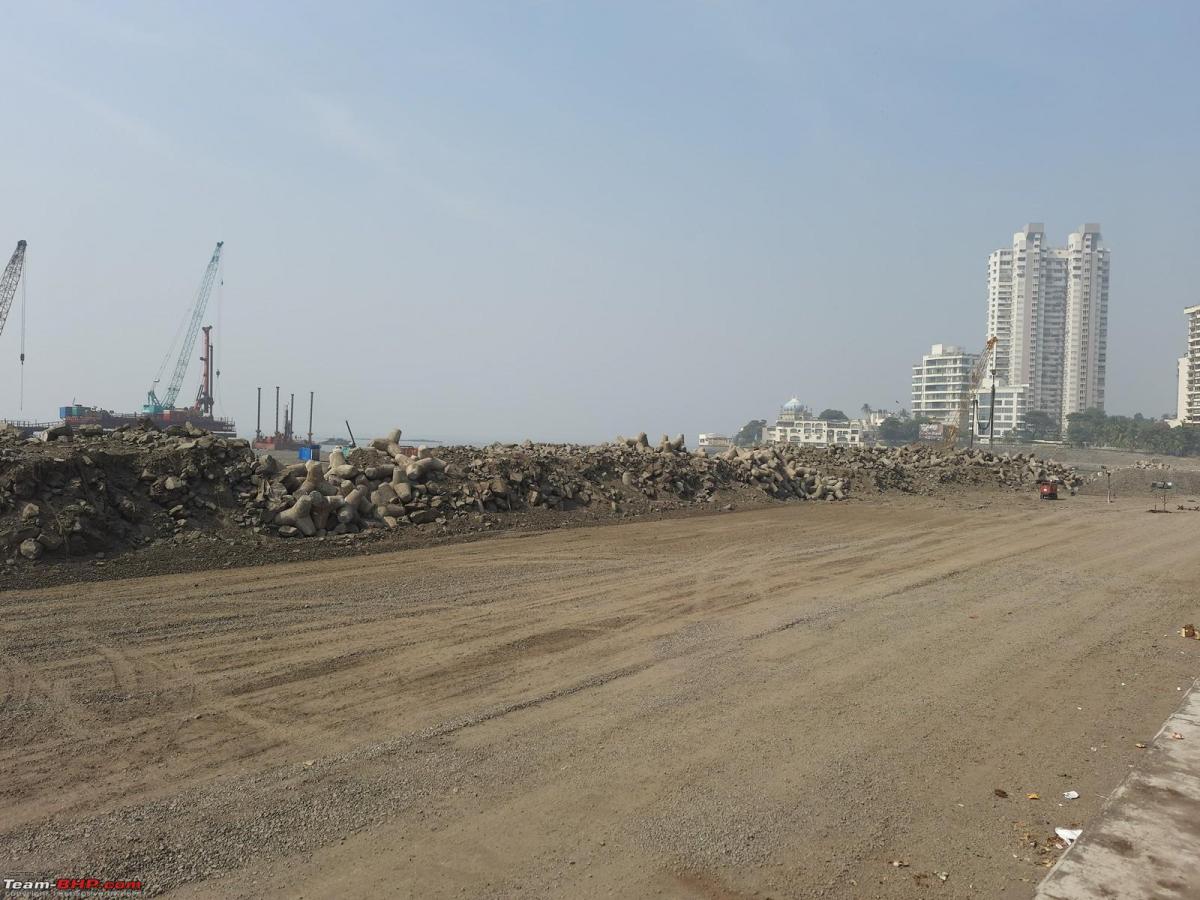 Look hard beyond the tetrapods / cranes and you'll get a glimpse of the sea and the dargah. The sea was NOT meant for this brutal abuse!!!
Fishing boats have been relegated to a tiny spot at the northern end of the bay. It won't be long before they disappear too: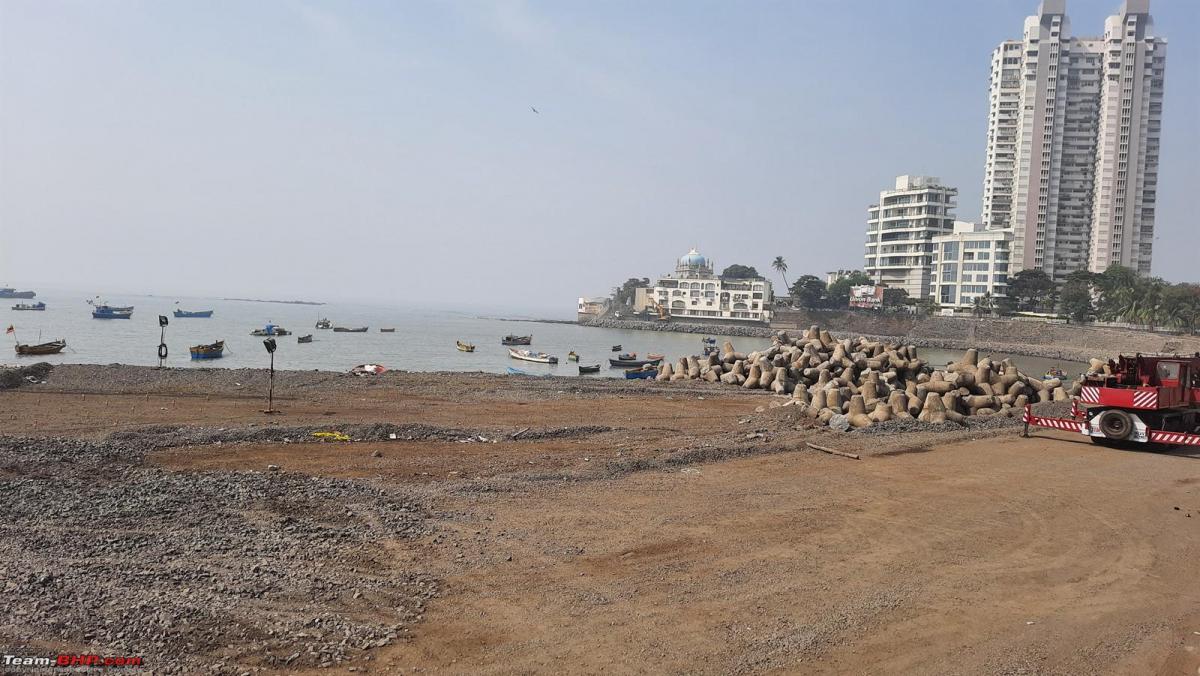 Now, here are some shots taken from the Worli Seaface promenade. The sea used to come right up to the promenade during high tide. You can see how far back it has been pushed now: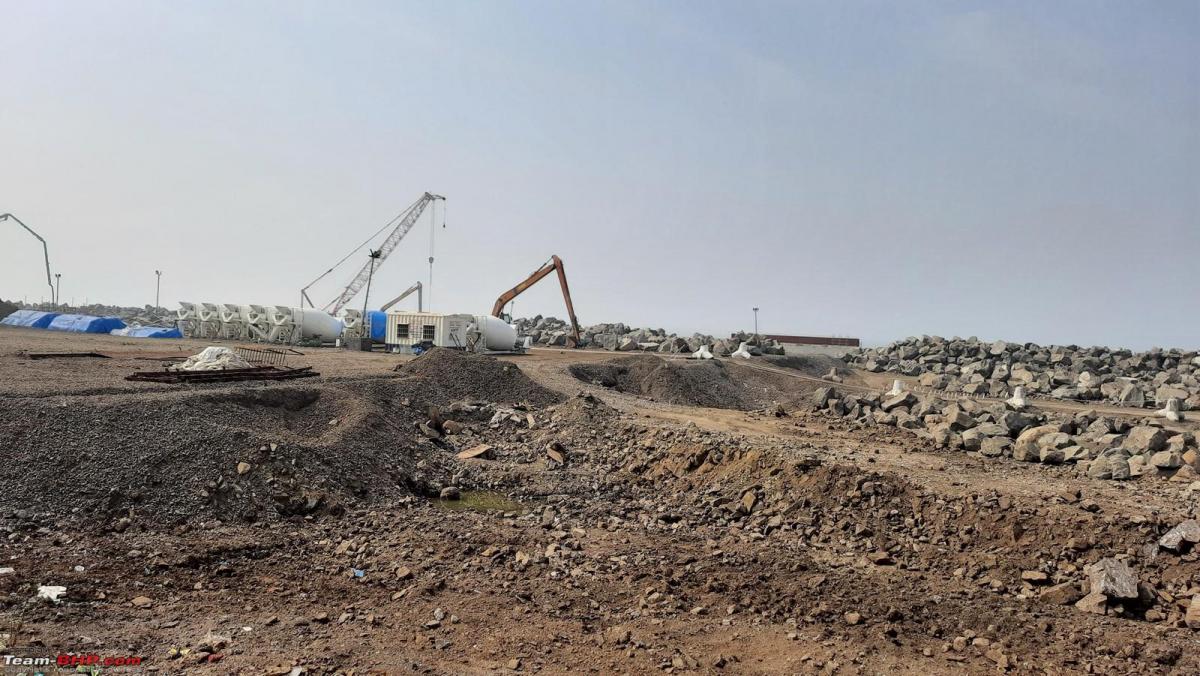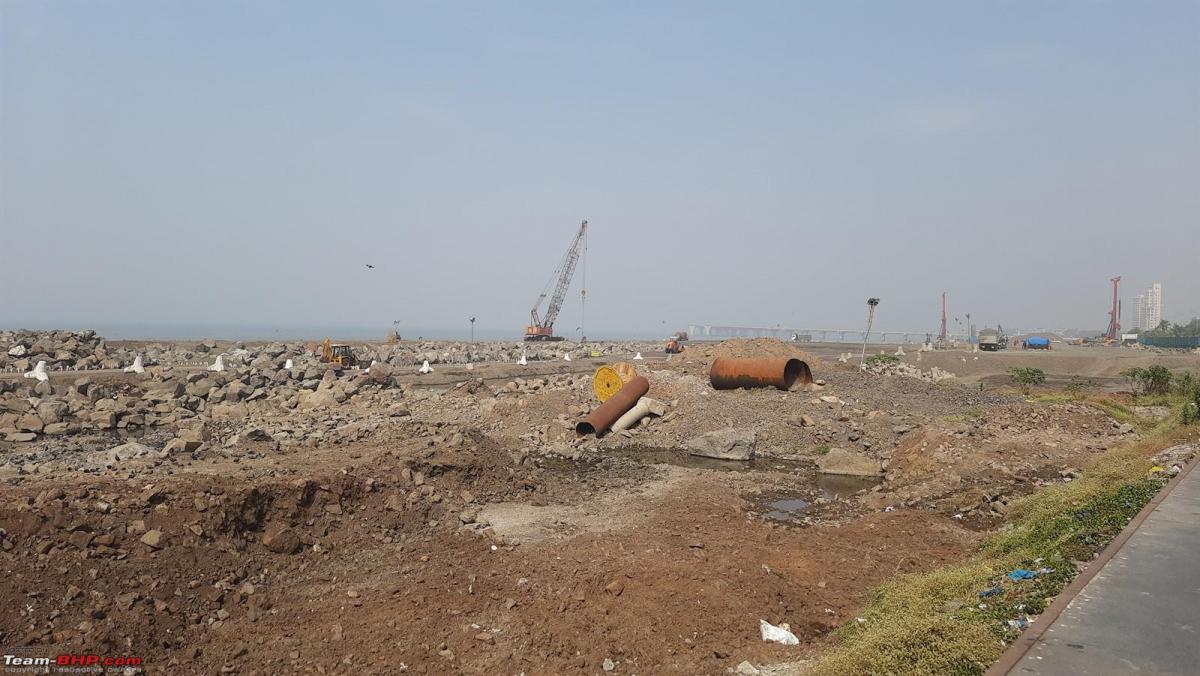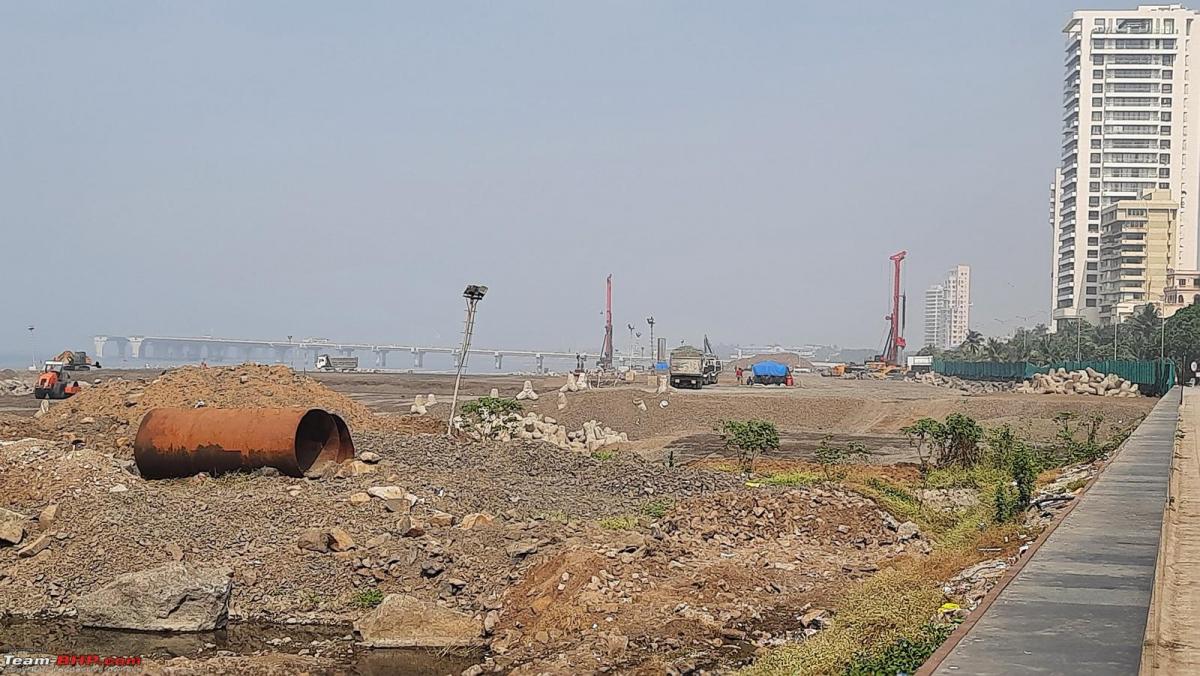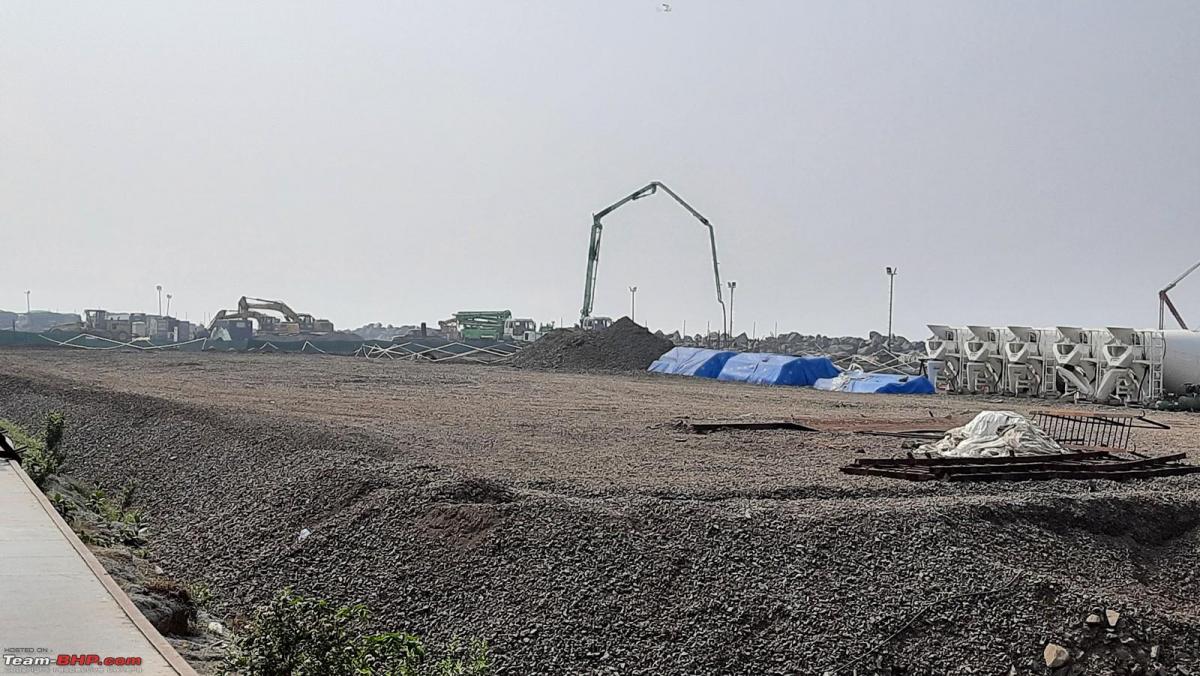 Here's GTO's thoughts on the matter:
Voted for No. The sea is sacred to Bombay (and other similar coastal cities). All these projects are brutally destroying it. Sure, I like looking at the Sea Link and driving on it, but given a choice, I would much rather not have it at all and preserve the environment instead.

Let's also not forget that these Sea Links are expensive (70 bucks 1-way & 105 return), 2-wheelers aren't allowed and BEST buses prefer not to take it. So, it's not really helping the masses at large. Even black & yellow cabs never use it. It is quite elitist in that sense.

These are all short-term fixes. As you rightly said, one cannot outrun the growth in cars with such projects. IMHO, we need a fast expanding Metro system (that is currently WIP) like Delhi & more companies should allow WFH (a rare upside of Covid). Make the Metro so good + comfortable + convenient that a Mercedes owner will choose to travel long distance in it, instead of taking out his Benz on the damn Sea Link.
Source: Read Full Article