The rework was good outside but disappointing inside. Also, the maintenance was not bad but cleanliness could be better.
BHPian RRA_Blogger recently shared this with other enthusiasts.
Hi, I am Akshay Arvind, a Chennai-based bus fan/rail fan. Currently, I live in Eindhoven, the Netherlands. I would like to start with a travel review of mine.
Here goes the review
DOJ – 06/08/2022
Fleet
TN 68 N 0632 | TNSTC – Kumbakonam | Nagapattinam/Mayiladuthurai | CRC NGT/MLD | AL VK 1611 BS 3 | Porayar (CRC in-house) BBU built and reworked by Manmangalam (DCTC in-house) BBU | 2014 batch | Intercity Mofussil Super Deluxe with 2+2 seating
Route
243G Mayiladuthurai <> Chennai
Via – Seergazhi <> Chidhambaram <> Sethiyathope <> Vadalur <> Neyveli Arch <> Panruti 4 roads <> Koliyanur X <> Vikravandi <> Tindivanam <> Melmaruvathur <> Perungal athur.
Fare
Rs 200 per person
Timelines
15.50 – Neyveli Arch Gate (Boarded)
16.20 – Panruti 4 roads
16.45 – Koliyanur X road
17.00 – Vikravandi toll gate
17.05 to 17.20 – Tea break at Vels Hotel
17.45 – Tindivanam
18.05 – Athur toll gate
18.20 – Melmaruvathur
19.00 – Chengalpet toll gate
19.40 – Perungalathur
20.00 – Porur/Maduravoyal toll gate (Dropped)
Description
After a wonderful time at Puducherry and a visit to my family friend's house at Neyveli Arch Gate, I was all set to depart back to Chennai. My earlier restraint on boarding SETC still stayed the same in terms of this route, with one lenient point that I would be ready to board if any AC seater or AC seater cum sleeper (SETC) of KKM (Kumbakonam) was available. I was strictly against preferring TNJ (Thanjavur) in this route, as has been known. I was waiting, and TN 32 N 4421 of CDL/KMK (TNSTC Vizhuppuram)/plying 182 came first. However, I decided to give it a miss, because it was a 3+2 seater and comfort would be totally barren over an odd 4 hr journey. Hence, I was either counting on SDs or the 199 UD/EAC fleet, and this guy came next. I immediately decided to board the fleet.
About the fleet, it was very recently reworked at Manmangalam (TNSTC Kumbakonam – Trichy region's BBU). The rework was purely external, and the fatigued metal parts, connecting frame, and most of the front portion have been changed entirely, giving it a tad fresher look.
The metal finished grille and the bottom 'gills', the 'frowning' headlight closet altogether give out a stance and a unique look. The rear was not majorly reworked and preserved as such. The FC unit has also modified part of the corporation stickers and the route stickers, but they could have been done in a much better and more aligned way.
Inside, it was totally upside down. Only parts of the roof that had been battered were patched up freshly, and the patchworks have been finished quite well, but a patch is a patch and kills looks. It was very sordid to see that the seat covers were not modified, and they were rather ripped apart. About 50% of the pushback levers were non-functional or defective. To summarize, it is not even to be called a rework from the inside, and it doesn't amount to a total rework.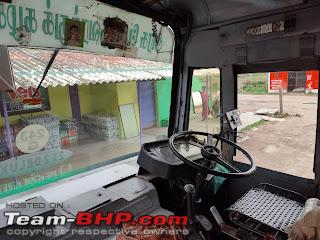 The floor did look a bit dusty but otherwise, the general maintenance of the fleet was not bad, and the roof was leakproof. There were short spells of rain after Perungalathur, and there was no water leakage. As stated earlier, the defective pushbacks of the seats contributed to a shortcoming in terms of comfort. The seat was comfortable enough by itself, and the leg space was good. There was a screw creaking quite frequently, and the window rattling was quite significant till Vikravandi, which means the window beadings also could have been mended.
The shell of the fleet was rigid for sure, but what shocked me again was the worked-out suspension of the fleet. Of course, it ain't air suspension but getting a feeling of galloping on a horse back while just traversing on a plain road contributes to another shortcoming in terms of comfort. On the whole, the fleet did have better comfort than a 3+2 but I could not experience the full comfort of an SD.
As a general suggestion, it would be a welcome move from technicians if they cut largely protruding boots and seal them with washers, without which they could serve to be a potential source of injury. I noticed one such bolt, which is attached. Also, the right window at the end has a broken guard rail, which could be potentially dangerous, if someone sleeping puts his/her head out without his/her knowledge.
Both crew members were blue-uniformed seniors. The conductor was cordial and polite towards the passengers, but there was nothing much to say beyond this, as he was just any typical polite and dutiful conductor. He tried to help a passenger, who was trying to recline his seat, and he closed a window of the rear seat when it started raining.
The driver was the star of the show today. Well, the 8-year-old 160 HP engine still is peppy, and the gears were responsive too. The crew equated both in the right proportions, and his output was an optimal thrust, not too high or not too low (sometimes slightly on the higher note when needed) and well-timed gearshifts (a few were harsh at times). He governed the speed of the vehicle according to the stretch. Until Koliyanur X road, the fleet peaked 65-70 kmph, while also wary of the countless potholes and 'off-road tracks'. The crew handled both judiciously for most of the ride in this segment but braked harshly once when he was behind a lorry which braked all of a sudden.
The road was partly laid after Koliyanur X road, which made the ride a tad more pleasant after feeling all the while like a co-passenger inside an ATV in the Baja events. Here, the crew peaked a maximum of 70-80 kmph. In this case, there was no harsh braking, and he was judicious.
Upon touching NH-45, passengers automatically heave a sigh of relief, as their 'despair and dark days' with the roadways on Koliyanur X road – Anaikarai are over officially. Shortly, the fleet pulled over at Hotel Vels for a tea break. It lasted for sharply 15 minutes, the typical and maximum duration for any TNSTC. The motel has nothing much by itself to review. The restroom was free, as per directions, but it was not very hygienic. I just bought a cool drink as I felt like having one. A passenger, who boarded at Koliyanur X road, was searching for his bag, and was near my seats. It was natural to be alarmed, and the guy did have all in peril for a while. But at last, just as the driver boarded, he found his bag 'miraculously' in the extreme front right row – window seat.
As the ride resumed, the crew started pacing up slightly higher peak speeds of 75-85 kmph, and 85 kmph was the maximum speed that the fleet peaked throughout the ride. The handling was judicious throughout, and the driving was focused as well, without any distractions. Of course, there were a couple of harsh brakes throughout the ride, but they didn't matter much, as they would be usual for any veteran. Honking also deserves an applause, as it was very minimal and used only upon need. I dozed off for a wee 20-25 min, as the driving comfort was very good and the seat comfort welcomed me to a short nap too. The fleet kept dropping passengers all along the route, viz., Melmaruvathur, Chengalpet toll, Singaperumankoil, SRM, Guduvancherry, Vandalur and Perungalathur. The conductor dutifully reminded the passengers all along the stages.
After Perungalathur, the ride slowed down and the crew mostly peaked 60-65 kmph, due to rains and lesser visibility. Towards the end, he slightly accelerated the fleet to 70-80 kmph, only to slow down in a short while. And yeah, that marked the end of the ride as I decided to alight at Porur toll gate, to board a 104 of MTC (as I would have mentioned an umpteen number of times about its benefits for me personally).
The ride ended with mixed thoughts, that sum up the conclusion of the review:
The rework was good outside but disappointing inside.
The maintenance was not bad but cleanliness could be better.
The suspension was a disappointment.
The crew were polite, but nothing special beyond that could be said for the conductor.
The driving comfort and speed were great, with of course a few miss-a-hit moments, but they were quite negligible.
The seat comfort was good, but if the pushbacks and armrests were mended to, it'd have been something.
On the whole, this was another satisfying and quite optimal ride with a CRC (Erstwhile name of TNSTC Kumbakonam – Kumbakonam (and now Nagapattinam also) regions) SD after a long gap, and usually, CRC SDs have their own reputation along Neyveli Arch Gate – Chennai. In terms of the ride, this guy today lived upto the expectations and is a must-try (provided the rectifications necessary are done).
Note: All the CRC SDs go via Porur toll and not Tambaram to reach CMBT, hence commuters would be asked to plan accordingly.
Check out BHPian comments for more insights and information.
Source: Read Full Article