I had declared the Skoda Slavia as the best looking car in its class.
BHPian alenp07 recently shared this with other enthusiasts.
Yesterday I visited the Volkswagen showroom to check out Virtus in person. Even though it was outside the working hours, the good folks at Volkswagen were kind enough to accommodate our late visit. My observations are below:
The car looks stunning. This is coming from a sedan lover who declared Slavia as the best looking sedan in its class. Boy, how wrong I was. In my opinion, photos don't do justice to Virtus.
The car as a package ticks almost all boxes, especially for a family with kids.
SA informed me that they are already accepting orders for Virtus and deliveries will start either from May end or the first week of June.
He is expecting a price of 13.70L for Highline AT which is slightly more than Slavia Ambition AT which is priced at 13.59L. And for Topline AT the expected price can be 15.5L slightly less than that of Slavia Style AT.
He is super positive that these are introductory prices and it is going to go up once it is launched.
We were at the showroom at around 7.30 pm and after our visit, another family came to check out Virtus. This clearly shows the interest in people and I am getting the vibes of a successful product.
There was no GT line on display and SA insisted on booking 1.0L as 1.5 L has explosive power, which will not be suited for our driving conditions.
Curcuma Yellow Highline was on display at the showroom. Though I am not a fan of that colour in Taigun, it looked stunning on Virtus.
Highline gets auto-folding mirrors but gets a manual A/C instead of the automatic one which, in my opinion, is a way better implementation than the touch-sensitive one. However, the plastic quality is in no way of a VW.
The blank box below the IRVM is a sunglass holder for the export markets in the Highline variant.
The wireless charger rubber pad was coming off in the demo vehicle.
Fellow team-bhp members have covered other points. I strongly feel that VW has a winner with Virtus just by looking at the sheer interest in aam janta. All of a sudden we have a lot of good looking sedans under the 20L segment.
Attaching some more photos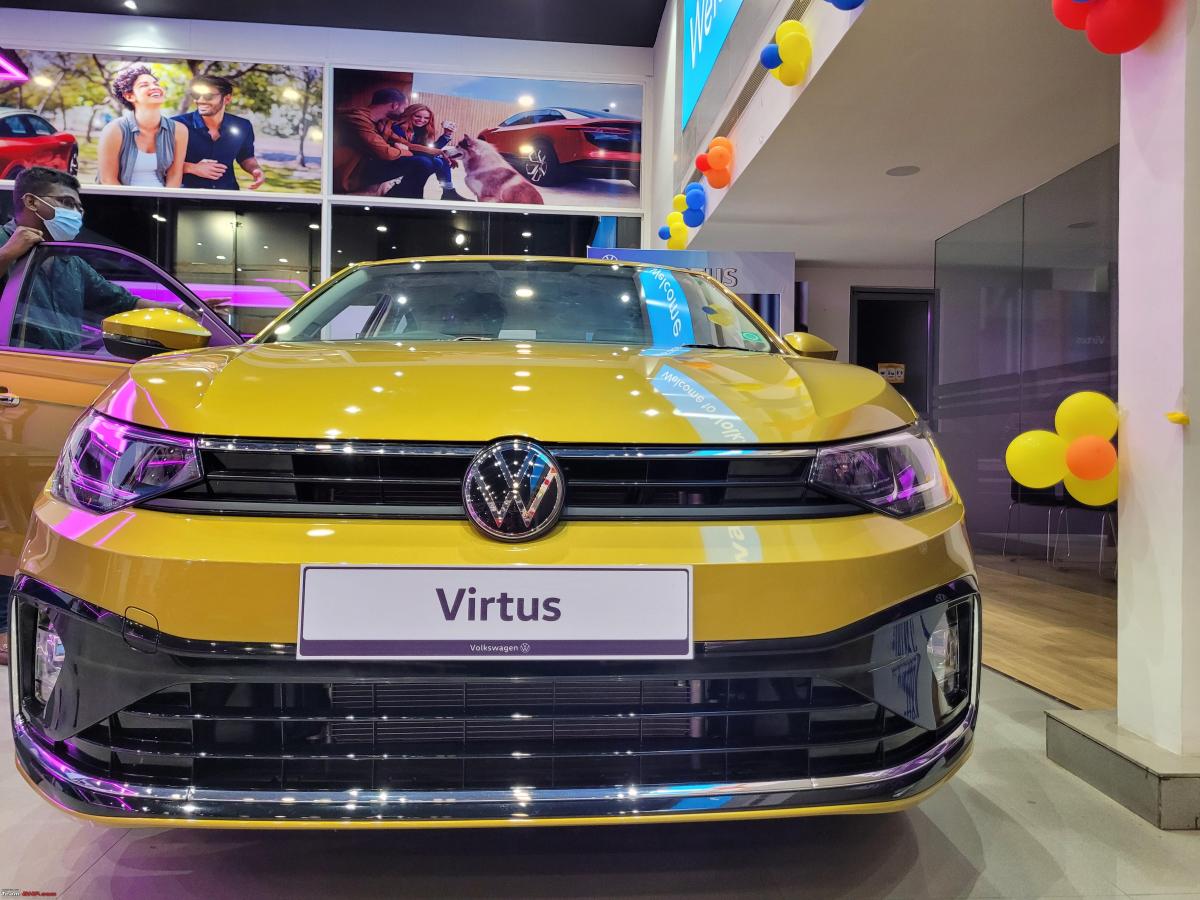 Check out BHPian comments for more insights and information.
Source: Read Full Article