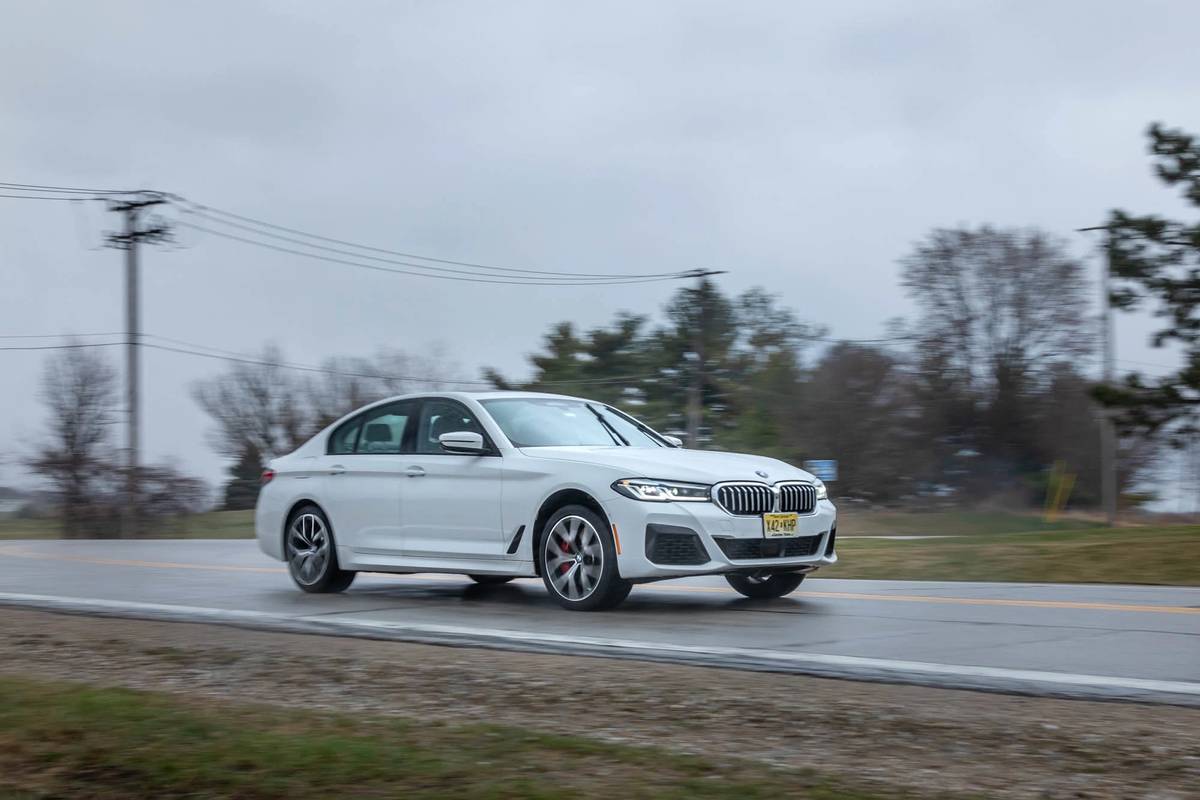 The verdict: The 2021 BMW 540i xDrive with M Sport Package is a little light on sport, but it has a good blend of driver-assist technology, interior quality and vibrant information screens. 
Versus the competition: The 5 Series doesn't have the flash of its more recently redesigned competitors, but its technology and some interior qualities are among the best in the class. 
Updates for 2021 keep BMW's 5 Series mid-size sedan fresh, with enhancements to the infotainment system as well as a new 48-volt mild-hybrid system on 540i models, like the one I drove for this review. 
Related: 2021 BMW 5 Series Is Feeling Refreshed
Ride and Handling
After flashing back to the ride quality of the BMW 330i M Sport, I readied my back for a brutal two weeks in the M Sport version of the 540i. Thankfully, my anxiety turned out to be overblown; the 2021 540i M Sport is a much more sedate version of the sporty package than I found on the 3 Series. In fact, you'd be hard-pressed to tell the car I drove was riding on any kind of special suspension at all. 
I have to qualify all my ride and handling impressions in the 540i with the fact that my test car was equipped with winter tires. This type of rubber can make a car's steering numb, its ride squishy and its handling not as sharp. (Not that I blame BMW for equipping the car this way; one week of my vehicle loan never got above 30 degrees, while the next week was above 60 degrees. That's Chicago for ya.)
The M Sport Package lowers the 540's ride height 0.4 inch, and my test car also had a $3,200 Dynamic Handling Package, which added active roll stabilization and dynamic damper control. This package didn't give much of an edge or sharpness to the car, which was also equipped with optional variable sport steering. I didn't observe much of a difference in body roll or steering feel when switching between the adjustable driving modes; even with this performance-focused technology, the 540i was never engaging to drive thanks to its numb steering feel and squishy handling. Again, the winter tires may have muddied the driving feel, but they were performance-oriented Pirelli Sottozero 3 winter tires. 
The car had loads of grip even on damp roads where the all-wheel-drive system was unflappable; I could stab the gas pedal from a stop or fling the car around an uphill corner, and it would take it like it was on a dry road. 
An upside of the 540i M Sport's docile demeanor was its comfortable ride quality, though the winter tires were noisy. The BMW's overall sedateness is in line with most of the class — with the exception of the Mercedes-AMG E53, though that car competes more with the twin-turbo V-8-powered BMW M550i. Compact luxury sports sedans in the class below the 540 are more tenacious handlers.
Engine and Acceleration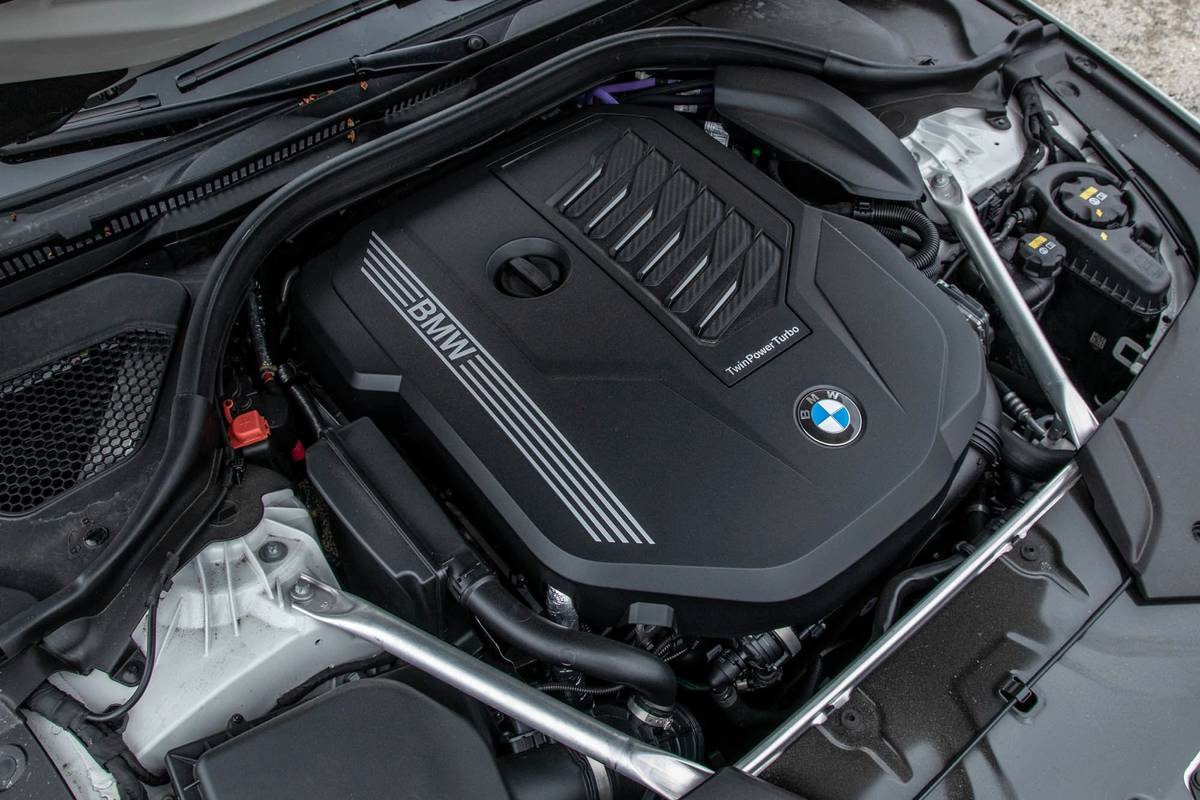 The 540i is powered by a single-turbocharged 3.0-liter inline-six-cylinder engine making 335 horsepower and 332 pounds-feet of torque. BMW says the engine can propel the all-wheel-drive 540i xDrive from 0-60 mph in 4.6 seconds; with standard rear-wheel drive, it's 4.9 seconds. 
The six-cylinder engine and eight-speed automatic transmission are a harmonious pair — quiet and refined — but the overall experience is more luxury cruiser than performance sedan. Few sounds can be heard in the cabin other than an electronic engine augmentation; there's no crackle of the exhaust or whooshing from the air intake. The 540i is one of those cars in which you can be hauling the mail at questionable speeds while feeling like you're not doing a click over 40 mph — that's how quiet and composed it is. 
The new mild-hybrid system that's standard in the 540i slightly boosts performance and fuel economy. The system consists of a 48-volt starter-generator motor and a second battery that accumulates energy to supply electricity to the lights, steering, power windows, climate-control system, audio system and heated seats. When sent back through the starter-generator motor, that stored energy can also boost the drive system with an extra 11 hp that BMW says helps off-the-line response and makes for quicker bursts of speed when accelerating. (Both Mercedes and Audi offer similar electrified systems in the E-Class and A6, respectively.)
Will you notice 11 hp? Probably not, as it makes the car's 0-60 time only a tenth of a second quicker, but the system as a whole is unobtrusive. Fuel-economy ratings are higher for 2021 — up 1 mpg combined, to 26 mpg, for the AWD 540i. Highway ratings are up 2 mpg, to 31 mpg, and city ratings are up 1 mpg, to 23 mpg. 
Technology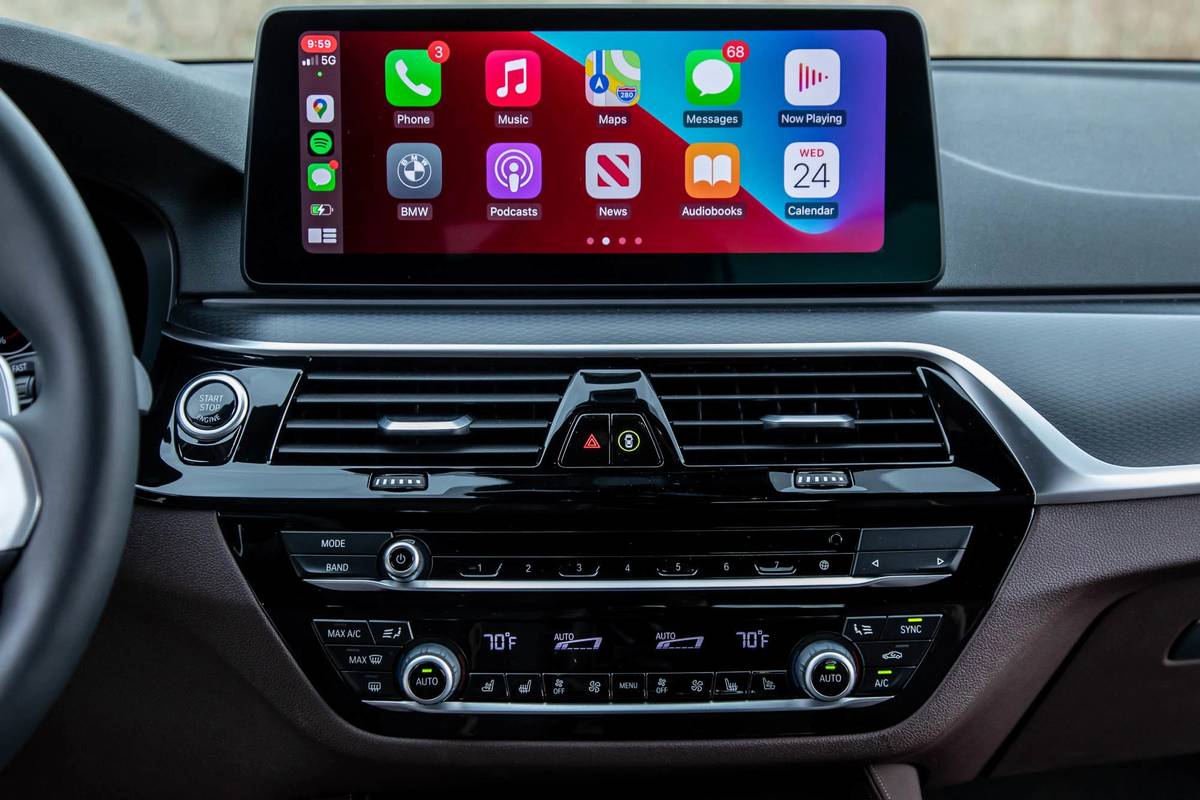 A new 12.3-inch touchscreen replaces the previous 10.25-inch screen in the middle of the 5 Series' dash. The vibrancy and resolution of both the center touchscreen and the 12.3-inch digital instrument cluster make the displays some of the nicest ones to look at, with clear, easily readable text and a large implementation of Apple CarPlay that fills the entire screen — not a given on all large screens. Wireless CarPlay is standard, which is especially desirable as a parent, since I can give my phone to a whiny kid in the backseat and still use CarPlay (try that with a wired connection). One bummer, though, is that the car's optional wireless charging feature isn't as quick to replenish battery life as is a wired connection; my phone's battery mostly just sustained its charge, or barely increased, while on the charging pad.
The touchscreen also displays some of the coolest augmented-reality graphics I've seen in a car, with 360-degree views that show the 5 Series' surroundings. It's a trip to see a superimposed car image surrounded by real-life camera views to help you gauge how close you are to things. It's quite useful.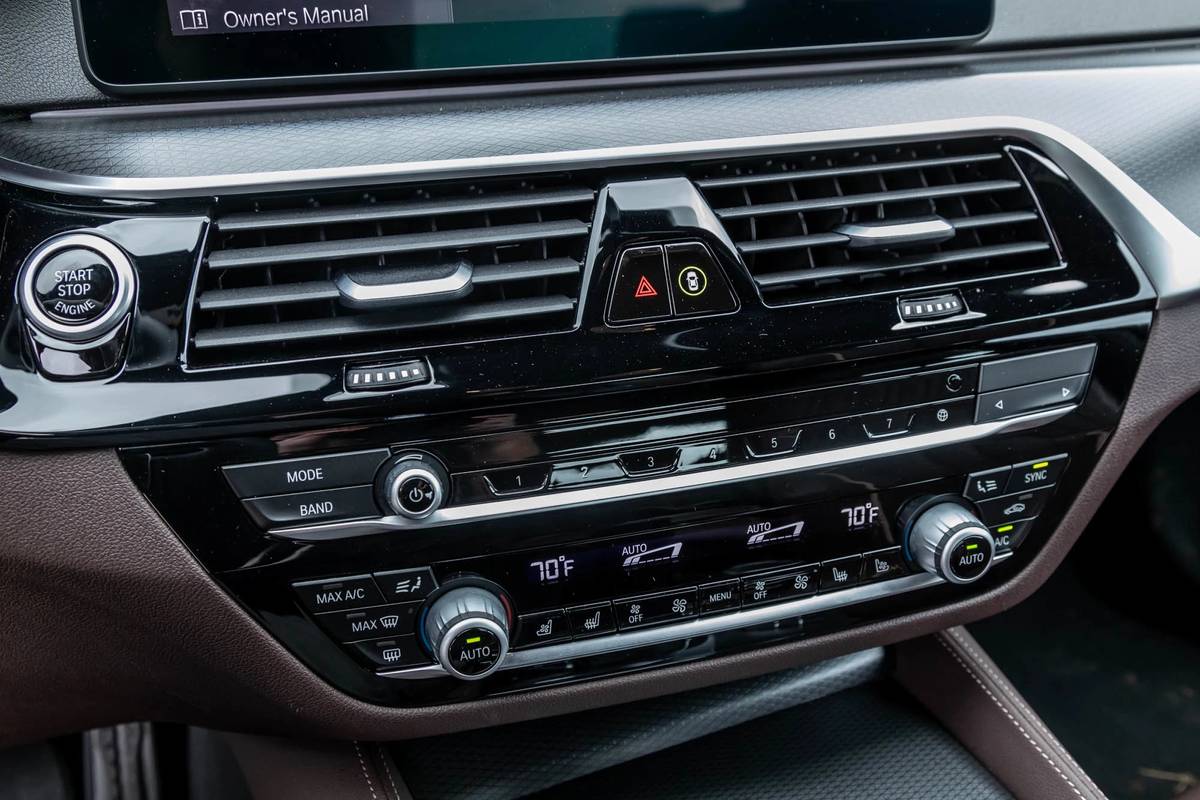 Unlike some luxury automakers, BMW hasn't done anything too stupid to hurt usability like making all the controls touch-sensitive or pairing a console controller with a non-touch display. All the 540's controls are straightforward, though the iDrive onscreen interface remains a bit complicated even as its main features are easier to access than they were in previous versions. You'll want to take that training walk-through at the dealership seriously and get familiar with the owner's manual.
Interior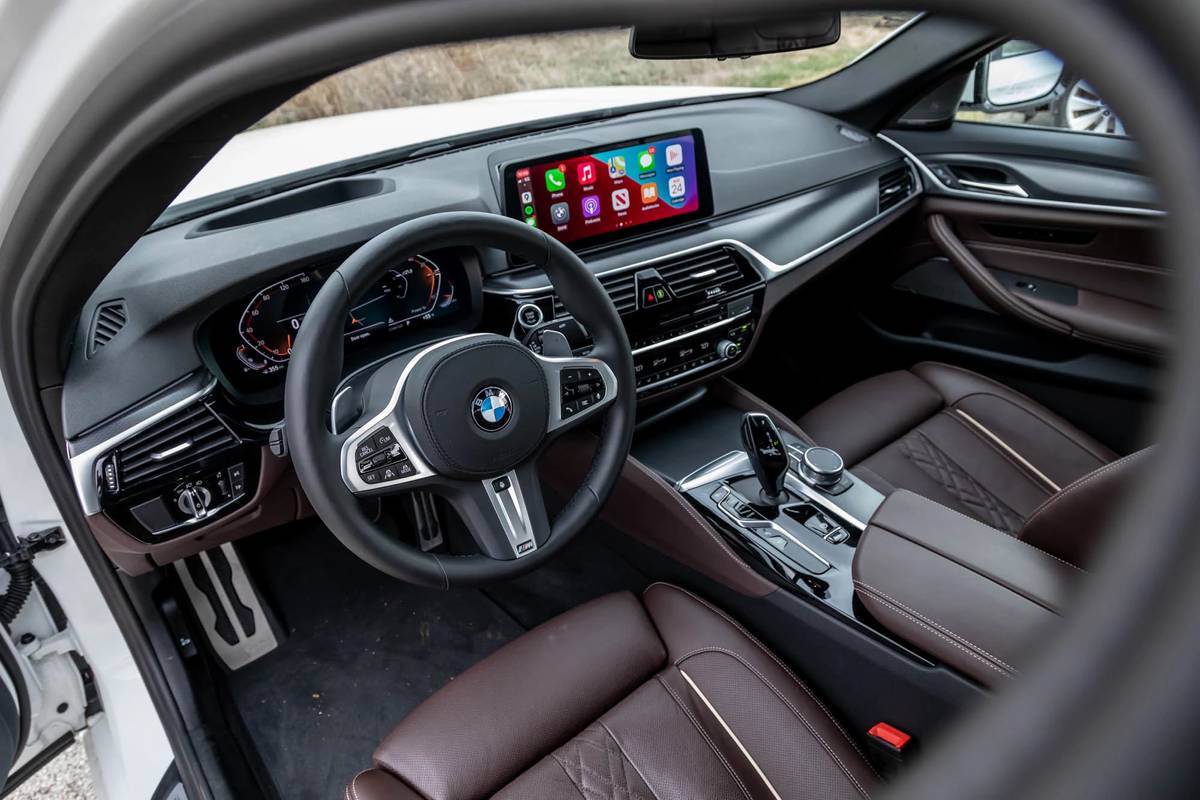 Last redesigned for the 2017 model year, the 5 Series' interior design is showing its age compared with the more recently updated Audi A6 and Genesis G80, as well as the Mercedes-Benz E-Class, which has aged more gracefully since its 2017 redesign. Even so, while the 5 Series' cabin looks more dated and restrained, its materials mostly remain competitive. The optional $2,500 mocha Nappa leather seating won't be lost on your bottom or your nose; they're plush and comfortable, and give off a welcoming new-car smell. When you turn into corners, the side bolster you're thrust into inflates to keep you properly positioned (a feature that can be disabled, of course).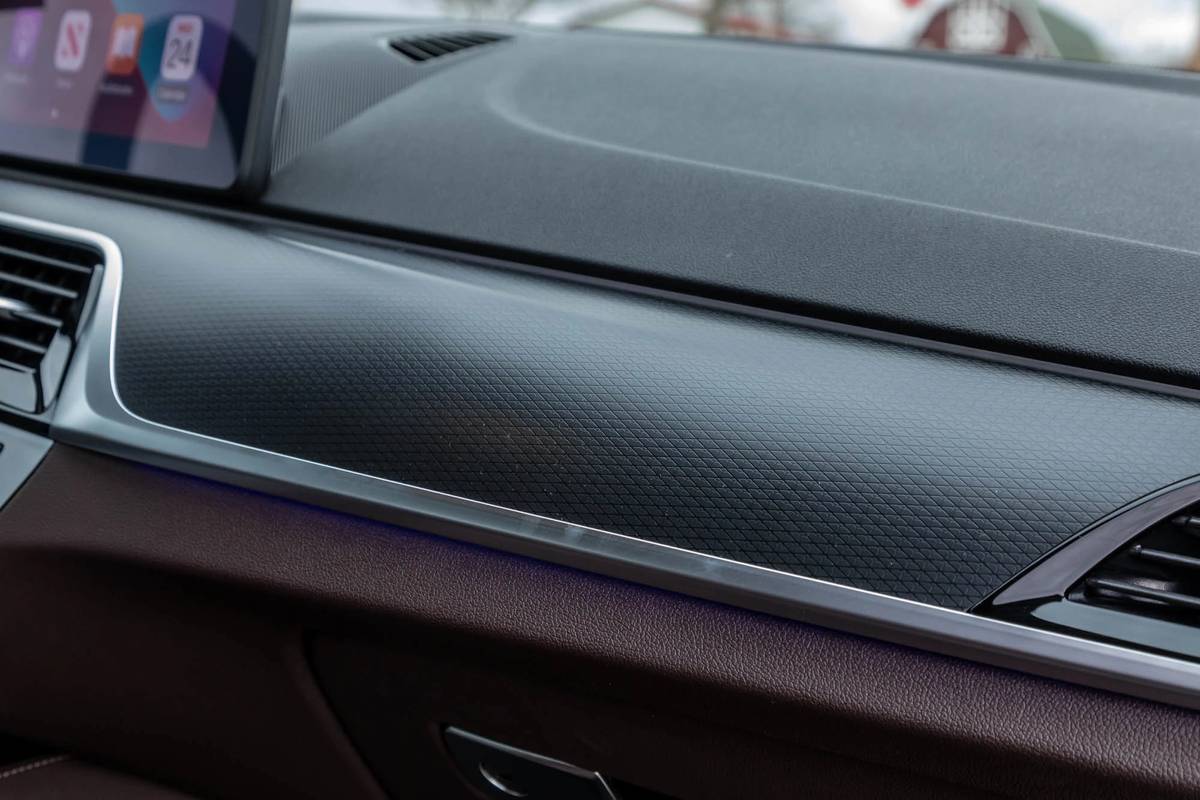 The sedan's interior trim choices, however, could use some work. My M Sport had the Aluminum Rhombicle trim, and it looked a bit plasticky and fake, with a patterned texture rather than brushed aluminum or some other industrial metal look. There are available wood finishes, but they seem less appropriate for the sportier M Sport. 
There's no extra room in either the front seat or the back, but my 6-foot frame wasn't cramped. This car is the definition of mid-size: not too big and not too small, slotting right between the 3 Series and 7 Series. The supple seating carries over to the back, where there's intricate stitching and high-quality leather.
Hands-Free Driving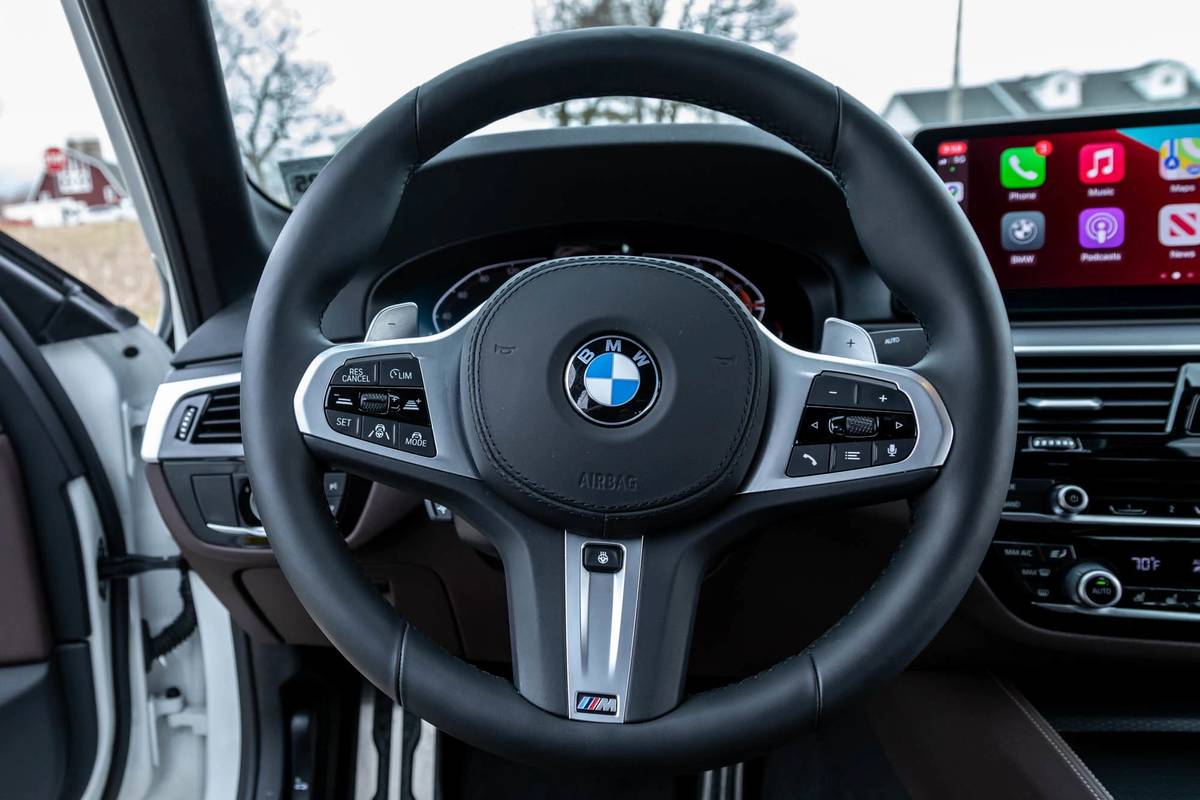 BMW is one of the few automakers whose lawyers let them advertise its semi-autonomous driving system as hands-free. It is, and it works as such at speeds below 40 mph. When the car determines that you're on an acceptable road, such as a freeway with lane markings and preceding traffic, and that the driver is paying attention, a secret menu pops up on the instrument panel. When it does, you can hit the Mode button one more time to enter hands-free driving, signified by the steering wheel's LEDs turning green.
I felt comfortable driving hands-free, but it's not attention-free driving. My hands were still near the wheel, ready to take over, and I was on high alert monitoring other cars, because these kinds of systems can't see everything. Fully autonomous cars are not yet for sale, and even Tesla's Autopilot is a hands-on driving-assist system. The other advertised hands-free driving system is Cadillac's Super Cruise, which works at low and high speeds. It, too, monitors whether the driver is paying attention. 
Its low-speed-only nature limits the BMW system's use to heavy congestion situations, and it's annoying when traffic is moving around that 40 mph mark and the system makes you jump in and out of hands-free driving. That said, if you live somewhere with awful congestion, the $1,700 Driving Assistance Plus Package with Extended Traffic Jam Assist is a must-have.
BMW 5 Series: Should You Buy One?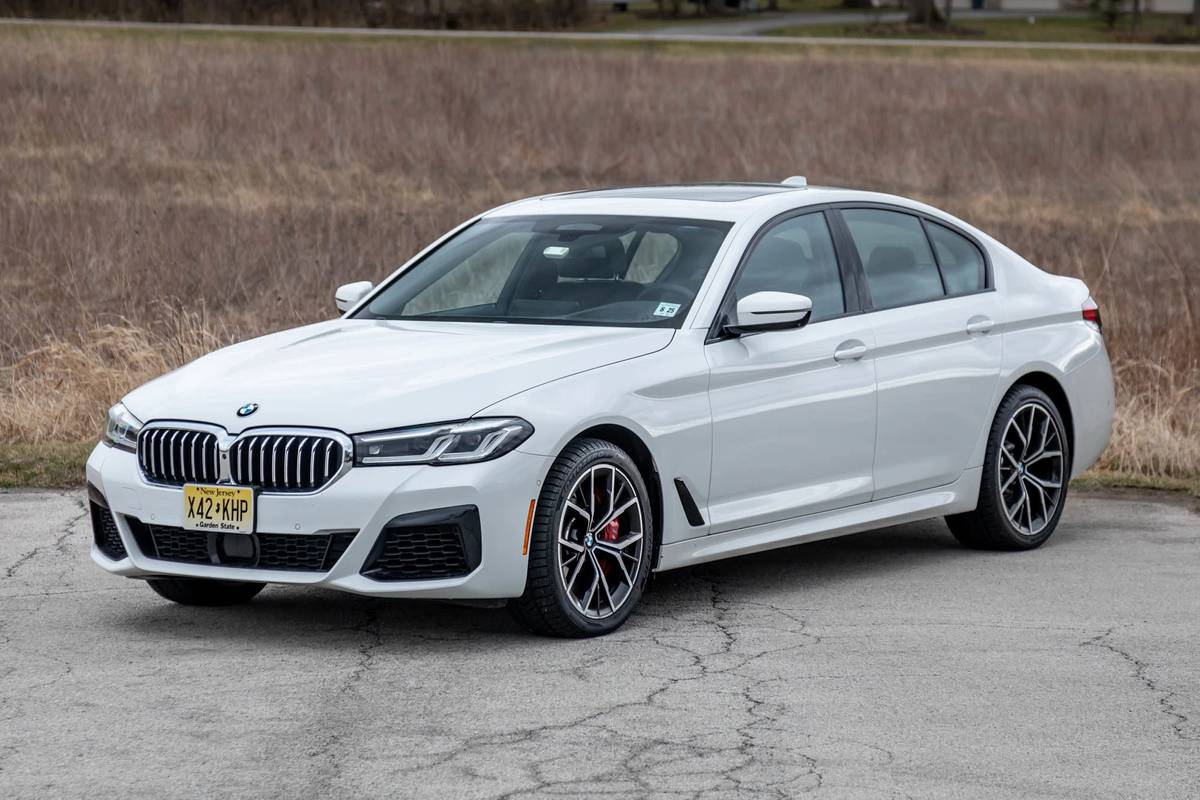 If you're looking for a sports sedan, you might want to keep looking (perhaps at a different class of cars) because the 540i xDrive with the M Sport Package doesn't quite live up to its name — at least, not in the way the smaller 3 Series with the package does. This is especially true with winter tires. 
For my money, I'd ditch the M Sport Package and all its suspension and performance-enhancing pieces and keep the plain old 540i luxury sedan. This is where it really excels, with its driver-assist technology, rich seating materials and high-quality displays.
Related Video: 2018 BMW 5 Series Review: First Impressions
More From Cars.com:
2018 BMW M5 Review: Automatic for the People

2021 Mercedes-Benz E-Class: New Face, New Wagon

2021 Genesis G80 Review: Nipping at the Germans' Heels

2021 BMW 530e Range: How Far Can It Go on Electricity Alone?

What's New for BMW in 2021?
Cars.com's Editorial department is your source for automotive news and reviews. In line with Cars.com's long-standing ethics policy, editors and reviewers don't accept gifts or free trips from automakers. The Editorial department is independent of Cars.com's advertising, sales and sponsored content departments.
Source: Read Full Article