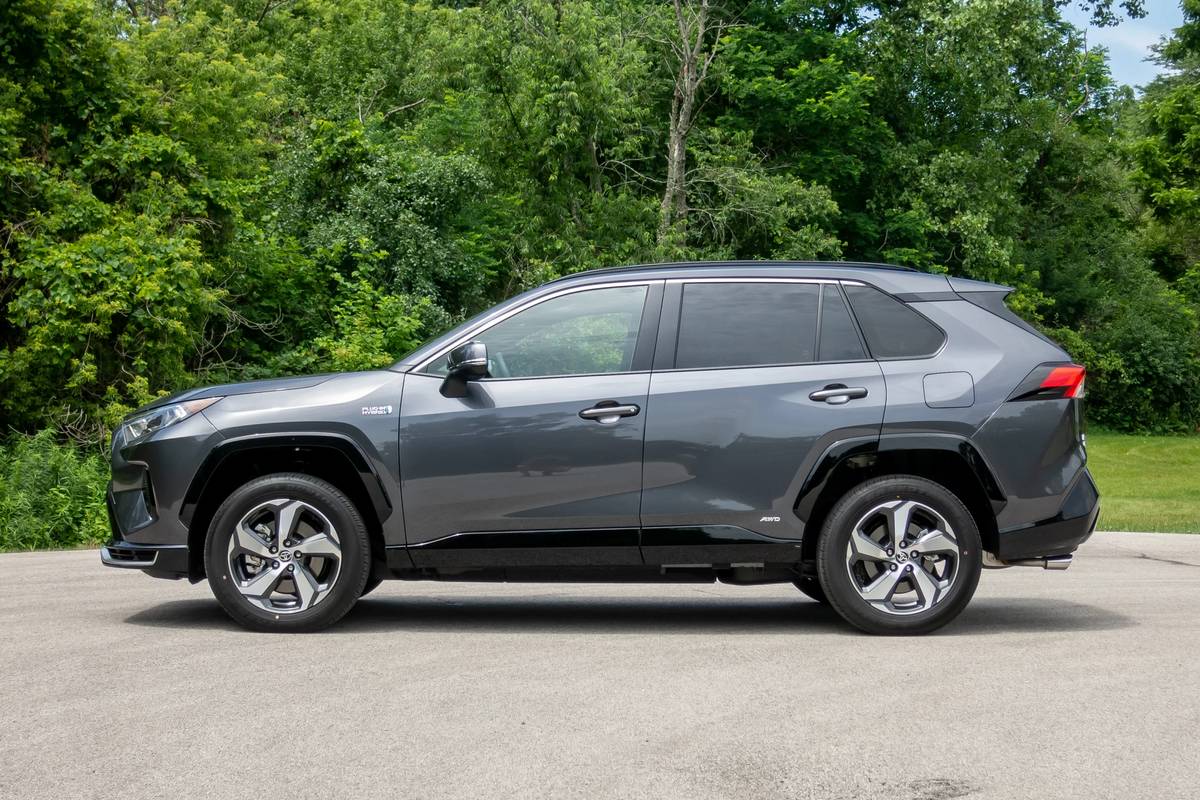 Fresh to dealerships this month, the Toyota RAV4 Prime plug-in hybrid SUV is all-new for 2021, bringing enhanced performance and efficiency to the RAV4 nameplate — yet in many ways, it also builds off the existing RAV4 Hybrid.
Related: 2021 Toyota RAV4 Prime Plug-in Hybrid Review: Efficiently Quick, Annoyances Aside
Like the Hybrid, it comes exclusively with all-wheel drive. The Prime also pairs the Hybrid's four-cylinder engine with stronger electric motors and higher battery capacity. From the outside, it looks as sporty as the specs make it seem; still, there are a few kinks that need to be worked out in terms of refinement.
If you want all the details about the new Prime, click through the related link above to check out Kelsey Mays' full review. For just the basics, here are seven things we like (and six that … don't really do it for us) of the 2021 Toyota RAV4 Prime plug-in hybrid:
Things We Like
1.  A+ Acceleration
The RAV4 Prime has quick, consistent acceleration regardless of whether it's tapping into the electric motors or the hybrid combination of electric and engine power. Still, pure EV power is where it really shines. The powertrain makes a combined 302 horsepower, and Toyota says it'll do 0-60 mph in just 5.7 seconds.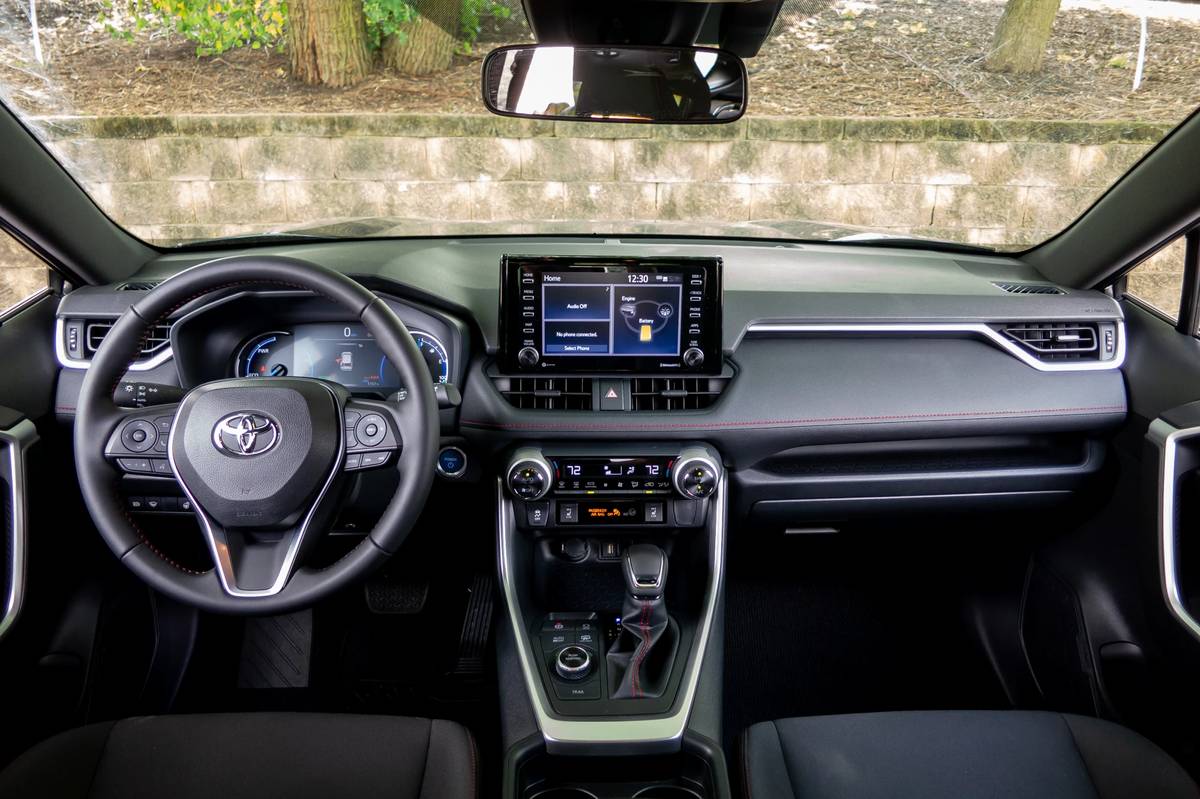 2.  Electric and Hybrid Efficiency
The EPA says the RAV4 Prime will go 42 miles on battery power before switching over to a conventional hybrid mode. Avoiding Sport and Eco driving modes, Mays says he got 43.8 miles of EV power on the highway. Then, when the Prime does change to hybrid mode, it gets an estimated 38 mpg in combined city/highway mileage.
3. Responsive Steering
The steering is medium-effort. Feedback is good, and the SUV changes directions rather quickly after turn in.
4. Charging Time
Charging time using the Prime's standard 3.3-kilowatt charger with the 18.1-kilowatt-hour battery is 4.5 hours on a 240-volt outlet and 12 hours on a normal household 120-volt outlet.  The 6.6-kW charger aboard the top XSE trim will cut 240-volt charging time to 2.5 hours. The faster 240-volt charging in both models requires hardware that is sold separately, but it also provides better preheating and -cooling of the cabin, programmable from the key fob or smartphone app. This helps preserve electric range when you depart.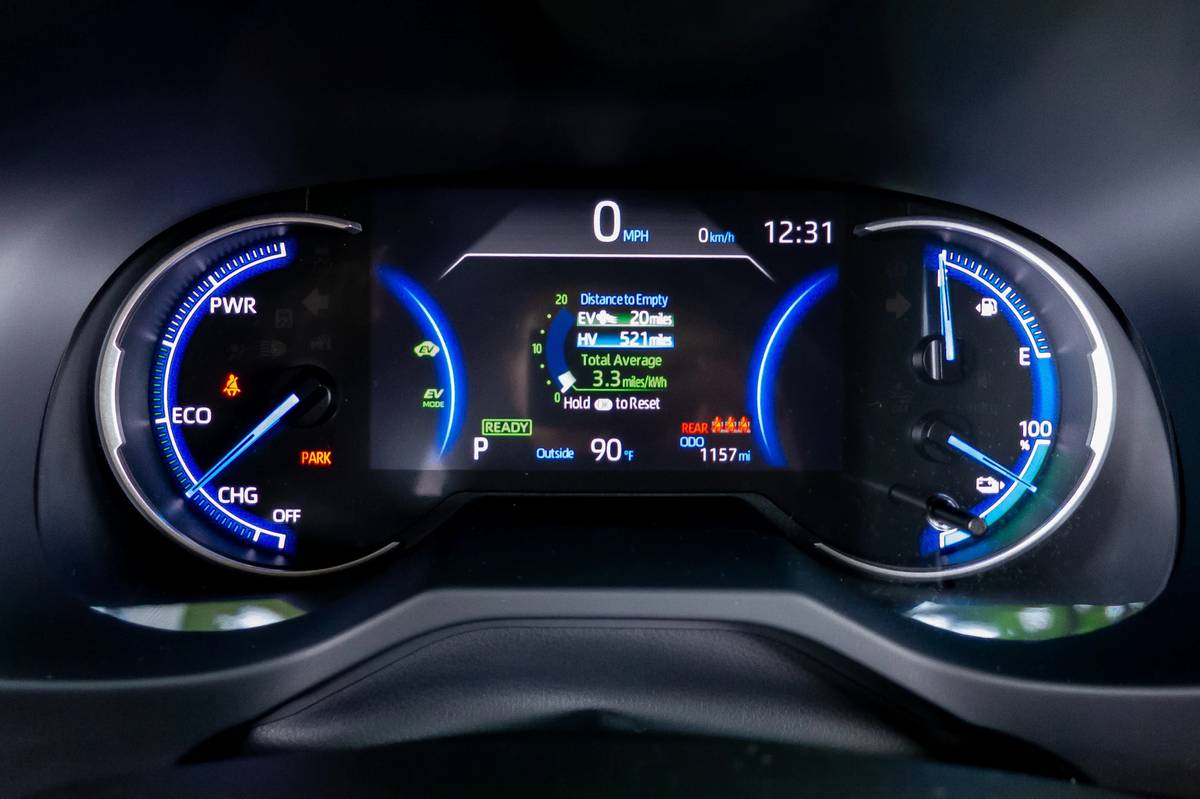 5.  Multimedia and Touchscreen
The standard 8-inch touchscreen has Apple CarPlay and Android Auto — the latter of which Toyota only added to the RAV4 in 2020. Five USB-A ports are also standard. A 9-inch screen, wireless smartphone charging and head-up display are optional.
6.  Storage and Cargo Space
The Prime is built with storage in mind.  The console and dashboard have lots of compartments for easy driver access. Because of additional drivetrain components, cargo space is about 11% smaller in the Prime than in the RAV4 or RAV4 Hybrid.  Still, there is adequate space to haul what you need.
7.  Tax Credit
The base RAV4 Prime SE starts at $39,220 (including a destination charge), but it qualifies for the maximum federal plug-in tax credit of $7,500. The net starting price of $31,720 puts it closer to the post-credit starting prices for competitors like the Subaru Crosstrek ($31,653) or Mitsubishi Outlander ($31,654).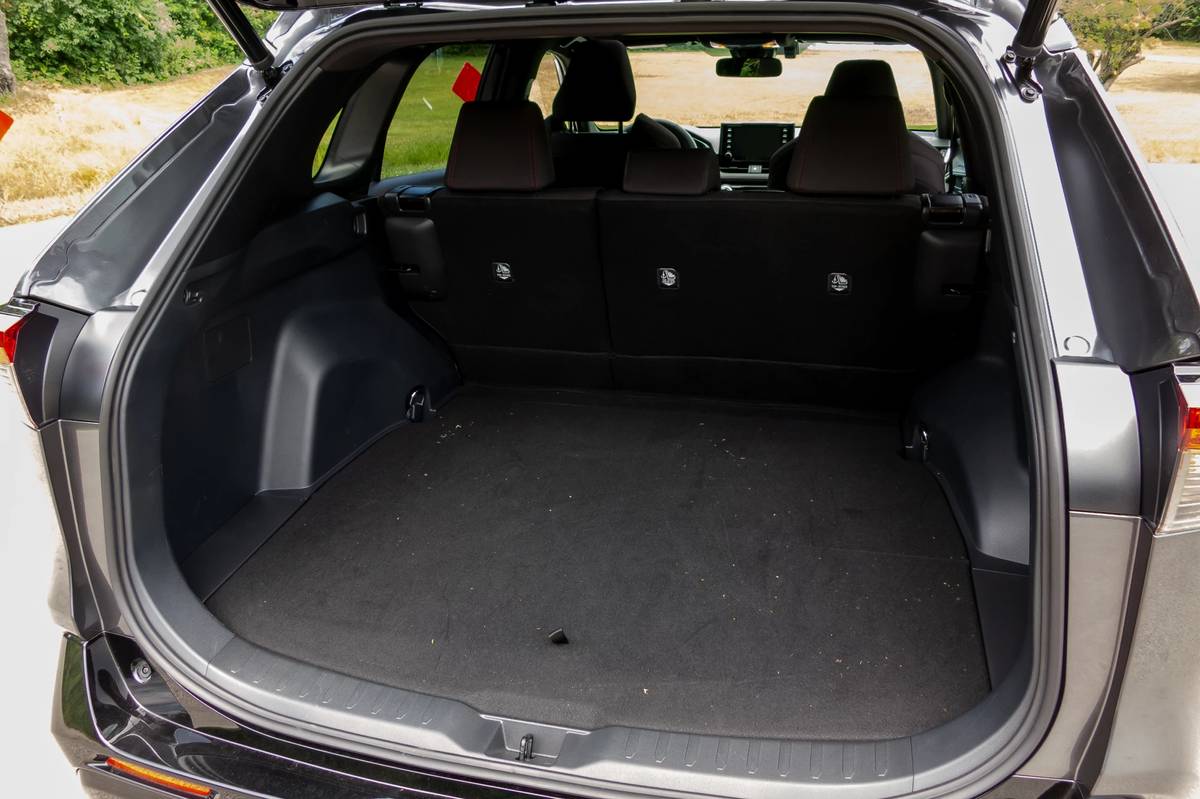 More From Cars.com:
2020 Honda CR-V Hybrid Vs. 2020 Toyota RAV4 Hybrid: Which Is Better?

2021 Toyota RAV4 Prime Plug-in Hybrid Primed for Purchase Under $40,000

2020 Honda CR-V Hybrid: Lower Price, Lower MPG Than Escape, RAV4 Rivals

What Is a Crossover?

More Toyota News
Things We Don't
1. Binary Brake Feel
Regenerative brakes are notoriously clunky, though they have gotten better in recent years. The exception is in the Prime's brakes, which don't seem to have a lot of range. When you step down or lift off, it's an all-or-nothing action without much nuance in between.
2. Odd EV Noise
As a pedestrian safety precaution, quiet hybrids and EVs have to make some kind of noise per a National Highway Traffic Safety Administration mandate, but the one Toyota chose is not music to the ears. The Prime's required sound is an awful mix of white noise and clashing notes.
3. Legroom
Longer-legged passengers might find there isn't enough knee clearance between the center console and doors. The seats don't adjust that far back to give you more room, either. And in the backseat, most adult passengers will probably feel like their knees are a little too elevated.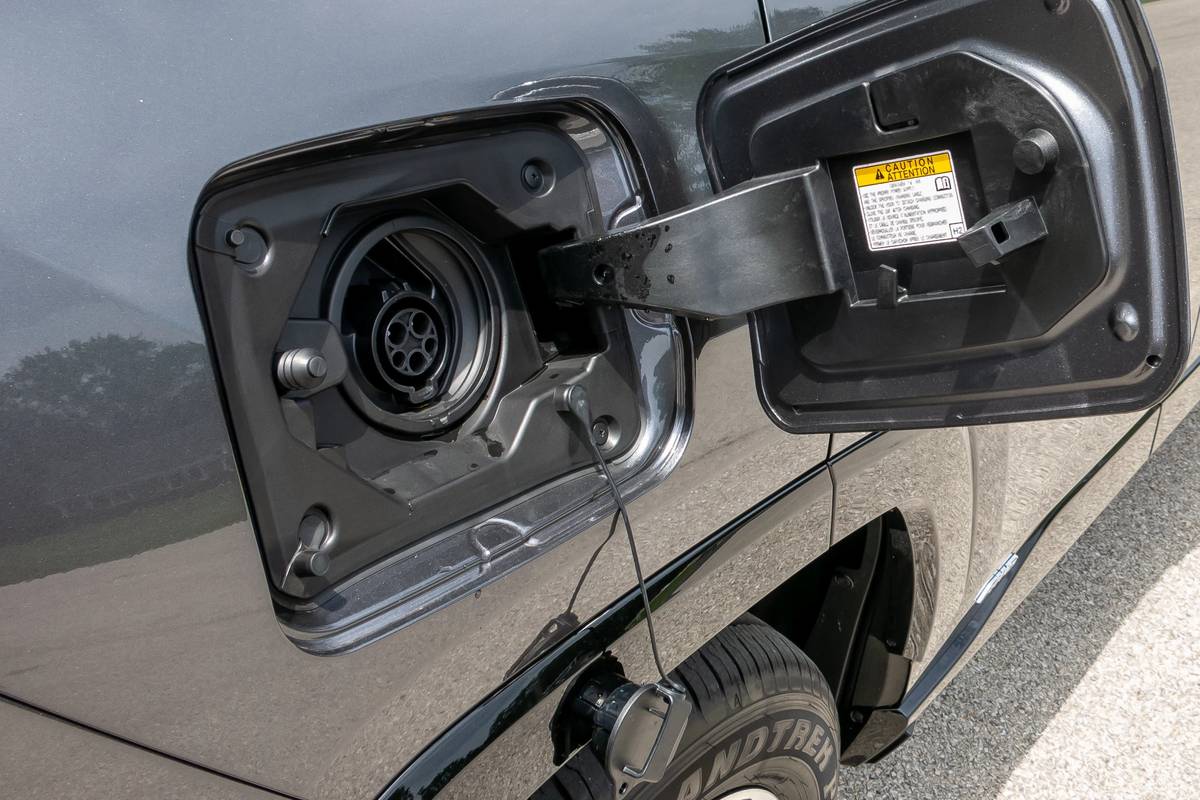 4. Body Movement
Body isolation is a problem in the Prime, especially over uneven roads where it starts to feel shaky. The XSE trim has 19-inch, lower-profile tires, which likely won't help this situation.
5. Traction Issues
The SE's Dunlop Grandtrek all-season tires lack traction, which undercuts the Prime's responsive steering. The AWD does help that some, as do the XSE's wider tires.
6. Cheap Materials in Base Trim
In most mass-market cars, the backseat is where you see the drop-off in materials quality. But in the base SE model, materials feel cheap in the front and the back, which sort of ruins what could otherwise be an attractive space.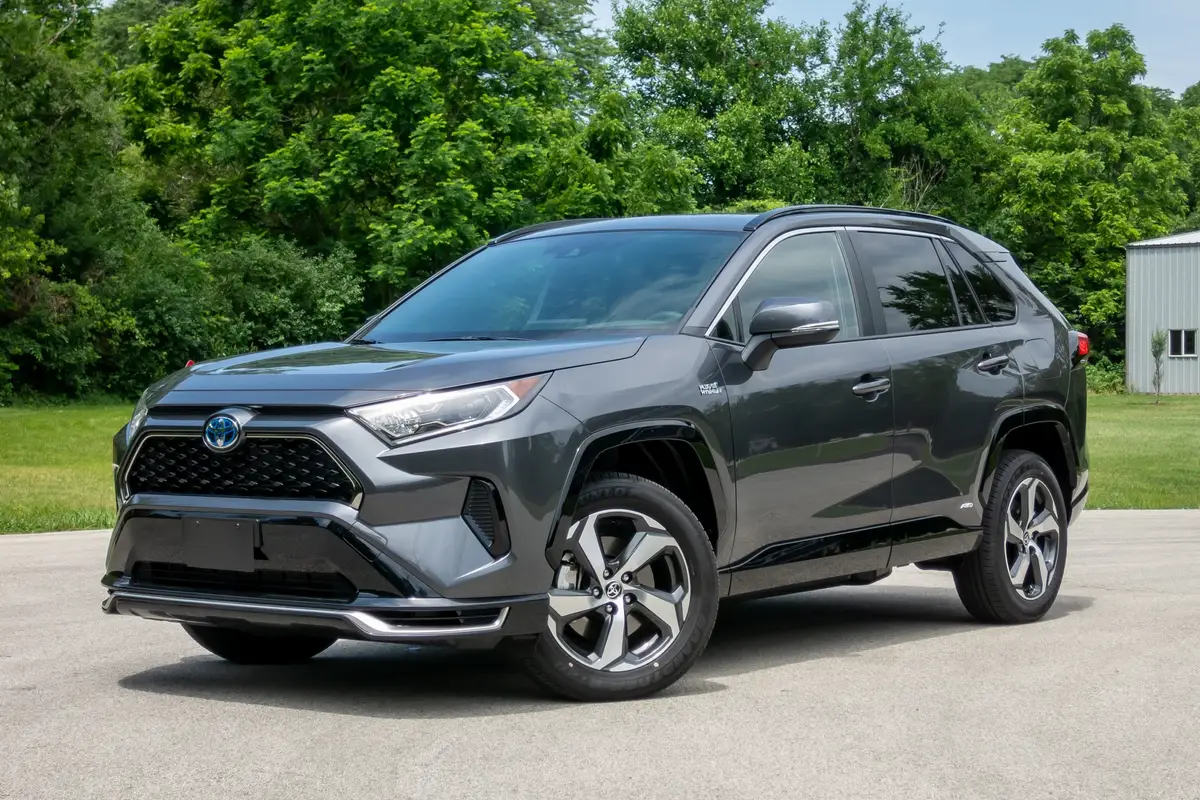 Cars.com's Editorial department is your source for automotive news and reviews. In line with Cars.com's long-standing ethics policy, editors and reviewers don't accept gifts or free trips from automakers. The Editorial department is independent of Cars.com's advertising, sales and sponsored content departments.
Source: Read Full Article