British luxury sports brand Bentley is offering up an unusually inexpensive brand-new car. For two-thirds the price of a Chevrolet Spark — or the same money as a Dacia Sandero, for our European readers — you can pick up a shiny, new Bentley Continental GT.
Obviously there's a catch here and it's quite a big one… or rather a very small one. The Conti in question is just 31 inches long. It is, of course, a 1:8 scale model, part of a new range of models available in the Bentley Collection, with a suitably Bentley twist.
Although made in Italy, each of the 1:8 models is built under the supervision of the Bentley Design Studio. There's over a thousand individual pieces in each model which, like every Bentley itself, is hand-made. The process takes some 300 hours.
Naturally the model replicates the real car as closely as possible. All the features you'd expect are there, with the tiniest details making the transition from full size to one-eighth — but that's not quite the end of the story.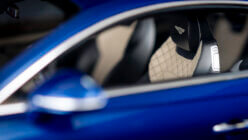 Every one of the 1:8 models is a commission. You can select any option that's also available on the full-size car, or even head to bespoke options to create any specification you want. In fact Bentley even recommends using the vehicle configurator for the real car to create your specification for the model; you can customize any area of the model car just as you would with the full size one.
That means you can also select any color paint, and any material — including woods, leathers, carbon fiber, and metals — on a truly individual model. For existing Bentley owners this might mean they could match their model to their real car, or create one of the many, many special edition Continental GTs in miniature.
There's three different scales of Continental GT available, with 1:64 and 1:43 models joining the 1:8. If you don't fancy, or can't stomach the thought of, dropping $9,000 (£6,995) on the biggest example, they're a more reasonable £12 ($16) and £85 ($112) respectively.
You won't be able to personalize the smaller models to quite the same level, with two exterior/interior combinations for the 1:43, and a choice of three different exterior colors for the 1:64. Each comes with its own special presentation box.
Source: Read Full Article