What's your best bet for a brew on the road?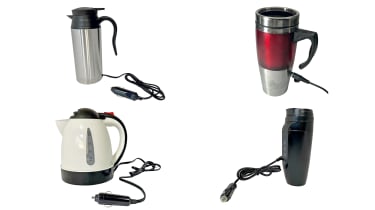 Britain's cars might run on petrol, diesel or electricity, but its drivers run on hot drinks. 
Whenever we pull over for a break we invariably head for the nearest tea or coffee shop in search of some warm refreshment to help keep us hydrated and alert. 
Best picnic hampers 2021
But a cup of coffee or even a humble tea bag in a paper cup filled with hot water can cost several pounds. Over the course of a week it soon adds up, and if you want a hot meal, too, the bill could well be into double figures each time you stop.
One answer is to fill a flask with boiling water from home and hope it keeps hot long enough. But if you want to make a fresh cuppa, you're going to need a kettle. We tested six to see which is best for your brew.
How we tested them
We plugged the kettles into a 12V socket and filled them with 300ml of tap water, measured at 18.5 degrees Celsius. We then timed how long it took the devices to heat the water to 93 degrees, the ideal temperature to make a coffee. 
We also looked for a kettle that was compact enough to fit in a door pocket, and gave extra points if it had a non-spill design. This will allow you to use the unit safely. Finally we factored in what you got for your money and price from online sources.
Verdict
If you are expecting to park up, plug in a kettle and be enjoying a steaming brew a few minutes later you'll be disappointed with any of the kettles here. 
The quickest to heat the water up was the Bopfimer, which took 22 minutes, and if you keep the engine running it will ensure your battery isn't flattened by the kettle's demand for power.
Using these criteria, the Bopfimer is the only unit here we can recommend. It heats water in a reasonable amount of time and can keep it safely inside the kettle while you drive.
Bopfimer 12V Kettle
Asab 12V Travel Kettle
ONVER Travel Kettle
Bopfimer 12V Kettle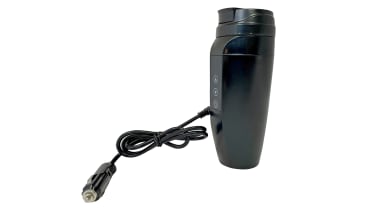 Price: around £27
Rating: 5
Power: 90W
Capacity: 450ml
Time to temp: 22 mins
Contact: www.amazon.co.uk
We were a little bemused by how the Bopfimer might work, because all the supplied instructions were in Chinese. 
However, once it was plugged into the 12V socket it became obvious that this kettle was a little more sophisticated than the other units in this test. A digital display shows the temperature of the water, allowing you to decide when it is hot enough for your needs. 
Our 300ml almost filled the container but it heated quickly, and the outside remained cool enough to hold. It seemed to keep the liquid warm for longer, too. It also fitted neatly in a cup-holder and was spill-proof, so takes the win here. 
Buy now from Amazon
Asab 12V Travel Kettle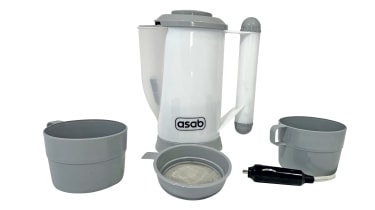 Price: around £13
Rating: 3.5
Power: 100W
Capacity: 600ml
Time to temp: 26 mins
Contact: www.ebay.co.uk
The box for this kettle warns that it is not a toy, but it would be easy to get confused, because the Asab is made from plastic that is little better than a disposable cup in places. 
Despite this budget build quality, the kettle is supplied with some useful accessories, including two small mugs and a strainer. 
The most useful extra is a hook that can be used to hang the kettle securely from a piece of trim or the glovebox lid to stop it from falling over when full. Heating the water took 26 minutes and the kettle is far from leak-free, but it did a reasonable job of keeping the liquid inside during normal driving. 
Buy now from Amazon
ONEVER Travel Kettle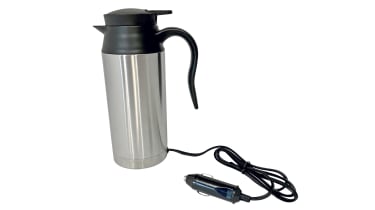 Price: around £30
Rating: 3
Power: 120W
Capacity: 750ml
Time to temp: 27 mins
Contact: www.amazon.co.uk
This kettle looks as though it might be worth the extra expense over its rivals thanks to a smart stainless-steel finish and flask-like appearance.
It is also narrow enough to fit in most door pockets and larger cup holders, despite a substantial 750ml capacity, which is the biggest of any in the test. We also liked the ONVER's LED indicator, which changes from red to green when the water is up to temperature.
But the reality didn't live up to the expectation. It took 27 minutes to heat our water, but more worrying was the leaky lid. If it's not kept upright, the kettle will dribble hot water into your car. 
Buy now from Amazon
Roadster DC 12V Car Kettle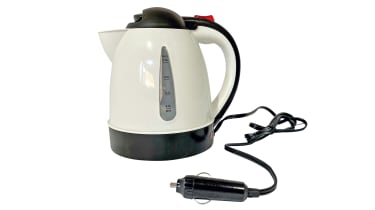 Price: around £13
Rating: 2.5
Power: 150W
Capacity: 500ml
Time to temp: 26 mins
Contact: www.ebay.co.uk
This Roadster-branded kettle closely resembles the sort of design you'll be used to seeing in a domestic kitchen and makes few concessions to being used in a car. That means it is too big to fit in a door pocket and has no way to  prevent spills. 
It holds a useful 500ml, though, and was reasonably quick to heat our water to temperature. We also liked the simple switch operation and indicator light to show when it's working.The Roadster offers reasonable performance and value, but the design means it would really be more suited to a caravan or boat than a car.
Buy now from Ebay
Autobits 12V beverage heater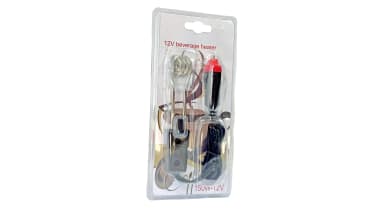 Price: around £5
Rating: 2
Power: 150W
Time to temp: 60+ mins
Contact: www.ebay.co.uk
There is no cheaper way of heating water than this Autobits element. It doesn't have any kettle body at all, so you just hook the device over the edge of your chosen cup, plug in the cable and wait. And then wait some more. After an hour our water had only reached 89 degrees, so we gave up. 
Only the element can be immersed in water, and there is no protection against spillages. We're also not sure you would want to sit in a car with the engine running for an hour without moving.  
Buy now from Autobits
Taylor & Brown Heated Travel Mug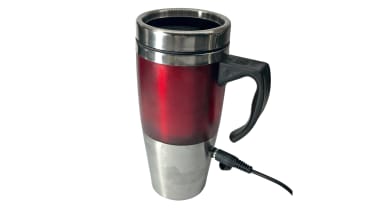 Price: around £9
Rating: 2
Power: 20W
Capacity: 400ml
Time to temp: 26 mins
Contact: www.amazon.co.uk
The Taylor & Brown mug isn't a kettle at all and doesn't claim to be able to heat water up to boiling point, but we included it in this showdown because it has previously won our mini test for heated travel mugs. 
Faced with cold water it only managed to heat it to 42°C, which is never going to be enough for a decent brew. But if you can boil water at home or work before you start the journey, this mug will keep it at 94.6°C for an hour or more when plugged into a 12V or USB socket. That could be a better alternative than battling with these kettles. 
Buy now from Amazon
Source: Read Full Article