Got a budget of £30,000 to spend on a new car? You may want to check out these excellent used cars first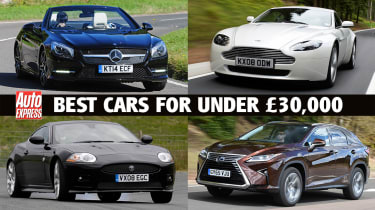 You can get yourself some fantastic new cars if you have £30,000 to spare, ranging from terrific all-electric hatchbacks like the Volkswagen ID.3 to the ever-popular Mazda MX-5 roadster. If you take that money to the used car market, you might be surprised at what cars could await you. 
For example, an Aston Martin V8 Vantage could be sitting pretty on your driveway for £27,999. If you require a lot more practicality but still desire a premium badge then how about a 2016 Range Rover Sport with 69,000-miles on the clock, yours for just £26,990.
Best luxury cars 2021
Just because you're not buying new doesn't mean you can't expect reliability. If you're spending this much money on a used car then it's important to take your time and check the essentials – such as the car's service history. A test drive is also key, you might find out that your dream car might not live up to expectations. 
All these cars are now listed at half their original price when new, which should mean you're not the one forking out on a steep depreciation curve and can enjoy running them for a relatively low outlay.
Scroll down to read more about our half-price heroes – all of which can be bought for less than £30,000 – or alternatively discover what's out there in these other price brackets…
The best cars for under £1,000
The best cars for under £2,000
The best cars for under £3,000
The best cars for under £5,000
The best cars for under £10,000
The best cars for under £15,000
The best cars for under £20,000
Range Rover Sport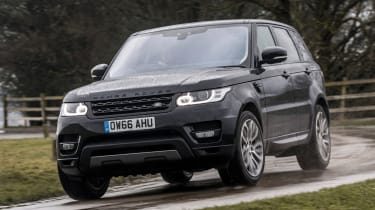 We found: 3.0 SDV6 HSE (2016/16, 69k miles, £26,990)
Price new: £62,745
Price used: £26,990
Engine: 3.0-litre V6, 302bhp
Economy: 40.4mpg
CO2: 185g/km 
Euro NCAP: N/A
We like the Range Rover Sport because it offers strong performance across its full engine line-up and handles far more sharply than you'd expect of something as large as this. 
The model we found was fitted with Land Rover's 302bhp 3.0-litre V6 diesel engine, which translates to an impressive 0-62mph time of 6.8 seconds, but most importantly in a luxury SUV, it's smooth and refined.
This is also a really rather practical car. With all the seats down, there's a cavernous 1,781 litres of luggage space. You can also have a Sport with a third row of seating, which offers enough space for two more passengers, although taller occupants might find them to be a bit of a squeeze.
Check the latest prices for used Range Rover models on our sister site BuyaCar…
Jaguar XKR-S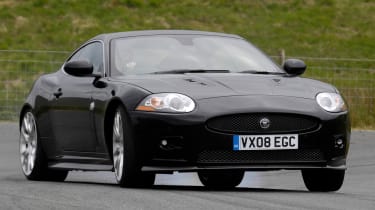 We found: XKR-S (2008/09, 64k miles)
Price new: £75,595
Price used: £22,995
Engine: 4.2-litre V8, 414bhp  
Economy: 22.9mpg  
CO2: 294g/km  
Euro NCAP: N/A
Before the bewinged model that wore the same boot badge, this XKR-S was the car that laid the foundations for the modern models produced by Jaguar's Special Vehicles Operations division. 
It was developed in collaboration with British brake specialist Alcon and featured a performance braking system. Production was also limited to a run of just 50 units in right-hand drive form, so at this price it's an excellent way to bag yourself an exclusive bargain.
The 4.2-litre supercharged V8 still produced 414bhp, but some 20-inch alloys and an active exhaust gave the car plenty of presence.
The Jag's revised aerodynamics and suspension set-up – including a 10mm lower ride height – meant the handling was also sharper, but the XKR-S was still a great GT too, despite its sports car credentials. Mercedes SL 400 AMG 
Check the latest prices for used Jaguar models on our sister site BuyaCar…
Mercedes SL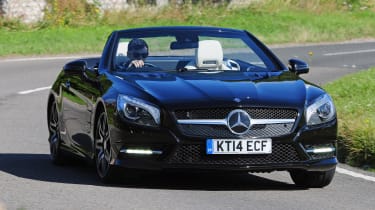 We found: AMG Sport (2015/15, 30k miles)
Price new: £73,225
Price used: £25,950
Engine: 3.0-litre V6 twin-turbo, 362bhp  
Economy: 36.7mpg 
CO2: 179g/km  
Euro NCAP: N/A
You'll struggle to find a car with the range of talents you get in this SL, because it blends power, relative practicality and comfort. Plus, unlike some rivals, the Merc has a folding metal roof, so it's more refined at high speed.
The SL's chassis might not be as composed as rivals like the Jaguar F-Type's, but little else comes close to offering a similar sense of style. The grunt from the V6 engine means there's still plenty of fun to be had.
Check the latest prices for used Mercedes models on our sister site BuyaCar…
Porsche Cayman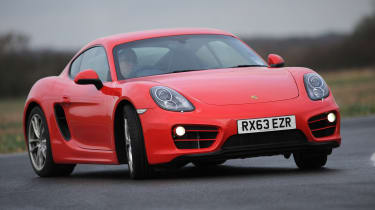 We found: 2.7 981 PDK (2016/16, 44k miles)
Price new: £52,000
Price used: £26,000
Engine: 2.7-litre flat-six, 271bhp  
Economy: 35.8mpg  
CO2: 183g/km  
Euro NCAP: N/A
The second-generation Porsche Cayman came out of the 911's shadow and evolved into a sports car in its own right – and one of the best-handling cars of its day.
Its free-revving flat-six engine develops 271bhp – enough for a 0-62mph time of 5.7 seconds. The one caveat is that the standard Cayman wasn't very well equipped, so with a few options taking the new price over £50k, this used model is a genuine half-price hero.Check the latest prices for used Porsche models on our sister site BuyaCar…
Aston Martin V8 Vantage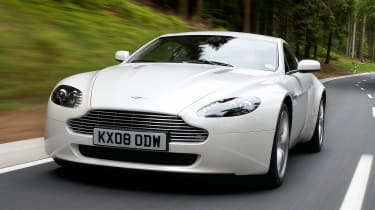 We found: 4.7 (2008/58, 37k miles)
Price new: £88,744
Price used: £27,999
Engine: 4.7-litre V8, 420bhp  
Economy: 20.5mpg
CO2: 321g/km  
Euro NCAP: N/A
While the previous Vantage is starting to show its age, this coupé's pros far outweigh its cons. It's arguably one of the prettiest cars of the 21st century, and is fitted with a fantastically old-school and characterful V8.
But there's nothing old fashioned about the V8 Vantage's speed. Later cars like we found used a larger 4.7-litre engine, which saw power jump from 380bhp to 420bhp – giving a 0-62mph time of 4.7 seconds.
Check the latest prices for used Aston Martin models on our sister site BuyaCar…
Source: Read Full Article