We test the top e-scooters so see which is best for range, price, riding experience and more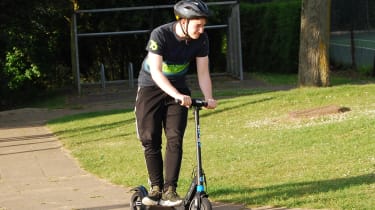 In cities across the world, electric scooters are as much a part of the urban transport network as buses and trains. They have evolved from toys into the favourite way of getting around town for thousands of commuters. However, in the UK, only rented e-scooters can be ridden on the public road; privately owned ones must stay off the highway.
E-scooters can carry adults for up to 20 miles at the same speed as a bike, yet they fold up easily to fit under a desk, in the boot of your car or even in a cupboard. We tested seven of our favourites to see which gave us the biggest kick.
How we tested them
We fully charged the scooters and then tried them on a test circuit with two riders – one weighing 80kg and the other 95kg. The route included a 4 per cent slope to check if the motors were strong enough to make it up hills without assistance. Extra points were awarded for light weight, easy folding and compact size, but sturdiness and riding stability were crucial, too. The final factor was price.
Verdict
Your choice of scooter will depend entirely on how you use it, where you need to store it and how much you have to spend. The E-Twow GT offers a great combination of power, portability and range, so is our favourite.
If your budget won't stretch that far, we were impressed by the built-to-last simplicity and stability of the Pure Air Pro. Still too much? The Ninebot has cut costs by having a smaller battery, but if the shorter range isn't a problem, it's great value and a worthy contender.
E-Twow GT 2020
Pure Air Pro
Ninebot Segway E22E
Reviews
E-Twow GT 2020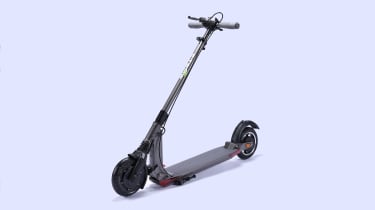 Price: £995
Rating: 5/5
Power: 700w
Scooter weight: 11.9kg
Range (claimed): 25 miles
The E-Twow (pronounced e2) GT is the smallest and lightest scooter here, which makes it ideal if you want to carry it on public transport or in a car boot. But it packs a lot of power into that tiny frame. It easily motored up hills, even with our heavier rider, and would top 24mph on the flat if allowed. Take it a little more carefully and it will also manage 20 miles between charges. Small wheels mean it's more fidgety than a bigger-wheeled scooter, but the combination of power, portability and range make it our winner.
Buy now from Personal Electric Transport
Pure Air Pro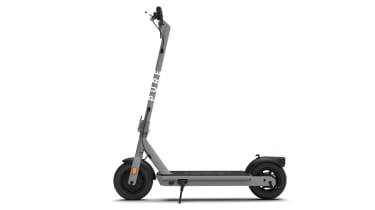 Price: £679.99
Rating: 4/5
Power: 350w
Scooter weight: 17kg
Range (claimed): 22 miles
Pure's new scooter doesn't have any gimmicky features, but it makes up for this in sturdiness. It's a hefty machine, designed to be used every day in the British climate. It has proper waterproofing, self-healing pneumatic tyres, big, 10-inch wheels and is rated for riders up to 120kg. It will be annoyingly large and heavy to lift up stairs or into a car boot frequently, but it feels as though it is built to last and is confidence-inspiring to ride. If we needed a scooter every day, this would be it.
Buy now from Pure Scooters
Ninebot Segway E22E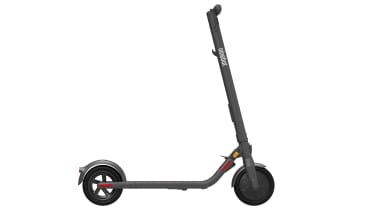 Price: £389.99
Rating: 4/5
Power: 300w
Scooter weight: 13.5kg
Range (claimed): 13 miles
The latest Ninebot has a stand-out feature which boosted its scores – the price. At less than £400 it's remarkably good value, and it doesn't look or feel like it's been built to a budget. In fact, it's packed with all sorts of gadgets, including a comprehensive LCD display and Bluetooth connection. There's no suspension, but the puncture-proof foam tyres on nine-inch wheels coped with bumps reasonably well. It managed our tests without issue once we'd selected a high-power mode, but we found the brakes tricky to master and the range is the shortest in this test.
Buy now from Pure Scooters
Zero 9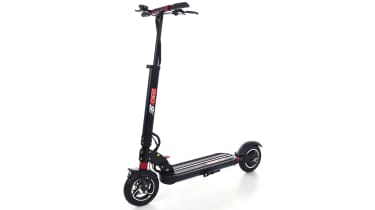 Price: £945
Rating: 3/5
Power: 600w
Scooter weight: 18kg
Range (claimed): 27 miles
At 18kg, the Zero 9 just about manages to be small and light enough to be considered reasonably portable, and will fit in a larger car's boot without needing to put the seats down. But it's not a struggle you'd want to experience regularly. The inconvenience of this is forgiven when you're riding it, though, because a bigger board to stand on plus dual suspension, air-filled tyres and two-wheel brakes make it more comfortable to ride over longer distances. Take it easier and it will stretch the battery over 27 miles, too.
Buy now from Personal Electric Transport
Xiaomi M365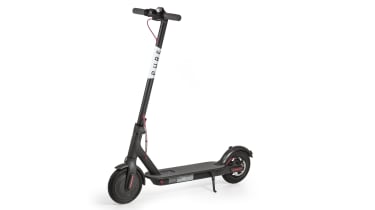 Price: £425
Rating: 3/5
Power: 250w
Scooter weight: 12kg
Range (claimed): 15 miles
It's not often that a previous test winner and best seller gets knocked so far off the podium so soon, but the M365's relegation is an indication of the speed of change in the electric scooter market. Users say it doesn't like getting wet, which isn't ideal for daily use, but it's still a decent scooter for an affordable price. It's easy to ride, feels stable and has just enough power to tackle hills. But rivals perform better now.
Buy now from Personal Electric Transport
Micro Explorer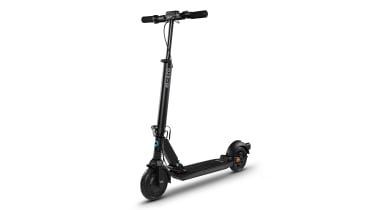 Price: £900
Rating: 4/5
Power: 500w
Scooter weight: 13.5kg
Range (claimed): 19 miles
The Explorer looks a little like a toy, but it's actually a serious machine with twice the power of the best-selling Xiaomi. This means it easily overtook lesser-powered machines on the hill test, while twin suspension kept the ride smooth, despite the Explorer having small wheels. It's also easy to ride, with a twist-grip throttle and brake lever. Folding is simple and the handlebars tuck in, which makes it much easier to carry in a car boot than some of the bigger machines. We missed having a stand, though, and its high price hurt its rating here.
Buy now from Micro-scooters
Zero 11X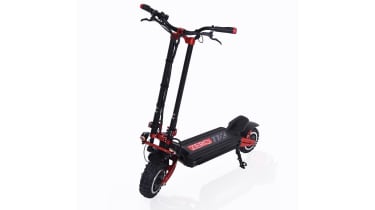 Price: around £2,895
Scooter weight: 52kg
Power: 1,600w
Range (claimed): 80 miles
Rating: 3/5
The Zero 11X is just a bit silly. Two motors producing 1,600 watts will propel it to 60mph if you're brave enough. To tame the frightening acceleration, you can select low-power modes, which will also stretch the range to a claimed 80 miles. The Zero 11X uses a reinforced frame, 11-inch wheels and full hydraulic disc brakes, which help to explain why it weighs 52kg; it's therefore a two-person job to load it into a car. Fun if you have a private track, but far too naughty for the road.
Buy now from PET
Source: Read Full Article