A head torch lights up under your bonnet and leaves your hands free to work.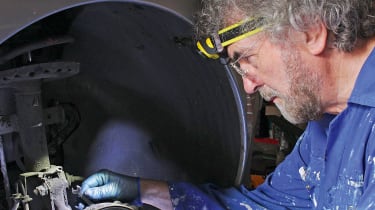 A head torch is always the motorist's friend, whether it's for garage-based DIY, a night-time breakdown or a camping holiday. Unlike a conventional torch, the light pretty much always shines at the point you're looking at, and it leaves both hands free. 
If you want one, the temptation is to go for the brightest, but these cost more and require more power, either cutting runtime or requiring a heftier battery. And that battery needs consideration as a rechargeable unit tends to be more expensive but cheaper in the long run. So which is the one to brighten your winter? We turned on eight to find out. 
How we tested them
We used each of the head torches under the bonnet and wheel arches of a test vehicle as well as the workshop and outdoors looking for a clear, bright spread of light. We also assessed performance over distance plus ease of use. 
We looked for versatility checking vertical adjustment, zoom function, power-saving modes and start and shut down. We also looked for resistance to moisture and dust ratings, and took into account price.
Verdict
The Nightsearcher 580R isn't the brightest, lightest or cheapest, but it provides the best balance here. The Core CLH200 was brilliant value for money for the budget-conscious, and at the other end of the scale, the Ledlenser offers massive power and battery capability.
1. Nightsearcher ZOOM 580R Rechargeable Spot-to-Flood Head Torch
2. Core Lighting CLH200 Rechargeable Sensor LED Head Torch
3. Ledlenser H7R Core Rechargeable LED Head Torch
Reviews
Nightsearcher ZOOM 580R Rechargeable Spot-to-Flood Head Torch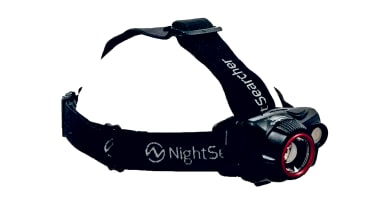 Price: around £75
Rating: 5
Contact: shop.nightsearcher.com
Our previous winner remains a solid performer. With 580 lumen it shone bright enough for most situations and the wide to spot zoom was ideal for car work or walking outside. 
It wasn't heavy at 107g, and it had the benefit of being able to run three standard AAA batteries if required. Despite being just 0.8Ah, it could run full beam for 2.5hrs.  As well as the high beam, there were also two LED options of 270 and 30 lumen, plus an even lower warm white beam for reading without glare. With high certification against dust and moisture and a five-year warranty, it stays at the top.
Buy now from Amazon
Core Lighting CLH200 Rechargeable Sensor LED Head Torch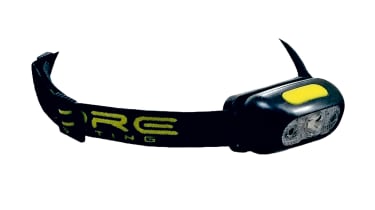 Price: around £12
Rating: 4.5
Contact: coastportland.com
At this price we didn't expect much and so were pleasantly surprised.  Although it weighs just 50g, the CLH200 had a 1.2Ah rechargeable battery and an output of 200 lumen. 
We liked the high, mid, low and SOS options and that there was no need to toggle through them all to turn it off. It would be too much to expect a zoom function, but it was impressive to discover that there was sensor control – waving a hand in front of the lens turned it on and off, which is really convenient when working with oily hands. 
Overall, it offers great value if you don't need all the goodies offered by some of the others. 
Buy now from Torch Direct
Ledlenser H7R Core Rechargeable LED Head Torch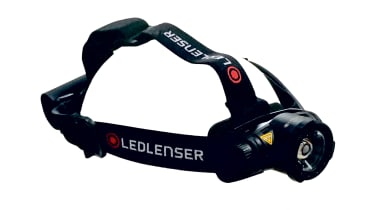 Price: around £65
Rating: 4
Contact: ledlenser.co.uk
The Ledlenser certainly had a massive specification, with its seven-year warranty and the biggest battery we tried, a monster 4.8Ah. However, it was also the second heaviest at 255g.
This powered up a light with a maximum 1,000 lumen, which gave a huge range outdoors. The 600- and 15-lumen modes were better for indoor use, with the zoom function good for engine-bay work.
Everything was sealed to the high IP67 rating and we really liked the magnetic charge function, where the cable plug simply sticks to the battery casing to recharge. The four LEDs that showed battery state also offered a touch of extra convenience. 
Buy now from Torch Direct
Nightsearcher 1100RX Rechargeable Spot-to-Flood Head Torch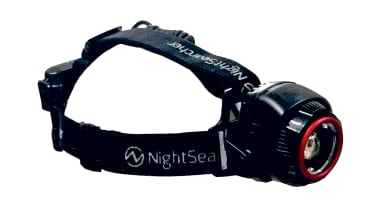 Price: around £75
Rating: 3.5
Contact: shop.nightsearcher.com
Nightsearcher's latest offering upped the ante with a hefty 1,100 lumen light output from its 2.85Ah, rear-mounted battery, which gave a claimed 2.5 hours on full beam. 
Certified sealed to IP66 and IK07 for anti-shock, it was covered by a five-year warranty. On and off was by a side-mounted button and we liked the way the light could be controlled by the rotary control.
It was comfortable, with its weighty battery at the rear, and it was equally at home in the garage or out in the open. High spec explains the high price. 
Buy now from Steel City Lighting
Sealey HT111R 5W COB LED Rechargeable Head Torch with Auto-Sensor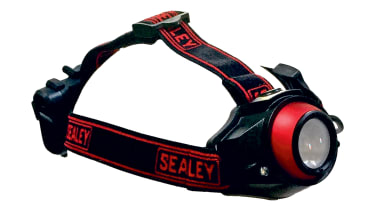 Price: around £33
Rating: 3.5
Contact: shop.nightsearcher.com
An odd-looking device from Sealey with its cyclops style, "eyeball" lens, which claimed a 40-degree movement but which we found clumsy to adjust. 
In a similar way to some others on test, the high-power, 2.2Ah battery was rear-mounted for comfort, and had a red LED that could act as a location marker. We liked the simple lever on the battery pack to adjust the light seamlessly from 20 to 100 per cent (110-450 lumen) and the hands-free, auto sensor function worked well. 
Overall, a reasonably priced, mid-range lamp. 
Buy now from Amazon
Coast Rechargeable Dual Power XPH25R LED Head Torch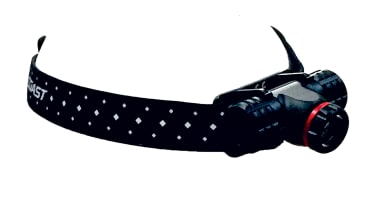 Price: around £43
Rating: 3
Contact: coastportland.com
The XPH25R had a neat trick, because its Zithion-x rechargeable battery could be revived on the device or separately, or swapped for a CR123 battery. The 94g aluminium head could be moved through 180 degrees or removed altogether to use as a hand torch. With a magnetic end, it was ideal for car work, although we expected more from the light. 
The zoom went from spot to wide and on mid-power, a run time of more than nine hours was good, especially from just 0.65Ah. IP54 certification and Coast's five-year warranty completed the package.
Buy now from Torch Direct
Draper Headband with USB Rechargeable LED Torch 95171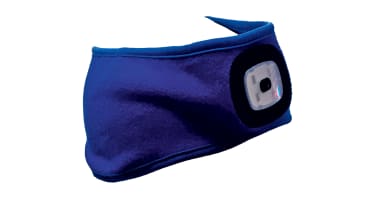 Price: around £22
Rating: 2.5 
Contact: drapertools.com
Many owners wear a headband when doing car DIY in cold weather, so Draper has taken the chance to combine one with a torch. 
The lamp unit was pushed into a plastic surround in the stretchy, fleece material, with four LEDs providing three light settings from its 0.25Ah battery.
Charging was easy, although the protective cap would be easy to lose. Comfortable at just 20g, it provided a reasonable amount of non-zoom, non-adjustable light, but only for close-up work, because its outdoor performance was very limited. 
Buy now from Craigmoore
Autkors COB LED Head Torch A8350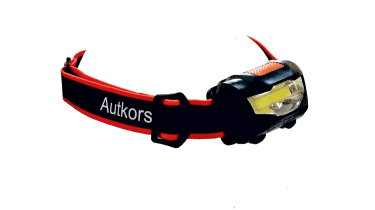 Price: around £6
Rating: 2
Contact: amazon.co.uk
At a fraction of the price of the most expensive rival here, the Autkors grabs the attention. 
It was the only one not to be rechargeable, although it did come with two sets (six) of AAA batteries. It was adjustable through around 45 degrees, albeit limited to just three detents. 
The non-zoom lens was rated at a max of 10 metres, which made it more suitable for close-up use, with high, low and SOS modes available. 
Irritatingly, going to "off" always required a full toggle through the modes. Cheap, yes, but the Core (p60) is better value.
Buy now from Amazon
Source: Read Full Article