New data reveals there were nearly 13,000 catalytic converter thefts from cars in 2019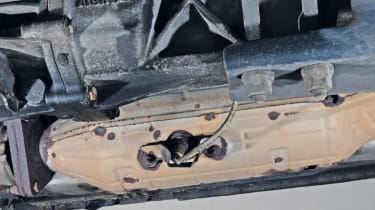 Catalytic converter thefts in England and Wales were up sixfold last year, new data reveals.
There were almost 13,000 recorded thefts of catalytic converters in 2019, compared with just 2,000 in 2018.
What is a catalytic converter?
The data – which was released to police forces in England and Wales (Scotland and Northern Ireland's forces were unable to respond to the request) as part of a Freedom of Information investigation by BBC Radio 5 Live – revealed that motorists in London were particularly at risk.
Even more shocking was the revelation that there have been spates of catalytic converter thefts from NHS workers' cars parked outside hospitals.
Stolen catalytic converters are usually shipped overseas, where they are stripped for the precious metals contained within them – including palladium, rhodium and platinum.
Victims of catalytic converter theft are often faced with a hefty repair bill. Not only do they have to spend hundreds of pounds on a replacement part, but damage done to the car during the theft – such as electrical wires being cut – means repair bills tend to end up at somewhere between £2,000 and £3,000.
How to avoid catalytic converter theft
In order to avoid catalytic converter theft – which can happen in a matter of minutes – drivers who don't have access to a locked garage are advised to park their cars in well-lit, populated areas, ideally keeping the exhaust as close to a wall, fence or kerb as possible.
It's also advisable to get a serial number etched on to your catalytic converter – this is a service some dealers offer and is standard practice on most new cars. Plus, if your car's catalytic converter is bolted on, it's worth asking a local garage to weld the bolts, making the unit more difficult to remove.
Assistant Chief Constable Jenny Sims, car crime lead for the National Police Chiefs' Council, told the BBC: "Police forces across the country are involved in planning and undertaking intelligence-led operations, at both the regional and national level, to stop converters from being stolen, as we recognise the devastating impact these crimes can have upon the lives of victims."
Find out about diesel particulate filters with our complete guide…
Source: Read Full Article