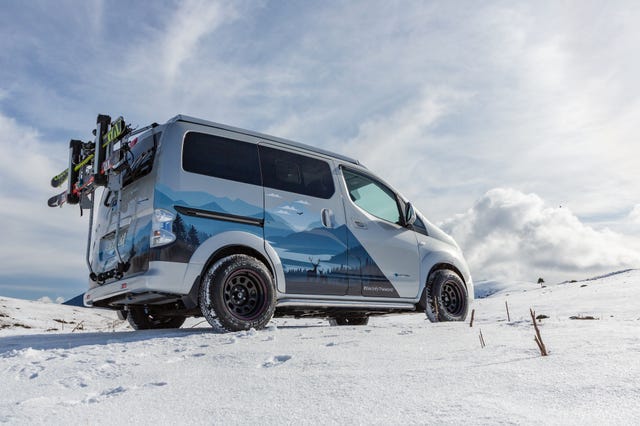 Nissan has revealed a new winter-exploration-inspired electric van concept called the e-NV200 Winter Camper. It offers a bunch of unique driving and cabin features that Nissan says makes it ideal for handling "winter expeditions." The concept is based on Nissan's e-NV200 Combi electric van.
As for tackling "winter expeditions," the concept has some offroad-ish equipment, such as a higher ride height, 5,400-lumen spotlights and off-road tires. There are also door-entry guards, front and rear mud guards, and rubber mats. Inside, there's a kitchen with a fridge and folding beds.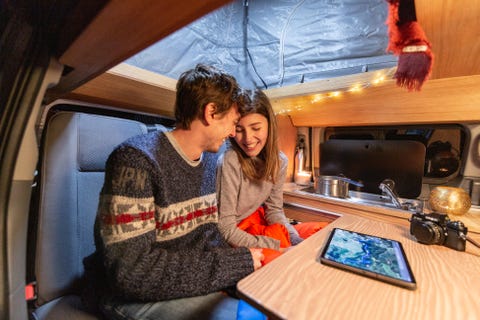 The concepts shares the Combi's 40kWh electric battery and 107 bhp electric motor. The van can hit 62 mph in 14 seconds and has a 76-mph top speed. Range is between 124 and 187 miles.
Will the e-NV200 Winter Camper ever see the light of day in the U.S.? Doesn't sound like it: Nissan officials here told Autoweek the van is a one off one-off project vehicle meant to highlight the "thrill of electric driving with the spirit of the great outdoors."
They told us the concept was created for the European market where the vehicle is available.
Would you buy one of these if you could? Sign in to the comments and let us know
Source: Read Full Article