The UK landscape is once more covered in snow, marking the start of a new Winter season in Forza Horizon 4. Players are refusing to let the snowdrifts beat them, with more events and new prizes available.
A French style icon glides into the Festival this week, along with new and updated prizes for 50% and 80% completion of the Festival Playlist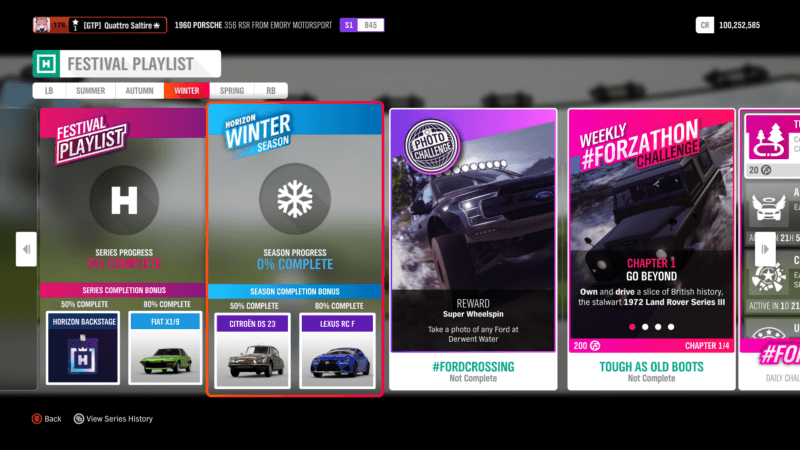 Are You Sitting Comfortably?
A big debut this week sees the arrival of the 1975 Citroen DS23. Often regarded as one of the most iconic French cars of all time, the DS was a look towards the future.
The styling of the DS means it's often hailed as one of the most beautiful cars ever designed, with a nod towards efficient aerodynamics. Performance is nothing to write home about, as the 2.4-liter engine only makes 114hp. Where the DS excels is in its forward-thinking technology. Advanced hydropneumatic suspension means supreme ride comfort even over rough terrain.
If more brute force is your thing, there's the 2015 Lexus RC-F. As BMW cleaved off the M3 Coupe model to become the M4, Lexus had to respond with the muscular RC-F.
Despite sharing mechanicals with the IS-F, the RC-F has been given a thorough workover for improved handling and performance. Under the hood sits an uprated version of the 5.0-liter V8 from the IS-F. In the RC, power goes up from 417 to 471hp.
An updated Winter Photo Challenge is all about Ford this week. #FordCrossing asks you to snap any car from the Blue Oval at Derwent Water. Prizes for seasonal championships this week include special Forza Editions of the Land Rover Series III and BMW M6.
One prize worth going for is the Mitsubishi Starion ESI-R. Billed as a flagship coupe for the rally-bred brand, the Starion is also the last rear wheel-drive Mitsubishi that was made. Powered by a 2.6-liter turbocharged engine, the Starion makes 188hp. Despite the modest power, Mitsubishi carved a successful racing career from the Starion in touring car events.
You'll have to take victory in the "Mud Is Thicker Than Water" championship to bring the Mitsubishi home.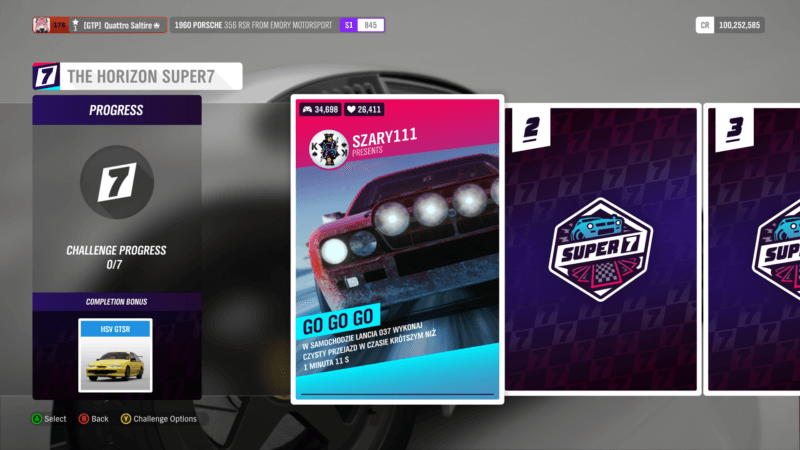 More Super7 events are ready and waiting this week. Finish all seven cards and you'll get an HSV GTS-R added to your collection.
Winter events and prizes are below:
Mud Is Thicker Than Water
Series: Dirt Racing Series
Cars: Modern Rally
Restrictions: B Class, 700 PI
Prizes: 15,000 CR, 25,000 CR, Mitsubishi Starion ESI-R
Cold Commute
Series: Road Racing Series
Cars: Daily Drivers
Restrictions: A Class, 800 PI
Prizes: 15,000 CR, 25,000 CR, BMW M6 FE
Offroad Rampage
Series: Cross Country Series
Cars: Offroad
Restrictions: A Class, 800 PI
Prizes: 15,000 CR, 25,000 CR, Land Rover Series III FE
The Trial: Mud, Mud, Glorious Mud (Co-Op Championship)
Series: Dirt Racing Series
Cars: Evo vs Impreza
Restrictions: B Class, 700 PI
Prizes: 2004 Subaru Impreza STI
Winter Games – Series 35
Series: Playground Games
Cars: Extreme Offroad
Restrictions: C Class, 600 PI
Prizes: Quartz Regalia Type-D
Super7 – Winter
Completion Prize: HSV GTS-R
M68 Speed Trap
Season Objective: 270 mph
Arthur's Seat Danger Sign
Season Objective: 721.8 ft
Royal Terrace Speed Zone
Season Objective: 108 mph
Forzathon Events
This week sees Forzathon shining the spotlight on a British legend: the 1972 Land Rover Defender Series III. Climb aboard this workhorse to get things rolling.
Next up, put the Defender's toughness through its paces by earning a total of 20 Wreckage Skills. Afterwards, push the old dog to the limit by winning a Cross Country Series event at Ambleside Rush.
Finally, wrap up this week by taking the Defender on a leisurely 15-mile drive around the UK.
Forzathon Shop
Peugeot headlines the shop this week with the small but mighty 207 Super 2000. This rally machine injects the humdrum 207 with much needed aggression.
In order to comply with S2000 rules, the stripped-out 207 runs a naturally aspirated 2.0-liter engine making 280hp. While it may be down on power compared to a full WRC car, the 207 still features a high-tech four wheel-drive system allowing for ultimate performance on tarmac or gravel.
You'll need to cough up 600 Forzathon Points to buy the 207. If you missed it during Series 33, now is the time to pounce.
On the other end of the shop is the 1958 Plymouth Fury. This huge American barge comes from an era where styling mattered more than performance or efficiency. Under the hood is a 5.7-liter V8 making 305hp, but at nearly 3,600lb, the Fury is far from a muscle car. Pop culture fans will also recognise the Fury from the horror movie Christine.
At 300 FP, the Fury is a bargain. If you're after an underrated movie star, then this beast will fit the bill.
Novelty items this week are the See Me Whip emote and the "In The Hall of The Mountain King" horn.
Source: Read Full Article