The MINI Electric and Honda e fight it out for their share of the all-electric supermini segment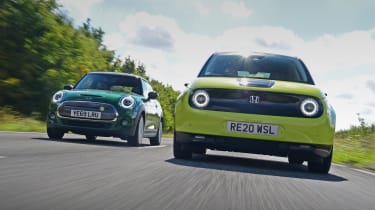 The electric revolution is upon us. From high-end SUVs and saloons to superminis such as this pairing, fully electric cars are offering an opportunity for engineers and designers to do something just a little bit different.
The Honda e proves the point because its retro-inspired individual design means this small EV looks like nothing else on the road. Its compact footprint means it will likely be used for shorter trips, just like the MINI Electric, so both of these models don't really major on range.
Best electric cars to buy 2020
There is more than enough energy in their batteries to make them usable as urban transport, though, while performance should be better than most petrol-powered supermini rivals.
The victor here will be the car that offers the best balance of technology, usability, fun-to-drive feel and efficiency. On paper it's an extremely close test, so let's see if this is true once we get this pairing on the same roads.
Honda e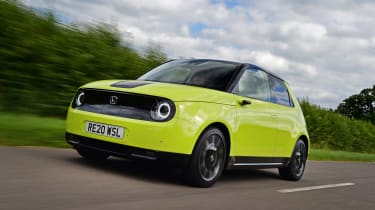 | | |
| --- | --- |
| | Honda e Advance |
| Price: | £29,160 (inc. PICG) |
| Powertrain: | 1 x electric motor, 152bhp |
| 0-62mph: | 8.3 seconds |
| Test economy: | 3.8 miles/kWh |
| CO2: | 0g/km |
| Annual road tax: | £0 |
The Honda e is the Japanese brand's first electric car for Europe, but with rivals including the stylish MINI Electric, can the e excel? We're testing the £29,160 Honda e Advance to find out.
Design & engineering
While Advance is a trim level, it offers more power and torque compared with the entry-level car, at 152bhp and 315Nm respectively, even though both models use the same 35.5kWh battery pack – of which only 28.5kWh is usable. At 1,520kg, the Honda is also heavier than the 1,365kg MINI.
However, the Honda hits back at its British rival with 100kW rapid charging, while the MINI makes do with 50kW DC charging.
Hooked up to this most powerful feed, the Honda takes 30 minutes for an 80 per cent recharge. However, dropping down to 50kW adds only one minute to the recharge time for an 80 per cent top-up; this is because of the way the car's software and hardware manage the battery charge. If you top up less than 80 per cent a 100kW feed will be faster.
The e comes with a 6.6kW on-board AC charger, so using a home wallbox (as most will for overnight charging), the Honda will take four hours and six minutes for a full charge, which is relatively quick given the 137-mile claimed range.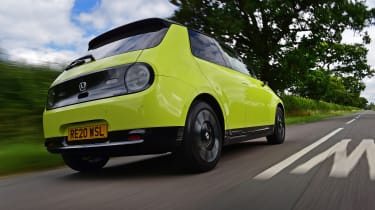 With the battery mounted in the floor and the e's wheels pushed towards the extremes of its body and controlled by MacPherson struts all round, it maximises space in the cabin. That's useful, given the Honda's more compact footprint.
This also means the Honda feels fresh inside, with the EV architecture allowing for better packaging than the MINI, plus the interior design feels more advanced and forward-thinking. Quality is also good and (in the main) a match for the MINI.
Driving
Torque is what gives an EV its instant performance, but despite having 45Nm more than the MINI, the Honda is 29bhp down and weighs more. This means it's not quite as rapid when you flex your right ankle.
However, compared with any other supermini the e is quick, accelerating from 0-62mph in 8.3 seconds. This is one full second slower than the MINI, but the power delivery is smooth and it provides good acceleration up to the national speed limit.
The Honda doesn't surge forward like the MINI. Instead it swishes along smoothly, albeit with less urgency in its response to accelerator inputs.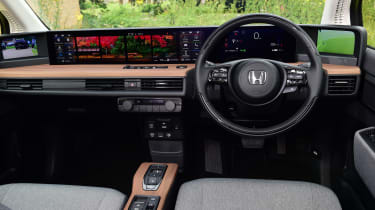 However, it is more comfortable than the MINI, with greater compliance from its suspension, which means that, on country roads, motorways or around town, the e feels more supple and refined. The Honda is also quieter on the move.
The steering has a lovely weight – lighter than the MINI's yet almost as direct – but the Honda's taller roofline and short wheelbase, allied to the softer set-up, mean it feels more top heavy than its rival and there's more roll noticeable. But because the battery is mounted low in the chassis, there's still enough stability and security to how it corners. It's not a massive drawback in an urban EV like this, but although the Honda is nice to drive, it certainly isn't as agile or as fun as the MINI.
In the most aggressive of its four brake regeneration modes the Honda allows true one-pedal driving. The calibration is slightly less aggressive than the MINI's and means it's smoother to drive, but both cars are good here.
Practicality
The main advantage the Honda offers over the MINI is having a pair of rear doors. While both cars are only four-seaters, access is much easier in the Honda. There's a noticeable amount of extra space in the rear, too. You sit upright, but it's less cramped than its British rival.
Because of the cars' compact dimensions, neither offers much boot space. The Honda's will accommodate just 171 litres, which is 40 litres less than the MINI's already-small boot.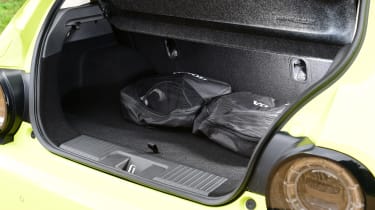 One area where the Honda does score a few more points is its turning circle. It's actually rear-wheel drive, and with no motor up front, there's extra steering lock. The turning circle is more than two metres tighter than the MINI's, which makes parking and manoeuvring in town much easier.
Finally, the Honda uses digital door mirrors, with the picture from each camera displayed on a six-inch screen at either side of the dash display. They take some getting used to, because of how your eyes focus on the picture rather than a point in a conventional mirror, but the feed is fast so there's little lag in the picture, and the resolution is okay.
Ownership
Honda easily had the edge over MINI in our Driver Power owner satisfaction survey, taking seventh spot compared with 26th position for its rival.
The e has more safety kit, too, including autonomous braking with collision warning, lane-departure warning with lane-keep assist, blind-spot monitoring, cross-traffic alert and adaptive cruise control. It has yet to be tested by Euro NCAP, though.
Running costs
This is where EVs like these really come into their own, and based on a home electricity price of 14.4p per kWh (the UK average), the Honda will cost £4.10 to charge, compared with £4.16 for the MINI – close, given that both have similar-sized batteries.
However, the Honda was more efficient on test, returning 3.8 miles per kWh compared with 3.6 miles per kWh for the MINI. This means that, over an average of 10,000 miles per year, the Honda's energy costs will be £21 less than the MINI, at £379.
This means a real-world range of 108 miles in the Honda, four miles more than the MINI.
Testers' notes
"The Honda's smaller battery means quicker recharging. This is sometimes more important than overall range, especially for cars that will spend a lot of time in town, covering shorter journeys."
MINI Electric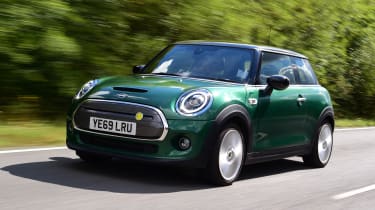 | | |
| --- | --- |
| | MINI Electric Level 3 |
| Price: | £30,900 (inc. PICG) |
| Powertrain: | 1 x electric motor, 181bhp |
| 0-62mph: | 7.3 seconds |
| Test economy: | 3.6 miles/kWh |
| CO2: | 0g/km |
| Annual road tax: | £0 |
We already know the Honda e is strong, but up to now the MINI Electric has been the one to beat when it comes to a small EV with style. Can the £30,900 top-spec Level 3 car compete?
Design & engineering
Whereas the Honda is based on the brand's EV-specific platform, the MINI Electric is based on the brand's UKL chassis, which it shares with BMW and other petrol and diesel-powered MINIs, so there's possibly more compromise here on packaging.
Smaller cars such as these often have smaller batteries, and so it is with the MINI. The pack is rated at 32.6kWh total (less than the Honda) but a greater percentage of that it usable, at 28.9kWh (more than the Honda) for a claimed range of 141 miles – this is four miles more than the e, but as we've already seen, the Honda's greater efficiency reverses this gap in the real world by the same amount.
The MINI's battery is also mounted in the floor, but here it sends power to an electric motor driving the front wheels. There's 181bhp and 270Nm of torque, which is near hot hatch levels; as with the Honda, the gearbox is a single-speed unit. You just slot into Drive and then move off.
The MINI only has two regenerative braking modes compared with the Honda's four. The top setting is very strong and will bring the car to a halt, recouping energy and charging the battery when slowing down. The lower mode isn't as useful.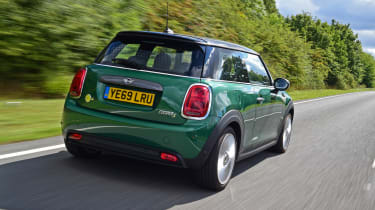 When it comes to charging, unlike the Honda the MINI is only rated up to 50kW. However, the brand claims 36 minutes for an 80 per cent top-up, so it's not far behind the e. This increases to three hours and 12 minutes using a 7.4kW home wallbox.
The MINI features an 11kW on-board charger, and it can take advantage of some higher-powered wallboxes or public AC charging posts; a full charge takes two-and-a-half hours, so the Honda is better in some areas, the MINI in others. The Honda's smaller battery means home charging is still quick enough and not an issue. Most people will use DC rapid chargers when away from home, where the e's 100kW capability could come into its own.
The MINI's interior isn't as interesting as the Honda's, with a more conventional design, layout and materials, but quality is sound, as we'd expect.
Driving
The MINI feels keener on the move, with sharper throttle response and swifter acceleration. In fact, after a very slight initial lag, the MINI moves forward as fast as a hot hatch. Acceleration tails off past around 45mph, but it still gets up to motorway speeds swiftly.
One problem at these speeds is that in both cars remaining range is depleted at a much greater rate. It's obvious they are most efficient in town. But here the MINI feels just a little too firm. The Honda isn't immune to some bobbly reactions to patchwork town streets, but the MINI isn't as comfortable. That's because the focus is on fun, despite efficiency also being high on its list of attributes.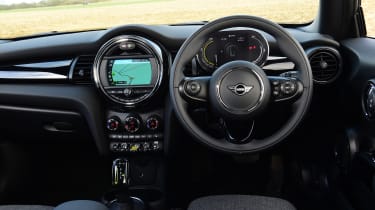 The steering is typically quick and direct, with more weight and solidity than the Honda's. The MINI also feels slightly grippier, and being lighter you can throw the car into corners surprisingly well, using the brake regeneration to help trim your line rather than actually touching the brakes. You do it all by modulating the accelerator and it shows how MINI has focused on making an EV feel fun, and succeeded in some situations.
Refinement in both cars is good. There's just a touch of motor whine, while even wind noise in these small cars is kept at bay.
Practicality
The MINI Electric is three-door only, which limits its practicality compared with the Honda, if not its overall appeal. Access to the back of the car is therefore more limited, and there's a lot less head and legroom once you're sitting back there; it's claustrophobic.
While there's more boot space on offer in the MINI, it's not exactly cavernous, so fitting four people's luggage in will still be a tight squeeze. Both the MINI and the Honda only seat four, anyway.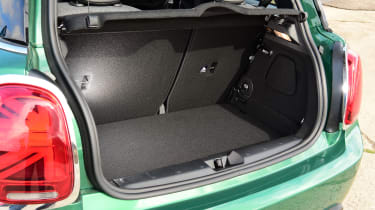 A Type 2 and a three-pin plug come as standard and there is some underfloor storage, so you don't have to leave the charging cables in the boot.
Otherwise, the compact dimensions mean visibility is fine, just like in the Honda, but we prefer the MINI's conventional mirrors for ease of use.
Ownership
MINI's performance in our Driver Power survey was poor, with owners criticising the brand's cars for practicality and boot space, as well as safety features.
These points also apply to the Level 3 car here, because only autonomous braking is included. There's nowhere near as much safety tech as the Honda; lane-keep assist and blind-spot monitoring aren't available, for example.
By contrast, Honda owners rated their cars' safety features and build quality highly, which helped contribute to its strong showing in our survey.
Running costs
One of the biggest incentives to running an EV as a company car this tax year is they attract a zero rate for Benefit-in-Kind tax, so business users pay nothing.
There's also an incentive for private buyers because predicted residual values are strong. Our experts expect the MINI to hold on to 48.2 per cent of its value after three years/36,000 miles, which equates to £14,881, while the Honda is predicted to retain 45.4 per cent or £13,239.
EVs have fewer moving parts so servicing should be affordable. Honda's £649 five-year service works out at £130 per year, while MINI's £10 per month deal costs slightly less, at £120 per year.
Testers' notes
"I love how, despite a completely different powertrain to every other MINI, the brand has injected its fun-to-drive feel here. It's recognisably a MINI to drive, despite being all-electric."
Verdict
First place: Honda e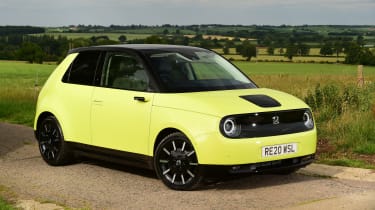 The Honda is the cheaper machine, yet it's better equipped, more efficient, has more tech and offers slightly more range than the MINI, with greater charging flexibility, too. With four doors (albeit a tiny boot) it's just that little bit more practical, and we love the Honda's design approach. It's not as fun as the MINI, but it drives well and is comfortable, so Honda's first European EV takes victory here.
Second place: MINI Electric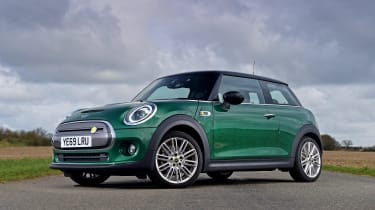 We'd like a little more substance over style from both EVs, because they offer limited range and are on the pricey side. The MINI is great fun to drive, with electric performance really suiting its character, but it's not quite as comfortable and doesn't offer as much kit, yet it costs more. But the slightly poorer efficiency, real-world range and running costs mean the MINI finishes second.
Also consider
Peugeot e-208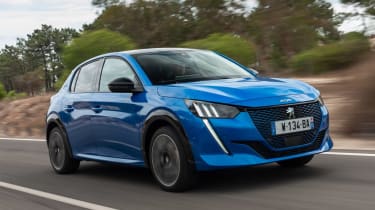 Model: Peugeot e-208 GT Line
Price: £28,925 
BATT/range: 50kWh/217 miles
The Peugeot e-208 is less powerful than the Honda, but with a bigger 50kWh battery (plus 100kW charging), it also offers up to 217 miles of range. It's a more usable small EV that focuses on style at an affordable price in GT Line specification.
Renault Zoe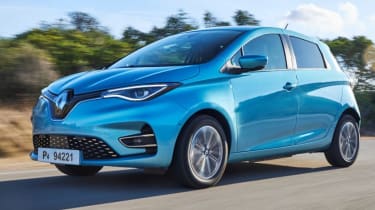 Model: Renault Zoe i Iconic R135 Z.E. 50 RC
Price: £29,495 
Batt/range: 52kWh/239 miles
The Zoe is our current small EV champ, because it offers enough style and with up to 239 miles of range, it's the most usable car in its class. It is comfortable, drives well and in Iconic trim gets lots of tech and kit. Pay extra for the Rapid Charge model.
Figures
| | | |
| --- | --- | --- |
| | Honda e Advance | MINI Electric Level 3 |
| On the road price/total as tested | £29,160/£29,160 | £30,900/£30,900 |
| Residual value (after 3yrs/36,000) | £13,239/45.4% | £14,881/48.2% |
| Depreciation | £15,921 | £16,019 |
| Annual tax liability std/higher rate | £0/£0 | £0/£0 |
| Annual electricity cost (10k/20k miles) | £379/£758 | £400/£800 |
| Insurance group/quote/road tax cost | 29/£534/£0 | 23/£498/£0 |
| Servicing costs | £649 (5 years) | £10 per month |
| Length/wheelbase | 3,894/2,538mm | 3,845/2,495mm |
| Height/width | 1,512/1,752mm | 1,432/1,727mm |
| Powertrain | 1 x electric motor/lithium-ion battery | 1 x electric motor/lithium-ion battery |
| Peak power/revs | 152/N/A bhp/rpm | 181/7,000 bhp/rpm |
| Peak torque/revs | 315/N/A Nm/rpm | 270/100 Nm/rpm |
| Transmission | Single-spd auto/rwd | Single-spd auto/fwd |
| Battery capacity/usable | 35.5/28.5kWh | 32.6/28.9kWh |
| Boot capacity (seats up/down) | 171/861 litres | 211/731 litres |
| Kerbweight/payload/towing capacity | 1,520/350/N/Akg | 1,365/405/N/Akg |
| Turning circle | 8.6 metres | 10.7 metres |
| Basic warranty (miles)/recovery | 3yrs (unlimited)/3yrs | 3 yrs (unlimited)/3yrs |
| Driver Power manufacturer/dealer pos. | 7th/4th | 26th/21st |
| NCAP: Adult/child/ped./assist/stars | TBC | 79/73/66/56/4 (2014 – Cooper) |
| 0-62mph/top speed | 8.3 secs/90mph | 7.3 secs/93mph |
| Auto Express econ./predicted range | 3.8m/kWh/108 miles | 3.6m/kWh/104 miles |
| Claimed range (WLTP) | 137 miles | 141 miles |
| Charging capability | 2.3/7.4/50/100kW | 2.3/7.4/11/50kW |
| Charging time | 18h48m/4h6m/31m/30m | 12h/3h12m/2h30m/36m |
| Actual/claimed CO2/tax bracket | 0/0g/km/0% | 0/0g/km/0% |
| Airbags/Isofix/parking sensors/cam. | Six/yes/yes/yes | Six/yes/yes/yes |
| Automatic box/lane-keep assist | Yes/yes | Yes/no/ |
| Blind-spot assist/AEB | Yes/yes | No/yes |
| Climate control/cruise control | Yes/yes | Yes/yes/ |
| Leather upholstery/heated seats | No/yes | Yes/yes |
| Met paint/LEDs/keyless/pwr tailgate | £550/yes/yes/no | Yes/yes/yes/no |
| Sat-nav/digital dashboard | Yes/yes | Yes/yes/ |
| DAB radio/connected apps | Yes/yes | Yes/yes |
| Wireless charge/CarPlay/Android Auto | Yes/yes/yes | Yes/yes/no |
Source: Read Full Article