UK's largest motorway services provider trials 8p-per-litre fuel price cut at five forecourts, with view to expanding it nationwide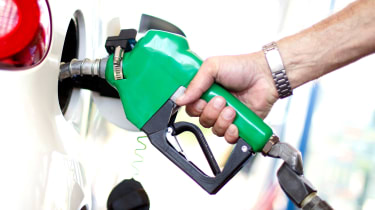 The UK's largest motorway services provider has announced it's trialling an 8p-per-litre fuel price cut at some key locations.
The scheme is taking place at five forecourts run by Moto Hospitality on three of their sites: Frankley on the M5 near Birmingham, Lancaster on the M6 and Donington Park on the M1 near Derby. It will see petrol and diesel prices brought down to levels more competitive against both local fuel stations and supermarkets.
E10 petrol to be UK standard by 2021, but won't work in older cars
The trial prices will start at 111.9p per litre for unleaded petrol and 117.9p per litre for diesel. For comparison, the latest RAC Fuel Watch figures peg petrol at 113.47p and diesel at 117.17p per litre.
If the scheme proves successful by getting more drivers to fill up by the motorway, rather than search out cheaper fuel at off-highway locations, Moto will roll it out across all 47 of its UK forecourts. The firm is also calling on the Government to cut VAT on petrol and diesel, allowing retailers to pass the savings on to drivers.
Ken McMeikan, chief executive of Moto, said: "Times are tough and we know from our customer insight that motorists want to see lower fuel prices to help them make their money go as far as possible. We are hoping that, subject to a successful trial, we will be able to roll out these fuel price cuts to all of our Moto operated petrol stations.
Best cheap, fuel efficient used cars
"We are doing our part, but we hope the Government can provide some much needed help to motorists, too. I have written to Rishi Sunak, urging him to make an immediate cut to VAT on fuel in line with his recent VAT cut from 20 per cent to 5 per cent for the hospitality industry.
"We welcomed that decision and immediately passed the full VAT cut on to our customers, which has gone down extremely well as people seek support during these tough economic times.
"A cut in VAT on fuel would instantly put more money into people's pockets at precisely the time they need to be travelling again for work, visiting loved ones and during the expected increase in staycations."
Would you like to see a cap on motorway fuel prices? Let us know in the comments…
Source: Read Full Article