Has Ferrari mastered the hybrid supercar with the new SF90 Stradale?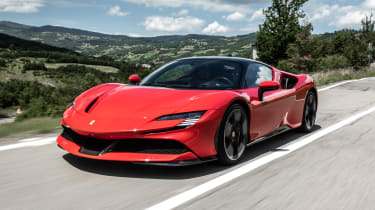 4.5 out of 5
Verdict
The SF90 Stradale is an astonishing machine. Its styling and powertrain are radical departures that may challenge Ferrari purists, and the all-new infotainment system can be fiddly to navigate, but these are minor niggles. Never before has a 1,000bhp car possessed the capacity to flatter inexperienced hands as readily as it offers a challenge to the expert driver. The intensity and accessibility of the SF90's performance are mind-blowing. It's a brilliantly resolved driver's car that brings dazzling technology and hypercar performance to an entirely new price point.
Advertisement – Article continues below
Ferrari flagships have always been special. For many years they were mid-engined poster cars that epitomised Italian exotica. Then came the 550 Maranello – an elegant front-engined V12 that majored on the everyday usability of a great GT.
In recent years, Ferrari's front-engined V12s have become increasingly potent, culminating in the outrageous 812 Superfast. Such is Ferrari's commercial confidence and engineering prowess that rather than replace the 812, it has created an entirely new upper tier to the series production range. How do you top the 800bhp-plus Superfast? By building a 987bhp plug-in hybrid that melds old-school mid-engined drama with cutting-edge powertrain technology. The result? A £375,000 car that matches the performance of the million-pound La Ferrari hypercar.
New 2021 Ferrari Purosangue SUV: design, specs and price

The SF90 Stradale is built around an aluminum and carbon-fibre chassis. Its plug-in hybrid powertrain features the 4.0-litre twin-turbo V8 from the F8 Tributo, reworked to make 770bhp, combined with a lithium-ion battery and three electric motors – one for each front wheel and another sandwiched between the engine and new eight-speed F1 dual-clutch transmission. These are good for a further 217bhp.

In eDrive mode, the SF90 is propelled only via the electric motors on the front axle, but once into Hybrid, Performance and Qualify modes, the SF90 sends drive to all four wheels. Then, above 130mph the front-axle motors decouple and all the battery power is sent to third motor, making the SF90 rear-wheel drive. Complicated, huh?

In straight-line terms, the SF90 is ballistic. 0-62mph takes 2.5 seconds, 0-124mph 6.7 seconds, and top speed is 211mph. Around Ferrari's Fiorano track, the SF90 is just 0.3 seconds shy of the La Ferrari hypercar, and with the optional Assetto Fiorano pack (featuring track-focused passive dampers, a 30kg weight reduction, high-downforce rear wing and Pilot Sport Cup 2 tyres for £40,000 extra) it laps a second quicker.

Technology abounds in every single area of the SF90. Attention to aerodynamic detail shapes the exterior, and indeed through and beneath the car, with an array of intakes and vents optimally positioned to feed cooling air, extract hot air, maximise downforce and minimise drag.

Inside there's the dramatic new HMI display, complete with 16-inch curved, full-width screen, head-up display and steering wheel-mounted controls. These include the familiar Manettino switch that sets the car's dynamic modes, plus a new eManettino button to select between the four power unit management settings.

Driven on the legendary Fiorano test track, the SF90 shines. Steadfast and surefooted, in Race mode it makes almost 1,000bhp feel friendly and accessible without needing the skills of F1 ace Charles Leclerc to keep control. Much of this is down to the torque vectoring facilitated by the front-axle electric motors, which works to minimise understeer and keep the front end nailed to your chosen line. Likewise, sophisticated stability-control systems ensure you have complete trust in the rear end.

Switching to CT Off relaxes the hold of the driver aids, which means you have the freedom to push beyond the limits of the front and rear tyres. Feeling the car push wide of your ideal line, or squirm its tail as you accelerate through the gears is a reminder of just how potent a car you're piloting. You need to pay it respect, but the SF90 communicates its intentions clearly, so you have the opportunity to refine your technique to get the best from it and yourself, while retaining a degree of electronic safety net.

Disabling the systems completely is something only the most experienced driver should attempt, but rewards – or the grass – await those who accept the challenge. Smoking the tyres is fun for a short while, but it feels like a bit of an insult to those Ferrari engineers and test drivers who have worked so hard to create such finely honed dynamics.

Heading out onto the road exposes you to the SF90's milder side. Normally when you push the starter button, a Ferrari barks into life, but this one whirrs quietly. Pull the right-hand gearshift paddle, squeeze the throttle and you move smoothly and silently on battery power alone. It's a soothing and surprisingly satisfying sensation.

Battery range is 15 miles, which doesn't sound like a lot, but was enough to see us slink through the streets of Maranello then out to the autostrada, at speeds of up to 85mph. In Hybrid mode the V8 kicks in if you push deep into the throttle, or when the battery needs charging. But it does so seamlessly and with a purposeful but far from raucous voice. It's a brilliantly executed powertrain.

On open roads, with petrol and electric motors giving their all, the SF90 is simply extraordinary. With instant torque from the electric motors to compensate for what little turbo lag the V8 suffers, it punches through the gears in relentless, dizzying fashion. Such is its ferocity you can only indulge in short bursts of acceleration before the next corner looms or common sense kicks in.

The SF90 uses a brake-by-wire system, which is needed to balance the conventional discs and pads with the regenerative braking system, which sends energy to the battery. It's a fiendishly complex balance to strike, and Ferrari has done an exceptional job. Only soft applications of the pedal at low speeds result in a slightly abrupt response. Otherwise the SF90 feels intuitive.

Much attention has been paid to saving weight to offset the 75kg hybrid system. The gearbox is stronger, lower, quicker-shifting and 10kg lighter, and features eight forward gears, but no reverse, because the SF90 uses its electric motors to go backwards. Thanks to an all-new induction system, redesigned cylinder heads and repositioned turbos, the engine weighs 25kg less, yet develops 60bhp more than it does in the F8 Tributo.

Total weight (with lightweight options fitted) is 1,570kg, which is 240kg more than the F8 Tributo. But thanks to its extra power and torque, plus the front axle's torque-vectoring system, the SF90 disguises its weight extremely well. It also boasts brilliant damping that offers supreme body control combined with impressive suppleness.

Rivals? There are none. Unless you include multi-million pound limited-production specials. And even these don't boast the SF90's level of technology. It's little short of a masterpiece.

| | |
| --- | --- |
| | Ferrari SF90 Stradale |
| Price: | £376,048 |
| Engine: | 4.0-litre twin-turbo V8/3-motor electric hybrid system |
| Power/torque: | 987bhp/800Nm |
| Transmission: | Eight-speed dual-clutch automatic, four-wheel drive |
| 0-62mph: | 2.5 seconds |
| Top speed: | 211mph |
| CO2: | N/A |
| Economy: | N/A |
| On sale | Now |

Source: Read Full Article