Hyundai's Kona N hot SUV will rival the Volkswagen T-Roc R when it goes on sale next year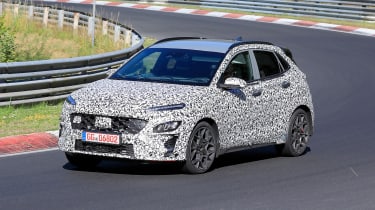 Hyundai is readying the new Kona N for launch. These latest spy shots show the Korean firm's upcoming performance SUV tackling its handling development programme at the Nurburgring, ahead of its scheduled launch next year.
When it eventually goes on sale in the UK, the new Hyundai Kona N will join a growing marketplace of hot compact crossovers – a niche which is currently dominated by the Volkswagen T-Roc R, Audi SQ2 and BMW X2 M35i.
The mule in these latest images has shed some of its camouflage relative to previous prototypes, giving us a better look at the crossover's styling. Like all of Hyundai's N-branded performance models, the Kona N will receive a more aggressive body kit, a new front splitter and a redesigned grille.
Best small SUVs and crossovers on sale 2020
At the rear, there's an enormous tailgate spoiler and a new diffuser, which houses a pair of large-bore exhaust tips. The entire car also sits lower to the ground than the standard model thanks to a new suspension system and, behind the new alloy wheels, there's an uprated braking system made up of enlarged discs gripped by beefed-up calipers.
Back in 2018, Albert Biermann, Hyundai's research and development chief hinted to Auto Express that the new Kona N was in the works – and that it would be powered by the same turbocharged 2.0-litre four-cylinder petrol engine as the i30 N.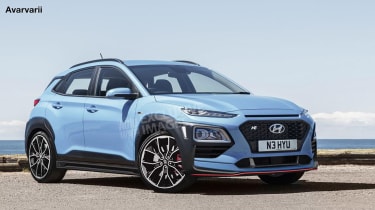 He said: "It has to be the i30 N powertrain, really. Of course, we can give Kona different specifications on suspension and steering, although there are some common components we can use in that area as well, because it'll be front-wheel drive, like the i30 N. But we already know that it has to be that car's engine and gearbox for the Kona N."
As such, the Kona N should have at least 247bhp – although there's scope for even more grunt, as Hyundai's range-topping i30 N Performance turns up the engine's wick to 271bhp and 378Nm of torque. Like the hot hatchback, the Kona N will send drive to the front wheels via the same electronically controlled limited-slip differential and six-speed manual gearbox.
The Kona N will likely make its official debut towards the end of this year, with the order books opening in time for Spring 2021. It'll be joined by the new i20 N hot hatchback, forming part of Hyundai's offensive on the mainstream performance market.
Hyundai's growing roster of N-tuned vehicles will offer fresh competition for the class-leading performance models in the B- and C-segments, with the i20 N rivalling the Ford Fiesta ST, the i30 N taking on the Volkswagen Golf GTI and the Kona N tackling the Cupra Ateca.
What does the Hyundai Kona N have to beat? Check out our list of the world's fastest SUVs here…
Source: Read Full Article