To mark the end of DBS production, the 770 Ultimate has stormed in as Aston's most powerful production car ever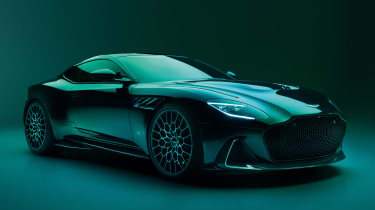 This year marks Aston Martin's 110th anniversary as a car maker, and the British firm is set to enter a new era of cutting-edge electrified supercars and GTs by the middle of the decade. Before then, however, Aston will bring production of its mighty DBS Superleggera flagship to a close – but it won't be leaving quietly. 
Meet the DBS 770 Ultimate, the final iteration of the V12-engined brute and the most powerful Aston Martin production car in history. The special edition is limited to just 300 coupe and 199 convertible 'Volante' models globally, and all 499 cars have already been sold. 
New Aston Martin DBX707 2022 review
To create the 770 Ultimate, Aston has extracted extra grunt from the car's 5.2-litre twin-turbocharged V12 engine so it now produces 759bhp. This is thanks to increased boost pressure and tweaked air and ignition pathways, the firm says. The DBS's eight-speed ZF automatic gearbox was already at its torque limit with the standard car's 900Nm output, so this remains unchanged.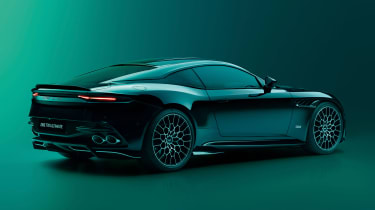 Even so, the transmission has been recalibrated for quicker shifts, and power is fed to the rear wheels alone through a mechanical limited-slip differential. The 770 Ultimate reaches the same 211mph top speed as the standard car and uses the same carbon ceramic brake set-up, but Aston's engineers have optimised its chassis to produce what they claim is the most accomplished DBS yet. 
Riding on new 21-inch Valkyrie-inspired wheels wrapped in Pirelli P Zero tyres, the 770 Ultimate's adaptive dampers have been recalibrated for tighter responses without impacting ride quality, while a strengthened front cross member and rear undertray improve torsional stiffness by three per cent. 
For improved steering response, lateral stiffness has increased by 25 per cent at the front end, and a new solid-mounted steering column aims to provide uncorrupted feedback to the driver's hands.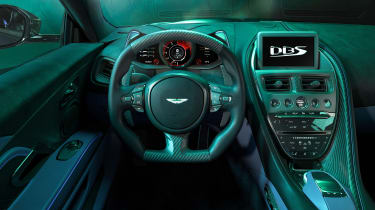 To distinguish the run-out model, the 770 Ultimate features a more aggressive design, with the new treatment including a new front splitter and outer cooling vents, along with carbon fibre trims and louvres. More carbon fibre features in the form of sill extensions, while a revised rear diffuser maintains the car's front-to-rear aero balance. Finally, a deep horseshoe cut-out in the bonnet pulls air through the radiators to cool the V12. 
To coincide with the racier exterior, the 770 Ultimate's cabin has also been uplifted by carbon fibre bucket seats trimmed in leather and alcantara, as well as a carbon fibre steering wheel and shift paddles. Contrasting leather trim features throughout, while a laser-etched DBS 770 Ultimate logo on the armrest and bespoke sill plates mark out the swansong model. 
As ever, further customisation is available via Aston Martin's Q division, which offers unique graphics packs, wheel colours, tinted carbon fibre and leather trim. In time for the brand's anniversary celebrations, the first DBS 770 Ultimate editions will hit the road later in 2023 alongside another as-yet-unnamed limited-run celebratory model.
Click here for our list of the best supercars on sale right now…
Source: Read Full Article