Audi has upped the performance ante with its e-tron S Sportback electric SUV but the impressive pace comes at the expense of range…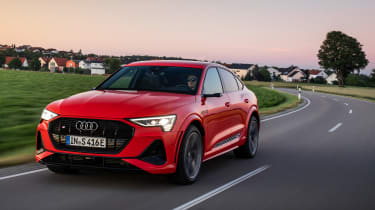 4.0 out of 5
Verdict
This Audi e-tron S feels a cut above its main rivals when it comes to performance. The changes to the chassis, the integration of the triple-motor set-up and the way it handles for such a heavy car are all mighty impressive. However, a maximum range of 226 miles on a single charge lags behind what else you'll find out there for this sort of money. 
Advertisement – Article continues below
This is the Audi e-tron S Sportback, a high-performance version of Audi's Tesla Model X rival. It's the very first performance-based electric model from Audi, but there's a lot more to it than simply a more powerful electric motor beneath the skin. 
The drivetrain layout of this e-tron S has changed quite dramatically. It's the first mass-produced EV to make use of a triple-electric-motor set-up, which is an upgrade from the dual-motor arrangement found in the standard e-tron. 
Best electric SUVs to buy now

One motor drives the front axle on the e-tron S, while the two remaining motors power each rear wheel individually. The end result, when flicked into the 'sport' mode, is a total output of 496bhp and a staggering 973Nm of torque. Audi says 0-62mph takes 4.5 seconds, with top speed limited to 130mph. 

More reviews for Audi e-tron Sportback

Car group tests

Mercedes EQC vs Audi e-tron
Audi e-tron vs Jaguar I-Pace
Audi e-tron vs Tesla Model X – SUVs face-off in electric car showdown

In-depth reviews

Long-term tests

Audi e-tron 55 quattro: long-term test review

Road tests

New Audi e-tron Sportback 2020 review
New Audi e-tron 55 quattro 2019 review
New Audi e-tron GT concept review

In the grander context of performance cars, those figures may not seem immediately impressive. But when you consider that the e-tron S Sportback weighs over 2.6 tonnes, produces no tailpipe emissions and can repeat flat-out launches 10 times in a row before the battery and motor begin to overheat, the numbers support the idea that this is an electric SUV with proper performance credentials. 

And it feels that way too. There's more to the e-tron S than just acceleration that pins you back into the seats. While the 2.6-tonne kerb weight is hefty, most of it is positioned very low in the chassis; 700kg of the weight is accounted for by the 95kWh battery pack, which is positioned under the cabin floor.

To help disguise its sheer size and bulk, Audi has introduced a range of new technologies, the most important of which is a clever torque vectoring system. Drive the e-tron S in normal mode and the battery will only send its power to the rear axle. Selecting S mode brings the front axle into play, and as you up the pace the two independent rear motors begin to distribute torque between them to maximise performance and traction. 

As well as improving the Audi's cornering abilities, the system also allows you to perform controlled drifts in 'dynamic' mode thanks to how well the torque is split across the rear axle. It's far from an important feature but it demonstrates how well executed the triple-motor set-up is to allow a car the size of the e-tron S to be driven in such a way. 

New Audi e-tron Sportback 2020 review

Elsewhere, Audi has revised the suspension settings with new stabilisers and tighter dampers. The axle bearings are stiffer, the steering is quicker and the brakes have been adapted for the torque vectoring system. Everything that can improve traction and body control compared with the e-tron has been improved, and it shows. 

One thing that perhaps disappoints though is the maximum range. Despite an enormous 95kWh battery, the e-tron S Sportback is capable of just 226 miles on a single charge. Given that it's a performance model that buyers will want to drive with gusto, a real-world range below 200 miles is a little disappointing. 

If range remains your ultimate priority, the Tesla Model X still has the Audi covered. Its chassis isn't as engaging and the quality of the interior is significantly inferior, but you can't argue with over 300 miles of range in the real world. 

| | |
| --- | --- |
| Model: | Audi e-tron S Sportback |
| Price: | £88,700 |
| Battery: | 95kWh, three e-motors |
| Transmission: | Single-speed automatic, four-wheel-drive |
| Power/torque: | 496bhp/973Nm |
| 0-62mph: | 4.5sec |
| Top speed: | 130mph |
| Range: | 226 miles |
| CO2: | 0g/km |
| On sale: | Now |

Source: Read Full Article