The new BMW M5 CS super saloon really is BMW's Ultimate Driving Machine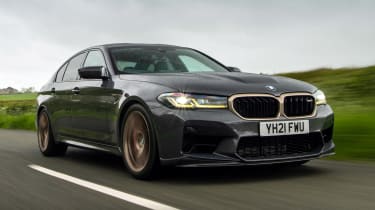 5.0 out of 5
Buy used for less at Buyacar
Verdict
It's easy to be cynical about cars such as the M5 CS. A lightweight, track-orientated saloon that's five metres long and weighs more than 1,800kg is neither light nor a track car in the traditional sense. But the most powerful BMW road car is also a thoroughbred M model, and the detailed changes made to the M5's chassis make it a standout super saloon. Bravo BMW.
The 10bhp increase to 626bhp for the BMW M5 CS's 4.4-litre twin-turbocharged V8 isn't what makes the German brand's latest super saloon such a compelling car.
Yes, it fires you along the road at an indecent rate of knots, the throttle reacting with crisp precision, the power and torque (which remains at 750Nm, the same as the M5 Competition) delivered in a thumping wave of force, but it's not this element of the CS's enhanced package that defines the car.
Best fast family cars 2021

Neither does the eight-speed automatic transmission or the all-wheel traction of BMW's clever xDrive set-up, which can be configured to suit almost every requirement, including the option to turn off all of the electronic driver aids and make the CS rear-wheel drive only, as with its less-hardcore Competition sibling. The gearbox remains configurable with a variety of shift speeds depending on your preference, and while upshifts are perfectly matched, the downshifts can sometimes be a little slower than anticipated.

More reviews

Car group tests

BMW 5 Series vs Audi A6 vs Volvo S90
Mercedes E 300 e vs BMW 530e

In-depth reviews

BMW 5 Series review
BMW 5 Series Touring review

Road tests

New BMW 530d Touring 2021 review
New BMW 5 Series 2020 review
New BMW 545e xDrive 2020 review

But no, it's not the M5 CS's straight-line performance that defines the car. Instead, it's how it both runs down the road and through corners that characterises this new Ultimate Driving Machine from BMW, and it's all down to the changes to the model's chassis and its bespoke dynamic set-up.

On paper the changes don't look significant. There's a 7mm drop in ride height over a regular M5 and the adaptive dampers are taken from the M8 Gran Coupé, but combined with adjustments to the car's suspension geometry, the M5 CS lives up to its name and then some.

Immediately you notice how calm the body is on the road, the damping soaking up all but the harshest imperfections in the surface. There's a tautness to the ride, but it doesn't come at the expense of comfort; if anything the CS is better resolved and less compromised than the Competition model. It's when you call upon the CS's performance that the car's bespoke nature comes to the fore.

The rear axle feels so much calmer, better tied down and less unsettled by cambers and bumps, which means the traction and stability systems aren't constantly interfering and cutting in. This not only boosts performance, but also driver confidence – and on that point there's an added feeling of connection, too, providing a heightened level of precision when you start digging deeper into the CS's ability. And you'll want to, because it draws you into its talents and character.

The front end hooks into corners sharply, the CS settling immediately and allowing you to open the throttle and drive out of bends with huge levels of confidence, all four tyres working to generate maximum traction and forward thrust.

Along with the chassis tuning, BMW's M Division has also gone to considerable lengths to reduce the CS's kerbweight, with 70kg in total being removed. Carbon-ceramic brakes are standard, which help shave 23kg alone, while the bonnet, front splitter, door mirrors and rear spoiler are made from carbon fibre, while the CS also offers a set of 20-inch forged alloy wheels and an interior that's as sparse as you can get away with, including two fixed bucket-style seats in the rear.

The front seats are the optional carbon-fibre units from the new M3 and M4, so offer great support, but they aren't the most generously padded. Still, it fits with the M5 CS's character, and if you like your interiors finished in carbon fibre and Alcantara, the ultimate M5 doesn't disappoint, with the cockpit adding to the sensation that you're in something a cut above the norm.

Pirelli and BMW have also developed a new P Zero Corsa tyre specifically for the M5 CS, but our test car came equipped with Michelin Pilot Sport 4S rubber. As expected, the tyres perform exceptionally well on the road and no doubt play a significant role in smoothing off the M5 CS's ride, not to mention extracting the most from the model's chassis upgrades.

While the bespoke P Zero Corsa has been developed for the M5 CS, it would have to be a considerable step up to match the Michelin for grip, feedback and precision, if our experiences of the tyre on other high-performance cars of a similar size are anything to go by.

So the chassis defines the CS, while the engine is a known quantity, broadly speaking. But it's still worth dwelling on its performance for a moment. The extra 10bhp has been made possible, in part, to improved cooling and an upgraded oil system. Thanks to launch control and that M-tuned xDrive system giving superb traction, the CS will sprint from 0-62mph in 3.0 seconds and on to a top speed of 189mph, making it not only the most powerful but also the fastest production car BMW has built.

The V8 features bespoke engine mounts for the CS, while it also breathes through an active exhaust. Unlike AMG's thunderous V8s, the M5's sound signature is a little flatter and not quite as characterful, but it undoubtedly has presence. The note is bassy at low revs and crescendos as you rev the engine out, although there is some synthesised sound piped in through the speakers in the sportier driving modes.

On top of this, standard kit includes cosmetic tweaks to differentiate it from the M5 Competition, including a new bodykit, with a big diffuser element at the rear. As the 5 Series flagship there's a superb level of equipment, with a pair of 12.3-inch screens for the main display and the digital dash, all the connectivity you could need and as much kit as the M5 Competition. But then, with prices starting from £140,780, you'd expect as much. However, even at this price, there's an element of value for money here, even if that does sound slightly absurd.

Overall, the M5 CS offers a blend of performance and agility we haven't seen for a long time in a super saloon, resulting in one of the best of its kind – if not the best of all. While the £38,000 premium BMW charges over the £102,385 M5 Competition is a lot, if you want the ultimate all-wheel drive four-door then the M5 – the original super saloon – is back on top in CS guise.

| | |
| --- | --- |
| Model: | BMW M5 CS |
| Price: | £140,780 |
| Engine: | 4.4-litre twin-turbo V8 |
| Power/torque: | 626bhp/750Nm |
| Transmission: | Eight-speed automatic, four-wheel drive  |
| 0-62mph: | 3.0 seconds |
| Top speed: | 189mph |
| Economy: | 25.0mpg |
| CO2: | 256g/km |
| On sale: | Now |

Next Steps

Source: Read Full Article