The new Caterham Super Seven 2000 isn't cheap, but it's arguably one of the best models the brand has produced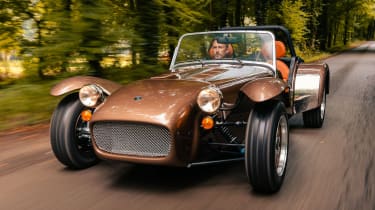 4.5 out of 5
Verdict
At £4,000 more than the equivalent Seven 360, some might find the extra price of the Super Seven 2000 hard to justify. However, for a car where individuality plays such a big part, we don't see too much of an issue with the hike – especially when it's one of the most approachable yet fun models Caterham has produced in its 50-year history.
This is the Caterham Super Seven 2000. It's a special edition that the sports car brand has introduced to mark 50 years since it first bought the rights to the old Lotus Seven. In the years since, Caterham has become one of the biggest and best names in small-volume British kit and performance cars.
The Super Seven 2000 is one of two specials to mark the occasion – the other being the Super Seven 600 – both of which get a host of period design touches that look back to the brand's first models. The most obvious of these are on the outside, where the 2000 comes with long, flowing front wings like those used on a host of Caterham cars throughout the 1970s and 80s. Other nods to the past are the chrome filler cap and polished exhaust, though the bright LED tail lights add a modern safety element. 
New Caterham Seven 360S 2022 review

Four new colours are also launched, exclusive to the 600 and 2000. The Tobacco Brown finish of our test car is a custom option that costs £1,250.

Inside, the traditional theme continues. Instead of some suede-trimmed, quick release steering wheel, there's a handsome, leather trimmed Moto-Lita rim. Smith's gauges really look the part, as does the 'ginger' leather upholstery, which not only looks achingly 1970s, but smells wonderful, too. We could take or leave the mock-wood finish to the dashboard, though – at least it's an option.

Mechanically, the Super Seven 2000 is much the same as the existing 360 models. Under that skinny bonnet is a 2.0-litre Ford Duratec engine that produces 180bhp. Drive is sent to the rear wheels via a five-speed manual gearbox. There's no traction control, no ABS and not even a radio – all deletions which contribute to a kerb weight that starts from just 585kg.

Starting takes a turn of a key which goes under the dash, and then thumbing a red starter button beside the wheel. The engine chunters into life with a slightly lumpy and bassy rumble, and thanks to enlightened flywheel, revs up very quickly with every prod of the throttle.

Much like in any other Caterham, every single drive is an event. There's noise and vibration, but also a smooth and easy flow that comes with so little weight to move around. The manual gearbox has some heft to it, but the ratios click into place in a way that gives a huge amount of satisfaction. The ride isn't harsh, but the tiny dimensions mean that you get jostled around by larger bumps. 

Performance isn't in short supply. At 4.8 seconds, the 2000's figures match those of the regular 360, and put it well into the territory of some serious hot hatchbacks. But those cars are often accompanied by a slightly flat turbocharged drone and faked exhaust bangs. What you get here is a naturally aspirated four-cylinder unit that snarls under load; its throttle bodies hiss as you open the throttle and they gasp in as much air as possible. The exhaust, exiting right beside the driver's right hip, will occasionally pop on the overrun. 

Perhaps one Super Seven 2000 change makes a bigger difference to the character than any other, though, and that's the wheel and tyre arrangement. The Minilite-look 14-inch wheels are wrapped in Avon ZT1 tyres that are a very modest 175mm wide at the front, 185mm at the back. Not only does this mean that the steering is light and easy to use – though still maintaining the instant response and wonderful feedback we've come to expect from all Caterhams, but that grip levels are slightly lower than in other high performance Sevens. 

It drops the limits of adhesion to a level that's wonderfully exploitable on the road. On a damp surface, the mix of skinny tyres, low weight and snarling engine means that, if you're a little too keen with your right foot, it's quite easy to spin up the rear axle from a standstill. But while that might seem a bit lairy – and it certainly sounds that way thanks to the engine – it only highlights how approachable and exploitable the 2000 is. 

The chassis balance is perfect, the responses are instantaneous, and you're fully aware of exactly what's happening at each corner of the car at all times. There's little else that you can buy today that'll help you hone the finer points of car control so meticulously.

Prices for the Super Seven 2000 start from £39,990 in kit form, or £2,495 more if you'd rather put your trust in the professionals and let Caterham build it for you. That's £4,000 more than the standard 360 models. Our car comes with an options list which comes to £9,995, including that build fee, the paint, but also other options like the wider chassis and lowered floor options – at £2,750 and £600 respectively, they're both worth considering if you happen to be above average height or width (or both).

| | |
| --- | --- |
| Model: | Caterham Super Seven 2000 |
| Price:  | £42,585 (built) |
| Engine:  | 2.0 4cyl petrol |
| Power/torque:  | 180bhp/194Nm |
| Transmission:  | Five-speed manual, rear-wheel drive |
| 0-62mph:  | 4.8 seconds |
| Top speed:  | 130 mph |
| Economy/CO2:  | N/A |
| On sale:  | Now |

Source: Read Full Article