The Citroen e-C4 X is more practical than the likeable e-C4 hatchback, but not everyone will be convinced by the bodystyle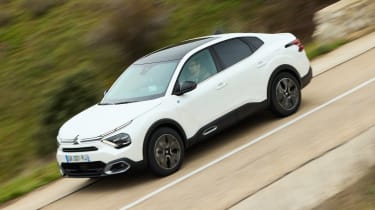 4.0 out of 5
Buy used for less at Buyacar
Verdict
Citroen's newest EV takes the likeable e-C4 and adds more practicality without increasing the price. It remains to be seen if UK buyers will take to a car with the 'wrong' kind of boot opening and somewhat awkward looks, but those not put off will find the e-C4 X an easy and relatively inexpensive way to make the change to electric. 
"A design that combines the elegant silhouette of a fastback with the modern look of an SUV," is how Citroen describes the new e-C4 X, which sounds an awful lot like the e-C4 hatchback has been given a compromised, style-over-substance makeover. But that's not the case.
Boot space is up, and quite significantly, from 380 litres to 510. That's because while turning the e-C4 into a "fastback", the French manufacturer has stretched the car by 240mm. It's all as-per a normal C4 up to the B pillar but diverts from that point rewards. The roofline was already sloped quite heavily, so Citroen hasn't needed to change it to go with the new look.
Citroen e-C4 Sense Plus: long term test review

While there's more room in the boot, though, accessing it isn't as easy in the X, as despite how it might look at first glance, this is a saloon, rather than a hatchback. This might seem like an odd choice until you learn that key to this car's existence are various Middle Eastern and North African markets, where cheaper saloon cars still matter. We'll have to wait and see how many UK buyers are convinced by a car with an out-of-favour bodystyle.  

More reviews

Car group tests

Citroen C4 vs Kia XCeed: 2022 twin test review
Citroen C4 vs Mazda CX-30 vs Kia XCeed

In-depth reviews

Citroen C4 review
Citroen C4 Cactus review

Long-term tests

Citroen e-C4 Sense Plus: long term test review

Road tests

New Citroen C4 PureTech 155 2022 review
New Citroen e-C4 2021 review

The wheelbase remains the same – all of the growth is in the rear overhang, so there isn't a big increase in room for rear-seat passengers. However, it seems slightly more spacious back there thanks to a more reclined seatback. This folds down in the typical 40/60 split, although the gap that opens up isn't huge, so loading in larger cargoes could be challenging. 

The chassis is shared with the e-C4, and since the weight difference is only slight, it offers the same drive. The experience is a more comfort-oriented one, as we've seen in cars across Citroen's range. The company's famed hydraulic bump stops mean the e-C4 X does a much better job at soaking up imperfections than many rival EVs, and although the car's soft damping means there is a fair amount of body roll when cornering, it's nothing excessive, and a fair trade-off for the smooth ride. 

It's refined, too, making for a relaxing drive when combined with the electric powertrain and smooth suspension. The steering meanwhile doesn't provide any meaningful feedback, but the weighting of the power assistance is about right.

The powertrain is no different to the regular e-C4's either, which means there's a 50kWh battery pack feeding a front-axle-mounted motor producing 134bhp and 260Nm. Straight-line performance is modest, then, with the car matching the e-C4's 9.3-second 0-62mph time. It'll be more than quick enough for most, though, and the slight delay between the throttle pedal being pressed and the car accelerating is probably for the best – even 260Nm might come as a shock to some buyers if delivered instantly. There is a 'Sport' mode, which makes precious little difference to how the power is delivered. More noticeable is how much softer the throttle response is when switching to the Eco mode. 

The e-C4 X's body is slipperier than the hatchback's, meaning the official range is up by five miles to 222. When it comes to plugging in, 100kW DC rapid charging capability makes for a 20 to 80 per cent top-up in around 30 minutes. Don't fancy plugging in at all? Tough – this car is electric-only for the UK and 13 other markets, although it will be available as a combustion-powered 'C4 X' in some countries. 

Citroen's infotainment systems have never been hugely impressive, and while the new software on our test car is a move in the right direction, there's still room for improvement. Particularly notable (and annoying) is the inability to move the sat-nav map around or pinch zoom with your fingers. You're better off connecting a phone and using Google Maps or Waze, which can be done on all models thanks to standard-fit Apple CarPlay and Android Auto on all grades. 

It's joined by a small and simple digital instrument cluster, and on Shine and Shine Plus cars, a head-up display. Rather than projecting onto a windscreen, the system uses a small, transparent piece of plastic that sticks out of the dashboard behind the instrument cluster. Not as neat, but it works just fine. 

The dash design itself is nothing hugely interesting, particularly compared to that of the quirky (and sadly discontinued) C4 Cactus, but it's logically laid out and well built, if featuring a few too many chunks of hard plastic. The highlight of the cabin is the pair of front seats, which feature special 15mm high-density foam pads for additional comfort. We spent about two hours driving the car and felt just as fresh at the end of the drive as at the beginning. 

That's what this car's about on the whole – relaxation. It's not awfully exciting, nor will the exterior aesthetics win many over, with the new boot looking a touch awkward from some angles. The e-C4 X is more about slotting into family life with minimal fuss, and without breaking the bank. A starting price of £31,995 makes the car seem like far better value than the more expensive and flawed Volkswagen ID.3. 

That's also an identical price to the standard e-C4 hatchback, so unless the boot opening and/or the styling aren't to your tastes, you might as well go for the X. For a fiver under £32k, you're getting the aforementioned smartphone connectivity tech, 18-inch wheels, keyless go, the 10-inch touchscreen and a whole host of safety gear. That'll be enough kit for most, but it's not a huge leap to the £34,495 Shine which includes the newer infotainment software, the HUD, a reversing camera, automatic headlights and a heated steering wheel.

Finally, there's the Shine Plus for £35,495, which adds Alcantara interior trim and adaptive cruise control.

| | |
| --- | --- |
| Model: |  Citroen e-C4 X Shine Plus (equivalent of) |
| Price:  | £35,995 |
| Engine:  | 1x e-motor, 50kWh battery  |
| Power/torque:  | 134bhp/260Nm |
| Transmission:  | Single-speed automatic, front-wheel drive |
| 0-62mph:  | 9.7 seconds |
| Top speed:  | 93mph |
| Range:  | 222 miles |
| Max charging:  | 100kW DC (20-80% in 30 mins) |
| On sale:  | Now  |

Source: Read Full Article