The new Cupra Leon shares much with the VW Golf GTI Clubsport, but is more focused and cheaper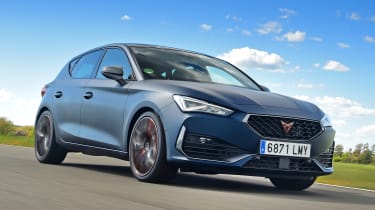 4.5 out of 5
Buy used for less at Buyacar
Verdict
If Cupra's branding is hard to get your head around, the cars themselves are far simpler to understand. And, in this case, very easy to be impressed by. Good looking, quick, superbly fun to drive and well equipped for the money, the Leon 2.0 TSI 300 is just a great hot hatchback. Better, even, than the already fine VW Golf GTI Clubsport with which it shares much of its mechanical make-up. The Leon feels more focused than the Golf where you want it, but no less civilised when you don't.
It might have one of the clumsier names of any car we've yet come across, but look beyond this and the Cupra Leon Hatchback TSI 300 DSG VZ2 is, in fact, a highly appealing hot hatchback for an unusually wide variety of reasons.
One, it is essentially the same car mechanically as the excellent new VW
 Golf GTI Clubsport. It uses exactly the same 2.0-litre turbocharged four-cylinder petrol engine and seven-speed dual-clutch automatic gearbox as that car, yet offers buyers more equipment above and beneath the skin for less cash.
Best hot hatchbacks 2021

Two, its front-wheel-drive chassis has been tuned by Cupra's engineers to deliver a very well judged balance between handling precision and ride refinement on the road.

More reviews

Car group tests

SEAT Leon vs Volkswagen Golf vs Ford Focus
Vauxhall Astra vs Ford Focus vs SEAT Leon

In-depth reviews

SEAT Leon review
SEAT Leon (2012-2020) review

Road tests

New SEAT Leon Estate 2020 review
New SEAT Leon e-Hybrid 2020 review
New SEAT Leon 2020 review
New SEAT Leon Cupra R ST ABT 2019 review

Back when hot Leons were badged as SEATs (Cupra's parent company) and Cupra was still a sub-brand, this wasn't always the case, or with Cupra's recent Formentor SUV of the present.

Three, although its bold styling may
not meet with universal approval (we'll leave that decision up to you), the Leon nevertheless looks – and feels – like a class act both inside and out. That's although some of the Cupra design touches, including the matte paint and copper accents, might be a bit over the top for some.

Four, it's also extremely well specified for the money, offering aspects such as fully adjustable dynamic chassis control and a cabin that's chock-full of tech and mostly welcome design touches, all included in the basic price of £35,030.

To bring a Golf GTI Clubsport up to the same specification would see the price of that car begin with a four, not a three, and that's a crucial advantage that works in the Cupra Leon's favour.

Above and beyond its strong showroom appeal, however, lies one, arguably even devour, but surprisingly civilised on the boring journey you might have to make to search out these thrilling drives.

Last but not least, there's the car's performance, which is strong in all modes, but also has an edge to it that isn't quite there in the equivalent VW – or in any other similarly priced rivals.

In numerical terms you're looking at 0-62mph in a claimed 5.7 seconds and 155mph flat out, with 37.2mpg on the combined cycle and CO2 emissions of 171g/km. So competitive numbers, but nothing outstanding at this price level.

Where the Cupra Leon scores over its rivals is subjectively. It sounds great, its throttle response in the strongest modes
is deliciously crisp, its gearshifts seem that little bit snappier than they are in a VW, and it simply has an extra sense of zip when you want it to, but also a smoothness to its throttle response when you don't.

It feels, ultimately, like its engineers
have simply spent more time and effort fine- tuning the components – virtually the same components, remember, that you'll find in many other VW Group hot hatchbacks.

That's before you even mention the more flamboyant cabin design, the more intuitive functionality of the infotainment system, the easier-to-use driver-assistance systems or the slightly higher level of standard kit inside.

Like the regular Leon though (and many VW Golfs), material quality inside isn't the greatest in some areas, even if the clear focus for this new Leon – be it under SEAT or Cupra branding – is to improve the level of technology on offer.

A hot hatch has to cover many bases, and the Leon is five-door only so access to the rear is easy, plus once you're sitting there, there's a good level of space. It's a little roomier than a Ford Focus ST, if not quite

as accommodating as a Honda Civic Type R, but the main thing is that it easily meets a minimum level of usability you want from
a car like this, helped by a 380-litre boot.

You also benefit from greater flexibility within the options list, which includes the Matte Blue paint of our left-hand-drive VZ2 test car and various levels of additional driver safety and entertainment technology.

Go for the £36,760 VZ3 model and you also get an electrically adjustable and heated driver's seat, wireless phone charging and full leather upholstery, making the car even easier to live with for £470 less than the rather less well equipped basic Golf GTI Clubsport.

Conclusion; if you're in the market for
a serious hot hatchback, one that's well priced, rapid and great to drive, then thanks to the blend of qualities it delivers across the board, the Cupra Leon in flagship TSI 300 form is hard to beat. Even by the very best on offer from VW, it seems.

| | |
| --- | --- |
| Model | Cupra Leon TSI 300 DSG VZ2 |
| Price: | £35,030 |
| Engine: | 2.0-litre4cylturbopetrol |
| Power/torque: | 296bhp/400Nm |
| Transmission: | Seven-speed dual-clutch auto, front-wheel drive |
| 0-62mph: | 5.7 seconds |
| Top speed: | 155mph |
| Ecomomy/CO2: | 37.2mpg/171g/km |
| On sale: | Now |

Next Steps

Source: Read Full Article