The new Ferrari Roma GT is the iconic Italian brand's latest offering – and it's a big improvement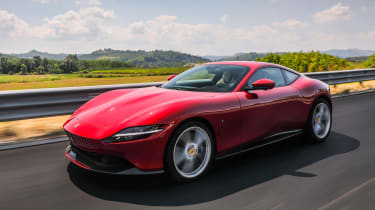 4.5 out of 5
Verdict
The Roma displays the level of usability and comfort that a GT car needs but blends it with Ferrari's characteristic sports car feel. The chassis is brilliant in its poise and balance, while the new eight-speed DCT gearbox is a perfect partner for the explosive engine. The modern interior and design improvements bring this all together in one cohesive package that feels at ease with its own character. The technology is mostly a big advance for Ferrari as well; a few points jar, but the improvements show a brand that is forging ahead into a new era.
Advertisement – Article continues below
When it comes to Ferrari's more recent entry-level cars, it's fair to say that the brand hasn't exactly tapped into a rich vein of form. From the California, to the California T and the Portofino that followed it, the focus of these folding-roofed cars might have been on balancing GT car credentials with Ferrari-level performance, but they all fell short of their target.
The Roma doesn't, and the reasons why stem from how much of a technical overhaul this car has received compared to its predecessors. You don't even get a chance to assimilate those technical details though, because it's the styling that grabs you first.
Best supercars 2020

This is Ferrari's design language for a new era; it commands attention and looks modern – maybe even elegant, and you can't say that about many new Ferraris.

However, it references Ferrari's past too, with the clever integrated grille a nod to the 250 GT Lusso of the sixties. The nose is incredibly low, because the 3.9-litre twin-turbo V8 is actually mounted behind the front axle, and it's mated to a new eight-speed dual-clutch automatic gearbox with a smaller clutch diameter that means the whole powertrain can be positioned lower in the chassis, bringing the centre of gravity and the bonnet height closer to Earth.

There are no bodywork flicks or gaping vents – instead, there's a neatly integrated diffuser at the rear to make the most of the underbody aerodynamics, teamed with an active spoiler that deploys depending on speed and driving mode. The new four flat LED taillight strips and the heavily tapered tail are equally significant.

The Roma backs-up this eye-catching new Ferrari look on the move. The ride isn't Bentley smooth, but then this is Ferrari's interpretation of a grand tourer, so performance, agility and handling are closer to the forefront of what the Roma delivers. It blends sports car traits with concessions to comfort and usability that the best GTs need to offer.

In Comfort, or with the bumpy road mode button activated, the car's ride is surprisingly supple given how aggressively you can attack corners. The Roma is 70 per cent new compared with the Portofino, with 10 per cent softer rear springs but a 10 per cent reduction in roll.

It still sometimes feels firm (but rarely harsh) over quick, nasty bumps, but the way it rides bad, broken, bumpy tarmac is controlled and genuinely comfortable – a smart trait given what it can do when you select the new additional 'Race' setting on the manettino.

There's never been a Ferrari GT car with this mode before, but it makes sense in the Roma. 'Race' activates the Ferrari Dynamic Enhancer. It's a system that was first developed on the 488 Pista before being applied to the F8 Tributo, and here it's been recalibrated to work with the front-mid-engined platform. It lets you further tap into the Roma's balance, braking individual wheels and working in conjunction with the Side Slip Control 6.0 system to give you a nice safety net to lean on.

Porsche 911 Turbo S vs McLaren GT

The steering is just as pointy and light as we've come to know from Ferrari, but the Roma doesn't really feel nervous. We'd always select the softer suspension setting to calm the ride down that bit further, but the way you can throw what is still a soothing GT car on a long journey into tight, awkward corners and really drive it hard is a delight – the result of the mechanical and electronic engineering working in harmony.

The new transmission is an improvement. There was nothing really wrong with the old seven-speed DCT unit, but this new eight-speed box is happy to trundle around at 1,000rpm in top gear and not kick down when you ask for gentle acceleration. Yet in manual mode the changes are smoother and swifter than before.

The way the shifts slice through makes the engine's response feel even sharper too. In the Roma there's 612bhp and 760Nm of torque to play with. Launch control means the 0-62mph sprint is dispatched in 3.4 seconds, but it's the variable boost management that increases torque as you change up through successive gears that gives the engine its character.

There's a massive level of flexibility, with huge pull in the mid range. Turbo lag is close to non-existent, while the V8's forced-induction doesn't discourage you from revving it out either.

It's not the most characterful, rich sound, but it's a fitting enough accompaniment to the performance, yet the V8's exhaust note evaporates into the ether on the motorway to boost refinement and how easy the car is to use on a daily basis.

That is where the Roma's next big development – Ferrari's new Human Machine Interface – comes in, too.

There's a new steering wheel with touch-sensitive pads that group the most commonly used controls on the wheel. They take a little getting used to and are mostly easy to use, but at times they seem like a complicated solution to a relatively simple issue.

Behind the new steering wheel is a 16-inch digital dash that's much easier to accept. There's a digital depiction of a central rev counter depending on the view selected, but you can also customise it to show the sat-nav map full-screen.

It works in conjunction with an 8.4-inch portrait-oriented display in the centre console that controls functions such as the navigation, climate and audio set-up.

The tech is mostly good, albeit slightly laggy in the early-build car we tried. Ferrari assured us software updates would fix the issue in full production cars.

Quality is as you'd expect from a £170,000 Ferrari – mostly. The double horseshoe dash design separates the driver and passenger zones and is covered in soft, plush leather, but the plastic surrounding the central touchscreen would look a little cheap on a £17,000 supermini.

The interior is definitely an improvement when it comes to usability though. On that subject, there are two small rear seats with enough space for younger children or some extra luggage room to compliment the Roma's fair-sized 272-litre boot.

Visibility is good too – that long bonnet might mean the front end is quite far away from you, but it's low so you can easily see the extremities of the car.

One of the Roma's greatest tricks is how it blends its directness on the road with a supple and comfortable set-up, so it should be great over long distances – plus there's an 80-litre fuel tank, so cruising range should be good. Ferrari owners are arguably more bothered about this than mpg and running costs anyway.

| | |
| --- | --- |
| Model: | Ferrari Roma |
| Price: | £170,984 |
| Engine: | 3.9-litre turbo V8 petrol |
| Power/torque: | 612bhp/760Nm |
| Transmission: | Eight-speed dual-clutch automatic, rear-wheel drive |
| 0-62mph: | 3.4 seconds |
| Top speed: | 199mph |
| Economy/CO2: | TBC |
| On sale: | Now |

Source: Read Full Article