Kahn has turned the 500 into a true head-turner, but this level of exclusivity doesn't come cheap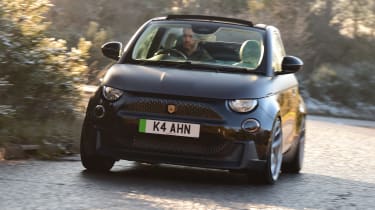 3.0 out of 5
Buy used for less at Buyacar
Verdict
No one approaches a company like Kahn to blend in, and for those unwilling to wait for the forthcoming Abarth 500e, this Designio version should go some way to satisfying the senses. It's difficult to ignore quite how pricey these parts are, however, especially given the car's powertrain is unaltered. Historically, Kahn has applied its aftermarket accessories to cars costing £100k or more; it's a harder pill to swallow on something costing a third of that.
Only a matter of weeks ago, Abarth revealed its souped-up stance on the electric Fiat 500e. Like its petrol predecessors, the EV gets more aggressive styling, different wheels and lurid paint options, plus a power hike to give the dinky hot hatch added punch.
But even if you're one of the first to place an order, we'll be long into 2023 before we see customer cars arrive in showrooms. So what if you can't wait, and want some of that scorpion-badge style right away? Kahn Design thinks it has the answer.
New 2023 Abarth 500e unveiled as all-electric hot hatch

Self-proclaimed as the world's leading automotive fashion house, Kahn has been modifying Range Rovers, Mercedes G-Wagons and Jeep Wranglers for decades. But with one eye on the future, and a willingness to explore a potentially untapped part of the market, the designer has come up with a distinctly Abarth-like take on the latest Fiat 500.

More reviews

Car group tests

Toyota Aygo X vs Hyundai i10 vs Fiat 500: 2022 group test review
Fiat 500 vs MINI Electric vs Honda e

In-depth reviews

Long-term tests

Fiat 500 Passion: long-term test review
Fiat 500: long-term test review

Road tests

New Fiat 500X Hybrid 2022 review
New Fiat 500 2021 review

The premise is simple: you take a 500e to Kahn – or you have the team source a model for you – and you pick the parts you want off the shelf. As with the maker's ostentatious off-roaders, there are things like alloy wheels, bodykits, leather seats and steering wheels; full conversions start from £10,000.

Not cheap, then. Indeed, none of it is. The 18-inch wheels alone cost the best part of £2,000, while a full interior retrim will set you back £3,999. Our car also had the lowered suspension – a snip at just £899. And don't forget the cheapest brand-new Fiat 500e donor car now costs more than £30k; a convertible like ours is another £3,000 on top. All in, that's a pretty tough sell when you consider the 500 Designo's powertrain is untouched.

And yet there are few cars that turn quite as many heads – as we discovered when driving around the swankier parts of central and west London having picked up the car from Kahn's showroom on the Chelsea Embankment. Where Lamborghinis and Aston Martins are ten-a-penny, the modified Fiat 500 stands proud, even in our car's relatively nondescript black and grey paint.

Initially, the 500e Designo feels much like any other electric 500. You sit high, but the new seats are comfortable and well bolstered. Quality in general is very good, though you need to remember it's still a city car at its core and not a six-figure premium SUV; the buttons and switches don't have the softly-damped tactility of an Audi or BMW.

The cabin feels familiar, therefore. Kahn has retrimmed the door inserts, but the dashboard is unaltered, and the infotainment system remains as easy to use and intuitive as ever. Since the cheaper variants were dropped, Apple CarPlay and Android Auto is standard on every 500e that leaves the Fiat factory in Turin.

Our car was based on the 500C convertible, so naturally we pulled back the canvas cover at the earliest opportunity. Doing so only heightens the 500e Designo's appeal – even if sawing a hole in the roof of an electric car and cranking up the heater saps range on a cold day faster than you can say "drop the top". We were seeing only around 100 miles on a full charge, versus an official range of almost double that.

Unfortunately, the larger wheels and lowered suspension (-30mm at the front, -25mm at the rear) give the car a slightly brittle ride around town, with the wider tyres more inclined to tramline than the standard rubber. The experience improves slightly at speed, but rougher roads don't make for particularly smooth progress.

Ride aside, the rest of the driving experience is recognisable from the car on which it is based.  It's not fast by any means – it's a shame Kahn hasn't tickled the powertrain in any way – but you still get decent performance off the line, and plenty of in-gear acceleration. You can dial things back and restrict power to protect range, should you so wish.

One thing we did quite like was the exposed carbon fibre steering wheel – in spite of its eye-watering £2,400 price. It gives the Fiat a pseudo-Ferrari vibe, and it feels really special to hold. It's a shame there's no way of weighting up the steering itself though; the 500e doesn't get a sport mode, so the controls are all very light.

And actually, that's a bit of a theme. We'd liken the 500e Designo to a Mercedes in AMG Line trim, or an M Sport-badged BMW – you get Abarth looks, but none of the same get-up-and-go. So, if you're looking for your next electric hot hatch, we'd recommend searching elsewhere.

| | |
| --- | --- |
| Model: | Fiat 500e Designio by Project Kahn |
| Price: | From £43,645 (£10k plus base car) |
| Powertrain: | 42kWh battery, 1x e-motor |
| Power/torque: | 116bhp/210Nm |
| Transmission: | Single-speed auto, front-wheel drive |
| 0-62mph: | 9.0 seconds (est) |
| Top speed: | 93mph (est) |
| Range/charging: | 189 miles (est)/85kW, 10-80% in 35 mins |
| On sale: | Now |

Now read our city car group test…

Source: Read Full Article