Hyundai will aim the Ioniq 6 squarely at the Tesla Model 3, with the new saloon offering a maximum range of 311 miles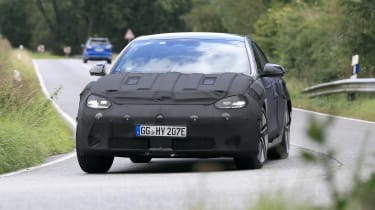 Hyundai is preparing its pure-electric Ioniq 6 four-door coupe for launch later this year. The car will be a rival for the Tesla Model 3 and the BMW i4, offering a maximum range of 311 miles.
That's the most range of any Hyundai Group electric vehicle to date, which is thanks in equal measure to the firm's 800-volt E-GMP architecture and the aerodynamic shape of the car's body, which promises to extract the best from the underpinnings.
New Hyundai Prophecy concept review
We're only a matter of months away from the Ioniq 6's launch date now. However, rumours suggest that Hyundai has pushed back the car's debut to summer to allow time for some last-minute changes, designed to push the EV's range beyond the 300 miles of the Ioniq 5.
As such, this prototype is still heavily camouflaged to disguise these late changes. They include revisions to the car's size and styling, with a slightly longer body being mooted by South Korean automotive publications. Hyundai will also now fit the Ioniq 6 with the same 77.4kWh battery pack found in the Kia EV6, rather than the 73kWh unit found in the Ioniq 5.
To the casual observer, these are trifling differences, but small improvements soon add up. When coupled with the car's slippery shape, which is heavily influenced by the Prophecy concept, it means that the Ioniq 6 could achieve a range in excess of 500km (311 miles), while adopting the Ioniq 5's 301bhp four-wheel drive dual-motor powertrain.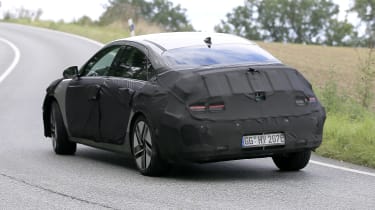 However, this powertrain will be reserved for the flagship variant. Less expensive versions of the Ioniq 6 will also be available, featuring a smaller 58kWh battery pack and a single electric motor, making a starting price of £40,000 plausible.
With late-stage prototypes now being spied regularly on the roads, we have a better idea of what the Ioniq 6 will look like, as seen in our exclusive image.
The car will have proportions similar to those of the Ioniq hybrids, with a longer bonnet, a low-set glasshouse and bigger front and rear overhangs than the Prophecy. The four-door coupe shape will be broken up with the addition of a rear spoiler set low on the bootlid for improved aerodynamics.
Inside, the Ioniq 6 will take more inspiration from the Ioniq 5 than it does from the Prophecy concept, borrowing the former model's dual-screen infotainment system. It will also come with a conventional centre console with a tunnel-like armrest running from the dashboard through the middle of the cabin.
Now find out which are the best electric cars on sale now…
Source: Read Full Article