We try the new two-wheel drive Lamborghini Huracan EVO RWD in the UK – is it the driver's Lamborghini we've been waiting for?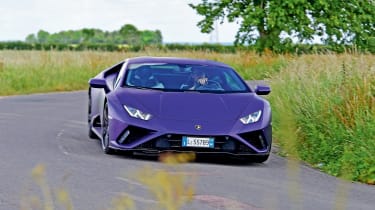 4.5 out of 5
Verdict
The EVO RWD is the best Huracán yet thanks to a hefty price saving and not much of a performance deficit. It's the sweetest-driving Huracán there is and the demonic V10 that partly defines the experience should be savoured. There are a few flaws, but this is a brilliant, old-school approach from Lambo when it comes to looks, noise and engagement that, mixed with just the right amount of the latest engineering and tech, makes every drive an event.
Advertisement – Article continues below
Three letters define this latest Lamborghini: RWD. They stand for rear-wheel drive, so no prizes for guessing that this most driver-focused version of Lambo's entry-level supercar yet sends power to the rear axle only, rather than to all four wheels.
There is plenty of that commodity as well – 602bhp, in fact, plus 560Nm of torque. While this is down by 30bhp and 40Nm respectively over the regular Huracán Evo, the price, too, has been cut to reflect this. While you'd never call £164,400 a bargain, it's nearly £34,000 cheaper than its four-wheel-drive sibling.
New Ferrari F8 Spider 2020 review

Although the RWD is 0.4 seconds slower from 0-62mph, taking 3.3 seconds, we never found it lacking in performance. But more importantly, it's the purer driver's car.

More reviews for Huracan

In-depth reviews

Lamborghini Huracan review

Road tests

New Lamborghini Huracan Evo Spyder 2020 review
New Lamborghini Huracan Evo 2019 review
Lamborghini Huracan Performante 2017 review
Lamborghini Huracan Spyder review
New Lamborghini Huracan LP 580-2 2016 review
New Lamborghini Huracan review
Lamborghini Huracan LP 610-4 2014 review

Shorn of its front driveshafts, the RWD is also 33kg lighter and steers sweeter ever so subtly, while on dry roads at least, the traction is still superb. There are different driving modes – Strada for street, Sport for, well, sport, and Corsa for race – but herein lies one of the Lambo's weak points.

Stepping up the modes using the toggle on the steering wheel firms up the optional suspension dampers and adds weight and resistance in Corsa to the point where it's far too firm for most roads in the UK, and the dynamic steering (again, optional but fitted to our test car) feels artificially heavy.

The hyper-alert steering and the resulting response from the front axle mean that the Huracán sometimes feels frenetic and unsettled. But it's impressive that there's so much grip on offer and the chassis can keep up with your inputs at the wheel, so it'd be nice to feel some more clarity in the steering.

It's in desperate need of an individual setting, which would allow you tailor these different elements exactly how you want them. These minor gripes are forgotten once you wring the 5.2-litre motor out towards its 8,500rpm rev limiter in Corsa, though. This bypasses seemingly most of the silencing in the exhaust, with two butterfly valves that allow you to peek up the pipes and almost into the bowels of the motor; you can see the exhaust glowing red hot even in daylight following an energetic drive.

At 5.2 litres in capacity, there's no need for turbocharging here; displacement gives the Lamborghini its torque. There's plenty of pull low down and it's delivered in a beautifully linear fashion, unlike some of its turbocharged rivals that dump the majority of their torque after a slight initial lag.

It crescendos with a wail that makes the RWD sound like a GT race car, with great cracks and pops exploding from the exhausts when you lift off. In a world where its rivals from McLaren, Ferrari and Porsche are all turbocharged, this naturally aspirated V10 is reason enough to buy the car.

While there are drawbacks with the steering and ride quality, it's better in Sport, where you sense a little more of the RWD's rear-driven balance, thanks to a relaxed ESC setting. This is where this rear-drive car comes alive, feeling slightly purer without the regular EVO's all-wheel steering and torque vectoring.

In Strada the car is actually surprisingly comfortable and deals with lumps and bumps well enough, the ultra-stiff hybrid carbon-aluminium chassis providing a superbly stable platform for the suspension to work from.

Of course, the styling – especially in this matte purple Viola Mel colour – is typically in-your-face Lamborghini, which as a result means visibility isn't the best. Not that you really buy a supercar for practicality, but other issues arise on the move. Take the infotainment, for example; the screen is bright, sharp and responsive, but it's placed so low down on the dash that you have to fully take your eyes off the road to use it.

At least the luggage space in the low nose is more usable than you might imagine, accommodating two duffle bags, while there's a void behind the rear seats for a few extra items should you need the space.

Fuel economy? It's 20.5mpg, if it matters to Lamborghini buyers.

| | |
| --- | --- |
| | Lamborghini Huracán EVO RWD |
| Price: | £164,400 |
| Engine: | 5.2-litre V10 petrol |
| Power/torque: | 602bhp/560Nm |
| Transmission: | Seven-speed dual-clutch auto, rear-wheel drive |
| 0-62mph: | 3.3 seconds |
| Top speed: | 202mph |
| Economy: | 20.5mpg |
| CO2: | 330g/km |
| On sale | Now |

Source: Read Full Article