The UX 250 has been updated for 2022, but can this push it to the top of the class?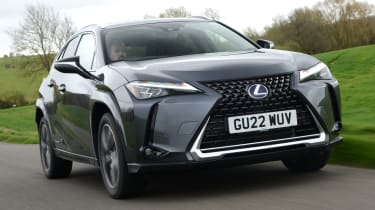 4.0 out of 5
Buy used for less at Buyacar
Verdict
This 2022 update for the smallest SUV in the Lexus line-up might only be mild, but the UX remains great to drive, frugal and well built. The finance figures are favourable compared with the closest competition from its German rivals, too. If Lexus could furnish the cabin with the superior infortinament tech we know it's capable of, and somehow find a way to improve that tiny boot, the UX could rank right towards the top of its class.
The Lexus UX is a car that has impressed us greatly in some areas, but left us frustrated at flaws that have held it back from being a genuinely plausible alternative to rivals like the Audi Q3, BMW X2 and our favourite of the segment, the Mercedes GLA.
New Lexus RZ 450e prototype review

For 2022, there's been a rejig of the trim structure to keep things fresh. There's now four different levels to choose from. At the bottom is the basic UX, which gets 17-inch alloy wheels, LED headlights, a seven-inch infotainment screen and fabric upholstery.

Above that is the Premium Sports Edition. This model's wheels grow an inch larger, while inside there's a man-made leather material on the heated front seats. It also gains a reversing camera, parking sensors all round and lane departure warning.

More reviews

Car group tests

Audi Q3 Sportback vs Lexus UX
Lexus UX vs BMW X2

In-depth reviews

Long-term tests

Lexus UX300e: long-term test review

Road tests

New Lexus UX 300e 2021 review
New Lexus UX 250h 2020 review
New Lexus UX 2018 review

The two top trims come with familiar names: F Sport and Takumi. The former gets a sportier suspension tune, electric front seats and unique upholstery, while the latter gets luxurious touches like a 13-speaker Mark Levinson sound system, a head-up display and ventilated front seats trimmed in full leather.

Those revised F Sport and Takumi grades now stand out thanks to the wheel arch trims; previously unpainted plastic (and still finished this way on the entry-level model) these are now body coloured to mark out the most lavishly equipped variants.

While the trim structure has changed, the way the UX drives remains much the same. In terms of ride and handling, it's right among the best of the bunch in this segment. The steering loads up naturally and predictably while its german rivals feel overly light and short on feedback. Even on 18-inch wheels, the ride feels supple and sharper shocks are well insulated. It all adds up to a premium SUV that feels compact and easy to place on the road.

As before, there are two versions of the hybrid powertrain. Both use a 2.0-litre petrol engine mated to a front electric motor, but a four-wheel drive option gets a second motor on the rear axle, too. We'd stick with the front-drive model; the electric motor is perky enough to give keen acceleration away from low speed, with the petrol engine providing further boost under hard acceleration for a combined maximum of 181bhp.

The E-CVT gearbox does result in some slightly odd noises from the engine as the revs rise and fall at a completely different rate to the road speed, but the impressive refinement means that this rarely becomes an irritation. In many situations, the engine cuts out completely, making for a very relaxing drive.

Though that hybrid system helps to keep emissions lower, the UX still sits in the 30 per cent Benefit in Kind band, making it an unlikely choice for company car buyers. For private drivers, however, the promise of high-forties mpg – a figure we found entirely achievable in everyday driving – will hold plenty of appeal.

There are, however, two key weaknesses that stop the UX from ranking at the top of this segment. The first is the boot. At 321 litres, it's smaller than some superminis. The floor is high and the space shallow, so even squeezing in a suitcase or two can be a challenge. It's even worse in the four-wheel drive model, with only 281 litres available. The story isn't great for rear passengers either; it's quite cramped in the back.

The other downside is the infotainment system. With the latest NX, Lexus has proven it can make a fantastic system, but its little brother has to make do with an old set-up that is hamstrung by a frustrating touchpad interface. Android Auto and Apple CarPlay are available, but that input method makes even those systems a pain to use.

Even if Lexus had dipped into the parts bin of parent company Toyota, and borrowed the newer system fitted to the C-HR and Corolla, it would have been a vast improvement.

Of the four models in the revised trim structure, we think that the Premium Sports Edition makes the most sense when it comes to the compromise between costs and kit – lavish though this top-spec Takumi is.

Place a £4,000 deposit on a three-year PCP finance agreement with a 10,000-mile annual limit, and the Premium Sports Edition comes to £435 per month. That includes a £2,000 deposit contribution from Lexus. By comparison, an Audi Q3 S line 35 TFSI auto on matching terms comes to £520 per month, while a BMW X2 sDrive18i M Sport currently costs a hefty £621 per month.

Click here to read our long-term review of the Lexus UX300e…

Next Steps

Source: Read Full Article