The new MINI JCW GP is the brand's fastest ever hatch, but it's also its most expensive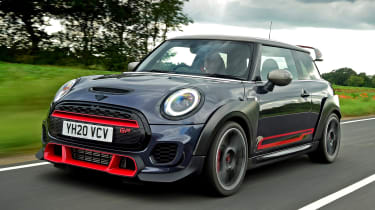 3.5 out of 5
Verdict
The MINI GP is a car that delights and frustrates in equal measure. The performance from its 2.0-litre engine is phenomenal, while it feels like a miniature touring car thanks to its handling set-up. What hinders the GP is its slow automatic gearbox and overly firm ride. It's a car that you have to fight with to get the best out of, so while it may be exciting, it's not hugely rewarding.
Advertisement – Article continues below
Before you even lay eyes on MINI's latest model, there's one figure that tells you everything you need to know about it: 164mph. The third iteration of the John Cooper Works GP is the fastest, maddest and most unhinged MINI ever.
Only 575 examples of the 3,000 to be built will be sold to UK buyers, which means MINI can slap a premium on such a car – and it has. At £35,345, the GP is the most expensive MINI hatch ever made, but you get quite a lot of small car for your money.
Best hot hatchbacks 2020

As a quick recap, this latest GP uses a 2.0-litre four-cylinder turbocharged engine developing 302bhp and 450Nm of torque. We have seen that sort of power in a MINI before, but only in combination with four-wheel drive. The GP is front-wheel drive only and comes exclusively with an eight-speed automatic gearbox. No manual 'box is available, even as an option.

More reviews for MINI JCW

Car group tests

MINI Cooper vs VW Beetle: modern classic head-to-head

In-depth reviews

Road tests

New MINI Electric 2020 review
New MINI JCW GP ride review
New MINI Electric 2019 review
New MINI Cooper S 60 Years Edition 2019 review
New MINI Electric prototype review
New MINI Cooper Classic 2019 review

The GP's cosmetic makeover is certainly eye-catching, but not exactly tasteful. The exoskeleton-style, carbon-fibre wheelarches have been added to allow MINI to widen the front track, to help improve the car's grip, but they look like an afterthought and simply appear to have been stuck on.

Our first drive in Germany showed the GP to be a feisty and fun hot hatch, but question marks were raised over the car's ride quality – or lack of it. Within just the first mile on UK roads it's apparent that the GP's set-up is very focused, but unforgiving. The suspension is extremely firm, which means the car bobs and fidgets over mildly uneven surfaces.

One thing you can't question is the effectiveness of the 302bhp engine. There's a bit of lag below 2,500rpm, but beyond that point the engine has relentless thrust all the way through the mid-range and right up to its 6,500rpm rev limiter.

MINI says 0-62mph takes 5.2 seconds, which is staggeringly quick for a front-wheel-drive car. And that's exactly how the GP feels. However, the engine is hindered by the eight-speed automatic gearbox, which feels off the pace and not in sync with the rest of the car. Changes are laboured and, even if you try to counter the problem by using the steering wheel-mounted paddles, sometimes they don't happen at all.

This amount of power is at the very limit of what the MINI can handle. Accelerate hard and the front wheels scramble to find purchase on the tarmac; once they bite, the mechanically locking differential struggles to contain the power and distribute it efficiently between the front wheels, which leaves you fighting with the sports steering wheel as it writhes away in your hands.

Where the GP does shine is through the corners; the front end has unrelenting grip and doesn't even entertain the idea of understeer. Turn in and the GP bites into the road and slingshots you round at staggering pace – a clear indicator that this is indeed a track-day toy and not a model designed to be used primarily as a road car.

The fact there are no rear seats certainly compounds that, but the rest of the cabin is largely identical to what you'll find in any of MINI's other current products. Padded leather seats, a digital instrument binnacle and a large central screen with MINI's iDrive system bring a sense of normality to the GP.

If you want some more creature comforts on top of that, you can also add the optional GP Touring Pack, which includes automatic air-conditioning, heated seats and the Navigation Plus Pack for a further £2,000.

| | |
| --- | --- |
| Model: | MINI John Cooper Works GP |
| Price: | £35,345 |
| Engine: | 2.0-litre 4cyl turbo |
| Power/Torque: | 302bhp/450Nm |
| Transmission: | Eight-speed automatic, front-wheel drive  |
| 0-62mph: | 5.2 seconds |
| Top speed: | 164mph |
| Economy: | 38.7mpg |
| CO2: | 167g/km |
| On sale: | Now |

Source: Read Full Article