The Porsche Boxster 718 GTS 4.0 is the most hardcore Boxster to date – but is it the best?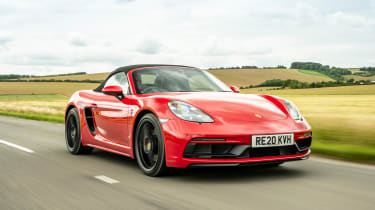 5.0 out of 5
Verdict
On the surface, paying more than £66,000 for a Boxster seems like a lot of money, but as roadsters go, this GTS 4.0 is difficult to fault. Its six-cylinder engine is the star of the show, but it's backed up by a brilliant chassis and effortless everyday usability. With bosses at Porsche seriously considering switching the next generation of Boxster and Cayman to fully electric power, now really is the time to snap up one of these while you can.
It would have been hard to imagine back in 1996, when Porsche first launched the Boxster, that this baby sports car would one day be packing a 4.0-litre flat-six engine developing just shy of 400bhp. Even harder to imagine would be a Boxster that costs in excess of £66,000, but that is just what we have here in the new 718 Boxster GTS 4.0.
The important part of the car's name is at the very end. The 4.0 indicates this GTS's larger, naturally aspirated engine that has replaced the previous model's turbocharged 2.5-litre four-cylinder. Power swells from 361bhp to 395bhp, but more than just an injection of extra performance, the switch completely transforms the car's character.
Best performance cars 2020

Even before the wheels begin to turn, you know this GTS is a lot more serious. The 4.0-litre engine barks into life and fizzes away behind you, the standard sports exhaust amplifying the noise.

More reviews for Boxster Convertible

Car group tests

Porsche 718 Cayman/Boxster – best sports cars
Porsche 718 Boxster 2.0 – Best cars for under £400
Audi TT RS vs Porsche 718 Boxster S
Porsche 718 Boxster vs Audi TTS Roadster

In-depth reviews

Porsche 718 Boxster review

Road tests

New Porsche 718 Boxster T 2019 review
New Porsche 718 Boxster review

Used car tests

Used Porsche Boxster review

One obvious advantage of the Boxster over the Cayman is that you can get even closer to the action by dropping the folding fabric roof. Pull and hold a small switch on the centre console and the whole process is over in a few seconds.

On the move, the Boxster is truly wonderful. It feels light, nimble and beautifully balanced at any speed – all essential sports car traits. The overall package of the GTS – its size and power – makes it a near-perfect sports car for UK roads.

The suspension is firm, but rather than crash and fidget about over rougher surfaces, the excellent damping nicely rounds off bumps and ruts other sports cars would make a meal of. It means the Boxster flows with the road beneath it rather than fighting against it.

This allows you to really explore and exploit the Boxster's wonderful chassis. The steering is ever so smooth, nicely weighted and responds to your every input. Even on damp roads, there's a lot of grip from the front end, while the brakes provide excellent stopping power.

But it's the engine that's the star of the show here. The 4.0-litre flat-six motor is a real gem, even if you have to push it to get the best out of it; peak torque doesn't arrive until 5,000rpm – where most turbocharged engines are running out of steam – but the engine keeps on giving, pushing hard right up to its 7,500rpm rev limit. It sounds glorious, too, with a deep-chested wail erupting from the exhausts.

| | |
| --- | --- |
| Model: | Porsche 718 Boxster GTS 4.0 |
| Price: | £66,340 |
| Engine: | 4.0-litre 6cyl petrol |
| Power/torque: | 396bhp/400Nm |
| Transmission: | Six-speed manual, rear-wheel drive |
| 0-62mph: | 4.5 seconds |
| Top speed: | 182mph |
| Economy: | 25.9mpg |
| CO2: | 247g/km |
| On sale: | Now |

Source: Read Full Article