Has plug-in hybrid power improved the Range Rover Velar? We find out…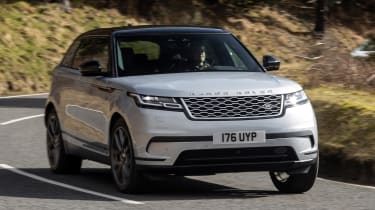 4.5 out of 5
Buy used for less at Buyacar
Verdict
The Velar is more attractive than ever with plug-in hybrid power – and it was a pretty attractive proposition in the first place. It's a fair chunk more expensive than other versions, but you'll enjoy the added power and the cash savings – which are sizeable if it's a company car. It still does Range Rover class, luxury and refinement well, too.
Of all the many car makers making a lot of noise around electrification right now, Jaguar Land Rover seems to be shouting the loudest – and much of it is in the hear and now, not just in the future.
The latest model to get an electric boost is the Range Rover Velar, driven here for the first time in plug-in hybrid form. For once, this is a car that anyone will enjoy driving rather than just company car buyers swayed by the tax savings.
Best hybrid SUVs 2021

Of course, those tax savings are still hugely worthwhile, running into the thousands compared with a similarly-priced petrol model and likely to be enough for a decent holiday for all the family each year.

Let's deal with all the numbers first. The 49g/km of CO2 emissions is what gets the company car benefit-in-kind tax down to 11 per cent (versus 37 per cent for a pure petrol model). That equates to 130mpg if you can replicate the official WLTP economy tests, while the 17.1kWh battery will supposedly get you 33 miles on electric power alone.

More reviews

Car group tests

Range Rover Velar vs Porsche Macan vs BMW X5

In-depth reviews

Road tests

New Range Rover Velar SVAutobiography Dynamic 2020 review
New Range Rover Velar D180 2019 review
Range Rover Velar P300 2018 review
Range Rover Velar 2.0 diesel 2017 review
New Range Rover Velar 2017 review
New Range Rover Velar ride review at Goodwood 2017

With 32kW DC rapid charging capability, you'll get an 80 per cent top-up in 30 minutes, while the same charge will take an hour and 40 minutes from a 7kW AC home charger.

With 398bhp and a whopping 640NM of torque from the electric motor and 2.0-litre petrol engine combined, this Velar will get from 0-60mph in just 5.1 seconds, a sizeable chunk quicker than any other Velar. That'll bring a smile to your face!

To achieve those impressive economy stats, first you have to plug in regularly – as is true with every PHEV. If you don't you've just got a petrol engine driving a big, heavy car with the added burden of carrying battery around.

Not that the 296bhp petrol engine alone is too much of a burden. When the battery is depleted and full EV driving isn't an option, the car defaults to running as a full hybrid, boosting battery charge while braking and serving it back up whenever possible. However, the Velar has a little trick up its sleeve – noise cancelling tech.

A four-cylinder petrol engine is never the most tuneful, so Land Rover has fitted microphones that monitor external noises, with a cancellation signal played through the speakers. The result is impressive silence most of the time.

Of course, you can shut the engine off completely by selecting EV mode – subject to charge levels – or use Save mode to keep the engine running and hold the charge for later on. Most, we suspect, will just leave the car to its own devices in Hybrid mode, where sometimes – with that noise cancelling tech – you'll struggle to know which power source you're using, unless you spot the very slight jerk as the car toggles between modes.

The surprising turn of power is intoxicating, though, but it's not matched by an increase in agility. To be fair, the Velar has always been one of the more agile members of the Range Rover family – in spite of one of its brethren wearing a Sport badge. But while the steering is true and responsive and the car doesn't wobble around too much during cornering, a BMW will still handles better.

The pay-off comes when things get dirty. Even on the coil springs of our car rather than air suspension, there's more off-roading ability than you'll ever need. The ride quality on-road is pretty respectable, too. It's not the comfiest ride a Range Rover offers, but you won't be jiggled around as much as in some rivals.

The impressive dynamic package is all wrapped in the striking Velar body – a low, sleek-looking SUV that's as close to a crossover as a Range Rover will get. It's been around for a fair few years now, but is still hugely desirable.

It looks pretty posh inside, too, with a digital instrument pack deep in the binnacle, plus two 10-inch touchscreens featuring JLR's latest Pivi and Pivi Pro infotainment systems.

As well as the expected Smartphone connectivity (for two phones simultaneously if you wish) and in-house navigation if you choose to use it, Spotify is integrated into the system if that's your music streaming service of choice, and there are also software-over-the-air updates, which might mean functionality or efficiency upgrades from time to time.

Much as Pivi is JLR's latest system, anyone peering into the latest Land Rover Discovery might be a little envious of that car's rather lovely new 11.4-inch touchscreen – things move fast in the tech world.

Otherwise, all is as was in the Velar. You get okay, if not cavernous, seating for four – five at a pinch, but everything is trimmed beautifully as a Range Rover should be. It's as attractive inside as it is outside.

The boot takes a bit of a hit from the battery, though – down from 748 litres to 625 litres; the dog will still be fine back.

You won't be stuck for choice when it comes to trims and personalisation, either. Our S model seemed reasonably well specced for nearly £62,000, while you can pay a little less for the entry level model or go up through SE and HSE options and have the same trim levels with the tempting (and sportier looking) R-Design package, too.

In all you can pay from £56,550 to £71,020 for a plug-in hybrid Velar (plus options), which we'd now say was the pick of the powertrain choices, especially if it's your company footing the bill.

| | |
| --- | --- |
| Model:  | Range Rover Velar S P400e PHEV |
| Price:  | £61,770 |
| Engine:  | 2.0-litre four-cylinder petrol plus 17.1kWh battery |
| Power/torque:  | 398bhp/640Nm |
| Transmission:  | Eight-speed automatic, four-wheel drive |
| 0-60mph:  | 5.1 seconds |
| Top speed:  | 130mph |
| Economy:  | 130.2mpg |
| CO2:  | 49 g/km |
| On sale:  | Now |

Next Steps

Source: Read Full Article