The new all-electric Spectre is shaping up to be a true Rolls-Royce thanks to incredible refinement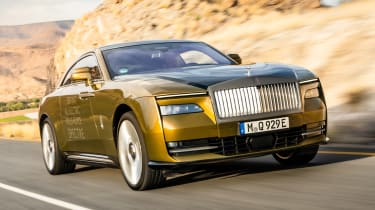 Verdict
Even this early taste of the Rolls-Royce Spectre highlights that the brand has achieved its co-founder's vision of electric propulsion. Its refinement is impenetrable, its performance more than ample and the ride comfort sublime, even if there's work to be done still. The real treat is how enjoyable it is to drive and how it inspires ultimate confidence with its calibration, but also how it soothes you at the same time. It might be an EV, but the Spectre is shaping up to be a true Rolls-Royce.
Before the first customer drives the first mile in their Rolls-Royce Spectre, the British brand's new EV will have covered much more than 1.5 million miles in development testing – and we're joining Rolls-Royce as part of the fourth stage of this process to get behind the wheel of a prototype car for the first time.
The car is about 60 per cent complete, I'm told, but gives a great idea of where the Spectre is heading and how it will behave – and behaviour is a great place to start, as CEO Torsten Müller-Ötvös outlines.
Top 10 best luxury cars to buy 2023
"We make a Rolls-Royce first and an EV second," he tells me. Regardless of the powertrain it has to live up to the qualities any Roller should offer, but you'd expect a near-silent EV to pretty much perfectly suit the attributes Rolls-Royce strives for in a large luxury coupe such as the Spectre. And you'd be right.
In fact, as far back as 1900 company co-founder Charles Rolls outlined the virtues of electric propulsion and foresaw its ability, saying: "The electric car is perfectly noiseless and clean. There is no smell or vibration. They should become very useful when fixed charging stations can be arranged."
All this is of course true, but right out of the box the brand's first-ever production EV still needs to go through a rigorous development process, as we found after riding in a prototype version of Spectre in France last year.
The brand's director of engineering, Dr. Mihiar Ayoubi, deems this part of the process as "Where we send the car to finishing school." How very Rolls-Royce.
However, its manners are already particularly brilliant. That starts from the moment you slide past the huge, rear-hinged door and sink into the sumptuous seat. Put your foot on the brake and the door arcs shut electrically so you don't have to reach out and swing it behind you.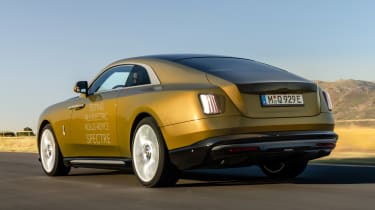 On the move there is no noise from the powertrain. No motor whine, no faint hum from electrical components. It is as silent as an EV gets – yet Rolls-Royce thinks there's still just a few tweaks to be made to improve it one small step further again. It's hard to believe. The battery actually helps here, as the firm says it acts as "almost 700kg of sound deadening", helping to keep things quiet inside.
It's so quiet, in fact, that despite the deathly silence inside cruising along at around 70mph (a 0.25Cd drag coefficient helps), I'm told there's work to be done to tighten up tolerances on panel gaps and door seals, reducing wind noise, while even the climate control has come under scrutiny for the blower's gentle woosh being too loud. Refinement really is that good. Already.
The real triumph – even in this early car – is the calibration of all the major controls, however. There's nothing so gauche as Tesla-like head-snapping acceleration for instant gratification. The Spectre is about comfort and supreme "waftability".
As a result, reactions to inputs with the throttle are judged brilliantly. Performance is proportionate to the amount of throttle travel – and when you sink your right foot into the deep, soft carpet, there's a huge swell of torque that manifests itself as a serious force in the small of your back as the dual motors deliver 900Nm and whisk you forward serenely. Combined with a total of 576bhp, performance is significantly more than adequate. If it matters, the 0-60mph sprint is completed in 4.4 seconds.
The set-up of the brakes is delightfully simple and progressive, too. There are two modes for the regenerative system: standard and an extra B mode that adds more retardation. It's not an aggressive one-pedal system, however.
What's nice is that a measured push of the brake slows the car gently, allowing you to bring it to a stop with a soft rock on its springs, rather than a jolt, as the significant 2,975kg Rolls comes to a halt.
Yes, on the move with even a light driver, the Spectre will weigh more than three tonnes. However, with the majority of that figure located as low as possible in the chassis, lowering the centre of gravity, it doesn't feel like it on the move.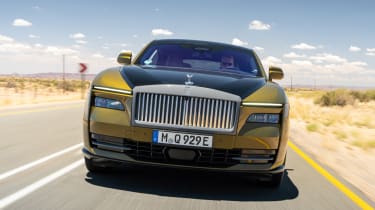 The steering weight is quite light, but the linear ratio set-up is also more direct than I expected (a welcome character trait), while the chassis does an excellent job of containing the weight. It feels surprisingly taut through medium speed direction changes, even if higher speed manoeuvres and bends do test it a little more. But then the Spectre likely won't be driven in this manner.
Comfort is more important, which is why the ride is genuinely soothing. Over rolling undulations and even smoother depressions and bumps the Spectre's chassis feels supremely supple and yet still controlled. There's a little work to be done on the damping when it comes to harsher transverse ridges in the road at higher speed according to Rolls-Royce's engineers, and while we'd never say it was an obvious area of weakness, it was noticeable on our car's optional 23-inch wheels.
While the Spectre rides on Rolls-Royce's own all-aluminium Architecture of Luxury platform, it shares much of its powertrain with parent firm BMW. This includes the battery, and while Rolls-Royce is not yet putting a figure on capacity, we're told it's the biggest unit from within the BMW Group, which currently stands at 111.5kWh in the iX M60.
Rolls-Royce has put a claimed range figure of 323 miles on the Spectre, and given its customers don't travel mega mileages in their cars, Müller-Ötvös believes this is pitched just so, outlining if they do need to travel longer distances they have many another cars – or a helicopter.
Charging speed has not yet been detailed either, but given the underlying 400-volt BMW-sourced fifth-generation eDrive tech, expect a similar max rate to the iX M60 of 195kW, which means an 80 per cent top-up should take a fairly standard 35 minutes.
The firm doesn't anticipate Spectre owners will engage much with the public rapid charging network however, but does have a bespoke wallbox solution so transition to Rolls-Royce EV ownership (many clients already own EVs, Müller-Ötvös says) can be as seamless as possible, saving time. And time is money for ultra-high net worth individuals that'll be buying into Spectre ownership.
On the subject of money, the chunky two-door coupe (it's still a genuine four-seater inside, with ample rear legroom) is predicted to start from more than £300,000 when it goes on sale later this year.
| | |
| --- | --- |
| Model: | Rolls-Royce Spectre |
| Price:  | £300,000+ |
| Powertrain:  | 111.5kWh (est.)/2x e-motors |
| Power/torque:  | 576bhp/900Nm |
| Transmission:  | Single-speed automatic, four-wheel drive |
| 0-60mph:  | 4.4 seconds |
| Top speed:  | TBC |
| Range:  | 323 miles |
| Charging:  | 195kW (10-80% 35mins) (est.) |
| On sale:  | Summer 2023 |
Source: Read Full Article