The new Skoda Enyaq 80x Sportline is the sportiest model in Skoda's electric SUV range to date – is it also the best?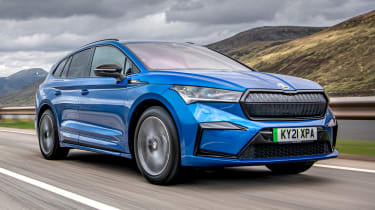 4.0 out of 5
Buy used for less at Buyacar
Verdict
The Enyaq is an accomplished EV, and definitely one of the best cars that we've tried so far on the VW Group's MEB platform. Adding four-wheel drive and more power for this 80x SportLine model doesn't really enhance what is already a sound package – and you do pay for the privilege. But for those who want a little extra pace without sacrificing space, it's a tempting option.
As a brand, Skoda made its name on value and practicality – but while the Czech manufacturer does still trade on those strengths, it has earned a reputation for decent performance cars over the past couple of decades. We're still waiting for a vRS version of the company's first bespoke EV, the Enyaq, but the firm has launched this 80x SportLine model to fill the gap until it arrives.
And make no mistake, the Enyaq iV 80x does have some serious credentials. In fact, it is now the most powerful Skoda model on sale. The rear-mounted electric motor that features on other Enyaqs has been joined by a unit at the front, delivering a total output of 261bhp and 425Nm of torque. 0-62mph comes up in less than seven seconds – pretty swift for a full family-sized SUV with a kerbweight of more than 2.1 tonnes. The battery capacity is a usable 77kWh, as it is on regular Enyaq 80 models, but the dual-motor configuration does impact on range a little, with a WLTP-certified figure of 303 miles.
What is Skoda vRS? History and best cars driven

The mods don't stop there, because this Enyaq sits on snazzy-looking 20-inch alloy wheels and gets a specific chassis tune, with the ride height lowered by 15mm at the front and 10mm at the rear. There's a more aggressive front bumper and thicker side skirts, giving the car a slightly more muscular look overall – though the effect remains a subtle one, in the best tradition of fast Skodas of old.

More reviews

In-depth reviews

Road tests

New Skoda Enyaq Coupe iV prototype review
New Skoda Enyaq iV 2021 review

Inside, there are some sportier seats clad in Alcantara and leather, flashes of carbon fibre trim (because, hey, it's all about light weight in a car such as this, right?) and a sportier design of steering wheel.

It's probably worth mentioning price at this point because this is a Skoda that smashes through the previously significant £40k price barrier and goes an alarming way towards cracking through the next one up from it. Indeed, the list price of the 80x SportLine is £46,610, but our test car, equipped with a few options packs and a panoramic glass sunroof, had a total on-the-road figure of – deep breath – £50,370.

Recovered yet? Good. Because in lots of ways, this range-topping Enyaq doesn't feel at all uncomfortable with its price point. It's extremely nicely finished inside – every bit a match, we'd say, for the likes of the VW ID.4. It's still extremely practical, with more than enough space on board for five fully grown adults to travel in comfort. And yes, it's pretty rapid; 0-62mph takes 6.9 seconds.

This isn't any more noticeable than it is in lots of other electric cars, though. If anything, it's the driving experience that struggles a little to live up to the billing. There's plenty of instant punch, as you might expect, but no more so than in many other EVs. Perhaps that power-to-weight ratio is where the dividing line is most clearly drawn between the SportLine and the vRS to come (it'll have more than 300bhp, and cut almost a second from the 0-62mph time).

Once you are up and running, a mixture of the vehicle's physical dimensions, well-weighted but numb steering, and mass get in the way of involvement. Our car did without Dynamic Chassis Control (Skoda speak for adaptive dampers) but even so, the Enyaq isn't massively happy with sudden requests for rapid changes of direction.

Adopt a more progressive, patient approach and you'll find body control more acceptable; there's enough sophistication in the chassis for the Enyaq to sort itself out when it hits bumps mid-corner. But let's say you'll need a specific set of circumstances before you'll really feel as if you're enjoying rapid cross-country motoring with the Enyaq; a wide road, and a clear view ahead would certainly be on our checklist.

The regular Enyaq is firm enough, to the point where the idea of a more focused suspension set-up had us slightly worried. But weirdly, and again, even without DCC, the retuned chassis and 20-inch wheels deliver, if anything, a more comfortable low-speed ride than you might experience on a regular Enyaq fitted with the optional 21-inch alloys. You're always aware that you're in something hefty, but it does feel tied down over urban road scars.  There's decent noise insulation at speed too, with a low-frequency rumble from the tyres and road beneath being drowned out by a bit of wind rush from the A-pillars as you increase your speed.

There are no major changes to in-car tech – which again, means that the Enyaq is right up there with the best the VW Group can offer, but it feels a teeny bit behind the curve compared with the likes of the Hyundai Ioniq 5 and Kia's new EV6. Still, the 13-inch touchscreen – the largest of any car on the VW Group's MEB platform – has a sensible interface, with virtual buttons for lots of key functions, and the dashboard design has a useful ledge that you can steady your hand on when you're using the display.

Our car had the £740 optional head-up display with augmented-reality navigation instructions that appear to guide you down streets as you look through the windscreen. It's a neat idea, but the jury's still out on whether it's actually more effective than clearly spoken instructions – and of course, you'll find that the Android or Apple smartphone navigation gives better real-time guidance anyway.

| | |
| --- | --- |
| Model: | Skoda Enyaq iV 80x SportLine |
| Price: | £46,610 |
| Engine: | 2xe-motor, 77kWh battery |
| Power/torque: | 261bhp/425Nm |
| Transmission: | Single-speed auto, four-wheel drive |
| 0-62mph: | 6.9 seconds |
| Top speed: | 99mph |
| Range: | 303 miles |
| Max charging: | 125kW DC |
| On sale: | Now |

Next Steps

Source: Read Full Article