Hybrid power is a real boost for the Suzuki Swift Sport hot hatch, but it comes at a cost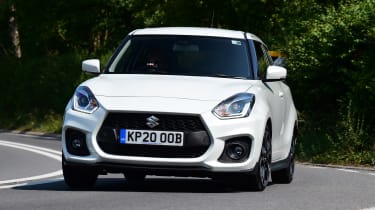 3.0 out of 5
Verdict
Mild-hybrid power means the Suzuki Swift Sport is a small hot hatch that will induce a smile and be cheap to run, but you'll have to pay more than ever from the outset. The Swift's unique selling point has always been its cracking value for money, but the even higher price tag now places it right in the firing line of rivals like the brilliant Fiesta ST. That's a car that'll more than match the Suzuki for entertainment, while roundly thumping it for quality.
Advertisement – Article continues below
The Suzuki Swift Sport has forged a reputation as a lightweight, no-nonsense and affordable hot hatchback. But with emissions regulations tightening, and electrification becoming a key theme across Suzuki's range, 2020 sees the hot version of the Swift become the final vehicle in the brand's line-up to get hybrid power.
Alongside the Japanese model's 1.4-litre turbocharged four-cylinder petrol engine is a new belt-driven starter generator supported by a 48-volt electrical system, and a small battery under the driver's seat.
Best hot hatchbacks 2020

It's a big update for a small performance car, and the mild-hybrid set-up results in some fairly drastic alterations to the Swift's power, acceleration and economy. Overall it drops from 138bhp to 127bhp, but torque increases to 235Nm and is available lower down in the rev band, from 2,000rpm. The extra torque is a result of the electrical boost from the 48-volt system, which also helps lower the engine's workload.

More reviews for Swift Sport Hatchback

Car group tests

Nissan Micra N-Sport vs SEAT Ibiza FR Sport vs Suzuki Swift Sport
Suzuki Swift Sport vs Volkswagen up! GTI vs Ford Fiesta ST-Line
Suzuki Swift vs Toyota Yaris vs Skoda Fabia

In-depth reviews

Long-term tests

Suzuki Swift Sport: long-term test review

Road tests

New Suzuki Swift Attitude 2019 review
New Suzuki Swift Sport 2018 review
New Suzuki Swift AllGrip 2017 review

With the new tech in place, plus a seamless stop/start system, Suzuki says this is a hot hatch that will return more than 50mpg. That's impressive for a car of this type, and based on our assessment, you'll probably get very close to that figure with little effort. Fuel economy in the high 40s is easily achievable and you don't need to nurse the Swift along to get it. So far, so good.

Top speed remains 130mph, but the 0-62mph dash increases by a full second to 9.1 seconds. That's because, as well as power being down, weight is also up, due to the additional bulk of the new mild-hybrid system. That's not a combination you want to see in a hot hatchback.

On the road, the changes made to the powertrain are evident. While the 1.4-litre four-cylinder engine still has an appetite for revs, there's a notable lack of punch from the turbocharged motor. It doesn't have that zip or sense of urgency you would expect from a car like the Swift Sport.

Another major difference comes in the form of energy recuperation. Lifting off the throttle is now met with a small amount of resistance as the car reclaims lost energy and stores it in the battery pack for use during acceleration. It's not too obtrusive but it can't be altered or turned off, so it's a trait of the Swift Sport Hybrid that you'll have to get used to. The brakes themselves also feel a little grabby in use.

At least the weighting of the other controls is well judged. The gearbox isn't the best in the business, but it's got an accurate throw and snappy, short ratios, while the pedals are nicely set up for heel-and-toe shifting. The steering offers little to no feedback through the wheel, but at least it's quick and accurate. Even though the Swift Sport is now heavier it's still very easy to get into a decent flow, thanks to a well balanced chassis that allows the car to glide over bumps courtesy of its supple damping.

The only visual change you'll find on the Swift Sport is the hybrid badging. The hatch keeps its distinctive bodykit with dual exhausts, and even the 17-inch wheels are unchanged. Buyers can choose from six bright body colours at no cost, including vibrant Champion Yellow.

In the cabin, the driver's seat sits slightly higher than before due to the battery that is stowed underneath, but like the exterior, you'll find no changes in design or material feel. The pair of racy but supportive front sports seats are a highlight, but elsewhere the styling feels a little dated, while cheap-feeling plastics are used throughout.

The central touchscreen is responsive but the menus and overall look aren't up to the minute. However, you can bypass this and use Apple CarPlay or Android Auto instead, which come as standard.

With the hybrid's battery packaged under the driver's seat, boot space is unaffected by the powertrain upgrades. That means the Swift Sport retains its rather small 265-litre load bay with all seats in place. It still sits at the smaller end of the supermini market, where most rivals get closer to or eclipse the 300-litre mark.

As part of the 2020 update, the level of standard equipment on the Swift Sport has also increased. New kit includes adaptive cruise control, LED headlights and a reversing camera. Many driver assistance and safety features are now standard, too, such as blind-spot monitoring, rear cross- traffic alert and traffic sign recognition.

This equipment boost, in tandem with the new hybrid technology, means that the price of the Swift Sport jumps to a whopping £21,570. And therein lies a problem – even before the price rise, there were already concerns that the Suzuki was too expensive to be considered a credible alternative to rivals such as the Ford Fiesta ST.

That near-£4,000 price hike means the little Suzuki is only a few quid shy of the more powerful and more entertaining Fiesta ST-2. The monthly PCP deals swing in the Swift's favour but only by £20 per month; on a standard three-year/36,000-mile deal with a 10 per cent deposit, you'll pay £335 for the Suzuki and £353 for the Ford.

If performance is your priority, we'd recommend you find the extra cash for the Fiesta ST, because it's an exceptional small hot hatch. The Swift's bloated price tag and now compromised performance move it into a no man's land; priced like an ST, but only a match for the £6,000 cheaper Volkswagen up! GTI in the performance stakes.

| | |
| --- | --- |
| Model: | Suzuki Swift Sport 1.4 Boosterjet Hybrid |
| Price: | £21,570 |
| Engine: | 1.4-litre 4cyl, turbo MHEV |
| Power/torque: | 127bhp/235Nm |
| Transmission: | Six-speed manual, front-wheel drive |
| 0-62mph: | 9.1 seconds |
| Top speed: | 130mph |
| Economy: | 50.1mpg |
| CO2: | 127g/km |
| On sale: | Now |

Source: Read Full Article