The all-electric Vauxhall Corsa-e boasts up to 134bhp and a 209-mile range, but rivals offer better value for money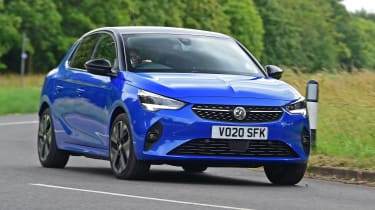 3.0 out of 5
Pricefrom £30,310
Verdict
The Vauxhall Corsa-e is an electric car with impressive technology and a familiarity that many potential buyers could find appealing. But this new supermini lacks the value-for-money edge that could really propel it into contention as one of the best small electric cars. It's also difficult to ignore the Peugeot e-208 when the Vauxhall's PSA stablemate is just as capable, feels more upmarket, and costs less per month on a PCP deal.
Advertisement – Article continues below
The Vauxhall Corsa has been one of the UK's top-selling cars for a generation, and a favourite with driving instructors, first-time drivers, commuters and fleet managers. But Vauxhall's hatchback has just taken its most revolutionary step yet.
This is the Corsa-e, and as the name suggests, it's an all-electric version of this popular supermini, positioned as a zero-emissions alternative that is directly targeted at the usual Corsa buyer. 
Best electric cars to buy 2020

The Corsa-e is part of a growing crowd of small electric vehicles on sale in Britain, but unlike many of them, it has the advantage of having a very familiar name. It's based on the latest version of the Corsa and takes its place right at the top end of the line-up.

More reviews for e hatchback

Car group tests

Vauxhall Corsa vs Renault Clio vs Volkswagen Polo
Vauxhall Corsa vs Peugeot 208 vs Audi A1

In-depth reviews

Vauxhall Corsa review
Vauxhall Corsa (2014–2019) review

Road tests

New Vauxhall Corsa 2019 review
New Vauxhall Corsa 1.2 Elite Nav 2019 review
New Vauxhall Corsa prototype review

Used car tests

Used Vauxhall Corsa review

There are two high-spec versions for buyers to choose from, priced from (after government grants) £27,665 for the SE Nav model, and £30,310 for the Elite Nav-spec car driven here. That's a hefty amount for a model that's built a reputation on being no-frills and value for money, but the Corsa-e is the first real example of what new Vauxhall owner PSA can do to reinvigorate the brand. 

With that new ownership comes a fresh platform, called CMP, which is used across the whole group on the Peugeot 208, the 2008 SUV and the DS 3 Crossback. The platform also underpins the upcoming, second-generation Mokka and Citroen C4, too, and is the key to unlocking the Corsa's all-electric potential. 

The CMP platform allows the Corsa to run down the same production line in petrol, diesel and fully electric forms, which gives Vauxhall flexibility when it comes to building them and meeting customer demand. A 50kWh battery pack is positioned beneath the floor; a single 134bhp electric motor powers the front axle, while weight increases by just over 300kg compared with three-cylinder petrol versions of the Corsa. That weight makes quite a difference; we've praised the latest car for being light on its feet, but the additional heft of the battery is felt in the way the Corsa-e rides and handles. 

Vauxhall has changed the suspension set-up to compensate for the additional weight, and the Corsa-e's wheelbase is fractionally longer. It's only really jittery at low speeds on pockmarked streets, but ride quality does suffer noticeably when you up the speed.

The initial acceleration might make you smile, but you'll not have as much fun through bends. The centre of gravity drops because of the underfloor batteries, and body lean is kept well in check, while the Corsa-e keeps the regular car's low seating position. But the added weight is certainly felt with enthusiastic cornering; the Corsa-e begins to understeer earlier compared with the somewhat nimble petrol-powered version. That characteristic is nothing out of the ordinary for a small electric car, however. 

Elsewhere, the steering has been tweaked, but as in the regular Corsa, it's pretty lifeless and uninspiring. The level of braking regeneration can be altered on the move via the drive selector, and, by and large, the Corsa-e's brake pedal feels pretty natural, and compares well with petrol versions.

What impresses most about the Corsa-e is the main event: the electric powertrain, and the charging technology that it supports. The 50kWh battery isn't the largest you'll find in a car of this size and price, but it'll probably be big enough for most people, enabling a range of 209 miles, according to the latest WLTP standard. It's backed up by an electric motor system that's powerful, refined and adaptable to the driver's needs. 

Three drive modes are presented to you on a rocker-style switch placed beside the drive selector on the centre console. Start the Corsa-e and it will default to Normal, and you should manage a real-world range of around 180 miles on a full charge. In Normal mode the power output is capped to 108bhp. It's a well judged baseline setting, nailing the trade-off between efficiency and power, so you can drive away without feeling the urge to toggle the car into Sport mode. 

Do that and the range will tumble, but you'll get 134bhp going to the front wheels. That makes it zippy, turning the greenest version of the Corsa into the fastest variant off the line by far, dashing off the 0-60mph sprint in 7.6 seconds and with instant throttle response. It also injects a does of fun that the chassis can't quite do on its own. If you've got shorter journeys in mind, with charging available at the other end, Sport mode will make the journey quicker and more fun.

Eco mode reduces the power on offer to 81bhp and numbs the throttle response. It'll extend your maximum range, but it takes a lot of time to get up to speed.

It's best to keep the Corsa-e in Normal and rely on its impressive standard charging tech. The Vauxhall can top up at a rate of up to 100kW at a suitable CCS-equipped charging point, enabling you to go from empty to an 80 per cent charge in around 30 minutes. Away from rapid chargers, the Corsa-e's charge-rate is capped at up to 7.4kW, and Vauxhall will throw in a free home wallbox from Pod Point, which allows overnight recharges in around seven and a half hours. Faster 11kW three-phase charging is optional, but it's probably not essential. 

The Corsa-e's interior is the same size as the regular hatch's, meaning lots of room up front and a slightly tight second row. Boot space is okay, with 309 litres with the rear seats up and 1,118 litres with them folded.

While the Corsa-e's price jumps compared with petrol and diesel versions, the interior quality doesn't. It's far from an unwelcoming environment, but is drab in comparison with the Peugeot e-208 the Corsa shares its tech and drivetrain with. The steering wheel gains leather trim, and fake leather is applied to the sides of the fabric-trimmed seats, but for £30k you may feel a little disappointed. 

At least the level of tech is befitting of the price tag. The Corsa-e in Elite Nav trim has a 10-inch touchscreen infotainment system, a seven-inch digital instrument panel, heated front seats and steering wheel, automatic headlights and wipers, a reversing camera, adaptive cruise and lots of other driver-assistance features. But the cheaper SE Nav probably has enough kit for most people.

However, it's difficult to avoid the fact that the Corsa-e is pricey on finance. For less cash per month, the Peugeot e-208 feels more upmarket and offers the same basic charging options and range, and you could easily be tempted to pick the e-208 Allure Premium, with a similar level of kit to the Vauxhall, based on its better interior quality. To get a comparable monthly rate for the Vauxhall, you'll have to pay a lot more up front than you would with the Peugeot. 

| | |
| --- | --- |
| Model: | Vauxhall Corsa-e Elite Nav |
| Price: | £30,310 |
| Engine: | 50kWh battery, single electric motor |
| Power/torque: | 134bhp/260Nm |
| Transmission: | Single-speed auto, front-wheel drive  |
| 0-62mph: | 7.6 seconds |
| Top speed: | 93mph |
| Range/CO2: | 209 miles/0g/km |
| On sale: | Now |

Source: Read Full Article