The Volkswagen ID.3 will go on sale in Europe on 20 July, priced from around £32,200

Volkswagen has released a price guide and specification for the entire ID.3 line-up. The all-electric hatchback will be available to order in Europe from 20 July, with prices starting from €35,574.95 (around £32,200, excluding the UK government's plug-in vehicle grant). UK orders are scheduled to commence later this year.
The Volkswagen ID.3 range will comprise three battery options and seven trim-levels – Life, Style, Business, Family, Tech, Max and Tour. The current ID.3 entry-point is priced from €35,574.95 (around £32,200) and features adaptive cruise control, a wireless smartphone charger and a sat-nav system which is geared towards maximising the EV's range.
• Volkswagen ID.3 vs. Volkswagen e-Golf
While the trim structure will reflect UK models, the prices that have been announced so far are for European models. VW UK is yet to officially confirm pricing, although the series production ID.3 will be available to order in Britain before the end of the year.
New Volkswagen ID.3: pricing and specs
Prices for the Volkswagen ID.3 Life will start from €37,787.72 (roughly £34,200). The trim-level adds a few extra creature comforts over the base-model, such as heated seats, a heated steering wheel and a pair of extra USB-C ports.
Volkswagen's ID.3 Style is priced from €40,946.04 (around £37,000) – and it builds on the specification of the ID.3 Life with Matrix LED headlamps, a panoramic glass sunroof and LED tail lights with scrolling indicators.
The mid-range ID.3 Business carries a price-tag of €41,287.22 (roughly £37,300). It features the same level of equipment as Volkswagen's Life model, with the addition of Matrix LED headlamps, rear privacy glass, a rear-view camera and a keyless entry.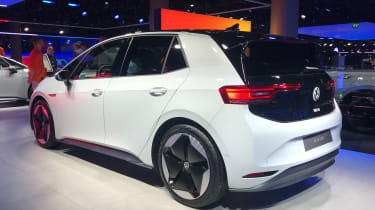 Volkswagen's upper mid-range ID.3 Family starts from €42,305.87 (around £38,200) shares its cosmetic specification with the ID.3 Style, while also featuring the same level of technology as the ID.3 Business. Key upgrades over the two models include a two-zone air conditioning system and a larger panoramic glass sunroof.
As suggested by its name, the ID.3 Tech adds a host of interior technology upgrades and driver safety equipment. Additions include a head-up display, a premium audio system, side assist and Volkswagen's semi-autonomous Travel Assist driving mode. Prices start from €44,810 (roughly £40,600).
The generously equipped ID.3 Max will offer pretty much all of the previously mentioned equipment, along with progressive steering, dynamic cruise control and a 12-way electrically adjustable and massaging driver's seat. It's priced from €43,680.32 (almost £40,000).
Finally, the flagship ID.3 Tour is priced from €45,917.48 (£41,500). It's available with Volkswagen's larger capacity 77kWh battery pack features a range of equipment which the firm says will make the EV suitable for long-distance journeys. Upgrades include 19-inch aluminium wheels, an improved stereo and a host of driver assistance technology.
Volkswagen also plans to introduce an even cheaper ID.3 Pure model within the next few months. The upcoming base-model will have a starting price of "less that €30,000" (or £27,000 before the government plug-in car grant) and a range of up to 205 miles.
Volkswagen's unveiling of the entire ID.3 line-up follows the launch of the limited run 1st Edition model, which is restricted to just 30,000 examples worldwide – all of which were reserved within weeks of the announcement being made.
UK buyers were only offered the mid-range 1st Edition Plus model, which carries a price-tag of around £41,000 before the Government's plug-in vehicle grant was applied. However, German buyers also had access to an entry-level variant and a range-topping 1st Edition Max model. First deliveries of the 1st Edition model will start in September.
New Volkswagen ID.3: platform and powertrain
The ID.3 marks the debut of the VW Group's all-new MEB platform – a bespoke, rear-driven, pure-electric platform that will soon underpin dozens of electric vehicles from Volkswagen, SEAT, Skoda and Audi.
The forthcoming entry-level ID.3 Pure will feature a 148bhp electric motor and a 45kWh battery, for a range of between 143 and 205 miles. The rest of the line-up will feature a 201bhp electric motor and 58kWh battery pack as standard, which Volkswagen says will provide a range of between 186 and 261 miles.
Volkswagen's more potent 201bhp electric motor will also be offered with a 77kWh battery in higher-specced models, allowing the ID.3 to cover between 242 and 342 miles before recharging.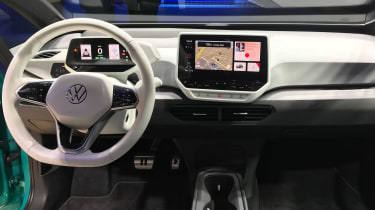 Mid- and higher-spec ID.3s will offer support for 100kW fast charging as standard, which will allow around 180 miles of range to be added in half an hour. However, the uprated charging system will be offered as an optional extra on the entry-level model, in a bid to keep cost down. As such, it'll stick with a 50kW charger.
Late last year, Volkswagen also confirmed it was "actively considering" a high-performance version of the ID.3. It'll feature the same MEB platform as the standard car, but it'll come with a more potent electric drivetrain and an uprated battery pack, designed using the expertise gained from the ID.R racer project.
Regardless of output, Volkswagen guarantees that the ID.3's batteries will retain at least 70 percent of their usable capacity for eight years or 160,000km (around 100,000 miles). Frank Blome, Head of Volkswagen's Centre of Excellence in Salzgitter said: "Our goal is to make sure the batteries last as long as the cars.
New Volkswagen ID.3: design
From the outside, the ID.3 sticks close to the concept that made its debut at the Paris Motor Show back in 2016. The cute headlights remain, along with the "honeycomb" motif along the front bumper and the black tailgate is also still present; this final element is destined to be an ever-present design cue on ID.3s.
The most noticeable change comes in the side profile, where Volkswagen has had to fit a longer bonnet to comply with pedestrian safety regulations. However, the company's design team, led by Klaus Bischoff, has added a black plastic panel under the windscreen to trick your eye into believing the bonnet is shorter than it actually is.
The car is 4,261mm long and 1,809mm wide – so just 23mm longer and 20mm wider than the new Mk8 Golf – but the ID.3's wheelbase is a full 145mm longer than the regular family hatchback's, at 2,765mm. The new arrival's roofline does sit around 60mm higher than the Golf's, however – a clue that the battery installation has resulted in a slightly thicker floor.
Volkswagen hasn't released performance data for the ID.3 yet, other than the car's top speed figure of 100mph. The rear-drive layout also helps to give the car a tight turning circle for a car of its size – at 10.2 metres, it's much closer to the figure of the Up! city car than the Golf's.
New Volkswagen ID.3: interior
The differences from the concept are more pronounced inside, where the ID.3 drops the show car's retractable steering wheel and features a more mainstream choice of materials and finishes. The design is clean and uncluttered, though, and information is displayed on a digital "pod" instrument panel. The gear selector is a rocker switch mounted on the side of this – a layout that will be familiar to anyone who's driven a BMW i3.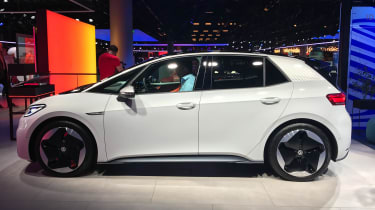 A 10-inch central screen is standard across the range, and it features touch-sensitive controls for the air conditioning and stereo, in place of physical dials. Volkswagen's "intelligent natural voice control" system will also feature, as will smartphone connectivity.
Volkswagen's design team has used the extra floor space to create plenty of cubbyholes and a central storage bin between the front seats. But, the smartest trick in the cabin is delivered by that long wheelbase, because knee- and leg-room in the rear looks on par with a Passat, rather than a Golf. There's no great compromise on boot space, either. At 385 litres, the ID.3's capacity isn't at the peak of the family car class, but it's more than acceptable.
New Volkswagen ID.3: production
The ID.3 will be the first model assembled at Volkswagen's recently repurposed, €1.2 billion Zwickau production facility. By 2020, Volkswagen claims the plant will be the largest, most productive all-electric car plant in Europe, with a prospective production capacity of 330,000 MEB-based vehicles per year.
In preparation for MEB production, Volkswagen's Zwickau plant has undergone a transformation, being converted from an internal-combustion engined production facility to a pure-electric one. Volkswagen has outfitted the plant with a modernised body shop and updated assembly lines, with strong conveyor systems to handle the extra weight of the EVs.
Volkswagen says the plant will produce vehicles in a carbon-neutral manner, relying entirely on eco-conscious hydropower plants instead of fossil-fuel power plants. The plant will also be highly automated, with a total of 1,700 production robots handling everything from body assembly to dashboard installation.
A fleet of 500 driverless transport systems will also be used to autonomously deliver parts across the Zwickau plant's production lines. At the assembly line's end, Volkswagen's fully networked ID.3 will automatically perform a quality check of its own electronic systems.
Are you excited to see the all-electric Volkswagen ID.3 hit UK roads? Let us know in the comments section below…
Source: Read Full Article