Electric powertrain offers a claimed real world range of 200 miles on a single charge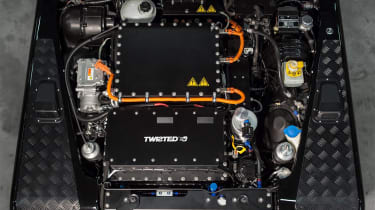 Yorkshire-based Land Rover specialist Twisted has launched a new all-electric powertrain for the classic Defender. The conversion kit is compatible with the Defender 90, 110 and 130 – and it's available to order now, with prices for conversions starting from £69,950.
The package was developed collaboratively with the Dutch electrification company, Plower, who already offers an electric conversion kit for the Defender. However, Twisted's system is much more powerful than the Dutch brand's offering, with a maximum output of 320bhp and 460Nm of torque – 106bhp and 80Nm more than Plower's kit.
• Twisted Defender vs. Mercedes G-Class
Twisted also offers a detuned version of the same powertrain, with 214bhp and 380Nm. The more potent version has a 0–60mph time of 8.2 seconds, while the entry-level model takes 10 seconds to complete the same sprint. Both cars have towing capacity of 3,500kg, which is the same as the original Defender.
Both powertrains use a single, large electric motor fitted under the bonnet, which sends drive to all four wheels through the Defender's original transfer case and locking differentials. The system is powered by a 60kWh battery pack, which is mounted under the Defender's floor – and which Twisted claims will provide a real world range of "more than 200 miles."
Twisted's electric powertrain more than doubles the Defender Td5's power output, and it's only 80bhp shy of the Defender Works V8. To control all that grunt the firm offers a host of chassis upgrades including uprated Bilstein suspension, larger diameter disc brakes, improved calipers and wider alloy wheels with fatter tyres.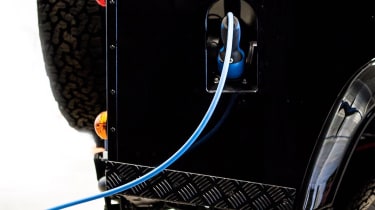 The chassis revisions are fitted as standard to the range-topping electric powertrain, but they're an optional extra for the entry-level model. However, both systems will be fitted with an EV management system, allowing owners to switch between a range of drive modes, including Sport, Eco and Off-road.
Using a 22kW charging station, the Twisted EV's battery pack will take around three hours to fully recharge. The system is also compatible with less powerful 11kW domestic charging points, although charge times will be doubled when using this system.
The EV package can also be optioned with a range of cosmetic upgrades, including custom bumpers, mesh radiator grille, bonnet vents and sump guard. Buyers can also opt for Recaro sports seats, a wooden Moto Lita steering wheel, improved sound deadening and a new leather-trimmed panel for the dashboard.
Twisted says the electric drivetrain package is compatible with all Land Rover Defenders – and that its fitment will take around two weeks to complete at the firm's facility in Bristol.
What do you make of Twisted's all-electric Defender? Let us know in the comments section below…
Source: Read Full Article