A new survey reveals hostility between groups of road users, with drivers feeling cyclists are unaccountable and receive too much funding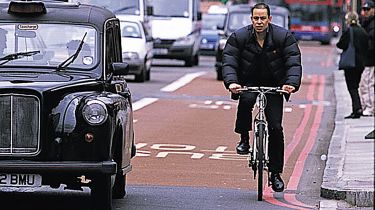 One in three British drivers believe cyclists should be banned from using public roads and restricted to cycle paths.
According to a Yonder survey of 12,000 drivers, one in three also feel that too much funding has been allocated to cycling infrastructure. Seven in 10, meanwhile, said they thought cyclists should need insurance to ride on the road.
Council-issued speeding fines to be piloted
The survey came ahead of a BBC Panorama programme entitled 'Road Rage: Cars v Bikes', which looked at the divide between the different groups of road users.
The Highway Code was updated earlier this year with a new hierarchy of road users, which gave bicycles increased priority over cars in certain scenarios and encouraged cyclists to ride in the middle of their lane.
Former Secretary of State for Transport Grant Shapps then suggested that cyclists may be required to have number plates and insurance, and observe speed limits, but backtracked on this idea before leaving the ministerial role.
Speaking to BBC Panorama, the head of Cycling UK Duncan Dollimore said: "There's a whole group of people who would never go to work and swear or gesticulate at people, but occasionally they might do that behind the wheel of their car. It does prevent people from cycling. It puts people off."
What are your thoughts on cyclists being banned from the roads? Let us know in the comments…
Source: Read Full Article