Motorists will be able to drive at 60mph rather than just 50mph on sections of motorway undergoing roadworks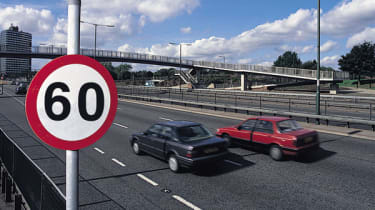 The maximum speed limit on sections of motorway undergoing roadworks will be raised from 50mph to 60mph, Highways England has announced.
The government-owned company responsible for managing the country's Strategic Road Network of motorways and major A roads said it had taken on board feedback from drivers, who felt frustrated at not being able to go faster.
One in three towns in UK to get default 20mph speed limit
Highways England researched how it might safely increase the speed limit through motorway roadworks – normally set at 50mph – and concluded that it could raise it to 60mph in many instances.
On the eight road schemes looked at in the study, this would result in drivers saving an average of almost 3,780 hours journey time each day across all sites. Furthermore, Highways England believes drivers will be less likely to break a 60mph limit than they would a 50mph one.
Jim O'Sullivan, chief executive of Highways England, said: "All of our research shows that road users benefit from 60mph limits in roadworks. They have shorter journey times and feel safe.
"Road users understand that roadworks are necessary, but they are frustrated by them. So testing 60mph has been about challenging the norm while ensuring the safety of our people working out there and those using our roads.
"We have a huge programme of work planned, so being able to use 60mph where safe will continue to improve everybody's experience of our roads."
Anthony Smith, chief executive of independent watchdog Transport Focus, added: "We know road users want speed limits in roadworks to be no lower than necessary to maintain safety, so 60mph in roadworks wherever it is safe to do it is a welcome step."
What is a smart motorway? Speed cameras, safety and hard shoulder use explained here…
Source: Read Full Article