All electric Tesla hearse emits zero tailpipe emissions, while Model S drivetrain promises the most ludicrous funerals ever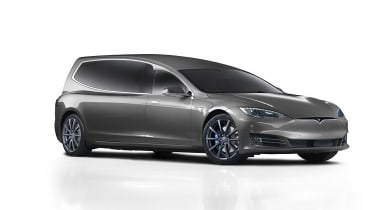 This is the Coleman Milne BINZ.E: a hearse that pays its own deferential silence to the dearly departed courtesy of an electric drivetrain.
A collaboration between Bolton-based Coleman Milne and German firm BINZ International, the BINZ.E started life as a Tesla Model S, but has undergone significant adaptation in order to accommodate a coffin. As a result, the rear of the car has been extended, and the roofline has grown taller. The wheelbase has also grown to balance out the body (of the car).
Tesla Autopilot slammed as "especially misleading" by UK safety experts
Essentially, any Model S could be converted, therefore keeping the benefits of Tesla's smartphone app functions, full access to the Supercharger network, and the on-screen whoopee cushion app to help lighten the mood a bit. For its own demonstrator, Colman Milne states a range of 220 miles between charges.
While the potential for a circa-three second 0-62mph time isn't a prerequisite for a hearse, the electric powertrain allows access to various low-emission zones around the country, in addition to the smooth, silent drive that is perfect for a procession.
Managing Director of Coleman Milne, Lee Hudson believes that the BINZ.E represents the perfect hearse for a sustainable future. "As attitudes among policymakers and the general public shift towards greater environmental sustainability," he said, "it is important that the funeral sector takes stock of its own approach to climate change. The BINZ.E shows it is possible to deliver efficiency and elegance in harmony with social change."
Funeral directors who are dead keen on the idea of the electric hearse can contact Coleman Milne to arrange a test drive of its demonstrator, which is due imminently.
Check out our list of the best electric cars you can buy now…
Source: Read Full Article