We all love ice caps and hate getting ripped off, so here are the ten cheapest electric cars money can buy…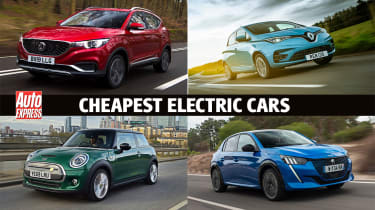 Mass produced electric cars have come a long way over the past ten years. The original Nissan Leaf arrived to the UK car market in 2010 and was £10,000 more than a similarly-specced Ford Focus. Now, electric car prices are much more competitive against those of their more traditional combustion engined cousins and with prices starting from around £11k, the cheapest electric cars are now within the grasp of every new car buyer.
Electric cars are more popular than ever and there are vehicles to suit all motoring needs. From the practical Nissan E-NV200 Combi Van, luxurious Tesla Model S executive car or the affordable Renault Twizy city runabout, there's an electric vehicle to suit almost any need. And thanks to government incentives and developments in EV infrastructure, the world is starting to see electric as a genuine alternative to petrol and diesel. The electric revolution is lighting up, so here are the cheapest electric cars for you to consider…
What is the UK plug-in car grant?
Cheapest electric cars: the top 10
Below are the top 10 cheapest EVs on sale. While our top five offers drivers the smallest outlay, the cars further down the list demonstrate that a wide range of manufacturers are now keen to embrace electric power – which can only lead to more choice, improving quality and more of us getting behind the wheel of a capable and cost-effective electric vehicle.
Renault Twizy – £10,995 + battery lease
Smart EQ fortwo – £17,350
Skoda Citigo-e iV – £17,455
Smart EQ forfour

– £17,785

SEAT Mii electric

– £19,800

Volkswagen e-up!

– £20,555

MINI Electric

– £24,900

MG ZS EV

– £25,495

Peugeot e-208 – £26,025
Renault Zoe

– £26,495
Renault Twizy
Price: £10,995 + battery lease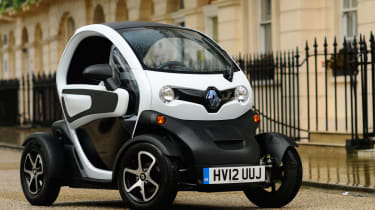 Perhaps unsurprisingly, the Renault Twizy is the cheapest EV on the market today. It's also one of the smallest 'cars' ever. While the measly 17bhp and woeful top speed of 50mph may put a lot of people off, Renault claims it costs just £1 to fully charge, putting a lot of people on. It has a long charging process – three and a half hours – which then allows drivers to travel for up to 62 miles. However, don't expect to get much more than 50 miles in the real world.
As the Renault Twizy is technically a quadricycle, you won't get a grant from the government, and you have to lease the batteries from Renault, adding an extra running cost. However, Renault will repair and/or replace any leased batteries which go below 75% of their original performance.
Cheapest cars on sale 2020
Smart EQ fortwo
Price: from £17,350 (inc gov grant)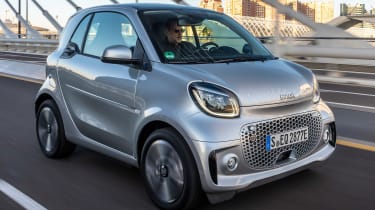 The tiny EQ Smart fortwo comes with 81bhp, and a top speed of 81mph to match. The EQ fortwo also has a surprising turn of pace, 0-62mph is dispatched in 11.6 seconds, while to charge it from 10-80% takes just over 3 hours from a home wallbox. A more sophisticated suspension set up over the previous generation makes the EQ fortwo far more compliant and comfortable for longer journeys, so long as the journey isn't further than it's 80-mile range.
The electric fortwo now has to compete with one of its own – the new Smart EQ forfour. The EQ forfour offers users additional seats, space, and therefore practicality for around an extra £500. For a £2,420 premium over the EQ fortwo hatchback, there's even a convertible EQ fortwo for those more interested in hearing the whirr of the electric motor.
Skoda Citigo-e iV
Price: from £17,455 (inc gov grant)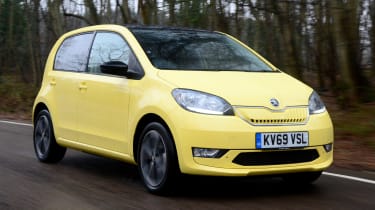 The five-door Citigo-e iV city car is closely related to the Volkswagen e-up!, with both using the same chassis, battery and electric motor combination. Skoda's 'iV' name tag signifies its plug-in and fully electric models, and the Citigo-e is Skoda's first full EV.
The cheaper SE edition of the Citigo-e iV has fewer toys and only conventional charging instead of the rapid DC CCS configuration that's standard on the other models. It'll save you almost £2,500 over the SE L version and for some people, who intend to drive their car more around town with only domestic plug-ins most of the time, it will make a fantastic urban option.
Used electric cars: should you buy one?
Smart EQ forfour
Price: £17,785 (inc gov grant)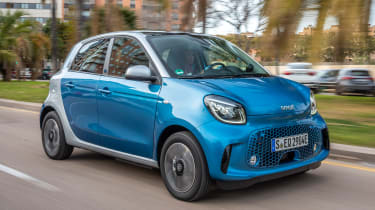 The Smart EQ forfour comes with the same 17.6kWh battery as its EQ fortwo sibling. However, due to its extra weight and size (almost 200kg heavier than the EQ fortwo), the EQ forfour only has a claimed maximum range of 80 miles. It also has slower acceleration – 12.7 seconds to get from 0-62mph.
Thanks to the addition of two doors however, the EQ forfour is much more practical than the two-door EQ fortwo. An increase of 621mm in wheelbase means the EQ forfour can just about fit four adults, and the level of kit inside certainly helps create an upmarket feel – heated front seats, a two-piece panoramic roof, leather upholstery and a seven-inch infotainment screen are all standard.
SEAT Mii electric
Price: £19,800 (inc gov grant)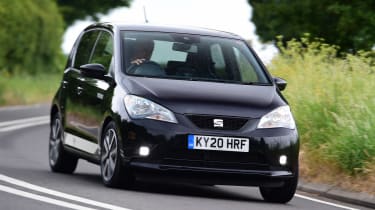 It may be a modern city car, but the SEAT Mii electric still requires an old-fashioned key to start the journey. Once you're on your way it's hard not to exploit the instant acceleration – who'd have thought travelling from 0-30mph could be so enjoyable? The downside is if you press on too often, you're unlikely to get near SEAT's claimed 161-mile range for the Mii.
How to buy an electric car
In terms of price, the Mii electric sits between its two VW Group siblings, the Skoda Citigo-e iV and Volkswagen e-up!, offering a great balance of small car dynamics and big car luxury, along with supreme levels of comfort.
Now read our recommendations for the best new electric cars to buy…
Get the latest electric car news, reviews and analysis on DrivingElectric.com
Source: Read Full Article