Not looking to splash the cash and in need of a new car bargain? Then look no further as we list the cheapest cars on sale in the UK right now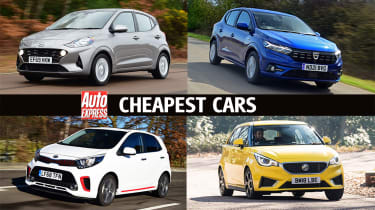 Once, not too long ago, if you were looking to buy one of the cheapest cars in the UK, there was an underlying sense of 'you get what you pay for'. These cars may have looked like a great deal but the cost-cutting was obvious, to say the least. However, times have changed, and you can now look at these motoring bargains using both your head and heart.
The cheapest electric cars on sale
Sadly, as with many things, the cost of buying a new car has increased over time. The cheapest new cars today begin at around the £10,000 mark, so if you've got a tighter budget than this, you may be better off looking for a used car.
Of course, if your negotiation skills are top-tier you may be able to haggle this price down further. What you should remember, though, is that cars in this price bracket should come with a different set of expectations. They'll get you from A to B for sure, but will they be as economical, practical, or well-built as something that costs a few grand more? There's no guarantee.
To achieve those low sticker prices, cheap new cars are often stripped of everything bar the basics and they'll sometimes feel a little low-rent next to more expensive versions of the same car just a few steps up the trim ladder. Many buyers will happily put-up with some blanked-out buttons, downmarket trim finishes or even an underpowered engine but others will see the extra outlay needed to secure a few more creature comforts as money well spent. Either way, the cheap car's head-turning sticker price has done its job.
Cheapest cars to insure in the UK 2022
In many instances, the biggest challenge facing cars at the cheap end of the market is the existence of used alternatives offering more kit, a better engine and, often, a more desirable badge for the same money. Again, many people will rather sink their cash into an apparently better car with a few thousand miles on the clock but the appeal of a brand new model with a full warranty and finance facilities not always open to used car buyers is still strong.
So, we've gauged the enduring appeal of the cheap car, now let's get down to business. What are the cheapest new cars currently on sale in the UK?
Cheapest cars on sale in the UK
Dacia Sandero: £10,145
Kia Picanto: £11,450
Citroen C1: £12,245
Dacia Sandero Stepway: £12,245
MG3: £12,845
Hyundai i10: £13,420
Volkswagen up!: £13,545
Fiat Panda: £13,655
Suzuki Ignis: £13,749
Fiat 500 hybrid – £14,005
1. Dacia Sandero – £10,145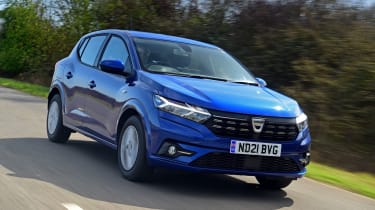 Proudly advertising its Sandero hatchback as the cheapest car on sale for a number of years, Dacia has become one of the car market's major success stories of recent times. Renault's budget brand has made a name for itself by offering simple, no-frills motoring at rock-bottom prices and buyers have been lapping it up.
The Sandero is currently the UK's cheapest car by a long way but it's a full-sized supermini where most of the other models challenging for the title are smaller city cars. The Sandero's simplicity, comfort and surprising practicality win favour with those who are after basic transport with no gimmicks. Top models get Apple CarPlay and Android Auto, touchscreen navigation system and a trip computer. It's the entry-level Essential version that dips under the £11,000 barrier and steals the headlines, even if a number of buyers go for a slightly higher-spec model.
The interior is actually more spacious than many of the Sandero's supermini rivals, running costs are usefully low and the mechanicals have proven their worth in the past, so the Sandero should be reliable. Thanks to its Renault heritage, the latest Sandero shares a platform with the current Clio – a much more expensive supermini.
This means the car's chassis is more modern than before and it feels more sophisticated to drive. The build quality is questionable in places, but some of the engine line-up uses Renault's latest fuel-saving technology, meaning the Sandero is surprisingly efficient and perky on the road.
2. Kia Picanto – £11,450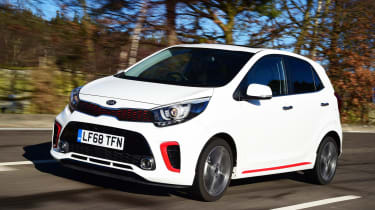 The Kia Picanto is now in its third generation and has developed into a stylish little city car with enough kit to make it genuinely desirable before the price is even taken into account. It's easy to see why the Picanto is so popular because this small car offers tremendous ride quality and the brand's famous seven-year/100,000-mile warranty – a great deal for such a low-priced car.
There are a number of Picanto variants available, and your £11,450 will get you a basic model in '1' trim fitted with a 66bhp 1.0-litre engine and manual gearbox. If you want any extras, a bigger engine, or an automatic gearbox, you'll need to be prepared to pay more.
As is the case with most hatchbacks, the Picanto's three-door option has been dropped so the more practical five-door bodystyle is all that's available. With insurance starting from group one and cheap running costs, the Picanto should appeal to young drivers especially.
3. Citroen C1 – £12,245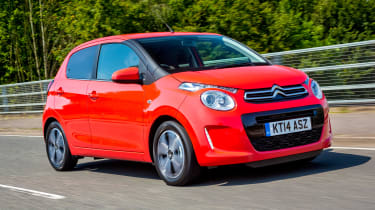 The Citroen C1's small proportions make it easy to drive on tight city streets, although this also means it's not the most spacious city car available, either in terms of rear legroom or boot space, offering just 196 litres with the seats up.
Power comes from a 1.0-litre, three-cylinder petrol engine that delivers 71bhp, with a five-speed manual gearbox also standard across the line-up. Weighing only 840kg, the C1 still takes 14 seconds to reach 62mph, although the leisurely acceleration is less noticeable on town and city roads where the sweetly-revving engine performs well. Citroen claims that the C1 can do up to 58mpg, although you'll need to be gentle on the throttle in order to hit this figure.
Top 10 best small cars to buy 2022
A cheap-and-cheerful runabout it may be, but Citroen has at least made the effort to style the C1 in a way that makes it look appealing. The split-level headlights are a quirky touch, and there are a range of contrasting-colour trim options that let you personalise the car to your tastes. The same goes for the inside too, with a splash of colour making the interior feel positive and upbeat.
4. Dacia Sandero Stepway – £12,245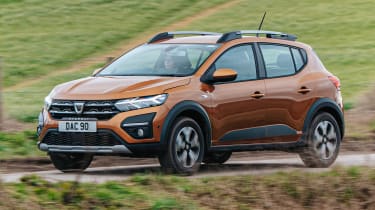 The Dacia Sandero Stepway takes the best bits of the standard Sandero and adds in more rugged SUV-style looks, a bit more space, and extra features that bring the base Stepway more inline with mid-spec city car rivals – as opposed to the rather sparse nature of the standard Sandero.
The base Essential trim includes a DAB radio, Bluetooth, air-conditioning, and cruise control as standard. Also, you even have a choice of engine for your £12,245; a petrol-powered TCe 90 or the bi-fuel TCe 100. Both versions find themselves in insurance group 14 and are claimed to return more than 45mpg, so running costs should prove very affordable. With its 328-litre boot, the Sandero Stepway is an affordable family option, too.
5. MG MG3 – £12,845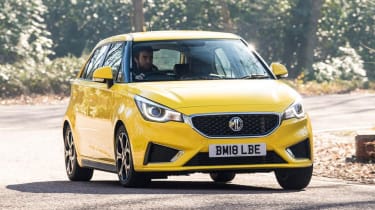 MG's entry into the hatchback market is a decent offering, especially considering its size and generous equipment levels. The MG3 was first introduced in 2013 and it was refreshed in 2018 with exterior styling tweaks, an improved interior and updated infotainment system.
Underneath the facelift, the MG3 retained its 105bhp, 1.5-litre engine (the only engine available across the range) and five-speed manual. While this powertrain feels outdated and underpowered compared to more expensive rivals which utilise turbocharging, the agile chassis and lack of body roll mean the MG3 is good fun on a twisty road.
Basic MG3 'Excite' models come with an eight-inch Touchscreen, Apple CarPlay and Rear Parking Sensors, along with a seven-year/80,000-mile warranty.
6. Hyundai i10 – £13,420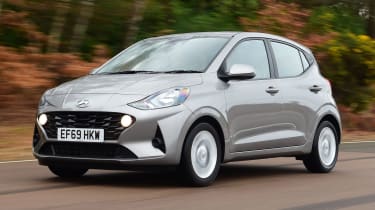 The Hyundai i10 is one of those cars that might not stand out in one particular area, but is a good all-rounder. There's a generous amount of on-board tech, it's comfortable to drive, there's a decent amount of cabin and boot space for a car of its size, and the latest model is even quite sharp in the styling department.
The cheapest version of the i10 is in SE trim and is fitted with a 1.0-litre three-cylinder petrol engine producing 66bhp with a manual gearbox (the automatic is only available in the more expensive SE Plus trim and above). Equipment is a particular highlight of this model though, with air-conditioning, cruise control, Bluetooth, a DAB radio, and a leather-trimmed multi-function steering wheel all featuring as standard. A five-year/80,000-mile warranty and Hyundai Roadside Assistance sweeten the deal, too.
7. Volkswagen up! – £13,545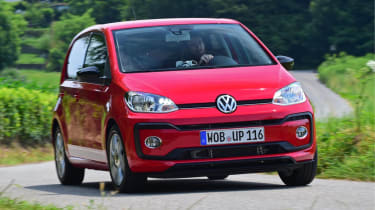 A four-time winner of the City Car of the Year title at the Auto Express New Car Awards, the Volkswagen up! has always been a strong contender in the city car sector, and it remains a great buy more than a decade since it was launched.
While there is also the e-up! available for those looking to switch to electric, this finds itself at the top end of the model's price range, so if you're after a bargain you'll want the petrol version. Fortunately, the three-cylinder 1.0-litre 64bhp petrol engine is a capable little unit and should prove enough for most daily driving while returning a claimed economy of more than 50mpg.
Top 10 best superminis to buy 2022
The up!'s compact size and tight turning circle make it almost effortless to manoeuvre and park in the city streets, and the grippy chassis means you'll have fun while doing so.
8. Fiat Panda – £13,655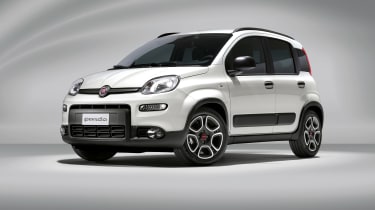 For many years the Fiat Panda has been a favourite choice of Italian drivers looking for an affordable, dependable, and straightforward car that's easy to live with. UK buyers can also reap the bargain benefits of the Fiat Panda, with the latest-generation car being available for less than £14,000.
As can be seen from the styling, the Panda is a bit more characterful than some rivals. It also offers an energetic-handling and reasonably comfortable drive. It's not all fun and games, though, since the Panda does the serious stuff rather well, too. All-round visibility is excellent, and there are plenty of useful storage spaces throughout the cabin. The little Fiat has also earned a positive overall reputation for reliability in our Driver Power survey.
9. Suzuki Ignis – £13,749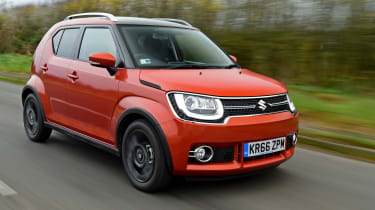 If you like your car to be a bit left-field and stand out from the crowd, the Suzuki Ignis could well tick the right boxes. This quirky crossover-styled city car certainly looks distinctive thanks to its unusual dimensions but these don't eat into the cabin space, which is surprisingly versatile and spacious.
The base model SZ3 Ignis comes with the 89bhp 1.2-litre four-cylinder 'Dualjet' mild-hybrid petrol engine. This engine offers plenty of poke for urban driving but can feel a little strained on more open roads.
10. Fiat 500 Hybrid: £14,005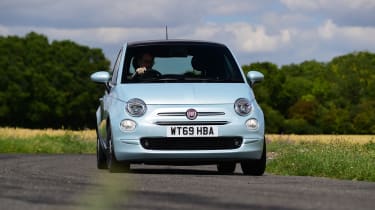 While the new Fiat 500 has gone fully electric, the older model currently remains on sale as the Fiat 500 Hybrid. This older model is starting to feel a bit dated in places, but there is no doubt that it is still a highly attractive retro-style city car.
Just £14,005 will get you a 500 Hybrid in base-level Pop trim which only comes with basic on-board equipment, but it is fun to drive with a claimed fuel economy of more than 50mpg and CO2 emissions as low as 88g/km, thanks to the 1.0-litre three-cylinder hybrid petrol engine.
Don't forget, there are plenty of bargains to be found on the used market, too. Check out our sister site buyacar.co.uk to find out more…
Source: Read Full Article